Leveraging Customer Feedback in a World of Change: Nuggets from Leela Srinivasan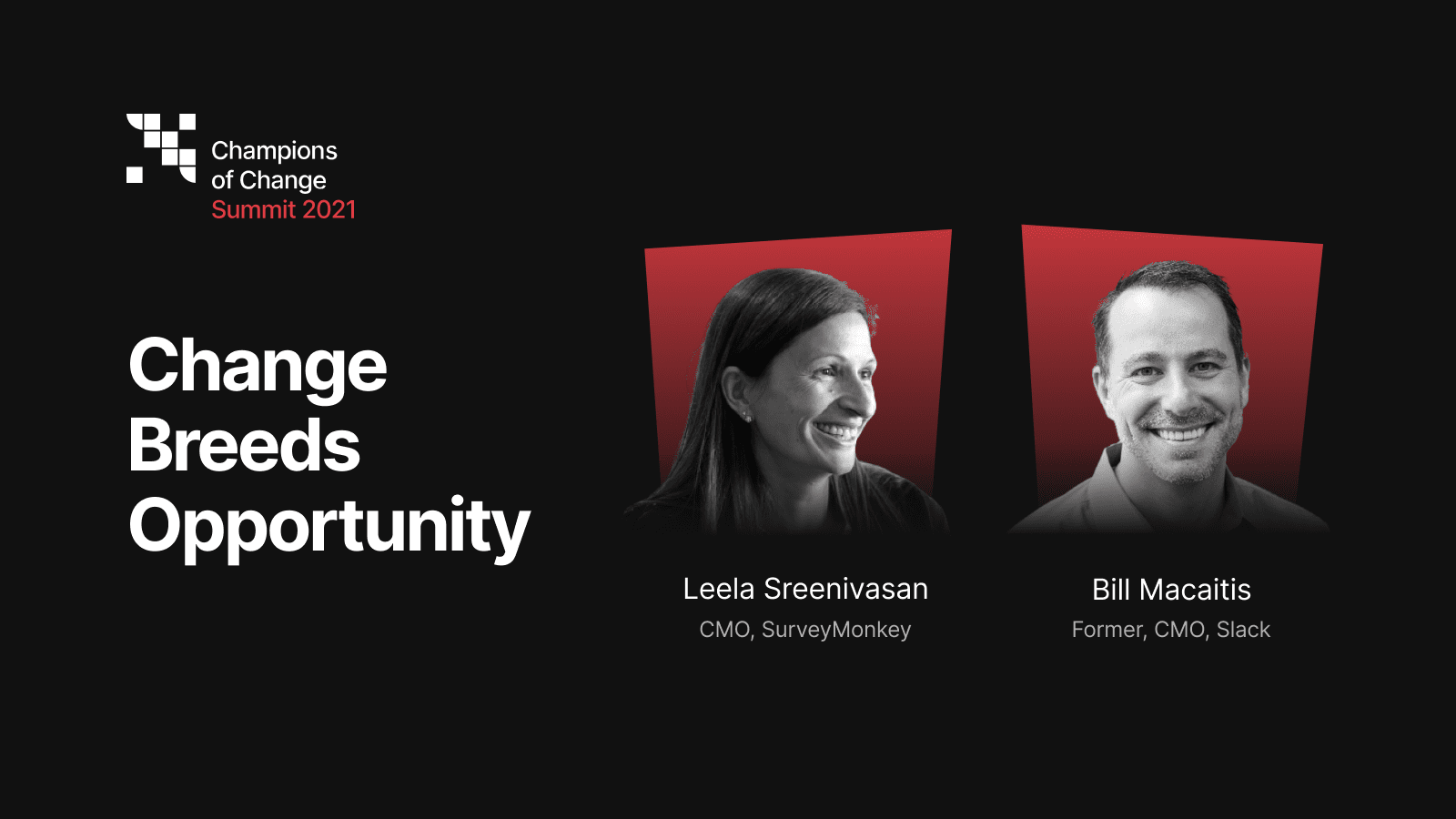 Humans have a deep-set desire to feel heard.
As customers, we want businesses to know what we think of their products. As employees, we want companies to listen to what makes our passions sing.
Combine this need to feel heard with the transparency in today's digital age, and we have what SurveyMonkey calls the 'Feedback Economy.' From soccer moms collecting T-shirt sizes to companies gauging their employee engagement, surveys have made their way into our everyday lives, personal and professional. Feedback has become the new currency, and how you leverage it can help you navigate today's world of constant change.
In the second edition of our flagship Champions of Change summit, SurveyMonkey's Leela Srinivasan and Bill Macaitis discussed the importance of customer-centricity, crafting GTM & pricing strategies in the world of change and innovation.

As the first-ever CMO of SurveyMonkey and with rich experience at Lever, OpenTable, and Linkedin, Leela has been championing change from building solid internal teams to serving ever-evolving customer needs.
I am summarizing the nuggets and takeaways from the session in this blog.
Crafting GTM Strategy While Moving Upmarket
The most crucial aspect of nailing a GTM strategy as you move upmarket is to have a perfect understanding of customer expectations. "A huge part of being successful at moving upmarket is listening.", Leela says. "By leaning into that feedback, we got really good direction from our customers on how to evolve the products so that we could match the upmarket expectations."
Go-to-market can be tricky, especially with horizontal platforms like SurveyMonkey or LinkedIn, where customers from various verticals and personas often use the platform in different ways.
"As you go-to-market in B2B, if you try to be all things to all people and tell an extensive horizontal story, you end up resonating with precisely no one. The key is just being super relevant to the buyers that you're trying to appeal to."
And that's why SurveyMonkey changed their narrative to be more persona-focussed. They spun specific narratives depending on how different personas like marketing, sales, HR were adapting to their software. For example, they created resources and new tools to help organizations stay in touch with their employees working from home or help them monitor COVID symptoms as people return to work.
"Don't be afraid to ask your customers what they think would be valuable," Leela adds. And if you are not able to provide all of that in-house, bring in partners that would be able to help add that value.
Rethinking Pricing and Packaging
"Despite being such an important lever, companies often think about pricing too late. I think that's a big mistake", says Leela. Before you even begin developing the product and iterate on it, it's important to understand the market's willingness to pay for specific feature bundles and align your value to that.
"When you think about pricing, don't limit it to just the value of the product; also consider the value of the relationship and what customers get emotionally from working with your organization."
At SurveyMonkey, research is a constant. And one thing that's loud and clear from that research is that the customers want to give feedback, and they expect the companies they are working with or are buying from to take action on that feedback.
A survey of 2800 US citizens surfaced precisely that:
85% of consumers say it's essential for them to share feedback with companies whose products or services they buy.

61% of customers trust companies to act on customer feedback.
Another interesting insight from the survey was when these 2800 respondents were asked which companies had done the best to listen to and act on feedback consistently. The following word cloud showed the results, with Amazon topping the list:

Other prominent names were Target and Apple. During the pandemic, supermarkets, healthcare organizations, brick and mortar retailers had to go through radical digital transformation overnight, whether they wanted to or not, because they had to find different ways to connect with their customers. "In such times more than ever, listening to customer feedback and acting on was monumental to delivering a better customer experience," Leela adds. Carrefour is an excellent example of delivering a great digital experience for its customers.
Fostering Intellectual Curiosity
"Intellectual curiosity is such an important value," says Leela as she recalls the results of a research conducted during the pandemic called 'Adapting in Times of Crisis 2020.'
"There were two fundamental qualities that were really important for organizations to be able to survive and thrive during the pandemic: agility and curiosity." 
Curiosity and innovation go hand-in-hand—organizations where curiosity is rewarded excel in innovation. Curiosity to listen to feedback and take action on it is what helps organizations move forward.
How to foster this curiosity? Leela's mantra is to go back to the last constructive feedback you received, assess how well you listened, and how you intend to take action on it. If you're curious enough to identify your gaps and work on them, you're on the right track.
Weaving Stories with Data
In today's world, data is everywhere. And as data-driven functions, we work with data quite often. But there's an art in weaving stories with that data, stories that can resonate with your internal and external audiences.
A marketer and an English literature major herself, Leela loves storytelling. "I'm a firm believer that your organization is always the first customer of your technology." She's experienced this at LinkedIn, Lever, and now SurveyMonkey, where stories are born from the use of the product.
For example, when SurveyMonkey opened their new office in San Mateo, they launched it highlighting how they turned to employee feedback to design the office space. We're talking games for all ages, rooftop parties, and communal libraries.
That's how integral – and fun – stories can be to your messaging.
Building a Healthy Workplace 
Leela is a big advocate of diversity, equity, and inclusion in the workplace. A CNBC/SurveyMonkey Workforce Survey shows that 80% of employees say they want to work for a company that values diversity, equity, and inclusion. "Zeitgeist is that people are looking to organizations and corporations and leaders to be a voice of change," Leela adds.
"As a leader, be real, be authentic, display empathy, invite dialogue, and also be forthright when you mess up."
The world is increasingly transparent, and to create an organization that empowers its employees, leaders need to continue that authenticity.
Making Change Comfortable
One of the most common reactions to change is discomfort. So what can leaders do to make change more comfortable for all stakeholders?
Leela's advice: understand what matters to all the stakeholders and partners. Once you have a strong understanding of their needs and concerns, bring relevant data to the table, whether insights from your customers, usage patterns, or the industry. Bringing these insights to the table and thinking about them in the context of what your organization is trying to achieve will put change in context and help you get the buy-in from all stakeholders.
What better advice to the changemakers for tomorrow? For more such nuggets of wisdom, check out our Champions of Change Podcast to listen to changemakers and how they made change favor them. Give it a listen here!
PS: Since Champions of Change took place, Leela cemented her 'Changemaker' status by leading the rebranding and relaunch of SurveyMonkey as Momentive!
Get the scoop on what's new