Our latest study on usage-based pricing is now out. It combines internal research conducted across 300+ SaaS businesses, compelling insights from experts in Sequoia, Accel, Insight, and OpenView, and detailed frameworks to help you decide if usage-based pricing is right for your business and how to implement it.
This article highlights some of the key themes from our report, discusses emergent patterns that make usage-based pricing the second-most widely used pricing model in SaaS, and addresses the question – 'Is usage-based pricing really such a big deal?'
---
Pricing is one of the most pervasive problems in SaaS. It commands significant airtime in riddled CXO communities, 'Dear SaaStr' segments, newsletters, and debates … and yet, continues to remain a wild-goose chase for many.
The biggest reason is that pricing remains a moving target for all practical purposes. As your product, market, and customers' optics of value evolve, it must go through continuous iterations.
Usage-based pricing is a thread from the same fabric of thought – as customers focus less on features and more on outcomes, the price of a SaaS offering must justify its impact on the customer's business rather than merely charging for additional capability.
Usage-based pricing resolves the challenge of charging customers despite the non-usage of a product or feature, making pricing more aligned with their perceived value of your product.
SaaS platforms with significant usage as the customer scales (e.g. – payment processors) find a more natural growth cycle. For them, moving to a usage-based model taps into this incremental usage and delivers better returns for the business.
Pricing is a unit of value. However, we're starting to see that the value you get from a product isn't necessarily tied back to the user. Since the way that people use software is changing, the metric that businesses assign to the price is also changing and is driving the momentum towards a value metric based on consumption.

– Curt Townshend | VP of Growth, OpenView
Here are the many ways usage-based pricing has evolved from an acquisition lever to a positioning strategy today –
Usage-based Pricing Adoption Finds Sustained Momentum
In 2021, the first edition of OpenView's usage-based pricing study reported that 45% of SaaS businesses implemented 'some form' of usage-based pricing. In the 2nd edition of their research, published in February 2023, three out of five Saas businesses deployed some form of the pricing model.

This is consistent with a recently conducted Chargebee study that states 63% of SaaS businesses have some form of usage-based pricing. We also continue to see a growing momentum for usage-based SaaS and –
We expect 74% of SaaS businesses to likely offer more products on usage-based pricing in 2023.
Investors believe most businesses will increasingly adopt some form of usage-based pricing sooner than later due to the opportunity cost and complication of iterations involved in adopting the pricing model after the company has scaled.
We advise companies to critically assess whether their business model is suited for usage-based pricing and make the shift sooner than later. Ideally, companies need to make that call when they reach a revenue of $5 million rather than $100 million because convincing various stakeholders – customers, sales, customer success, and others – of the value of usage-based pricing can be challenging as your business scales.

– Tejeshwi Sharma | Managing Director, Sequoia India
This sentiment largely reflects in our study wherein SaaS startups as early as $3-25M ARR are showing active interest in usage-based pricing consideration. This further highlights the pricing model's pervasiveness across revenue segments.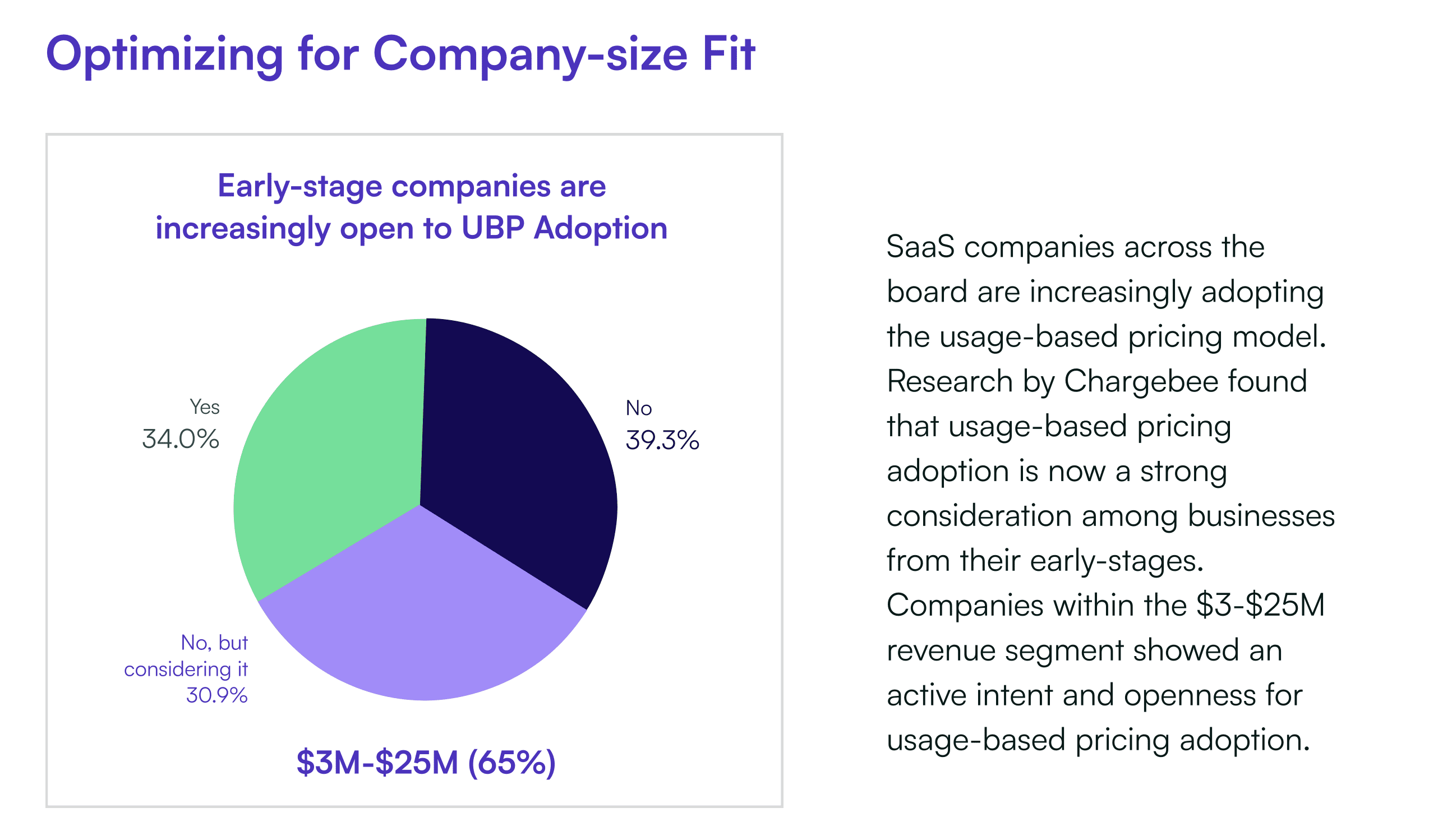 A Hybrid Pricing Model that layers Usage with Subscriptions Offers Predictability and a Soft Landing for Buyers and Vendors
While the momentum shift holds true, usage-based pricing is not a standalone pricing model for most businesses.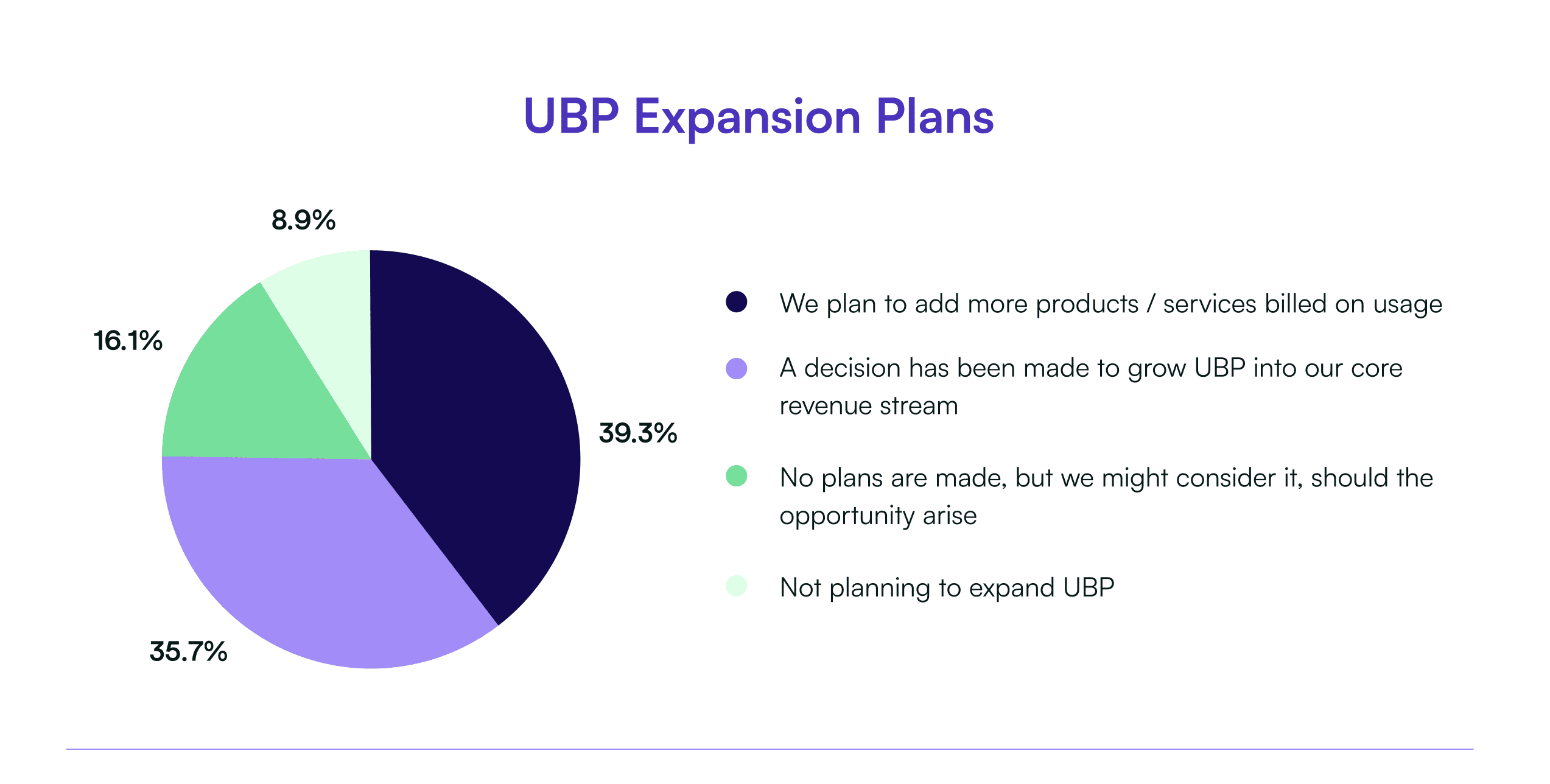 Usage-based pricing brings seasonal volatility, which can be more challenging in times of economic uncertainty. For vendors, it means lower revenue predictability, while for customers, it can generate sticker shocks during periods of exponential growth.
To drive revenue predictability, it helps to pair usage-based pricing with recurring revenue streams. It also helps to choose a small set of usage metrics that will grow steadily over time through different economic cycles as opposed to more volatile usage metrics.

– AJ Malhotra | Managing Director, Insight Partners
Subscription pricing offers a soft landing spot for both vendors and customers and can be leveraged in a couple of ways to reduce the load on predictability –
Commitment Drawdown Model:

Businesses and customers typically agree to the

contract value

and

usage volume

upfront. Customers can choose to exhaust their usage volume at their own pace.

Subscription + Overages Model: Standard subscription pricing model with a usage-based component tracked and priced as overages.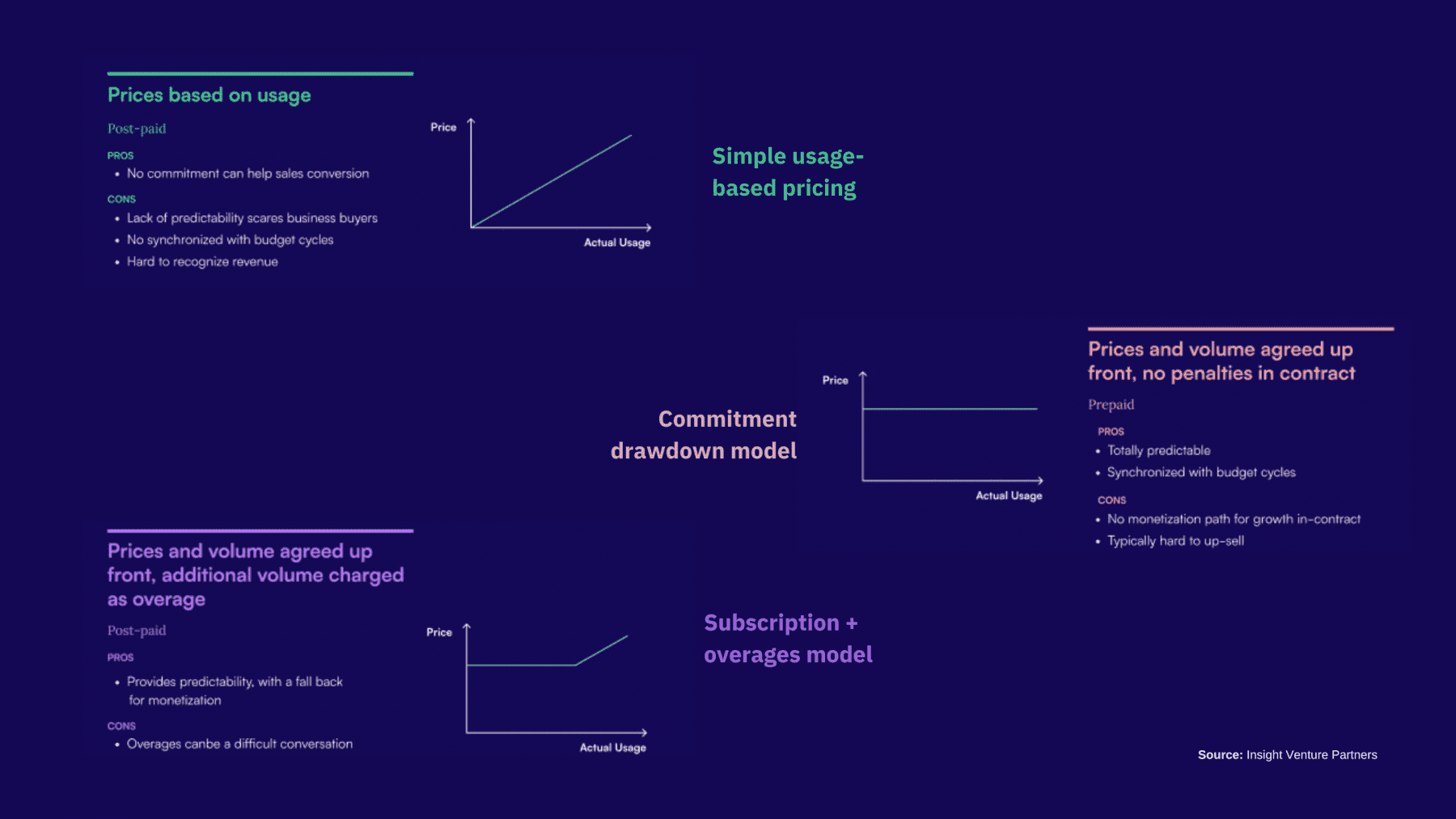 With multiple go-to-market motions, revenue streams and growing customer expectations, SaaS companies are moving towards hybrid pricing models to achieve better monetization.
According to OpenView's recent report on usage-based pricing, 46% of the SaaS companies surveyed are either offering usage-based subscription plans or are testing usage-based pricing with subscriptions. OpenView believes that number will continue to increase in 2023 as hybrid pricing models will increasingly help companies win more deals and meet customers where they are.
Subscription Management and Invoicing Systems are Still Key for Revenue Process Changes
Setting up a usage-based pricing model requires more than just identifying a value metric and a per-unit price. It requires businesses to track usage across products, timelines, and multiple value metrics accurately.
64% of our respondents highlighted data mediation, a part of the processing step, as a critical requirement for setting up usage-based pricing.
As SaaS businesses become increasingly multi-product, a one-pricing-model fit may be unrealistic. Infusing more pricing models also requires integrating more specialized tools to handle different aspects like – pricing, couponing, CMS, and revenue recognition.
Whether purely usage-based or a hybrid pricing model, businesses want to experiment more and target different markets differently. So you want a certain level of customization and change in pricing that you wish to build for, and you don't want your tech stack to be the reason you can't do that customization.

– Curt Townshend | VP of Growth, OpenView
Businesses must unify all their revenue operations in one place to avoid high tech-debt and make revenue management less of a labyrinth. You need a robust billing system that can take this information and generate invoices, manage collections, recognize revenue, and generate critical metrics.
To future-proof your business, you need to provide flexibility to your customers on how they transact with you and how you drive revenue predictability. Every growing company will eventually have a multi-product strategy, each with its own pricing model. Having a subscription management platform as your revenue growth engine helps aggregate and seamlessly manage multiple pricing models, billing complexities, proration, and varied customer requests.

– Shekhar Kirani | Partner, Accel
As a multi-product, multi-GTM SaaS brand – eSignature solution YouSign decided to complement its per-user pricing model with the predictability of subscriptions. It meant – handling both a per-user and subscription layer, experimenting with new acquisition strategies (enabling free trials and custom pricing for enterprise clients), and handling upgrades/downgrades and proration.
The tall order only got taller with their (then) newly launched outbound sales motion required them to migrate from Pipedrive to Salesforce.
That is when they decided to go for a complete revenue management tool in Chargebee instead of building and buying for disparate capabilities.
This helped them –
Handle all their GTM and sales motions through a single command center

Make switching between CRMs as easy as a toggle

Automate invoicing billing management irrespective of their scale, and

Build custom pricing models for their products
Within two months, this new plan for Notaries contributed to 10% of our new MRR. This would not have been possible without Chargebee.

– Antoine Louiset | Co-founder and CTO, Yousign
85% of Chargebee's survey respondents are still iterating on usage-based pricing, underpinning that any business's success relies on continuous experimentation due to dynamic market conditions and a continuously shifting perception of the product value. It is becoming increasingly evident that usage-based pricing is here to stay and all subscription/SaaS companies will eventually offer some form of usage-based pricing.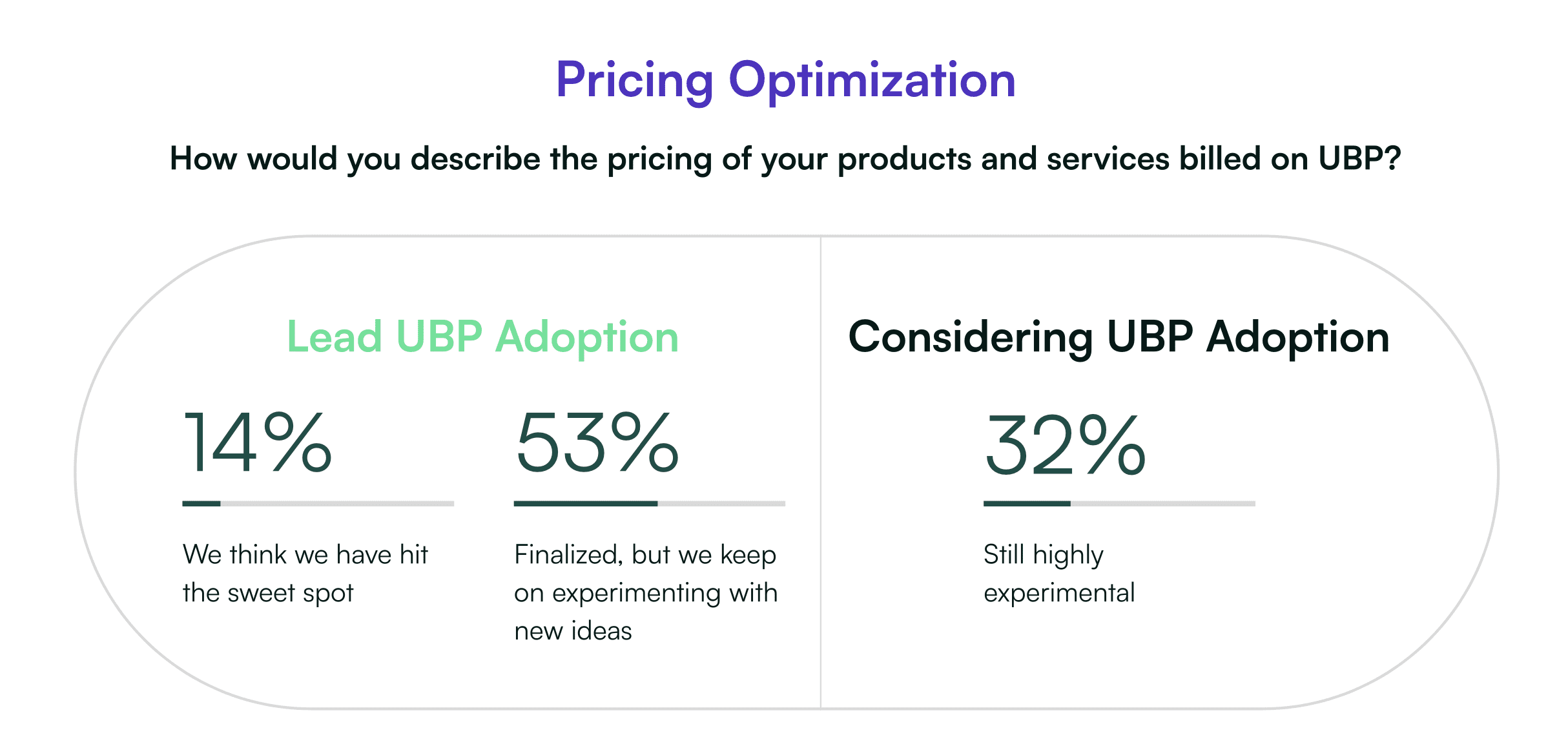 Our latest usage-based pricing study is meant to be a guide for all SaaS leaders seeking to evaluate if usage-based pricing is suitable for their business, the impact it has on key metrics and provide actionable insights, an implementation framework, and recommendations to help them succeed.