Fair Billing Policy
Introduction
Chargebee delivers a fair billing policy with transparency and customer-centricity. A fair billing policy enables you to pay only for what you use. The further read will help understand the fair billing concept in detail.
Glossary
Two terms you will read about constantly in this document. You can read more about them here.
Overage amount: In Chargebee, each revenue-based pricing model offers a default revenue limit covered in the base plan amount. When you exceed this limit, you will be charged an overage amount (on top of the basic plan amount) for the additional revenue processed. The overage percentage (%) varies based on your plan. Refer to our pricing for details on the overage charges associated with each plan.
Voided Invoice: It refers to the invoices you void (cancel) in your live Chargebee site.
There are two initiatives to ensure a fair and transparent billing policy for customers.
Excluding voided invoices from overage calculation
Chargebee automatically adjusts overages in the current billing process for monthly, quarterly, half-yearly, and annual subscriptions for all invoices created and voided in the same billing term. For example, if you are billed monthly, the amount of invoices that are created and voided in the same billing term will not be considered as part of your revenue. Therefore, it will be excluded from the overage calculation of the next billing term.
During automatically adjusting overages of the monthly subscriptions we have noticed that an invoice created in a month might get voided the next month, but since the renewal cycle is shorter in this case, the amount of the voided invoice(s) would have been accounted as revenue for the overage calculation of the previous billing term.
For customers with monthly subscriptions, Chargebee issues promotional credits to address for the overage amount that is contributed by the voided invoices (of the immediate previous billing term) and automatically applies this on your subsequent invoice.
Prerequisites for promotional credits
The following are the eligibility criteria for promotional credits.
Active customers with monthly subscriptions (in the revenue-based model) are eligible.
All the invoices generated in the previous month but voided in the next immediate month are considered for promotional credits calculation.
If the overages are raised in the previous month, the respective overage amount that accounts for the voided invoices will be provided as promotional credits.
There are use cases that explain the logic of promotional credit calculation. Here are the use cases: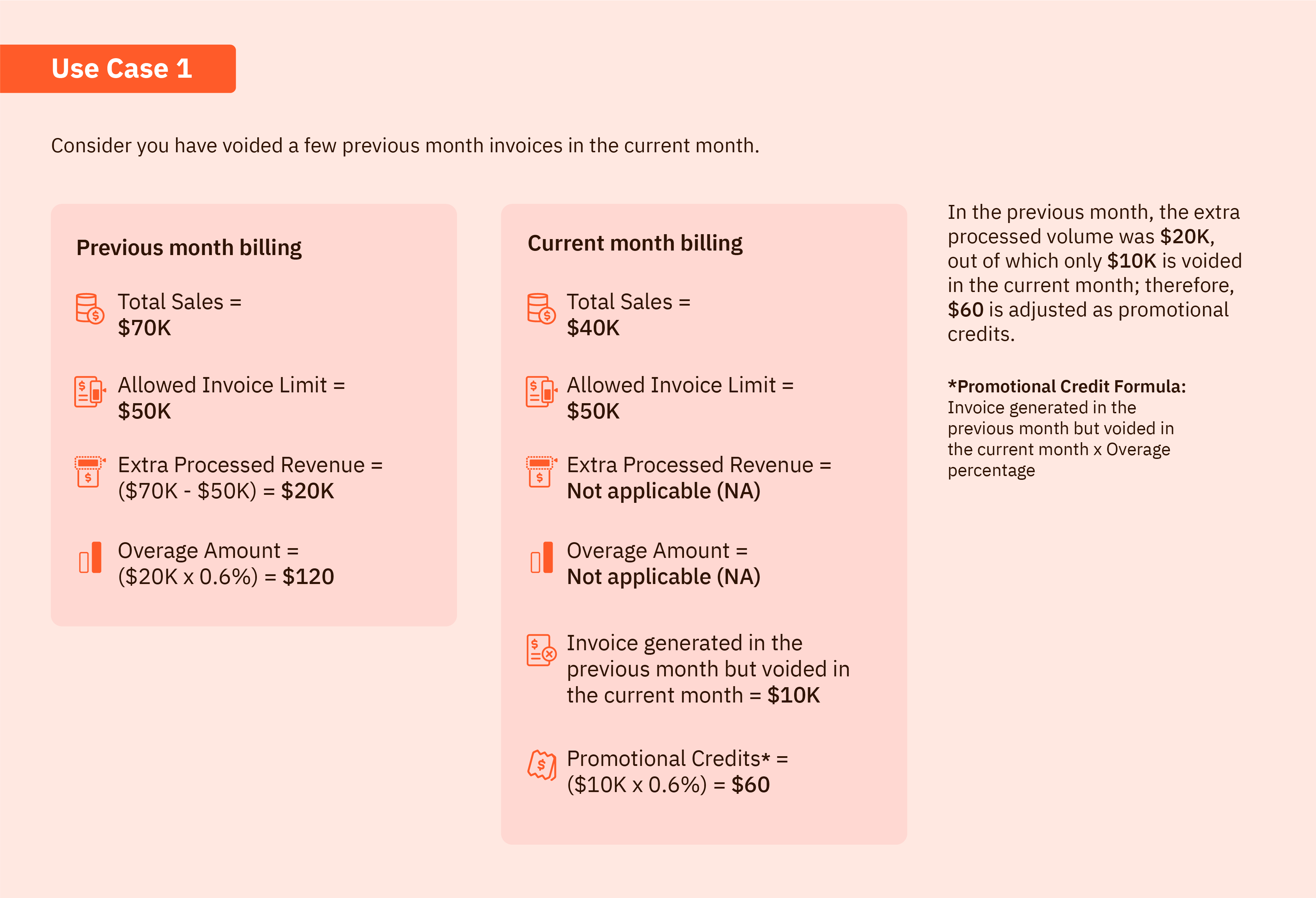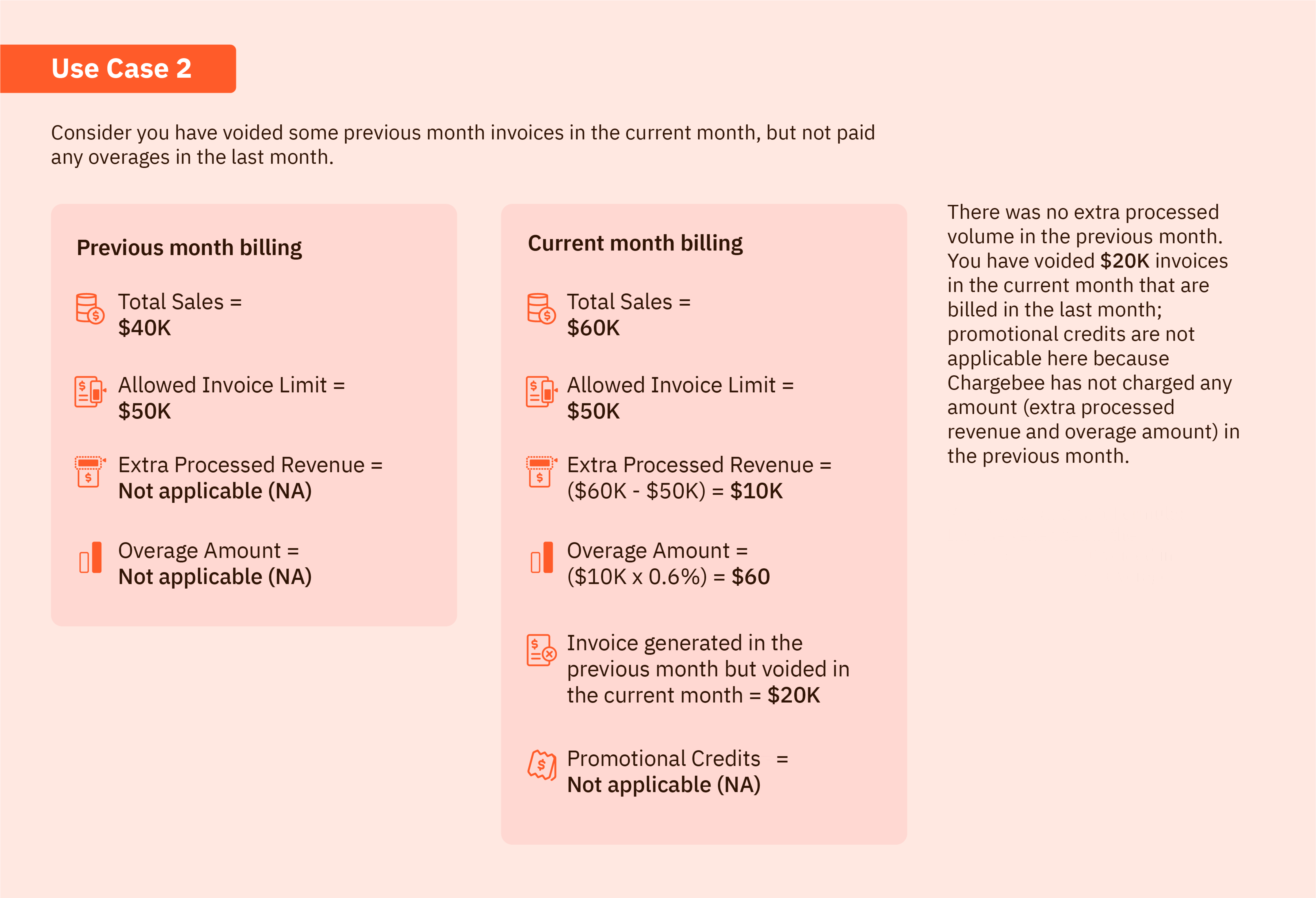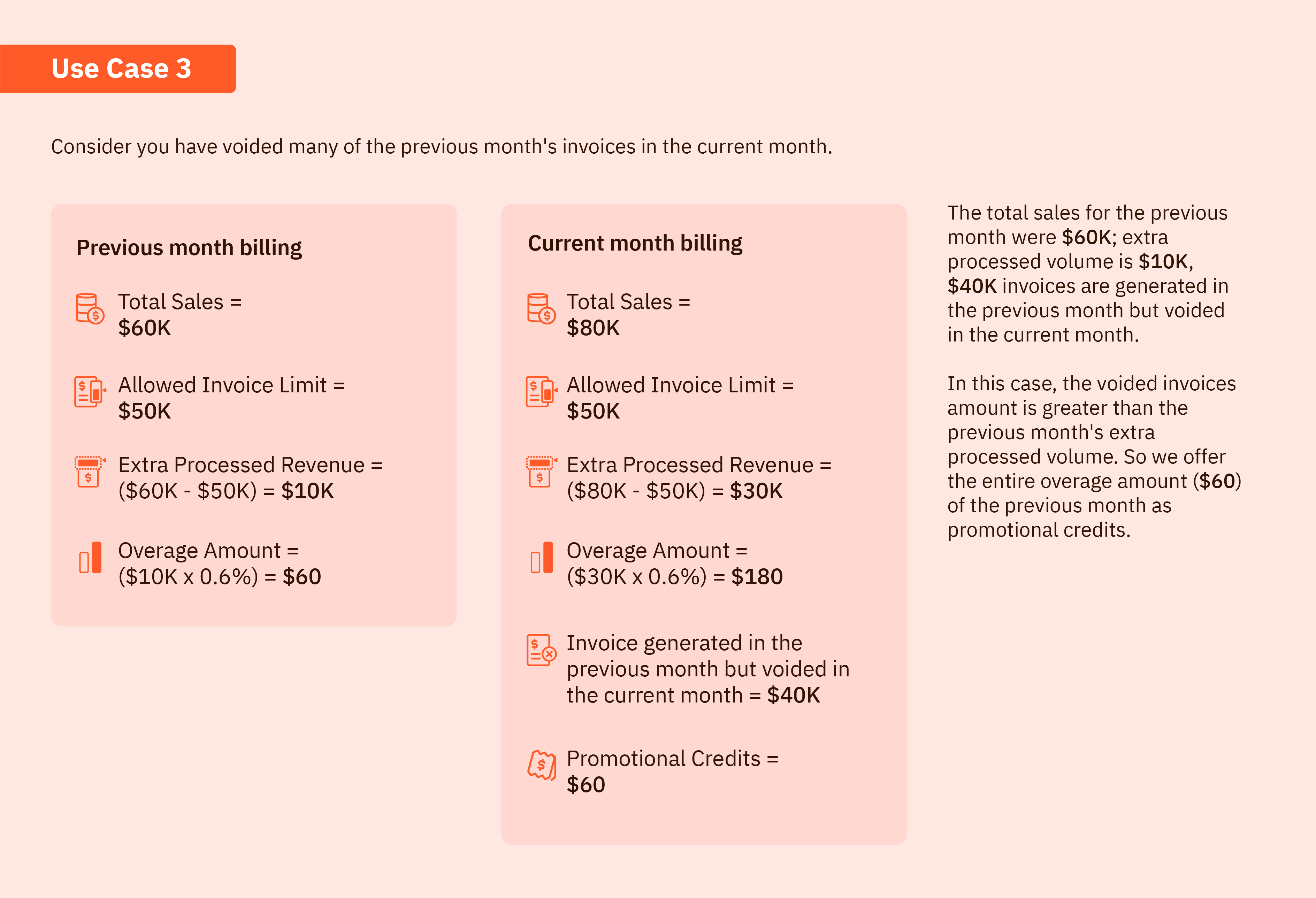 Automatic alerts based on revenue growth
Chargebee sends three alerts when invoicing limit reaches 50, 80, and 90 percent(%) for customers who have quarterly, half-yearly, yearly, or multi-year billing cycles. This communication will help Chargebee's customers to compare current and projected revenue growth. It also reminds customers to connect with their customer success manager (CSM) or account manager (AM) for upcoming subscription renewal.
For customers having a monthly billing cycle, a single alert is generated when invoicing limit reaches 90 percent(%). This is to avoid multiple alerts for monthly subscriptions.
Note
Fair billing initiatives are not applicable to:
All freemium users.
Customers who are billed based on the invoice count instead of the revenue growth.