Bookings vs Billings vs Revenue: Simplifying the Top-Line SaaS Metrics
~ 6 min read | December 20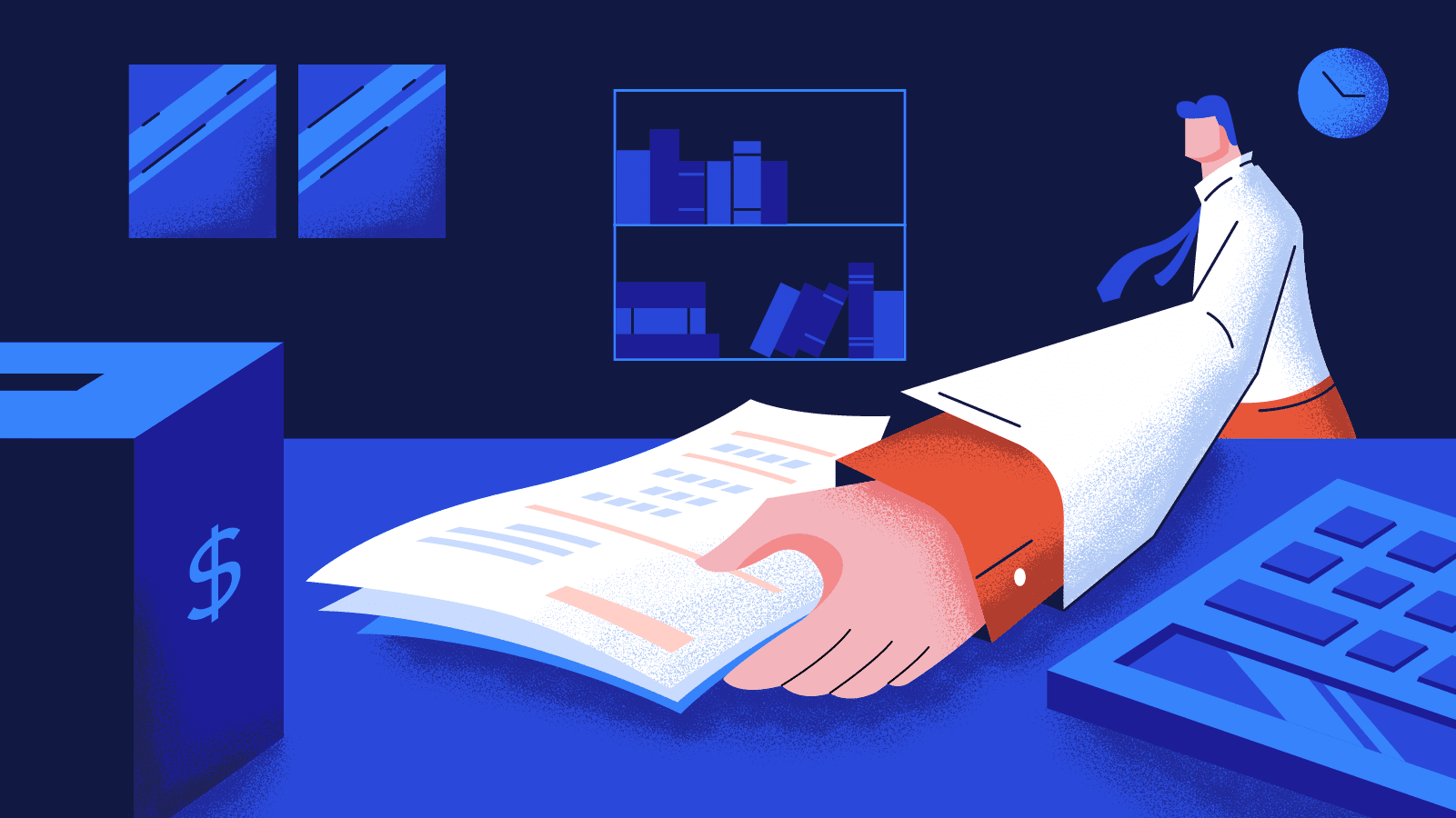 It's a regular Tuesday. Or it could have been, but you've just been given the task of preparing a revenue report. There's a plethora of jargon and definitions. Suddenly, terms like 'bookings' and 'billings' start sounding the same. And terms like 'collections' and 'recurring revenue' only add to the confusion.
Bookings, billings, and revenue in SaaS are all closely related to each other. But they're not the same.
Let's understand each of these terms with a simple example. A SaaS help desk solution called 'Help!' Offers three different plans – Startup, Growth, and Enterprise, priced at $200, $500, and $1000 respectively. Here's a sample dataset of their annual customer subscriptions.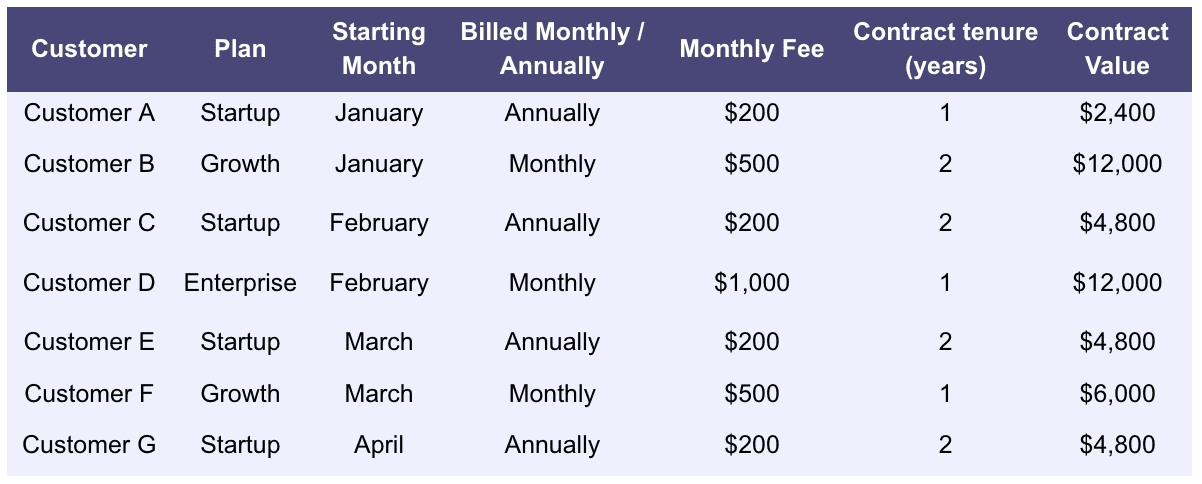 What are Bookings in SaaS?
Booking is a forward-looking metric that typically indicates the value of a contract signed with a prospective customer for a given period of time. In a nutshell, bookings signify the commitment from your customers to pay you money for the service you provide.
In the example above, customer A has signed up for the Startup Plan' for 1 year. The contract between 'Help!' and Customer A, that commits a service from the provider's end, as well as a payment from the customer's end during the 12 months of engagement, is a booking. That makes the contract value of $2400 a 'booking'.

For a particular month, your bookings comprise the sum of all the closed deals in that month and the full duration of the contract should be considered.
So in our example, monthly bookings for 'Help!' are: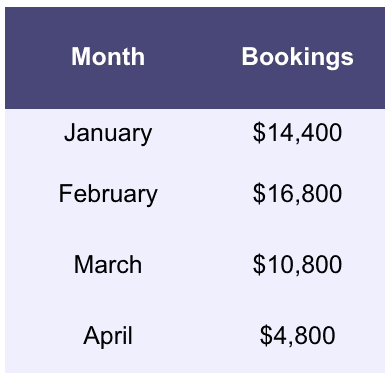 Various types of Bookings include New Bookings, Renewal Bookings, and Upgraded Bookings. However, it is also important to understand Annual Contract Value (ACV) Bookings, Total Contract Value (TCV) Bookings, and Non-Recurring Bookings. 
Why are Bookings Important in SaaS?
Bookings are a primary indicator of future revenue growth. Bookings can help measure the growth of sales over time. You can derive insights about which prospects signed up for what plans or which salesperson was responsible for winning the customer, etc. Using these inputs, you can determine the effectiveness of your customer acquisition and possible upgrades.
Bookings are one of the better SaaS metrics to evaluate sales success, as it estimates the revenue that is won by sales, including non-recurring bookings. This is particularly necessary as MRR (Monthly Recurring Revenue) does not count in revenues from non-recurring charges.
Another important aspect is converting bookings into recognized revenue. If your bookings are high and the revenues recognized are low, it's time to audit the effectiveness of your sales process and product delivery.
Apart from sales, Bookings is an important metric for CFOs and finance teams as well, to help in planning cash outflows and inflows. In effect, it helps finance teams to report bookings as committed money, without recording them as revenue and thus avoiding inaccurate calculation of MRR or ARR (Annual Recurring Revenue). 
However, David Skok in his incredibly exhaustive post on SaaS metrics points out, "Since the bookings number might have a mix of different durations (e.g. month-to-month; 6 months; 12 months) this number is not very helpful for understanding the business."
He goes on to add that you should look at the following components to make more sensible decisions:
What happened with new customers:

New MRR/ACV from new customer contracts

What happened in your existing customers:

Renewals Churned MRR/ACV Expansion bookings

The sum of all of the above:

Net New MRR/ARR
Head here to dive deeper into the world of SaaS reporting and metrics analytics.
What are Billings?
Billings are the invoice amounts billed to customers. This can be over a certain time period, like a month or a full year. Simply put, billings are when you actually collect money from your customer.
Let's get back to our sample dataset. You'll notice that some of the customers have subscribed to a monthly plan, while some others have subscribed to the annual plan. Now while we calculate billings for customers with an annual plan, let's consider that they're paying for 12 months upfront. On the other hand, customers with the monthly plan are being billed every month.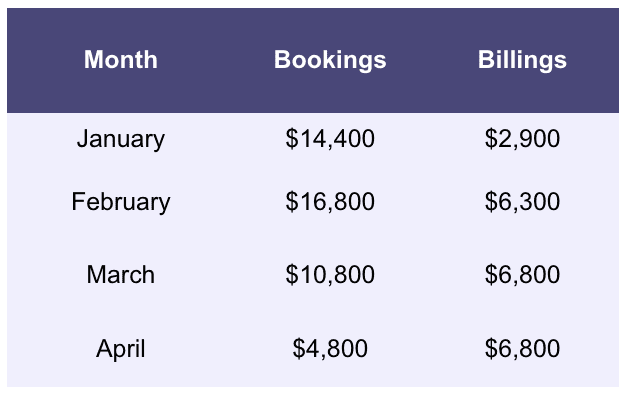 Billings provide insight into the health of a SaaS business because it's the money you're owed.
What is Revenue?
Revenue is the income earned when you actually provide your service to the customers. For every month of successful delivery of service, you can 'recognize' the revenue for that month. This is as per GAAP rules, which state that revenue can only be recognized once it is 'earned'.
Coming back to our example, let's calculate the recognized revenue of 'Help!' for each month. By delivering the promised services to all customers for the respective months, 'Help!' has thereby 'earned' the revenue during that period.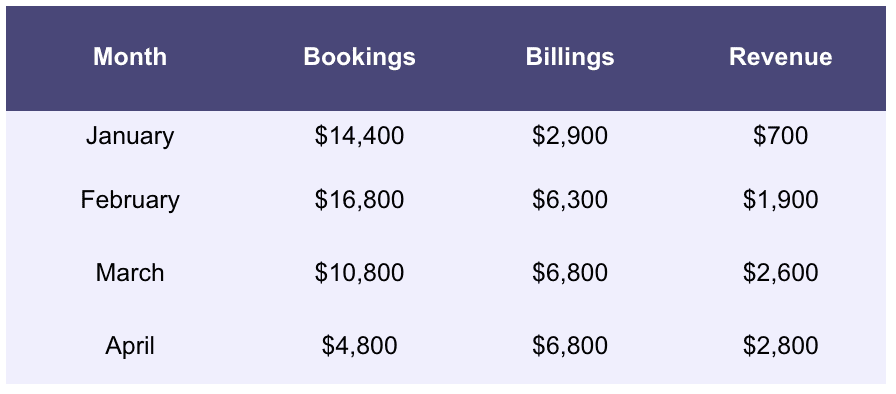 PS: The revenue can only be recognized if the conditions laid out by ASC 606 are met.
What is Deferred Revenue?
With Recurring revenue, comes 'Deferred revenue'. Deferred revenue is the money you've already billed, but you can't recognize as revenue because the service is yet to be provided.
In our dataset, that's simply billings minus revenue.

This is a snapshot of just how different these metrics can be despite being related to each other.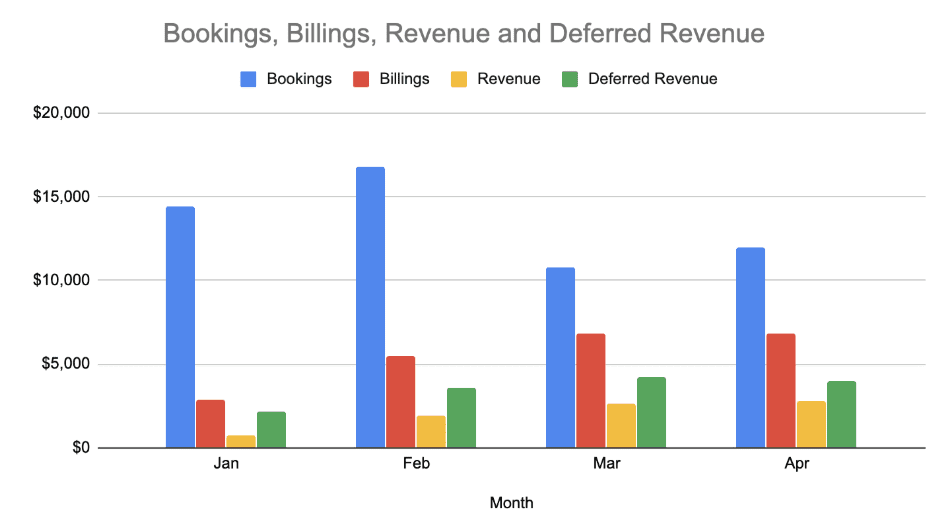 Reporting Bookings, Billings, and Revenue
Now that we know what each of these terms mean, it's also important to know how they are reported in SaaS Accounting.
Bookings don't directly impact financial reports or income statements. Encouraging sales to enable prospects to pay upfront is a great way to increase potential cash flow. Billings, on the other hand, affect the balance sheet (deferred revenue, accounts receivable, and cash balance) and the income statement (recognizing revenue over a period of time).
As far as revenue recognition goes, ASC 606 provides an overarching framework to recognize and report revenue that's applicable across industries. Revenue recognition for SaaS businesses can be a tad complicated due to the nature of the business model. But fret not! We have compiled the ultimate guide for SaaS revenue recognition for you.
Happy Accounting!
Get the scoop on what's new