Chargebee bags leadership positions in several categories in the G2 Winter 2023 report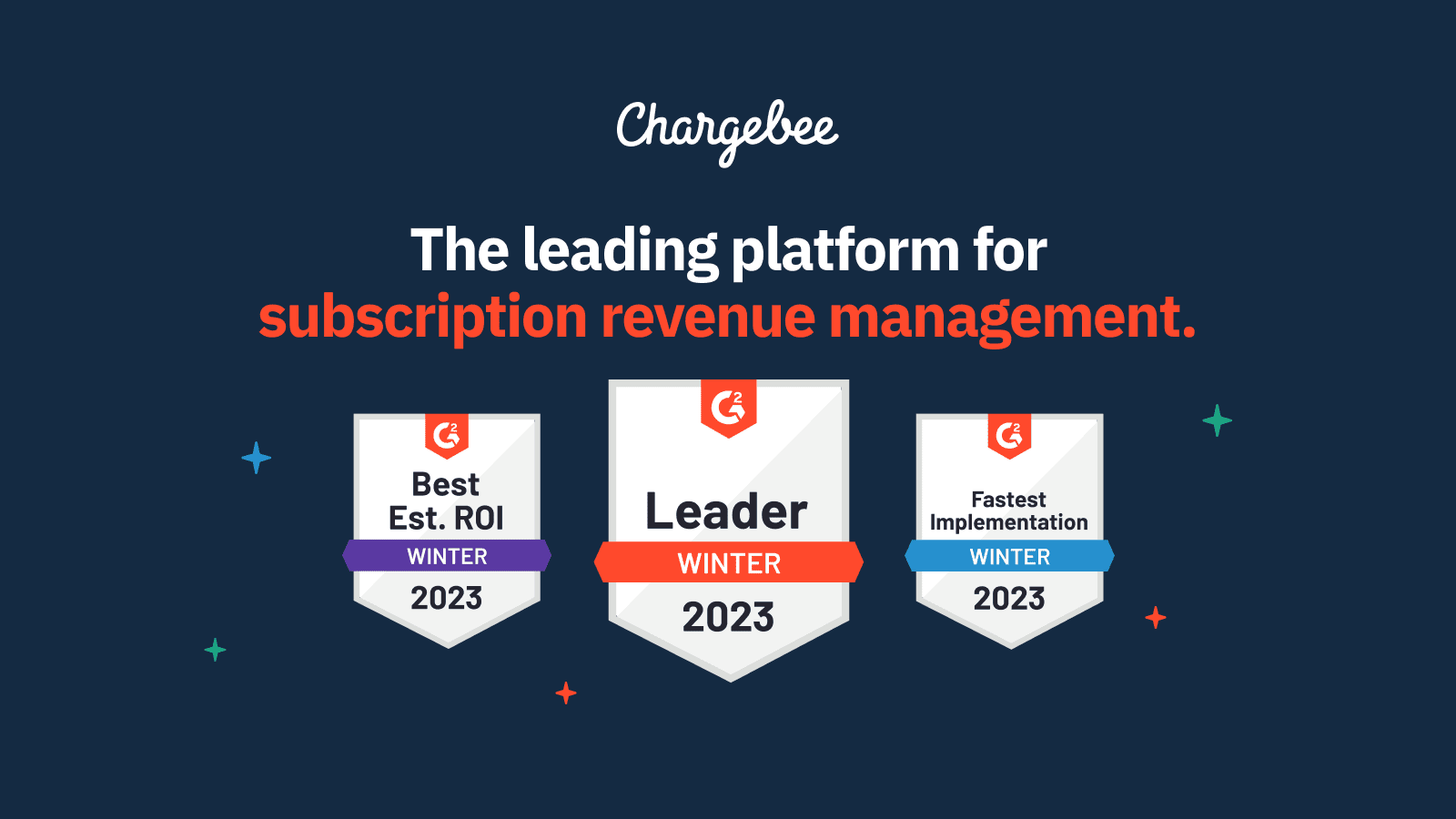 Chargebee ranked #1 in the G2 Winter 2023 report in the categories of Subscription billing, Subscription revenue management, Subscription analytics, Subscription management, and Revenue management. We also scored leader badges for best-estimated ROI, fastest implementation, easiest setup, best customer relationship, and highest user adoption.
G2's quarterly rankings are based on a combination of customer scores on factors such as market presence, ease of use, and customer satisfaction. 
It's been heartwarming to see our vision for subscription billing and revenue management powering a growing number of high-growth companies. 
How far we've come 
In 2011, we began the Chargebee journey with a dream to disrupt subscription billing. By design, our business has been empowering our customers' dreams. In 11 years, eight rounds of funding, and three acquisitions, we've now evolved into a powerhouse of subscription growth. Chargebee is the subscription billing and revenue management platform that lets you solve for your today and scale for your tomorrow. It is a matter of great pride that we at Chargebee have played a part in how our customers adapt, experiment, and scale their subscription revenue operations.
As a product, we've steadily evolved from automating billing operations to managing end-to-end subscription workflows, to enabling Revenue Operations. With a well-equipped arsenal – that can automate the accounts receivables and revenue recognition process and build an intelligent retention engine while retaining subscription billing at its core – we now aim to redefine how subscription businesses operate. 
We believe in the elegance of good code, the promise of subscriptions, and the importance of every single customer's experience. Given the potential of the subscription-led model, the proper revenue infrastructure can catapult businesses into hyper-growth mode. We want to be that long-term partner that helps you scale without complexity.
Setting customers up for success
G2 is the largest and most trusted software marketplace globally. More than 60 million people annually use G2 to make smarter software decisions based on authentic peer reviews.
Recognition from G2 Grid reports serves as real-time validation of our product journey and helps us benchmark ourselves against the best in the market. Reviews like these reassure us about the value we add to our customers' businesses and give us the additional boost to stay on top of our game. 
"Chargebee is an excellent solution for all SaaS companies. It covers practically all the cases that we have to deal with as a B2B business. The product is very intuitive to use, and it is possible to do what you need in just a few clicks. Also, the team is highly efficient and always tries to find a solution for what you need, whether technical or commercial."

Chief Revenue Officer
"Chargebee makes it ridiculously easy to add subscription features to your revenue tech stack. My engineer told me it would take 2-3 weeks to build out the infrastructure to support basic subscription management, and then lifetime support to update, support, and fix any bugs. Their price is a lot cheaper than it would have cost our team to build and maintain our own subscription management tool.
We needed subscription management for our SaaS product, and we needed a simple dashboard to manage active subscriptions, refunds, upgrades/downgrades, etc. Chargebee has made this super easy to do, taking weeks of wasted engineering time down to just a few days to integrate."

Chief Executive Officer 
Our badges of honor 
Here are the badges and awards we bagged this quarter from G2. Cheers to more such milestones together! 

Unlock your growth opportunities and handle your subscription complexities with Chargebee. Talk to our product experts today.
Get the scoop on what's new