The pandemic has been a nightmare in many ways. But it's been a dream come true for a certain special someone—Rumi, (my dog).
Unlimited affection, walks, and treats…what more could a dog want? But as the lockdowns continued, I struggled to get her favorite food and toys. So what did I do?
I subscribed to Barkbox and got everything delivered to my doorstep.
And I didn't stop at pet supplies. I put my groceries and household items on subscription autopilot too.
I wasn't the only one. CouponFollow surveyed 1000 shoppers, and the results revealed that the most popular subscriptions were HelloFresh (21%), BarkBox (20%), Blue Apron (19%), and Dollar Shave Club (18%).
But is this a pandemic-induced fad, or are ecommerce subscriptions here to stay?
The Age of Subscription Ecommerce
Although the pandemic accelerated the trend, subscription ecommerce has been on the rise for the last few years. According to the Subscription Trade Association (SUBTA), subscription ecommerce has been increasing by 17.33% annually since 2015. SUBTA predicts that 75% of DTC businesses will offer subscriptions by 2023.
At the onset of the pandemic, Online spending reached a new high of $82.5 billion in May 2020. That's 77% growth year-on-year! 61% of respondents to a Salesforce survey said that expect to spend more time in online shopping post-covid. The graph below shows how ecommerce growth is now a global phenomenon.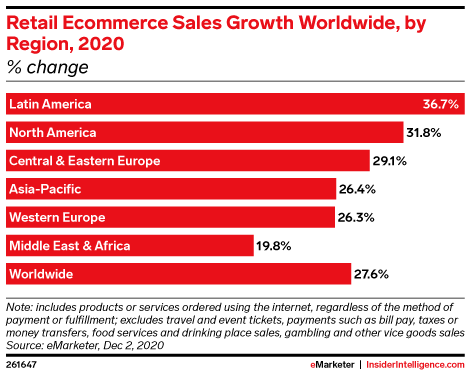 "Subscriptions have become more appealing for brands for many reasons. Most importantly, they allow the consumer to engage in a relationship with the brands,"

-Chris George, co-founder of SUBTA
Increasingly, consumers today prefer usage and value over ownership. Noting this behavior shift, merchants are more likely to experiment with subscriptions.
What's Behind the Popularity of Ecommerce Subscriptions?
Ecommerce puts the ability to shop in the palm of our hands. Subscriptions have made shopping even more effortless by freeing us from shopping lists and having to remember what to buy every month. That's time and energy you can use for more enjoyable things.
Other than convenience, ecommerce subscriptions are popular because of the degree of customization and personalization they allow.
Take Kiwico, for example, which offers monthly science and art kits for kids of all ages.

Consumers have the option to customize and choose kits depending on their child's age and interest. Who wouldn't want such a personalized kit delivered to their doorstep?
Additionally, subscribers can also pause or cancel their subscriptions anytime. Check out how Perfect Keto gives subscribers the flexibility to skip or cancel an order:

On the other hand, businesses have an opportunity to build deeper customer relationships while reaping the many, many benefits that subscriptions provide, such as:
Steady Revenue 
Subscriptions = recurring revenue. This consistent cash flow adds predictability and financial stability to the business. It facilitates better monthly, quarterly, and annual budget planning as well as resource allocation.
Better Inventory Management
Inventory planning can be a headache for ecommerce businesses since demand is often prone to fluctuations. With subscriptions, merchants can better predict future orders. This can improve inventory planning and management.
Customer Engagement and Retention
It's always easier to win over your existing customers than acquire new ones. Each subscription cycle is an opportunity to engage with your customers and develop long-term relationships.
What Can Ecommerce Businesses Do to Take Advantage of Subscriptions?
Ecommerce subscriptions are here to stay and not just for young urbanites like me.  It is on its way into all households. For example, the number of US households shopping for groceries online rose to 40 million in March 2020, vs 16 million in August 2019.
What started as a pandemic-driven necessity is now becoming a way of life.  So merchants should leverage this trend and add subscriptions to their offering.
To do this properly, ecommerce businesses need to orient their product, marketing, sales, and finance functions around subscribers and what's best for them. It is essential to demonstrate the tangible benefits of your product based on consumer goals, which may differ depending on the subscription type. McKinsey classifies ecommerce subscriptions into three main categories. The chart below shows how consumer goals differ depending on the subscription type and how merchants can address them:

It is also vital to deliver a great end-to-end customer experience, from order to fulfillment. Ecommerce businesses can do this by focusing on:
The Ball's in Your Cart
Demand for subscription ecommerce is increasing, and the opportunity to tap into this market is all yours. Are you ready for it?
Here's how Chargebee can be a partner in your ambitious growth in subscription ecommerce.