"If we aren't able to increase the renewal rate for our app by 12% in the next 3-4 months, we'll have to pack up our bags and leave."  – Executive Vice President (Product Management) 
An eerie silence engulfed a startup's board meeting. 
The leadership wanted to understand the 'why' of subscriber churn. But, it was easier said than done. Without an idea of what's driving cancellations, the business could do little to improve its systems and keep the lights on.
If they didn't find a solution that could provide a single source of truth for all their subscriber data NOW, they'd be out of business.
In this read, we decode how one of our clients who're democratizing music with their mobile app and valued at $550 million, streamlined their mobile subscriptions with Chargebee. 
Managing Mobile Subscriptions before Chargebee
Like many modern applications, our client-in-focus supports subscriptions both on their website and their mobile application. The latter is its strongest revenue lever, contributing two-thirds of the total signups. Making mobile subscriptions efficient hence was always an integral part of the business' growth strategy.
But it wasn't easy. 
Since the app marketplaces require developers to manage the complete subscription cycle exclusively on their platforms, the team struggled with: 
(1) consolidated subscriptions across web and app stores
(2) lack of visibility of channel-wise revenue and churn data
(3) accurate mobile subscriber-level transaction details
(4) managing customized customer communication across channels
It's a no-brainer that all of these are critical to subscriber acquisition and retention, and hence had to be fixed ASAP for the business to grow. 
This started the search for a robust solution.
"Investing our engineering muscle in extracting the revenue metrics from all the platforms is a wasted revenue effort. We want them to focus on building our core features and instead buy a solution that helps us with a consolidated view of the revenue engine to increase renewals and reduce churn." Executive Vice President (Product Management)
Managing Mobile Subscriptions after Chargebee
With Chargebee's Mobile App Subscription Management solution, the team gained a 'single source of truth' for their subscriptions. A unified platform to view and manage their mobile and web subscriptions saved them tons of developmental hours that were earlier spent maintaining subscriptions on multiple platforms.
Post onboarding Chargebee, the team could:
(1) Sync the in-app purchases (across Apple and Google) and web purchases and get a consolidated view of subscriptions across all the channels with Chargebee's Mobile SDKs and direct integrations with the App Store and Play Store.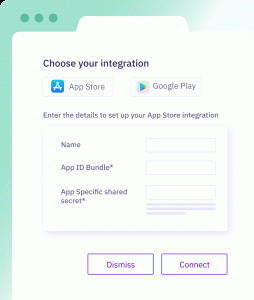 (2) Maintain the entire subscriber lifecycle from receipt storage, validation, product access to subscription status on the Chargebee dashboard without creating any backend service. The Chargebee integration also ensured real-time subscription status sync from the web and app stores.
"We used to run into unusual billing scenarios because a single subscription was valid across our platforms (App Store, Play Store, and Web). Now managing everything in one place with Chargebee is seamless." — EVP, Product Management

(3) Analyze and track KPIs like MRR, subscription growth, churn, and more across platforms to create an insightful and accurate revenue story. With Chargebee Analytics, they could segment data at a user level into subscription status, channel, currency, renewal status, etc., and understand every subscriber lifecycle in-depth. 
A snapshot of the Chargebee dashboard was enough to understand the journey of every penny into the revenue engine.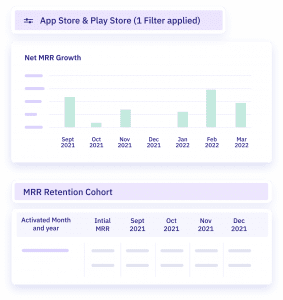 (4) Manage email communication like promotions, dunning, and renewals emails for web and mobile subscriptions all at one place without building any custom logic. They could easily segment iOS and Android customers, use predefined email templates and send emails in a single slick from the Chargebee dashboard.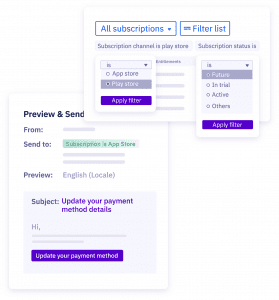 "Combatting Involuntary churn isn't easy especially when you're building a multi-platform service. Chargebee's dunning sequence helped us centralize the communication to our customers and reduce churn significantly"  — EVP, Product Management
Implementing Chargebee not only helped the team centralize their web and mobile subscriptions but also empowered the team to understand their subscription analytics to drive better retention strategies. The precious time at board meetings was no longer spent trying to fetch data from multiple sources but devising strategies to curb customer churn.
Steer ahead the Mobile Subscription Wave with Chargebee
As Management Guru, Peter Drucker puts it "If you can't measure it you can't improve it." 
Tracking, and understanding subscriber metrics is essential for an app's growth strategy. You need to have a clear picture of your acquisitions, churn, and MRR, among other key metrics to drive product decisions and forecast retention and revenue accurately. 
With Chargebee, you don't have to sweat merging data from different platforms. Chargebee's iOS & Google SDKs integrate with AppStore & PlayStore to provide a unified platform for all the key subscription metrics and enable you to manage the lifecycle of your mobile users seamlessly. 
Like our client, if you don't want to battle a deafening silence at a board meeting, and directly skip to the good part, you know what to do.