It's that time of the year again. The holiday season! And with holidays, come shopping and gift-giving. Adobe Analytics predicts that online sales this holiday season are forecast to surge 33% to a record $189 billion, packing two years of eCommerce growth into one year.
On one side of this eCommerce growth is subscription businesses, which have been on the rise for a few years now. Because the subscription model comes with inherent benefits of predictable revenue and customer loyalty, this year we've been seeing the model being more broadly adopted across other industries such as health, fitness, and entertainment. Despite the pandemic-induced downturn, subscription businesses reported a growth of 12%. With online sales peaking new heights, how can subscription retail ride this wave during the holidays and beyond?
The Gift of Subscriptions
Subscription gifting can save consumers the last-minute anxiety of holiday shopping and long lines at crowded malls. There are specially curated subscriptions that you can gift plant lovers or coffee aficionados that add an element of surprise and delight, in addition to the sheer convenience.
If you haven't tried the gifting option for your subscription businesses, the holidays are an excellent playground for you to test your products' packaging and pricing to end the year on a high note and thrive beyond.
Creative Branding is Essential 
In the Direct to Consumer (D2C) era, consumer preferences are shifting. Millennials and Gen Z prefer a memorable customer experience delivered at their doorstep. A recent survey with 2200 US shoppers revealed that around 50% had used online D2C channels.
This trend extends into subscription gifting as well. That's why the personalization, variety, and simplicity of subscription boxes made them a hit even during the pandemic.
Unlike one-time gifting offers, subscription gifting opens avenues for building long term relationships with the customer. You don't have to lure them back to your physical or online store in order to get a repeat purchase, they're on a repeat billing cycle so you already know that they'll be back – resulting in increased customer lifetime value and enhanced brand loyalty.
To tap into this opportunity, online retailers need to brand their products/services as gifts and make it easier for their customers to gift their subscription offerings. Dollar shave club is an excellent example of such "gift branding" with their Gift the Club offering. Robb Vices is another example of creative branding with their gifting a luxury goods subscription box.
Reaping Benefits Beyond The Holidays
While holidays are a great time to kickstart a subscription gifting offering, the benefits of subscription gifting go well beyond the holiday season. The customer is there on repeat at each billing cycle for as long as you can retain them with your unique products and services. Since subscriptions are recurring transactions, you have the benefit of truly understanding your customers' behaviors and how they interact with your products. Based on their consumption patterns, you can maximize your revenue from customers by upselling (moving to a higher tier subscription plan), cross-selling (purchasing an additional product/service), add-ons (purchasing recurring or one-time add-ons on top of their current subscription). The best subscription businesses get a significant portion of their growth from existing customers. 
Subscription referrals are another avenue that significantly reduces your Customer Acquisition Cost (CAC). You can create a win-win situation for your existing subscribers with a reward-based referral program. If done correctly, this can be a large revenue stream for all kinds of subscription boxes, from meal kits to supplements and beauty boxes like Popsugar's 'must-have' has a tiered referral program, these programs can incentivize word-of-mouth marketing through discounts and free boxes.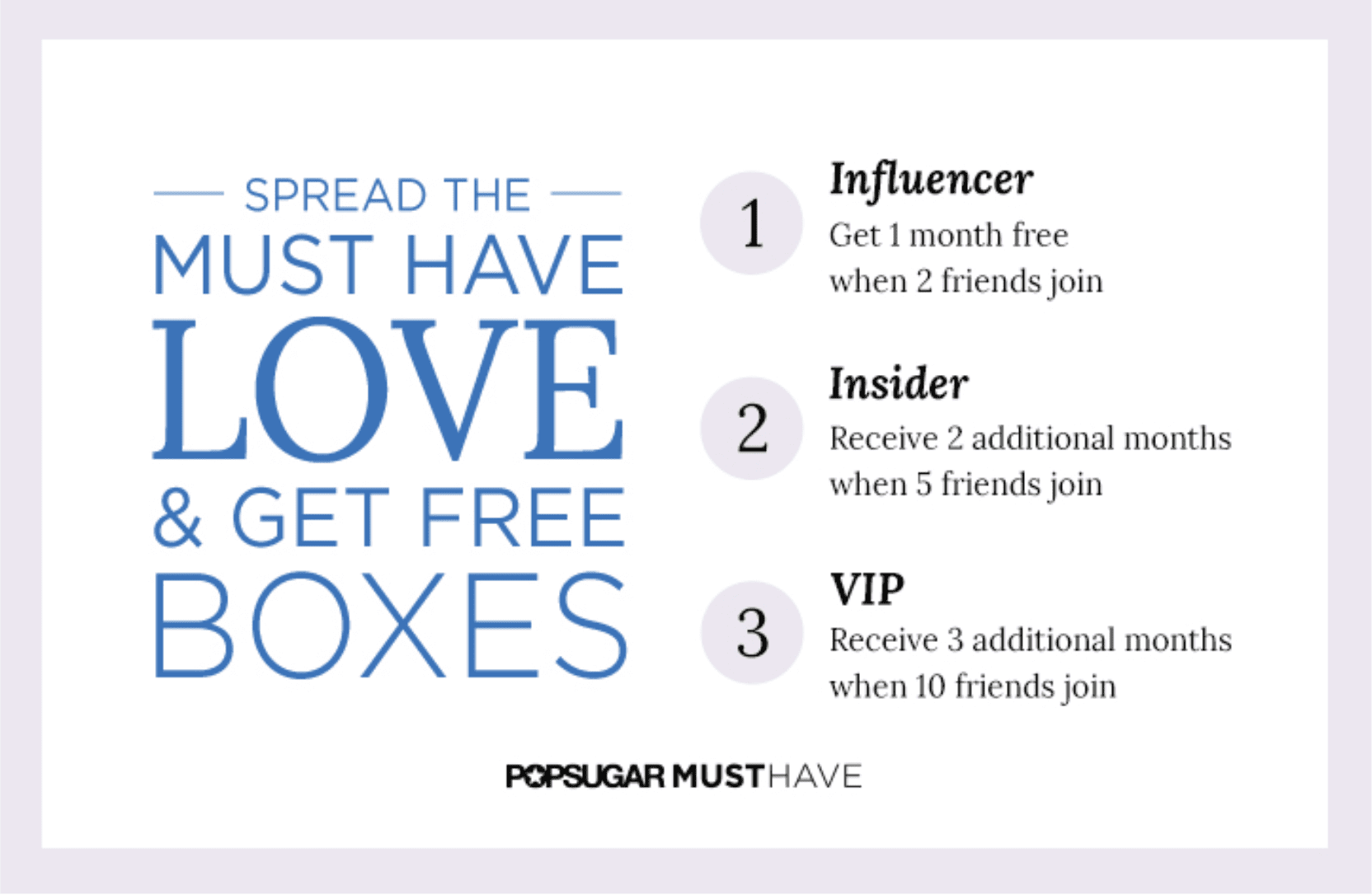 Nuances of Gift Subscription Billing
The subscription model bestows businesses with flexibility around pricing tiers, payment terms, and pausing or canceling subscriptions. In addition to that, gift subscriptions are even more nuanced in billing and payments. You have to make it easy for the recipient to take over the subscription and the payment seamlessly once the duration of the gift expires, resulting in a higher customer lifetime value.
The companies that have been relatively successful in the gifting subscriptions space have been the ones that allow customers to manage the subscription themselves, giving them the flexibility to renew, pause, or even cancel the subscription.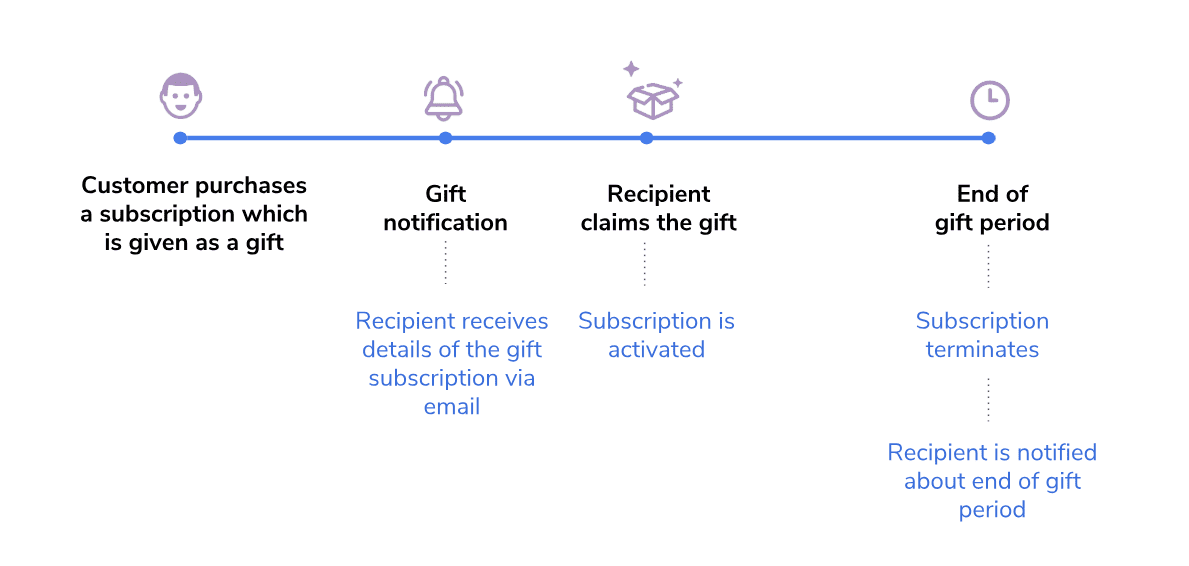 You can experiment with pricing and iterate to see what levers you can adjust to continue to capture and retain your ideal customers. To ensure that the customer stays with you beyond the gifting period, you can use discounts and offer flexible payment options as well.
Apart from a unified eCommerce platform that can handle order and product management, a robust Subscription eCommerce Billing & Management system, like Chargebee, will ensure your pricing experiments and flexible payment terms are a breeze. You can even automate the entire gifting workflow from order management and checkout to gift claim and billing, making for a great gifting experience for a sender as well as the receiver.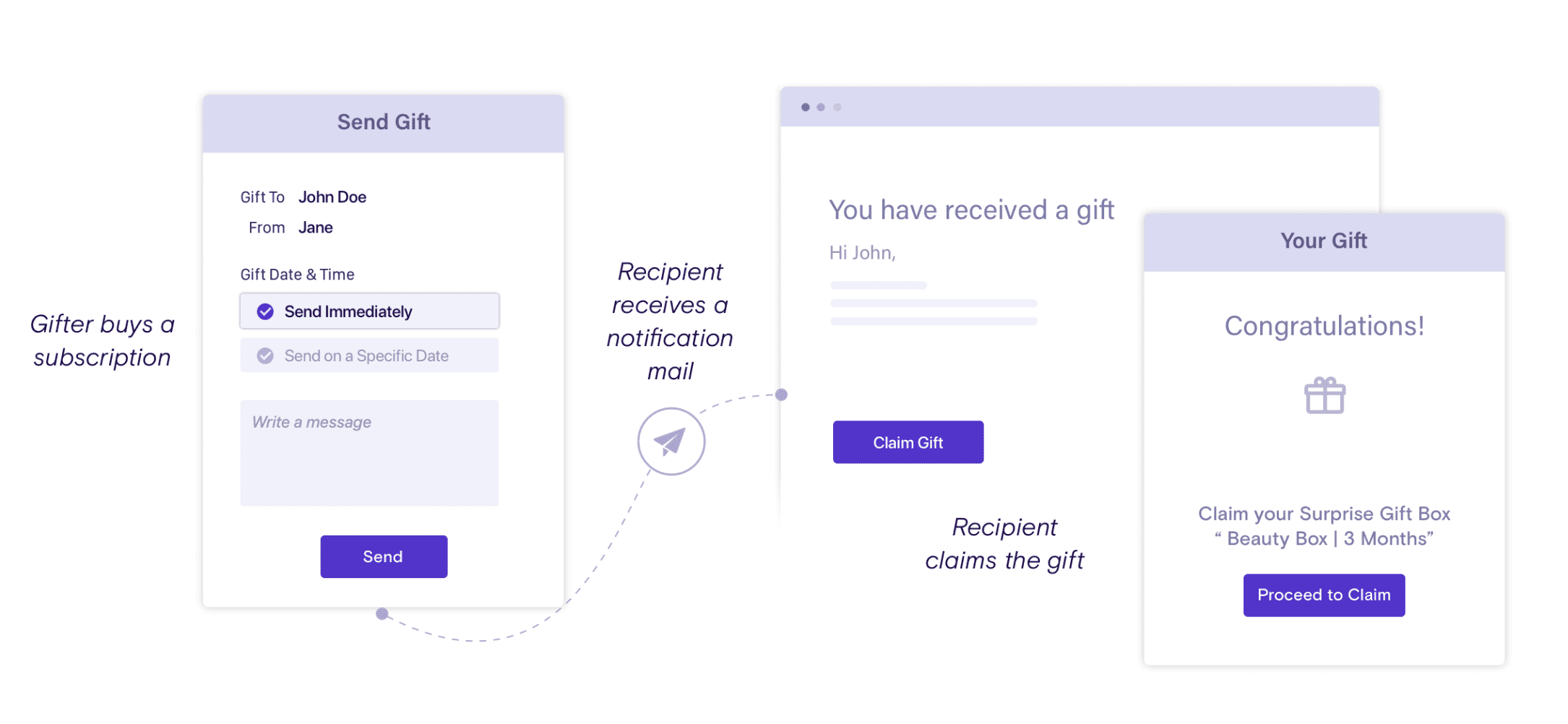 Subscription Gifting: Your Time is Now
Subscription eCommerce is getting increasingly crowded and competitive. Convenience can no longer be a differentiator. Gift subscriptions with curated, personalized products/services and exclusive benefits to the subscribers can open doors to new revenue streams, lasting customer relationships, and a wealth of actionable insights from customer data.
Subscription gifting presents an opportunity to capitalize on the holiday shopping frenzy by creating attractive gift offerings your subscribers can't ignore.