Getting Started with Chargebee
Chargebee is a simple and easy to use subscription management software that takes care of all your billing requirements. Right from setting up plans to customer checkout to automating recurring payments, Chargebee is a one stop solution to streamline your subscription and billing operations. With billing out of your mind, you can focus on the bigger picture - your business.
This implementation guide will quickly help you get started with Chargebee. If you'd like to learn in detail about each module, take a look at our Overview page.
Given below are the key configurations that you need to set up to get started with Chargebee.
Understanding Chargebee Sites
Setting up your Product Catalog (Plans, Addons and Coupons)
Choosing your payment gateway
Branding
Configuring Checkout and Self-Serve Portal
Setting up Email Notifications
Understanding Chargebee Sites
A Site is the heart of a Chargebee account. This is where you'd maintain all your information in Chargebee. Your account in Chargebee will have two sites - Test Site and Live Site.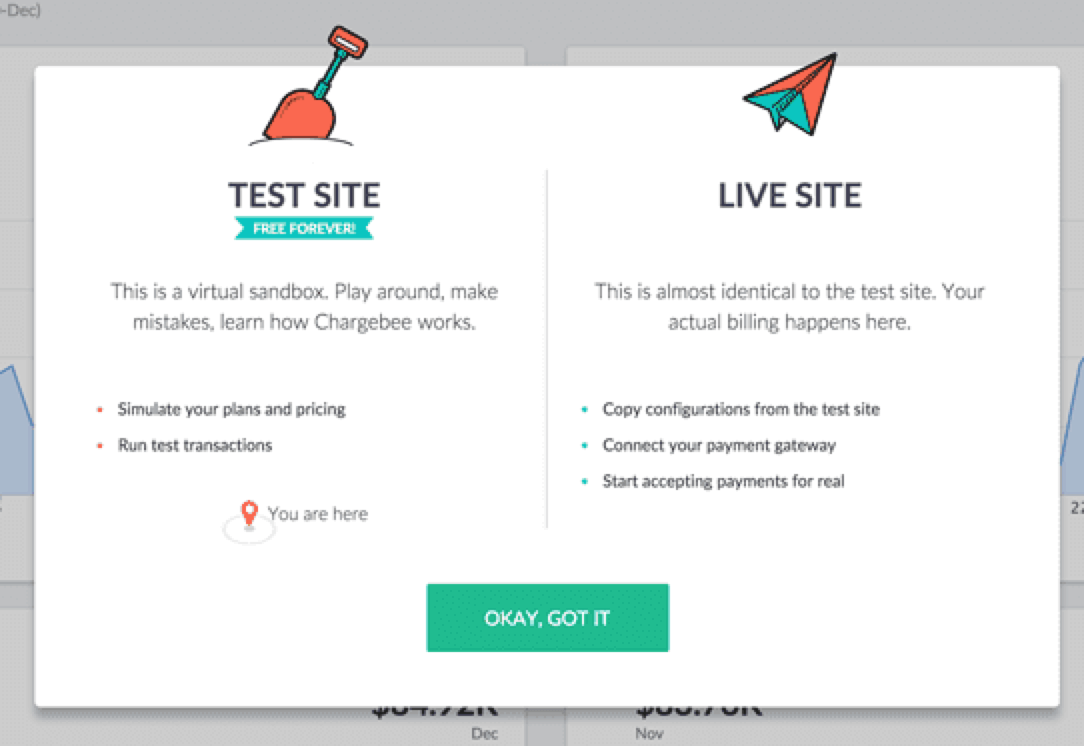 When you sign up for Chargebee, by default the test site will be created for you. The test site is a sandbox environment where you can get a hands-on experience of Chargebee. You can test your billing configurations, create plans, customers, subscriptions etc,. and play around with the product. The information that you add or delete here will have no effect on your actual customer data.
The Live site will be disabled when you initially sign up for Chargebee. Once you have tested all the features of Chargebee and want to start billing your customers in real time, you can go ahead and enable your Live site.
Setting up your Product Catalog
A Product Catalog in Chargebee consists of your plans, add-ons and coupons.
Plans
Pricing your product can be a challenging task especially if you are starting up. Chargebee allows you to easily create plans and pass them to checkout pages.
Pricing your plans also depends on the business that you are running. For instance, if you are a media house business, you might consider setting up weekly, monthly or annual plans where as if you are a SAAS provider you might want to limit your plans to just monthly and Yearly. Chargebee allows you to create plans based on your need. You can swiftly set up free trials, manage quantity, add a setup fee and do much more while creating a plan.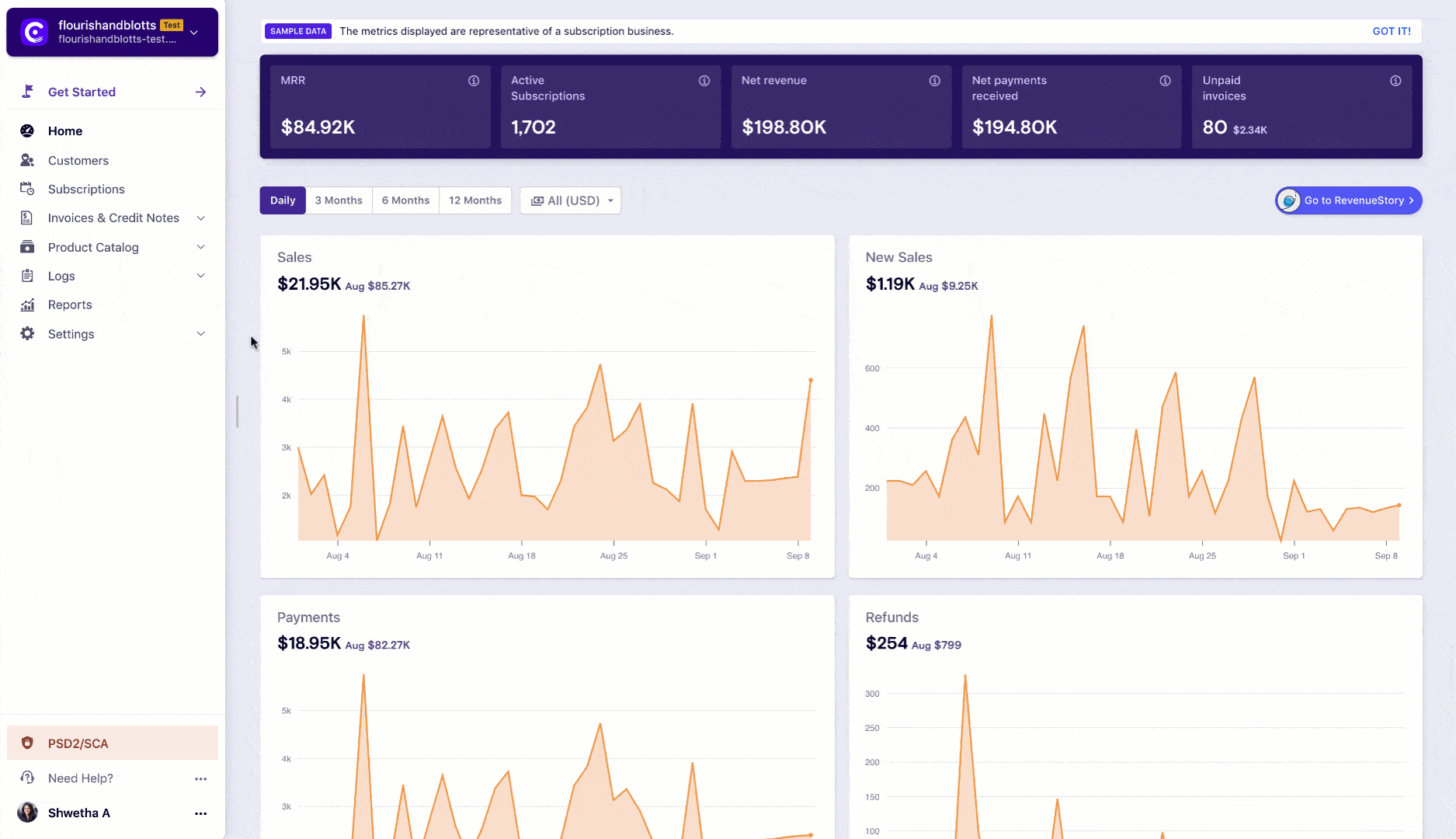 As your business grows, the pricing models can also change. Chargebee allows you to easily choose the model that will support your business. It supports Flat Fee, Per Unit, Volume, Stairstep and Tiered pricing models. The ease of plan management in Chargebee will empower your team to implement pricing changes with confidence.
Addons
Add-ons are a great way of selling additional products/services to your customers and boost your sales revenue. Let us say, you are selling a book box which has a theme for every month. You can cross sell the merchandise as an add-on.
For a subscription business, some products are recurring while some aren't. Chargebee understands that and allows you to create add-ons based on your business needs. Once done, you can seamlessly integrate your add-ons with your plans during checkout and start selling.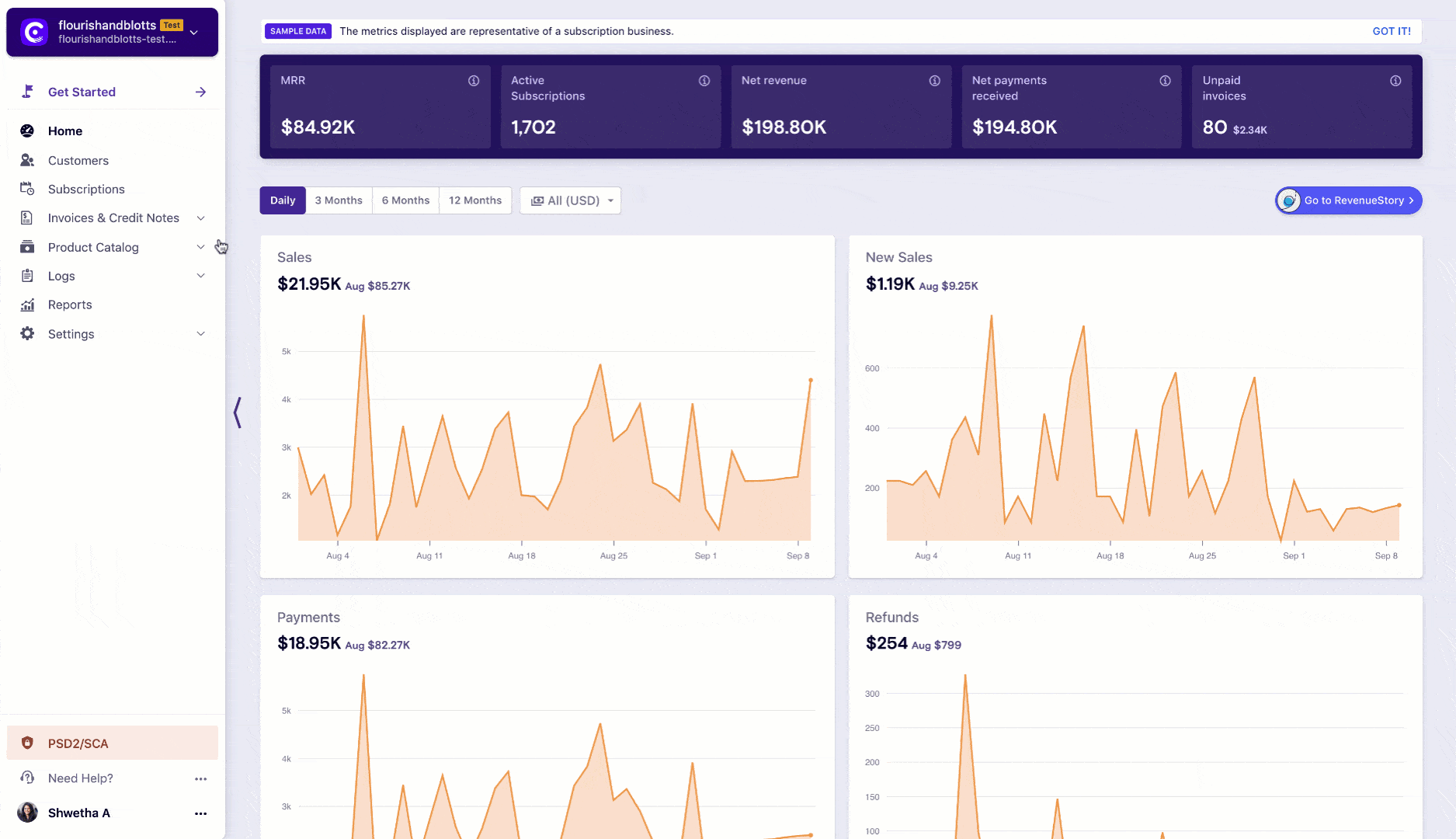 Coupons
Promotions and incentives play a key factor in driving customers toward a product and in boosting sales. And one way of doing this is by using coupons. Chargebee's flexible couponing system ensures that you can configure discounts to the line-item level, depending on your business needs.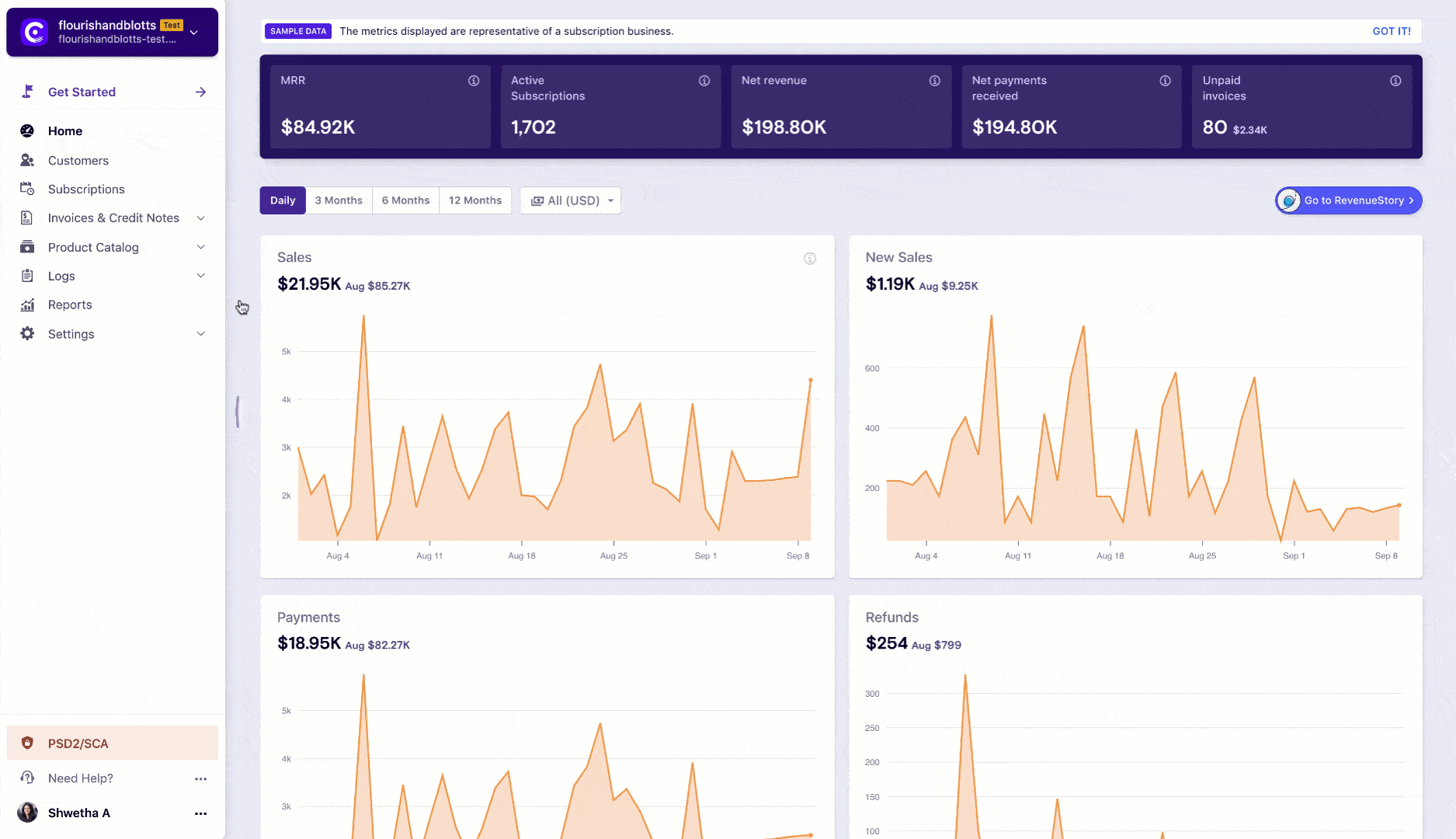 Choosing a Payment Gateway
Chargebee offers integration with about 25+ top payment gateways across the globe. You can choose the payment gateway that would cater to your needs and integrate with them in less than a minute. Chargebee understands that every lost customer in recurring revenue equals loss of revenue opportunity over their lifetime (LTV). Therefore, you can set up multiple gateways and switch in seconds to avoid payment failures.
You can configure a payment gateway of your choice by clicking Settings > Configure Chargebee > Payment Gateways > Add Gateway
Learn more about Payment Gateways.
Branding
While using Chargebee to manage your subscriptions, you can customize all the customer facing essentials such as your invoice, checkout, portal or even your emails that are sent from Chargebee to speak/reflect your brand. You can setup your logo, icon (and favicon), and brand colour.
You can configure your brand elements by selecting Settings > Configure Chargebee > Brand Styles.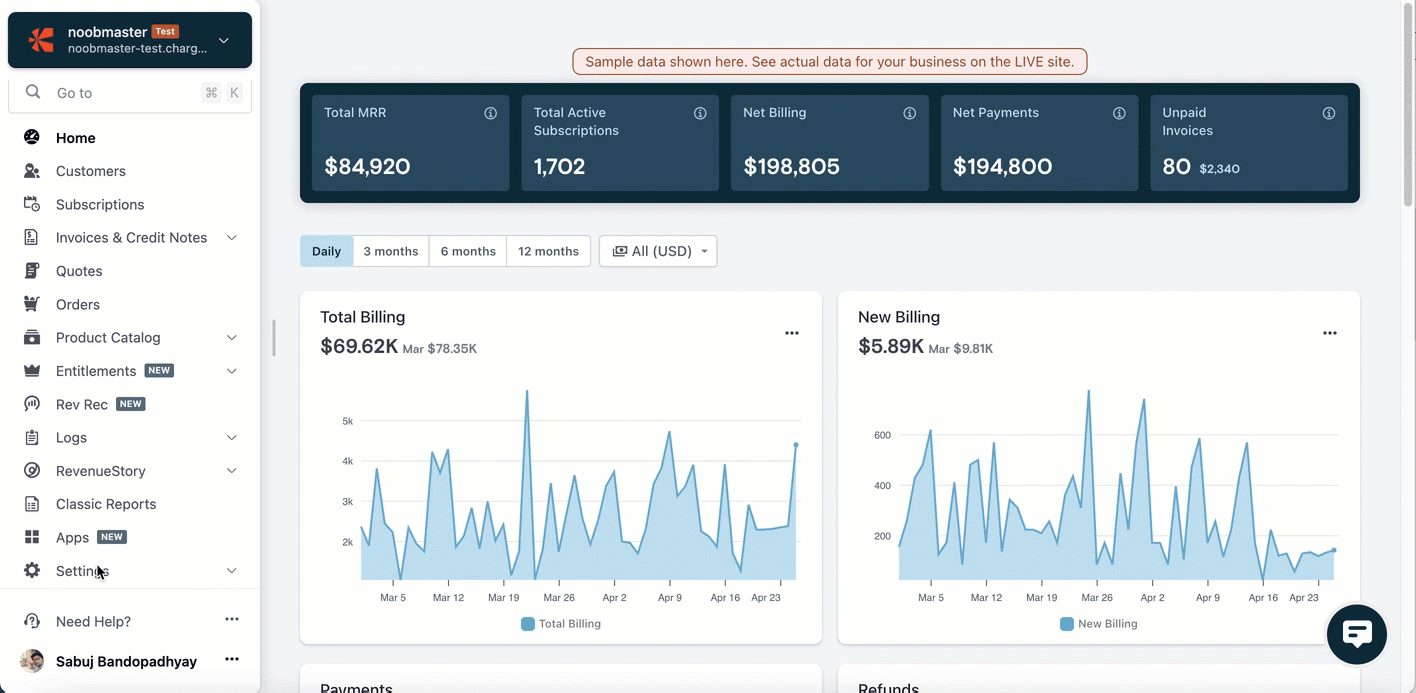 Configuring Checkout and Self Serve Portal
Checkout
Checkout plays a crucial role in your entire website. It is a critical source of your business revenue, cause this is where your leads and prospects convert as your customers.
Chargebee Checkout gives you the flexibility to design the page according to your website's look and feel. It also provides a smooth checkout experience for your customers while purchasing products or services from your site.
Chargebee offers you flexible options when it comes to checkout. You can either use Chargebee's plug and play modal (drop-in script) or build it on your own using API.
Drop in script is widely used by our merchants and can be integrated with your website in just a few seconds. You can choose to configure fields, display charges, taxes, a thank you message and play around with multiple workflows to suit your business needs. All that you have to do is add an auto generated script for the plan within your HTML page.
Learn about configuring Checkout using drop-in script.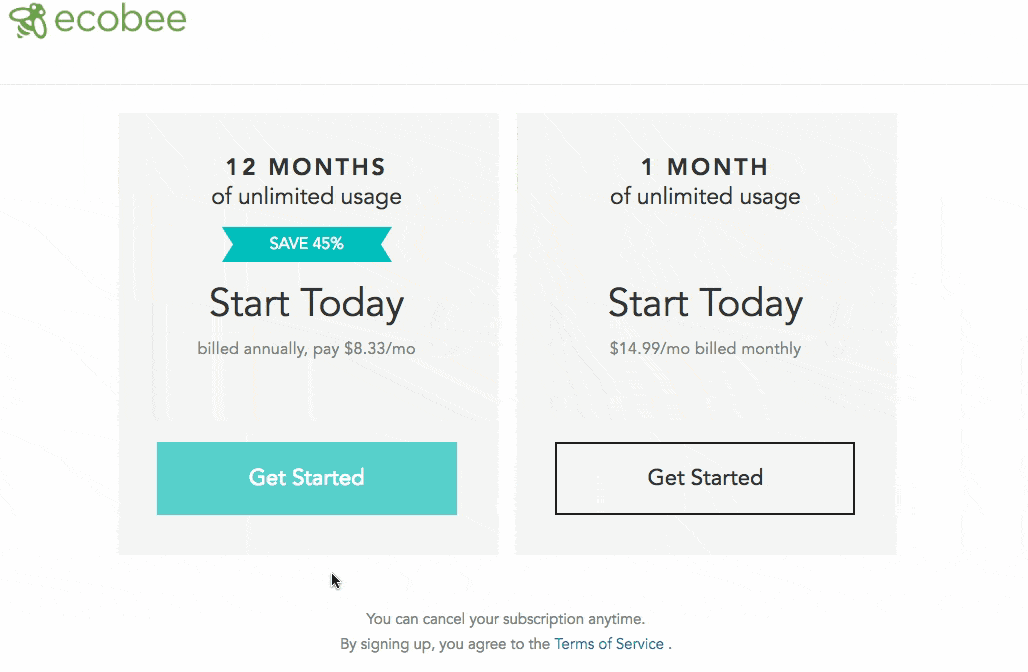 Self Serve Portal
Chargebee provides a seamless and efficient self-serve portal for your customers to manage their account information. Your customers can add, edit, pause or cancel subscriptions, download previous invoices, manage payment methods and their shipping/billing address using this self serve portal.
You can access the portal settings by selecting Settings > Configure Chargebee > Checkout and Self Serve Portal > Portal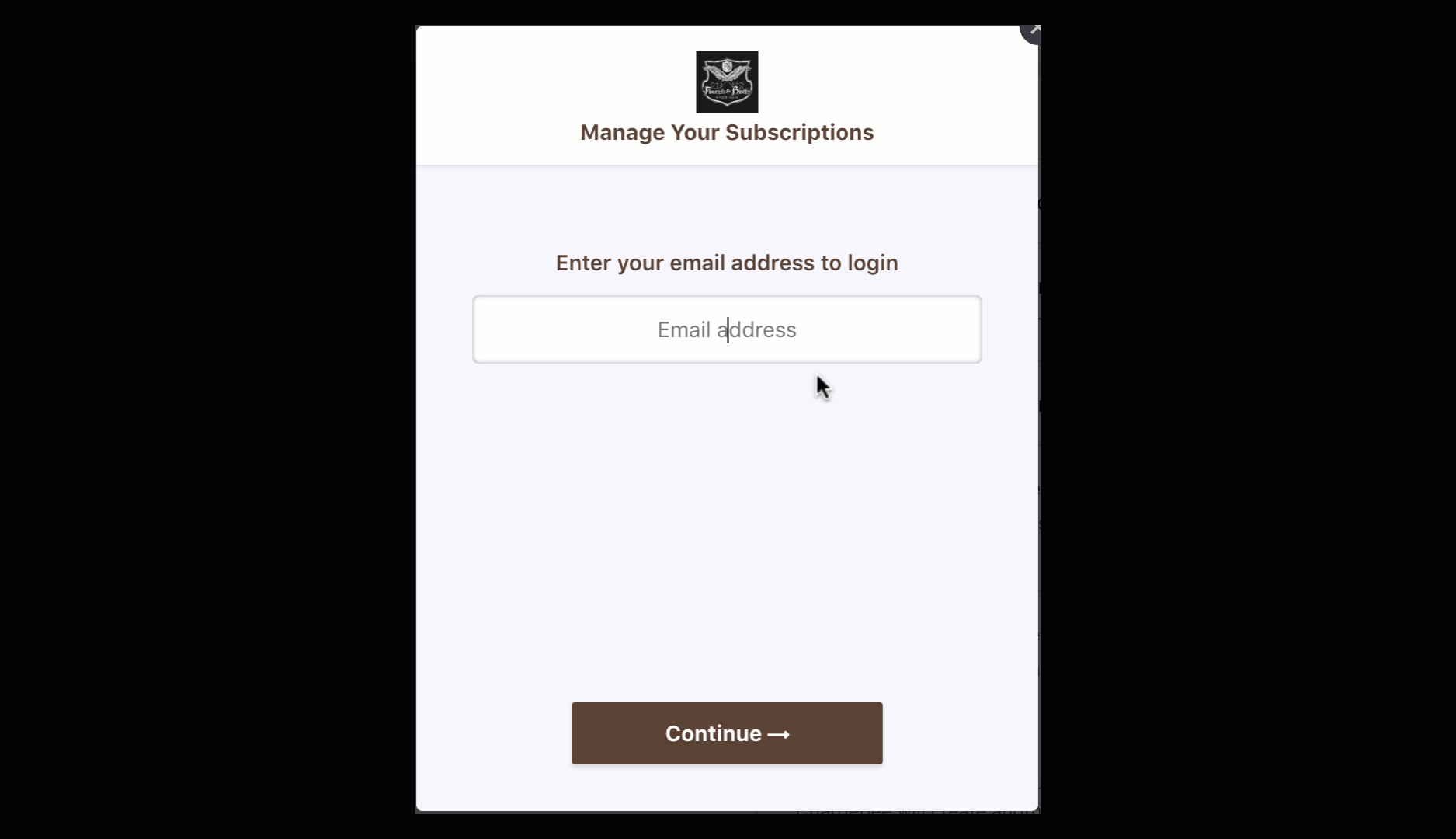 Learn more about self serve portal
Setting up Email Notifications
Email is a prime channel of communication with your customers. Chargebee allows you to configure mails that can be sent to your customers at various points of their life cycle. These emails can be triggered for actions in subscription, payment, invoice, customer retention etc.
The email notifications sent to your customers, by Chargebee, are broadly categorised into:
Subscription Management
Invoices, Credit Notes & Payments
Revenue Recovery
Customer Retention
Self-Service Portal Emails
Cart Abandonment Emails
Gift Subscriptions
Within each category, there are default email notifications available. You can either edit and make changes to the default email notifications or create your own email notifications.