Implementation Guide
Chargebee is a subscription billing management service that aids the management of recurring payments. Chargebee's web interface offers two sites: live and test.
The test site is a virtual sandbox where you can setup the pricing configuration required for billing your customers. The test site comes with sample data to help you get started right away.
Once you've tried and tested the features, you could start with the implementation.
1. Configure your billing rules
Start by creating and configuring your billing information and settings in the web interface. All you have to do is log in with your credentials and you can start setting up your products and site settings.
2. Pick your payment methods
Chargebee offers a host of payment method options that you can use to accept payments from your customers, right from card payments to direct debit via ACH. Configure the payment method of your choice by clicking Settings > Configure Chargebee > Payment Gateway.

Chargebee supports a wide range of payment methods Payment Methods. Please do read this documentation to learn more.
If you find that your payment method/gateway is currently not supported, please email us at support@chargebee.com . We'll do our best to prioritize and integrate with it as soon as possible.
3. Integrate with Chargebee
There are three ways of integrating Chargebee with your system. Pick the method that works best for you.
4. Enable your live site
When you have tested all the configurations and your merchant account and payment gateway are ready, you can switch over to your live site. To activate your live site, click the "GO LIVE!" button on the top right corner of the screen in your web interface.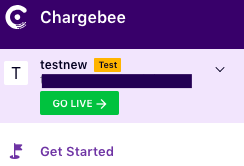 Once you've filled out all the details, your live site will be activated immediately and you will also receive an email notification about the same.
Things to check before you start charging your customers:
Make test payments using real cards on your live payment gateway and ensure that they are successful. You can always void or refund these transactions.
Verify that all your site and product configuration settings have been setup correctly.
Ensure that the right events have been enabled for email notifications. Learn more.
If you have any questions or need assistance with implementing Chargebee, please contact us. You can submit a ticket or email us at support@chargebee.com .