Intercom
Introduction
Intercom can be your go-to tool that provides services for your Sales, marketing & customer service; all this in a single platform. Intercom helps your business have a real conversation with your customer; filling the communication gap. Connections grown strong, direct and less spammy. Having Intercom on board paves the road to a smoother, more straight forward means of customer communication.
Chargebee understands the need of having all the right information at the tip of your finger; and the integration with Intercom is executed with the same intention.
Subscription details along with customer details will be made available in your Intercom app with Chargebee's integration with Intercom.
During the synchronisation, Chargebee will identify common customers in Intercom, map them and sync their corresponding subscription details. Mapping is usually done using the email addresses available in Chargebee and Intercom.
This means your team will have all the information they'd need on a customer; which will in turn help them take the right decisions without having to toggle between screens.
Note
This is a one-way sync (Subscription information will be synced from Chargebee to Intercom)
This integration does not support Intercom Chat widget
Sync will run at an interval of 6 hours since the time of the first sync
When a subscription is canceled in Chargebee, the latest subscription status of the customer in Intercom gets updated to 'Canceled'. User and subscription information will not be removed from Intercom.
Step 1: Connect to Intercom
To integrate Chargebee with Intercom, navigate to Settings > Third Party Integrations > Intercom > Connect.
You can proceed with the integration only if you have an Intercom account.
You can also sign up for an Intercom account from here in case you don't have one already.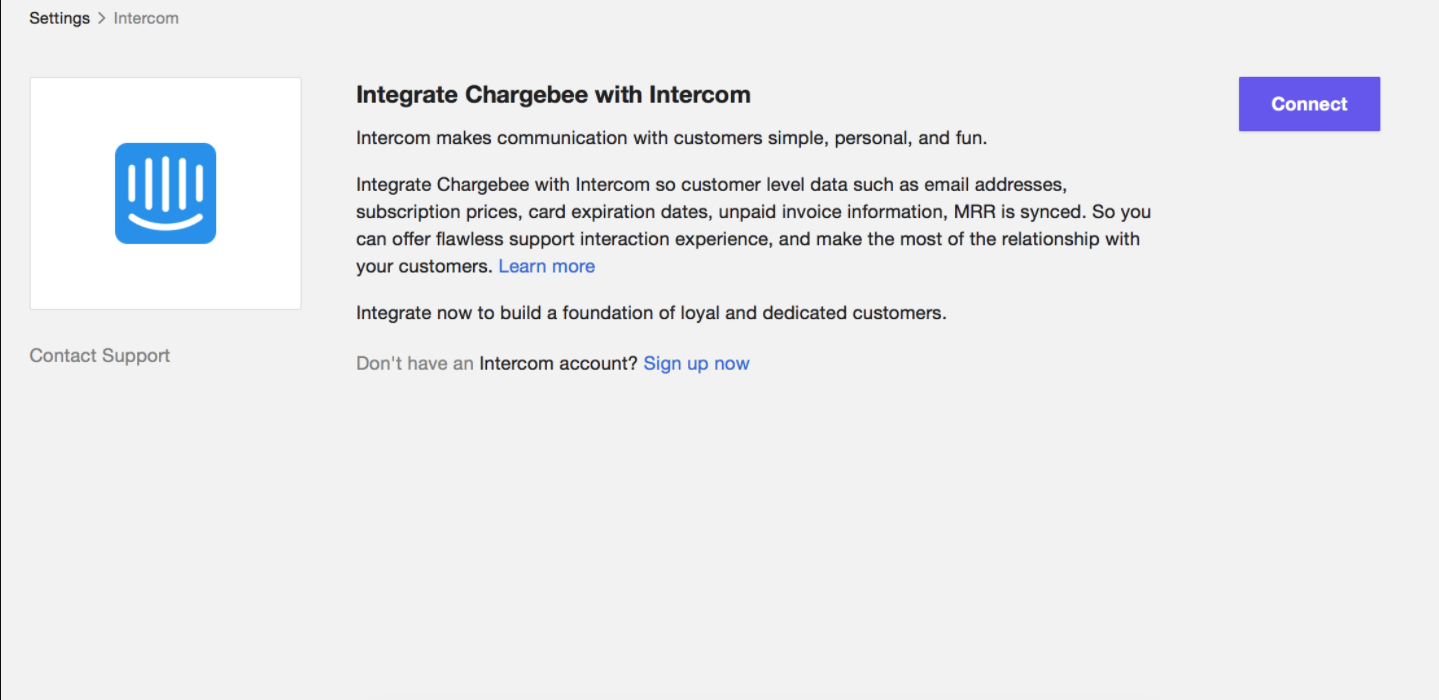 This will redirect you to a page where you will be asked to confirm the actions Chargebee can perform on your Intercom App by clicking on Connect.

Note
If you are using multiple Intercom apps, you can select the app to be used for the integration with Chargebee.
Step 2: Validate Data
After connecting to Intercom, Chargebee will check for duplicate data in Intercom using the email addresses used in both Chargebee and Intercom.
If the customer has the same email address recorded in Chargebee and Intercom, the accounts will be mapped by Chargebee.
However, during validation, if Chargebee finds that a customer has multiple accounts in Intercom under the same email address, Chargebee will notify you with an error message. In that case, you need to contact support@chargebee.com to continue with the mapping.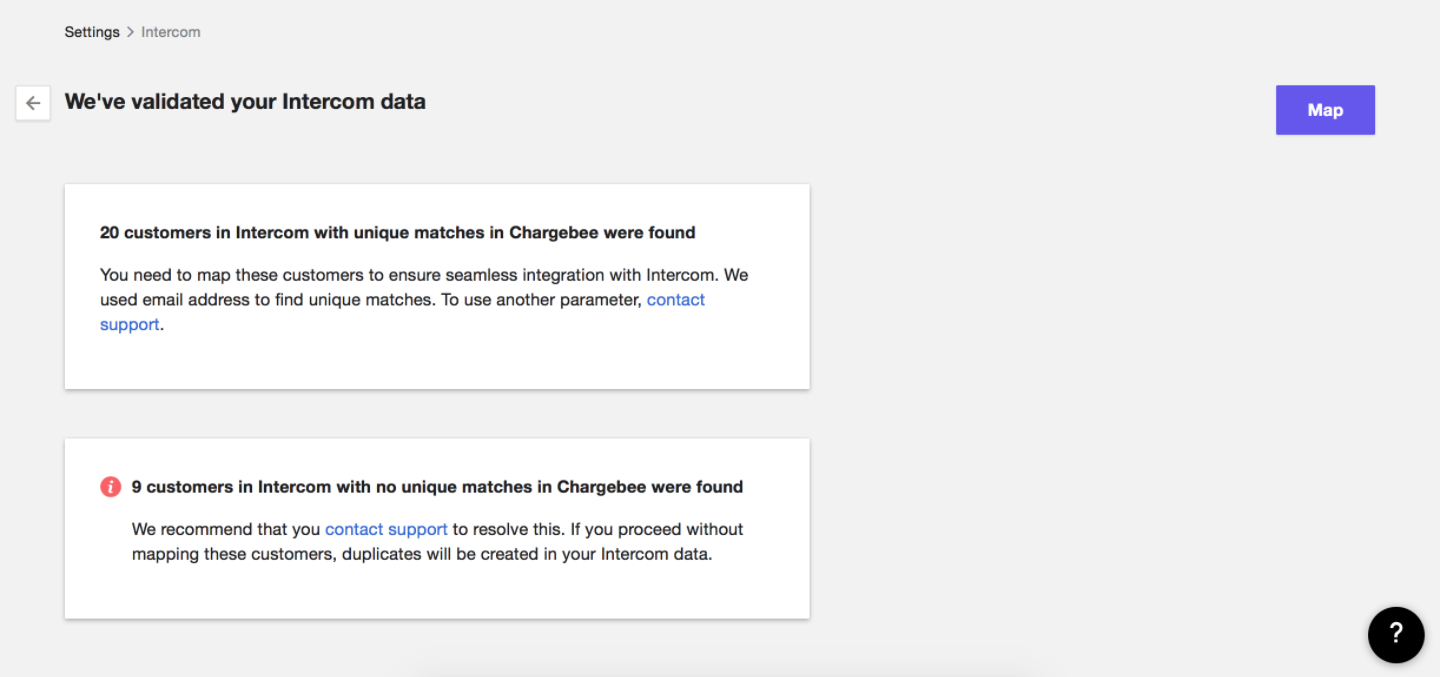 In case no errors are encountered or if you are using a clean slate Intercom account, you will be taken to the next step directly.
Step 3: Choose data attributes to be synced
Chargebee syncs Customer and Subscription attributes to Intercom.
Customer ID, Name and Email attributes will be synced to Intercom by default.
Additionally, you can choose from the listed Customer, Subscription and Invoice related attributes to be synced.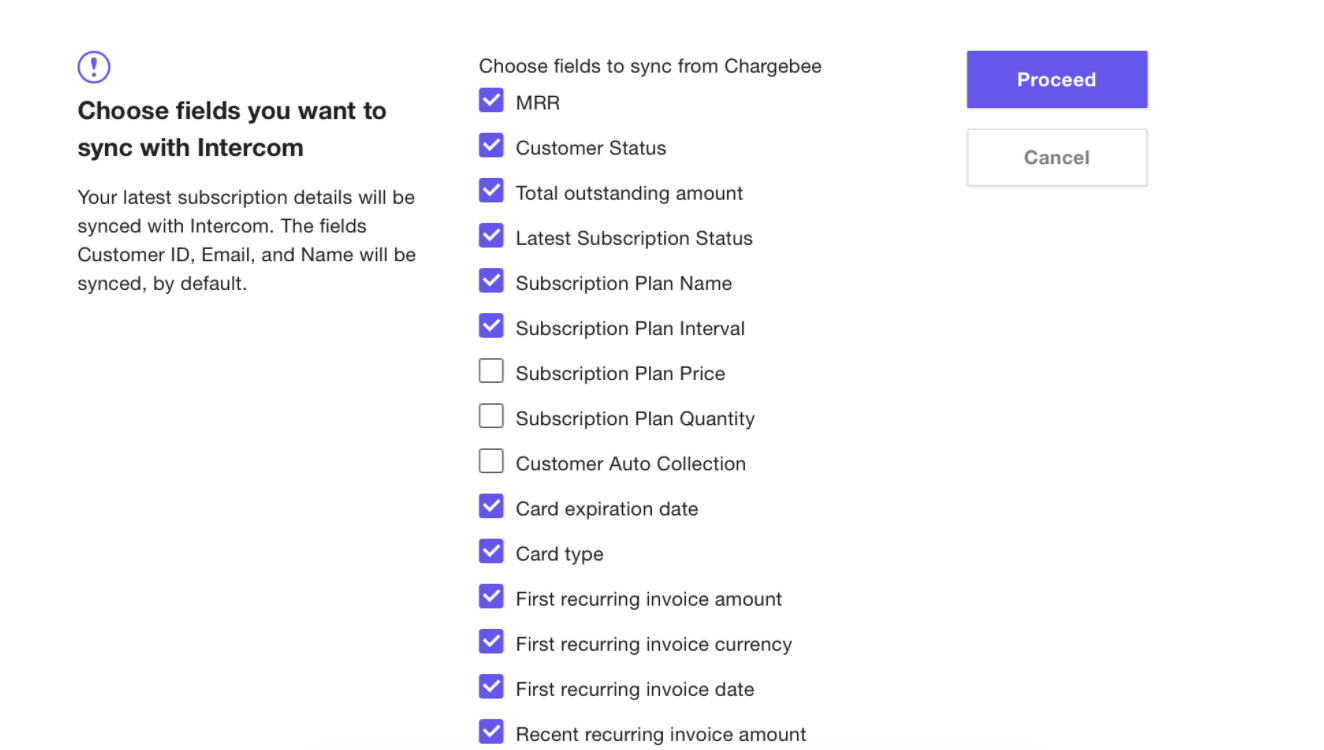 Step 4: Sync Custom fields to Intercom
You can choose from the list of Customer, Subscription related Custom fields to be synced to Intercom.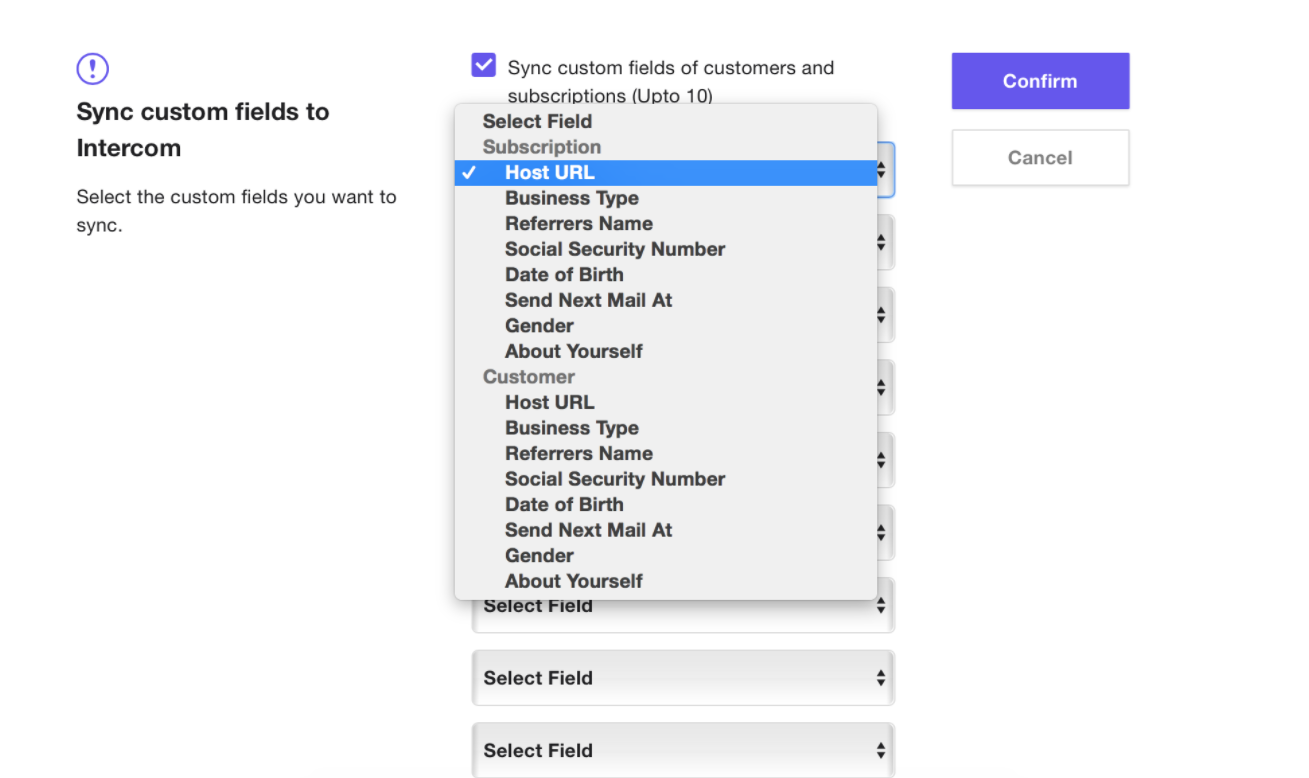 Note
Up to 10 custom fields can be synced to Intercom
Manage Preferences

To make further changes after setting up the integration, navigate to Settings > Third Party Integrations > Intercom and you will find the following options:
Auto Sync: This option is enabled by default and the sync happens once in 6 hours, you can disable it at any time and manually initiate the sync using Sync now.

Customer and subscription details fields: Allows you to change the customer and subscription fields to be synced.

Custom fields: Allows you to modify the previously selected custom fields.

Disconnect : You can disable the integration when required using this option. Chargebee will stop syncing data to Intercom. Data synced to Intercom will remain intact.
FAQs
What happens when I disconnect Chargebee and Intercom sync?
Chargebee will no longer sync Subscription and Customer information with Intercom. However, data synced will be not removed from Intercom.
What should I do if I want to reconnect after disconnecting the sync between Chargebee and Intercom?
To reconnect with the Chargebee sync, you will have to go through the initial setup process once again.
How do I change the Sync Start Time later?
Navigate to Settings > Third Party Integrations > Intercom. Click on Sync Now and this will reset the Sync Start Time to the time you presently ran the sync. The next sync will take place 6 hours since then.
Is it possible to sync the subscription details in my Chargebee site to the Company model in my Intercom app?
No, the integration does not support Intercom's Company model.
Can I map multiple subscriptions in the Chargebee site to a customer in Intercom?
No, only the latest subscription information will appear in your Intercom app i.e., for a customer with multiple subscription, the subscription that was updated latest will show up in Intercom.