Trash the cash.
Move over checks.
Friend-zone credit cards and debit cards.
We've got a new prospect now. Alternative Payment Methods.
Alternative Payments of all shapes, (Square) and sizes are furiously popping up and taking the world by storm. Like there's a new cryptocurrency every other day!
This means if your SaaS business isn't equipped to accept alternative payment methods, then you'll soon be left behind. But it's not too late to jump aboard the APM bandwagon.
This article will act as a guide for businesses who want to learn more about alternative payment methods and the options available.
To navigate straight to the sections which interest you most, click the links below:
What is an Alternative Payment Method?
Why Use Alternative Payment Methods?
Are Alternative Payment Methods Safer Than Credit Cards?
What is the Best Online Payment Method?
How to Choose the Best Alternative Payment Method
How Do You Accept Alternative Payment Methods?
What is an Alternative Payment Method?
Alternative payment methods offer a way for consumers to purchase goods or services without traditional payment methods like cash or major credit cards( Visa, Mastercard). APMs include prepaid cards, second chance credit cards, e-wallets, bank transfers, and payment installment options (i.e, buy now, pay later).
Now that technology is enabling e-commerce and saas businesses to sell online, more consumers are resorting to digital & mobile payments.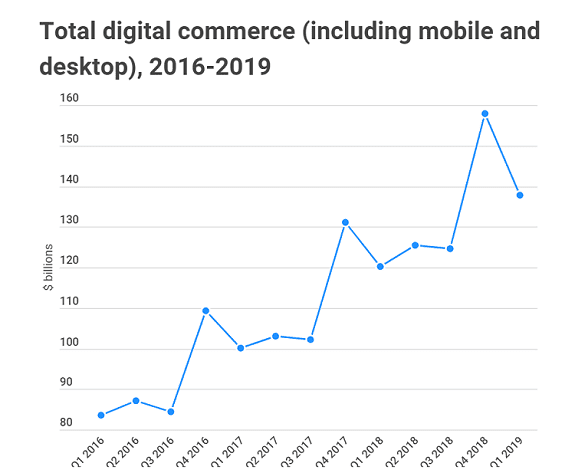 This requires the use of payment gateways and merchants, such as:
What attracts consumers to alternative payment methods is the concept of it being more convenient and safe. This is why you'll find roughly 42% of global transactions occurring via alternative payment methods.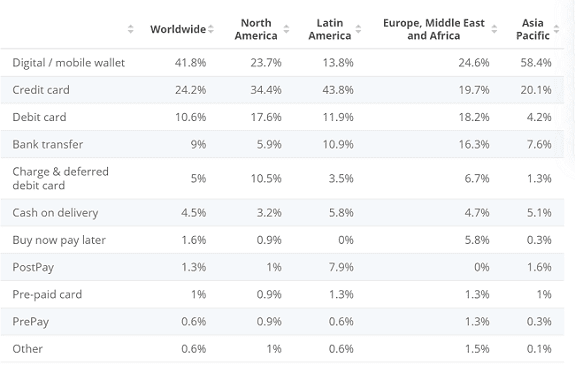 The most popular online payment methods consumers use today are:
Digital Wallets (or eWallets): Think of this as a prepaid card, except the form of payment is digital. You can load money to your digital wallet using a credit card or online banking. To pay for goods or services, you log into your account to confirm payment — no card or account details needed.
Online Bank Transfers: This is similar to digital wallet payments, except you're using your bank account information to complete payments. You store checking account details on your APM account (i.e. PayPal), where you can select it as an option to send an e-check.
Payment Installments: Delayed payments or installments grant consumers the ability to purchase goods and services online with deferred payments. PayPal offers a "buy now, pay later" option for those with approved credit.
By accepting these alternative payment options from your customers, you can potentially boost your revenue and improve customer retention (but more on that later).
Why Use Alternative Payment Methods?
There are several reasons why a SaaS business should offer alternative payment methods to its clients.
Here's a look at some of the most appealing benefits.
Additional Recurring Revenue
You just launched an interesting online store. Customers are beginning to line up, and your digital cash registers can't stop ringing. All the brains, pains and money you put in to acquire new customers are starting to pay off.
Tom, a potential customer, is on your beautiful checkout page ready to make an online purchase.
He tries to check out using his credit card…
Clicks on Submit.
Error: Card Declined. Please contact your bank for more information.
He retries.
Error: Card Declined. Please contact your bank for more information.
Frustrated, Tom abandons the order and goes to a competitor.
You just lost Tom. Not just Tom. You also lost $XXX spent on acquiring Tom in the first place (CAC) and $XXXX of Tom's LTV. All because you couldn't accept payments from Tom the way he wanted to pay.
What do you do now?
A card being declined is one of the most frustrating experiences for an online buyer. As a business owner, there's little that you can do to solve the issue if their card is overdrawn or expired.
However, what if you offered your customers an alternative to pay with PayPal or Amazon?
Let's reconsider the same example with an alternative payment method configured.
Tom tries and retries. Error.
The third time (right before leaving) he spots your "Pay using PayPal" option and he decides to go for it.
Before you know, the payment goes through and hey, say Hello to Tom: your new customer and $XXXX of LTV. Ka-ching.
Still not convinced?
Here's four leading reasons you should consider offering alternative payment methods.
1. Boost in Sales
We decided to analyze the growth that our customers had achieved using alternative payment methods. It was obvious that our customers have seen a definite spike in month-on-month transactions.
When we decided to deep dive into the actual numbers, we factored in reasons like seasonal jumps and marketing campaigns.
We then observed that customers on average have seen a 46.8% increase (month-on-month) in the number of transactions after they added PayPal Express Checkout as an additional payment method on their sites.
2. Globally Relevant
Payment Services such as PayPal and Amazon are globally recognized.
If you have a SaaS business that is not limited by geography, then why limit the choice of payment method?
Opting to offer an alternative payment method like PayPal or Amazon lets you accept cross-border payments across the world. PayPal alone has around 148 million global users.
3. Increased Trust
Not everybody is comfortable using their cards to make payments online. A reliable payment method such as PayPal or ApplePay makes customers feel safe and secure.
Usage of familiar brands will give you additional brownie points and add on to the trust factor of your service/product.
4. Too Long, Can't Fill
Most customers prefer a faster and simpler checkout process and asking them to fill out a lot of information can be overwhelming for them. Studies show that removing unnecessary fields from your forms can increase registration by 11%.
With PayPal as an option, customers would just have to enter their email-id and confirm their subscription. Their billing and shipping addresses would be automatically pulled from their PayPal account.
Are Alternative Payment Methods Safer Than Credit Cards?
Now, you may be wondering whether it's a good idea to incorporate alternative payment methods into your business model. Maybe you're second-guessing whether it's a safe option.
Well, when you look into the safety of credit card payments, you'll find they come with all sorts of problems. For one, credit card fraud is the top form of identity theft today: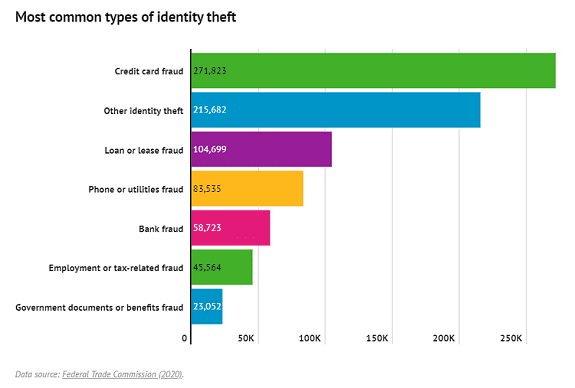 There are multiple ways identity thieves get their hands on your credit card details:
Credit card skimmers
Stolen or lost credit card
Intercepting mailed cards
Phishing emails and other online scams that collect credit card numbers to complete card-not-present transactions
Someone looking over your shoulder and copying your card details
These types of issues aren't present with alternative payment methods.
For example, payment platforms like PayPal don't require you to type your credit card details when making a purchase. Plus, they offer buyers chargeback protection in the event of fraud (due to consumer error, i.e., phishing scams and not protecting their login information).
Payment gateways also tend to use technologies to safeguard their client's data — storing it in a single online vault.
For example, Stripe uses AES-256 encryption to ensure hackers can't retrieve your credit card information. But rather than storing the decryption in the same vault, it's kept on separate machines.
PayPal has a security key option available that requires double authentication before you can access the account. Plus, all online transactions are protected by SSL certificates (so hackers can't see your information transiting across the web).
Unfortunately, this isn't the case with Point-of-Sale (POS) portals. When you swipe your credit card, the merchant stores your information on a computer. Some still use Windows PCs with outdated POS software.
Not to mention your data isn't stored in a secure environment. To make matters worse, your information is transmitted between the POS, payment terminal, and payment processor.
In other words, your sensitive data is continually circulating, which leaves it vulnerable to breaches.
After you leave the merchant, the transaction bounces across the nation with inadequate and insecure technology. Without updating systems and taking extra security measures (like major ecommerce merchants & online retailers do), consumers will continue to be at risk of fraud.
Popular Payment Methods
Out of the available online payment methods which is the best for SaaS / Subscription businesses?
It comes down to the customers you serve and the unique needs of your business. So we put together a list of the top alternative payment methods available.
Here's a quick overview of the leading online payment methods today.
How to Choose the Best Alternative Payment Method
Trying to decide on the best alternative payment gateway for your SaaS business doesn't have to be challenging. Sure, there are dozens out there, and that can be overwhelming when you need to quickly set up payments.
The good news is that you don't have to settle for just one alternative payment method. Instead, you can opt for the ones that'll attract your target customers.
For instance, if you sell within the US, then PayPal should definitely be a part of your alternative payment choices. If you sell within the UK, consider accepting GoCardless.
Your budget is also a critical factor. If you're worried about mass sales and odd business models, then Stripe may be an ideal payment alternative.
The goal is to select platforms that cater to SaaS businesses, which means they should:
Offer scalability
Provide recurring billing
Offer affordable pricing (per transaction vs. monthly)
Include top-tier security
How Do You Accept Alternative Payment Methods?
Now you have an idea of how different payment gateways operate and the benefits they offer. And you likely have an idea of the platforms you want to use.
But before you begin trying to set them up, there's something you should know…
There's no need to manage multiple payment gateways on your own.
Not only will trying prove to be a headache, but it's also a potential time-waster.
Instead, we recommend an APM management platform. With a tool like Chargebee, you have a single platform monitoring all of your payment gateway transactions.
You can focus on running your business without stressing over manual errors, technical difficulties, or security issues.
Here's what to look for as you're searching for an APM management platform:
Supports revenue management stack (so you can integrate your existing software)
Processes payments using popular APMs (so you can attract more customers)
Offers billing automation
Provides subscription management
Simplifies recurring payments (and offers revenue recovery)
Includes taxes/accounting assistance
Issues subscription analytics reports
Conclusion
The financial landscape of today (and tomorrow) is digital. We already see 27% of 17 to 24-year-olds using mobile wallets to make purchases. And the value of digital payments is expected to reach $4.8 trillion by the end of 2020.
So if you want to maintain relevance in your industry, then adopting alternative payment methods is vital.
To be sure your SaaS business is prepared for the inevitable shift towards online payments, request a demo with Chargebee today.