The first challenge for any company is to get customers to believe in them and take the first step to subscribe to their product. Once you have a solid customer base, then comes the next challenge — choosing the right customer retention strategies.
Yes, if you're just starting your company, acquiring new customers is the way to go. Once sales start increasing, you can mix in retention efforts along with acquisition efforts. However, if you're an established company, you need to prioritize customer retention efforts ASAP. 
As your business grows, so should your precedence for retention. Based on your company's stage, you can decide how to balance customer acquisition and customer retention tactics. 
If you're ready to start reducing your churn rate and creating more happy customers, these 16 customer retention strategies are for you. 
What is customer retention?
Customer retention is the scale on which your customers' value for your products and services is measured. Measuring this key metric should be one of the bedrocks for your business to succeed.
Before we discuss the advantages of paying attention to customer retention rates, it is essential to understand why to focus on retention.
Why every business needs customer retention strategies?
Customer retention strategies enable you to provide more utility and desirability for your products and services to your customers. You end up extracting a lot more value from satisfied customers, rather than ones who churn.
These strategies are key to maximizing the profitability of your customer base. Here are the top 3 reasons why.
1. The cost of not using customer retention strategies is high
Saving on costs is a great reason to focus your efforts on customer retention — customer acquisition costs are five times higher than retaining an existing customer.
Besides, the success rate of selling to your current customers is 60-70%, while the success rate of selling to a first-time customer is 5-20%.
2. Loyal customers are repeat customers
Keeping customers loyal will lead them to spend more.
In fact, loyal customers spend 67% more than first-time buyers, and almost 65% of a company's business comes from repeat customers.
3. Retention creates your best brand ambassadors 
60% of customers will tell friends and family about a brand they're loyal to. Moreover, 86% of customers trust word-of-mouth reviews and recommendations, and 74% of consumers identify word-of-mouth as a key influencer in their purchasing decision.
Word-of-mouth goes a long way in spreading useful information. But that means unhappy customers can get negative feedback out quickly, too. If you focus on customer retention efforts, you'll set your business up for success.
4 customer retention strategies for subscription businesses
Unlike other industries, retention proves to be a bit more challenging for subscription businesses. In the traditional product one-time sale model, the focus is on the product's lifetime value.
In the subscription model, the focus shifts to the customer's lifetime value. Typically, they use the service month-on-month, allowing them to pause or cancel their subscriptions with every billing cycle. That can lead customer churn rates to rise quickly if you're not careful. 
For these reasons, you need to go the extra mile to retain customers in a subscription business.
Here are 4 great customer retention strategies that will help you delight and retain your customers, specifically for subscription businesses.
1. Keep customers engaged 
Using contextual emails and personalized in-app notifications for different customer segments can increase their willingness to continue with your product.
2. Utilize automated follow-ups and dunning
Use payment recovery with smart dunning and automated follow-ups. Make sure they are optimized for particular customer segments and their response times.
3. Make payment as convenient as possible
Make paying as convenient as possible by offering multiple payment plans and options (credit cards, direct debit, wallets, etc.), an option to process advance payments, and flexible payment terms such as Net D.
4. Offer easy custom subscription management 
Help your customers pause their subscriptions rather than cancel. They should also have an option to reactivate the subscription anytime they want.
12 effective customer retention strategies for every business
2. Prioritize customer engagement
3. Ensure seamless customer onboarding
4. Align employee goals with retention strategies
6. Use automation for advanced processes
7. Diversify your product offerings
8. Gather focused feedback from customers
9. Utilize referral and customer loyalty programs
11. Leverage the power of subscriptions 
1. Optimize product pricing
Pricing is an important factor based on which customers perceive the value of your product or service. For that reason, a mismatch between the price and the value you offer will not bode well in terms of customer retention.
Value-based pricing is best
Either extremes of pricing – too high or too low – can lead to churn. Value-based pricing is the way to go about this. But ask yourself what is valuable for each customer. If you have a customer willing to pay the full price, don't offer a discount. Instead, incentivize the transaction with free shipping.
For another customer at the lower-priced tier, free shipping might suffice as an incentive to take an extra feature or make a long-term prepaid commitment.
The services offered or product features that are valuable for one customer are not for another. Understanding this difference in needs and personalizing your services can help you price accurately. 
Keep your competitors in mind 
It is essential to compare prices with your competition, but it's not the only factor. If you've got a loyal customer base, know that they are willing to pay more for your services, especially if you know that you are offering them more value than the company you're competing with.
In such a case, increasing your offering's price increases its perceived value, further boosts customer loyalty, makes you more profitable, and helps you allocate more resources to serve your customers better.
And if your competitor is giving more for less, what are you waiting for? Amp up your value. Remember that value does not speak only in terms of the product but the entire customer experience itself.
2. Prioritize customer engagement 
We cannot stress enough the importance of engaging your customers. Let's say you purchased the most amazing product ever, but the customer experience is lacking. 
Most customers would instead go to the vendor who can offer a more wholesome experience. Without meaningful and real-time customer engagement, focusing on retention is moot.
Here are some examples of companies that found great ways to boost customer engagement.
Example 1: Extraordinary customer service at Naked Wines
Naked Wines is an online wine retailer that delivers unique wines to its customers through subscription. Using live reporting data, their customer support team tracks call volume in real time.
This means they can see how many calls they're receiving, how many are on hold, how many are in queues, and how many customer support employees are available to respond. These numbers help the company make better staffing decisions, so customers don't have to wait – leading to excellent customer service.
Example 2: Creating a customer knowledge base at HubSpot
Here's another awesome customer retention strategy example.
Zendesk's Customer Experience Trends Report shows that customers would prefer to help themselves. Yet, only a third of companies meet customer expectations when it comes to self-service. Through self-service, customers end up deriving more value from your company.
Moreover, the knowledge base need not be only about your offering. It can extend beyond that. For example, HubSpot Academy is a vast knowledge base that covers a lot more than customer service topics.
The cycle to better retention and subsequent profitability is a simple one: engage your customers well, increase customer satisfaction, create happy and loyal customers.
3. Ensure seamless customer onboarding
Have you ever purchased software and just sat there confused because you didn't know how to use it?
For first-time users, the lack of know-how on the product is expected, and if that leads to frustration, it can lower customer retention rates. This can be easily avoided with a smooth onboarding program and personalized support.
By communicating the needed information to your customers, they can better utilize your offering to reach their goals, which increases the chances of their retention
4. Align employee goals with retention strategies
A company is its employees. Despite whatever goals the senior management may have, if the employees don't embody them, they won't be going anywhere. At least, not anywhere it really matters.
Example: Understanding the customer journey at Zapier
Here's another great customer retention strategy example.
Zapier is (literally) all hands on deck when it comes to its customers. The company strongly believes that every employee – including executives – spends some portion of their day, week, or month talking directly to customers and solving problems for them.
Not only does effective all-hands support focus on making life better for your customers, but it can also cause a shift in how you and your team think about building your company.
5. Upsell more often
You made the sale to a new customer. That's great! But… what now?
The new sale will never amount to anything more until you sell to the same customer again. Repeat customers mean an increase in customer lifetime value (CLV), and in retention. And the way to achieve this is by upselling.
Research shows that
CAC (customer acquisition cost) on upsells is about 19% of the CAC for new customers.

Upselling was a significant contributor to the average contract value of high-growth companies.

Similarly, the fastest-growing companies relied more on upselling than their slower-growing competitors.
Upselling is one of the most cost-effective and efficient ways of increasing your profitability and purchase rates. Upselling and cross-selling are also easy to do.
The solution isn't promotional or sales-y pitches, but to bridge the gap between what your customer already has and what you want to sell. Once the customer sees the value add, they will be more likely to go for it.
6. Use automation for advanced processes
In a world full of instant gratification and never-ending information, customers are knowledgeable, they know what they want, and they want it done yesterday.
Manual intervention isn't going to cut it to keep up with your fast-paced customers. What businesses need is automation.
Engagement tools, such as live chat, can significantly enhance the customer experience. Another popular engagement strategy is automated emails. Trigger-based emails tend to have five-times higher open rates and fifteen-times higher click-through rates.
For instance, at Chargebee, we use HubSpot for all our CRM (Customer Relationship Management), sales, and marketing activities. It is also where we derive useful insights from our customers' data.
Another subscription analytics tool we use is RevenueStory, which gives us the subscription analytics we need to discover and align our organization to grow. It helps us delve deep into many important metrics like churn and MRR.
7. Diversify your product offerings
Based on a Forbes Agency Council Post, one effective SaaS customer retention strategy is diversifying your services.
Meredith Xavier, Principal & Founder at The Ligné Group, says, "I learned a long time ago that strictly being a public relations or marketing firm alone wasn't enough to grow and keep clients around for the long term.
Our agency has diversified tremendously over the past ten years to include a range of services that help clients at every stage of their business – and allow them to flow between service options, depending on their immediate business needs."
This holds for every business out there. Every day is an opportunity to figure out more ways to serve your clients through additional product upgrades, new features, new products, and most importantly, new and better ways to make them smile.
8. Gather focused feedback from customers
If you're sending endless emails asking for feedback from customers, think again. In an era where attention span is becoming a scarce resource, customers are rarely willing to answer an email or fill out a lengthy survey unless it's focused and relevant.
Despite the difficulty of garnering open and click rates, email is the best-performing channel to leverage if you do it right. It has a reported $44 ROI for every $1 spent.
The key to receiving feedback via email or even other channels is to be consistent and to get personal. 79% of customers are willing to share relevant information about themselves in exchange for contextualized interactions in which they're immediately known and understood. 
Personalization is, hence, a vital retention strategy. Tailoring an email to the right customer at the right time is better than sending an email blast to your entire customer base.
9. Utilize referral and customer loyalty programs
We know that word-of-mouth is vital in spreading credibility about your product. So, as an added benefit for the customer, what if you throw in an incentive? That's precisely what a referral program does. 
Not only do they help achieve a higher CLV, but they also help reduce closing time and increase conversion rates.
The incentive could be in the form of gift cards, coupons, an extra trial period, and even memory, as in the case of Dropbox: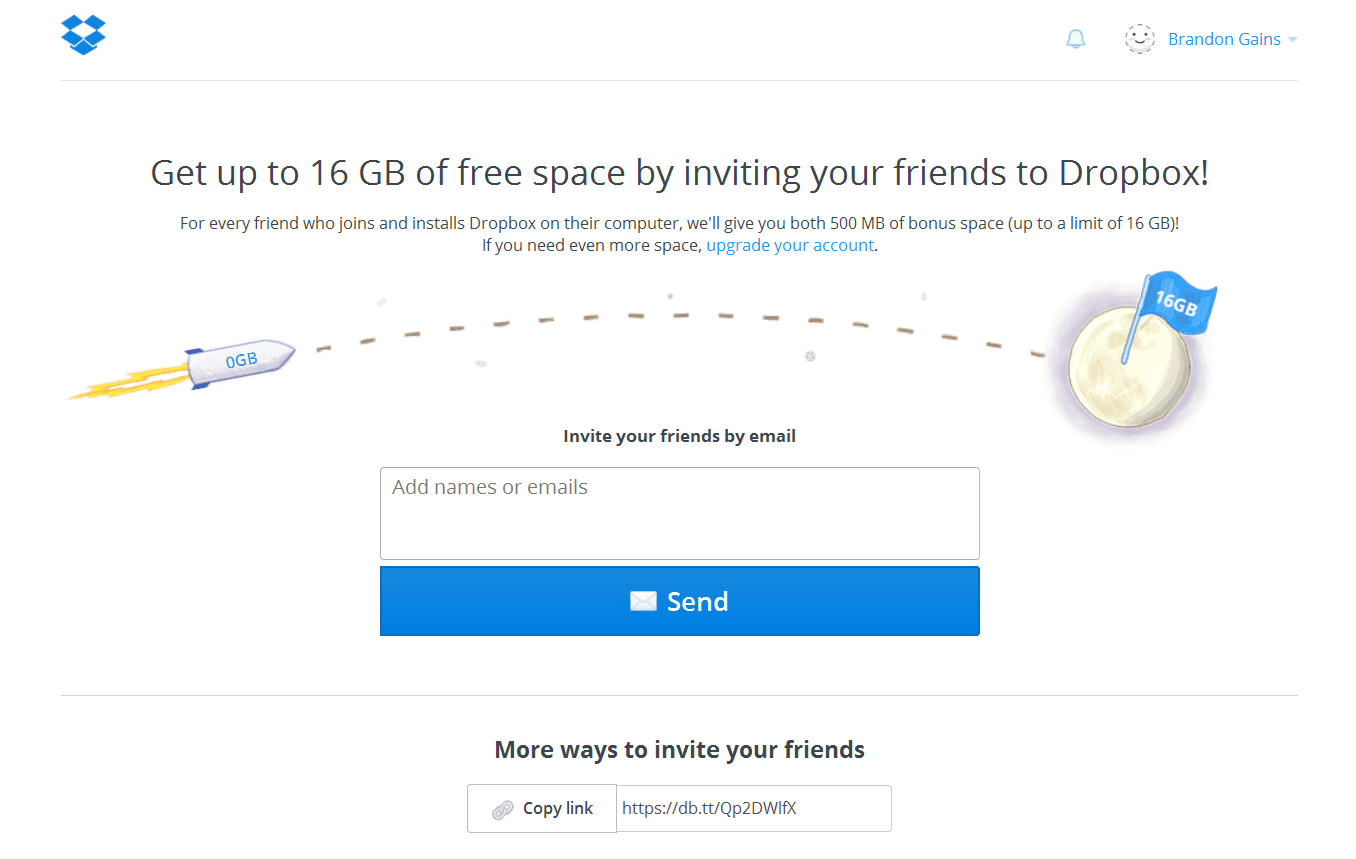 Similarly, loyalty and rewards programs are also very important for increasing revenue, inspiring loyalty, and of course, improving retention.
For brands they are loyal to, consumers are willing to join not only a loyalty program but also spend more: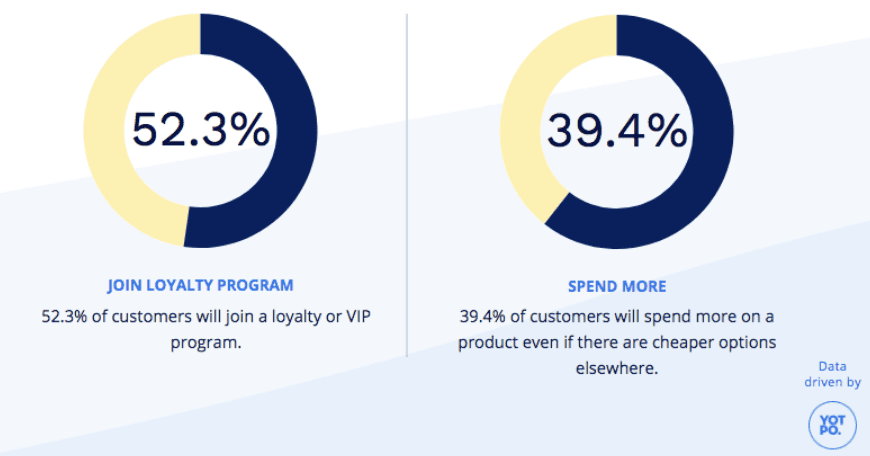 Dropbox saw a massive 3900% growth in 15 months with its referral program!
10. Reduce involuntary churn
Customer churn rate and revenue churn rate are two key metrics for every business.
But when your subscribers churn without actually intending to stop using the service, it's called involuntary churn. Involuntary churn occurs when a customer undergoes a payment failure, leading their subscription to get canceled.
You lose customers when this happens, but it also has a big impact on revenue, especially your recurring revenue. 
What factors cause this kind of churn? Forrester Consulting asked this question to 204 organizations. Here's what they found: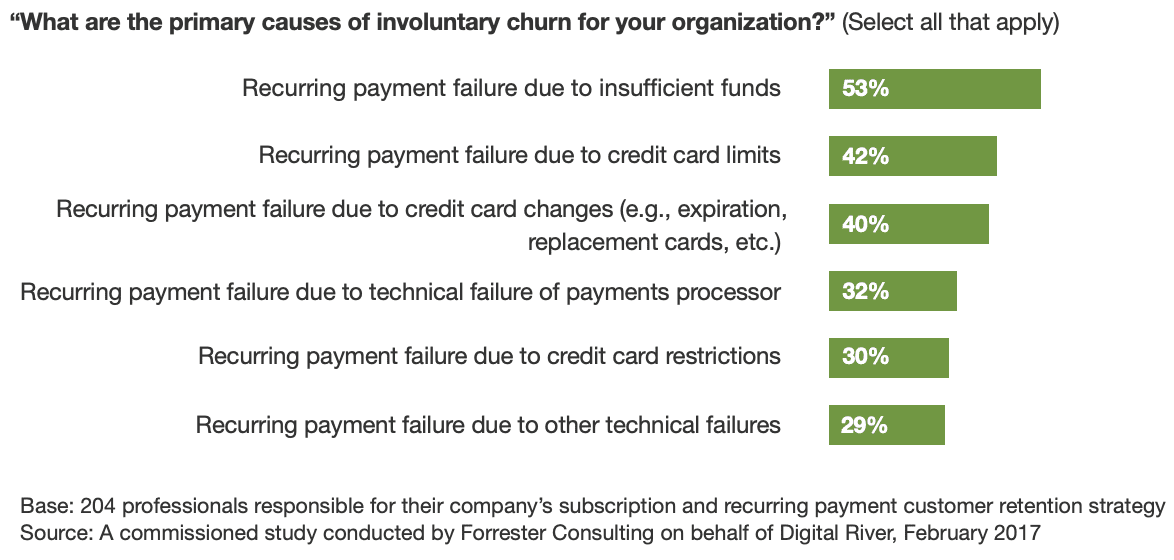 Another upsetting statistic: About 20-40% of churn is involuntary.
Not to worry, though. You can learn how to reduce involuntary churn.
By following tactics like sending pre-dunning emails, in-app notifications, optimizing the checkout page, and the like, involuntary churn can be kept at bay.
To give you another customer retention strategy example, Whiteboard (one of our customers) reduced involuntary churn using Chargebee and increased their MRR by 35%.
11. Leverage the power of subscriptions
For a commodity-only business, implementing a subscription model is quite unusual.
But that's precisely what the e-commerce giant, Amazon, achieved. When Amazon created Prime, it was initially to ensure faster delivery. Once it quickly gained popularity, Amazon launched an added feature – Prime Video.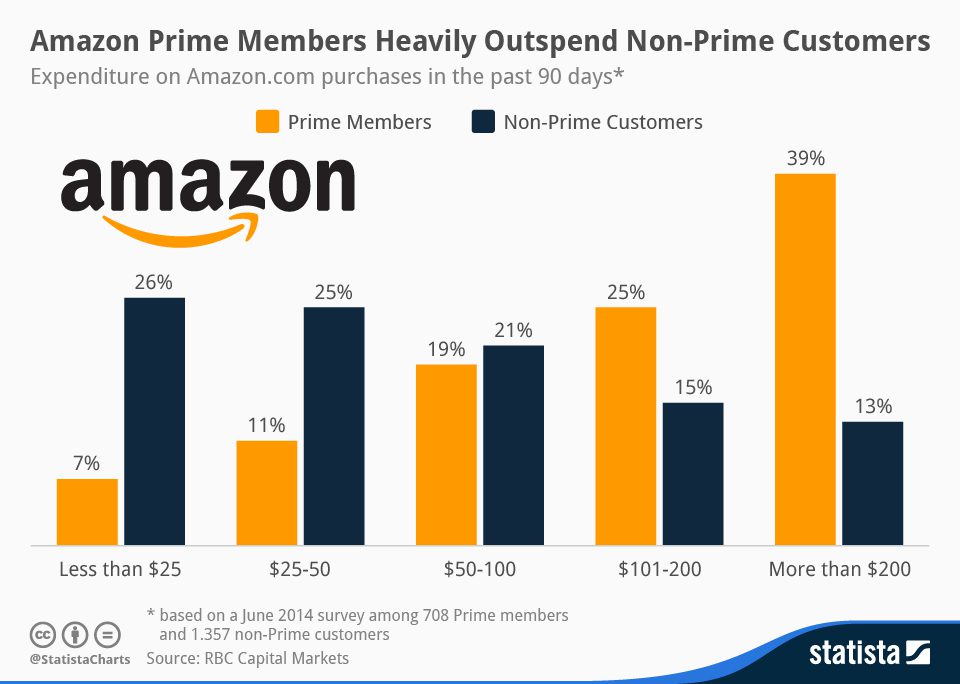 And it's not just Amazon. Surprisingly, industries like gaming, health and wellness, in-home fitness, aviation, and many more are embracing subscription business models.
This trend is only going to keep rising as the benefits for both businesses and customers are highly appealing.
Subscription models can be used to deliver a great customer experience without spending a lot or charging a hefty fee. Moreover, customers will be willing to spend the same or more by way of subscriptions since it's a sum of small payments over time.
Ultimately, subscriptions are a great way to boost business growth and customer loyalty.
12. Build a community
At Chargebee, we realized that our customers aren't coming to us with subscription billing problems; they are coming to us with issues caused by change.
For example: Now that I want to scale, how do I support multiple payment systems? How can I better streamline my billing processes?
And so, we hosted a summit called the Champions of Change for all those who want to be, and are, disruptors of change. Through this summit, we inspire our customers and our employees to take charge of change rather than fear it.
What was the idea behind it? Communities lead to collaborations with your customers. It isn't you and them. Rather, it's both of you working together as a unit to build success for each other. Ultimately, that's a great way to boost retention.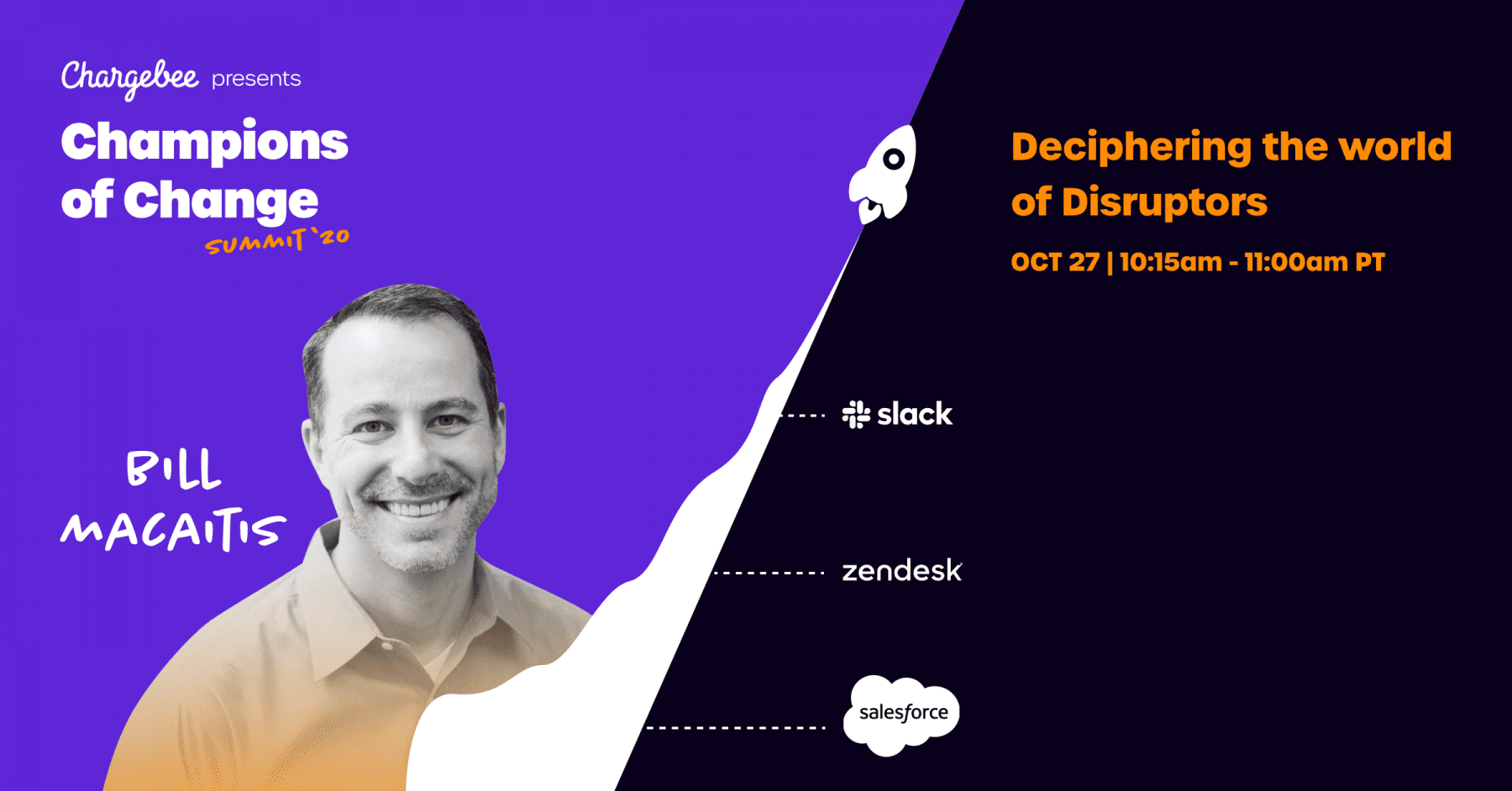 Customer retention strategies can grow your business 
Of all the strategies we discussed, neither one is good on its own. The strategies have to be implemented together, in harmony, for you to get the best out of your customer retention program.
Remember: you're free to experiment with each strategy until you find what works for your unique needs. 
Finally, retention goes beyond the product. Of course, the product plays the main lead, but it won't have the spotlight to shine without great customer success initiatives.
Apart from delivering value, you have to build customer trust. Garner that, and you will have retained your audience for life.