Who would have thought sharing quality information through email would turn into one of the most successful business models? Not only is it an ideal way to get your message across to your target audience (nearly 9 out of 10 marketers use email to distribute content organically), but it is also the most cost-effective, with an average return of $42 for every dollar invested.
Apart from communicating with your users, the benefits of email marketing are several, including collecting relevant feedback, improving sales, increasing leads, generating traffic, a means for self-promotion, and more. While email marketing comes with high open rates and generates new subscribers, it can be challenging to achieve both without the right email marketing platform.
How To Make Your Paid Newsletter Subscription More Efficient
Whether you're the founder of a newsletter or you want to start one – it takes a lot to create a successful newsletter subscription. There are two broad aspects to it:
Content Creation and Distribution
While you need to focus on creating high-quality content for your niche audience, you can highly benefit from a robust email newsletter tool that can help you scale your email list. Right from allowing you to design a newsletter email beautifully, perfect email delivery with features like A/B testing to finally monitoring and analyzing your newsletter's performance, the tool should be versatile enough to scale with your growing subscriber base.
Billing and Subscription Management
Apart from the broad newsletter activities of content creation, distribution list management, and (timely!) content distribution, there's also the matter of payments and invoicing. If your newsletter is running for a premium monthly or annual subscription fee (like Fool.com or GolfOddysey.com), it could be a great and inexpensive way to generate recurring revenue online.
What you need is email subscription management (distribution list, content, formatting, and delivery) built into a single application, including the heavy lifting on payments in a way that you don't have to worry about invoicing and payments collection.
This means that the software you choose should allow you to extensively iterate with pricing models and payment methods while ensuring seamless invoicing.
Considerations for an Email Newsletter Tool
Here is a basic checklist you can go through before investing in an email newsletter software:
Ease of use – if it's not easy to use, those results you wanted to achieve are highly likely to be impacted.

Automation

– all popular email subscription management software have many

automation features

like drip marketing campaigns, transactional emails, A/B testing, and the like; pick the set of features that best suit your needs.

Price – consider your budget before making a purchase decision.

Specificity –  some of the tools out there cater to specific industries and

functionality

; for example,

Campaign Monitor

is a widely preferred

eCommerce

email automation

service while

Keap

is aimed at

CRM

and

GetResponse

 for

webinars.

Customization and Personalization are probably the cornerstones of a great newsletter subscription service; no customer wants a bland email. No business wants a tool that cannot be customized to fit its objectives. Additionally, the option to group or segment contacts is a plus.

Analytics – can your tool tell you how your newsletter is performing?

Tech Integration – ensure the tool you choose integrates with your existing tech stack; go a step further to make sure it's flexible enough to integrate with the tech stack you may adopt in the future; the tool you choose now shouldn't be a roadblock later.

Support – ensure the newsletter subscription software offers reliable, round-the-clock support.

Experimentation

–

the newsletter tool should allow you to experiment with different plans and payment options whenever required.
Popular Newsletter Subscription Services
Choosing the right email newsletter software is crucial to achieving your email marketing goals. Moreover, with an abundance of tools in the market, it can be overwhelming to compare them all and pick the right one. While we haven't come up with an exhaustive list, we have selected a couple of the best tools that you can consider:
AWeber – A well-established email marketing newsletter tool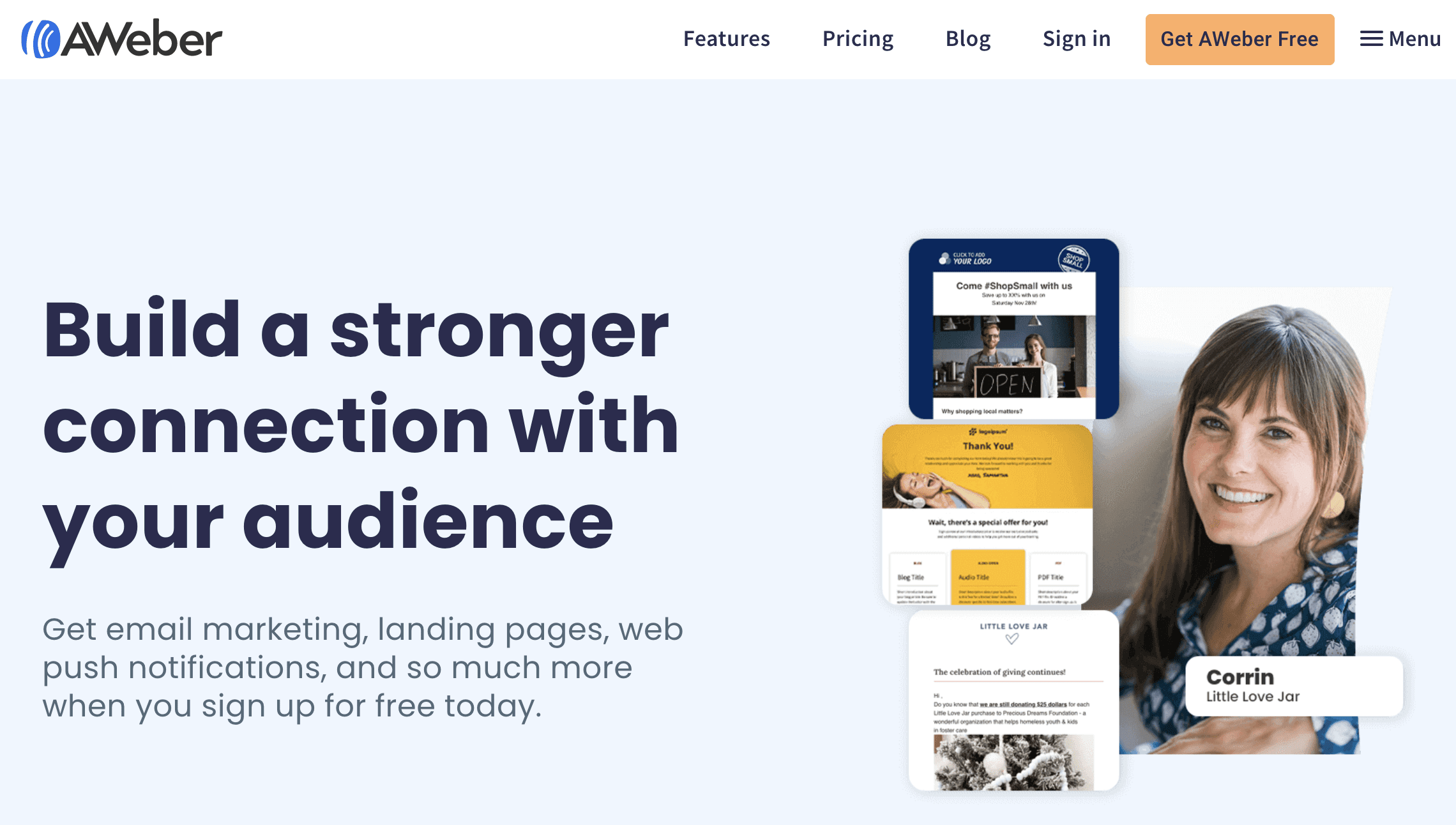 AWeber is probably one of the most popular email newsletter software out there, making it a go-to email marketing tool. It not only has easy to design email templates but can be used with your existing blog by integrating it with WordPress and your landing page builder. It has reporting features that help you track stats and Twitter and Facebook integration to publish your newsletters online.
It offers a free 30-day trial, and the paid plans start from $19 per month.
Read on for more details.
SendinBlue – Schedule your emails on-the-ball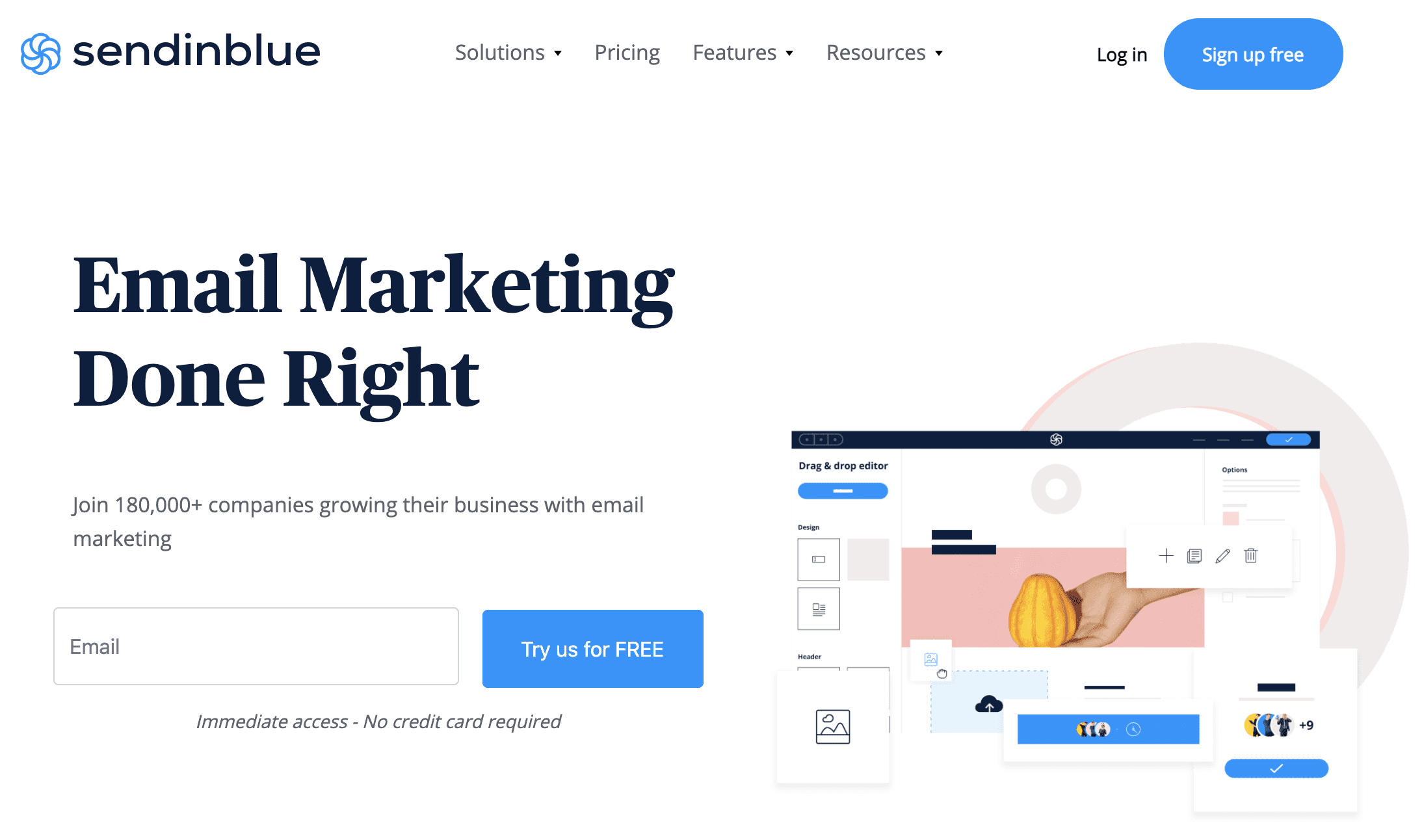 SendinBlue screams simplicity and ease of use, making it one of the best email services for beginners. It allows you to create email newsletters without the weight of complicated settings. Apart from using free responsive newsletter templates and customize options, you can also access the HTML editor to tweak existing email designs and fields. You also have access to powerful marketing automation features such as SMS support, in-depth analytics, and the like.  
Its free plan provides unlimited contact storage and up to 300 emails per day, and the plans start at $23 per month.
Read on for more details.
Campaign Monitor – Email marketing for multiple clients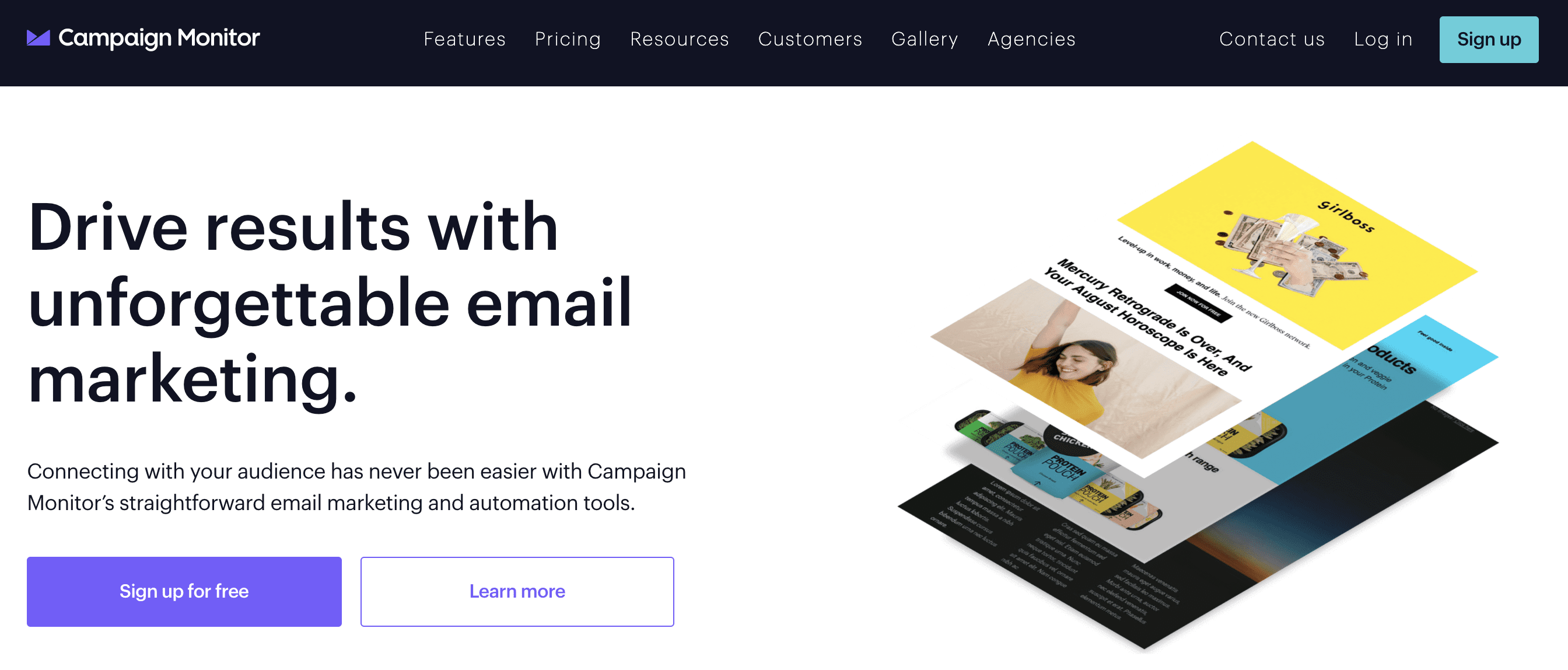 Campaign Monitor is one of the best eCommerce automation email services. From designing your templates to sending out campaigns and generating quick results through reports, this one has it all. It has capabilities that help customers with precisely what they require with a separate section for agencies, and their videos are worth mentioning.
The free account is only for lists of up to five subscribers, and their paid plans with basic features start at $9. 
Read on for more details.
MailerLite – Ensure deliverability and scalability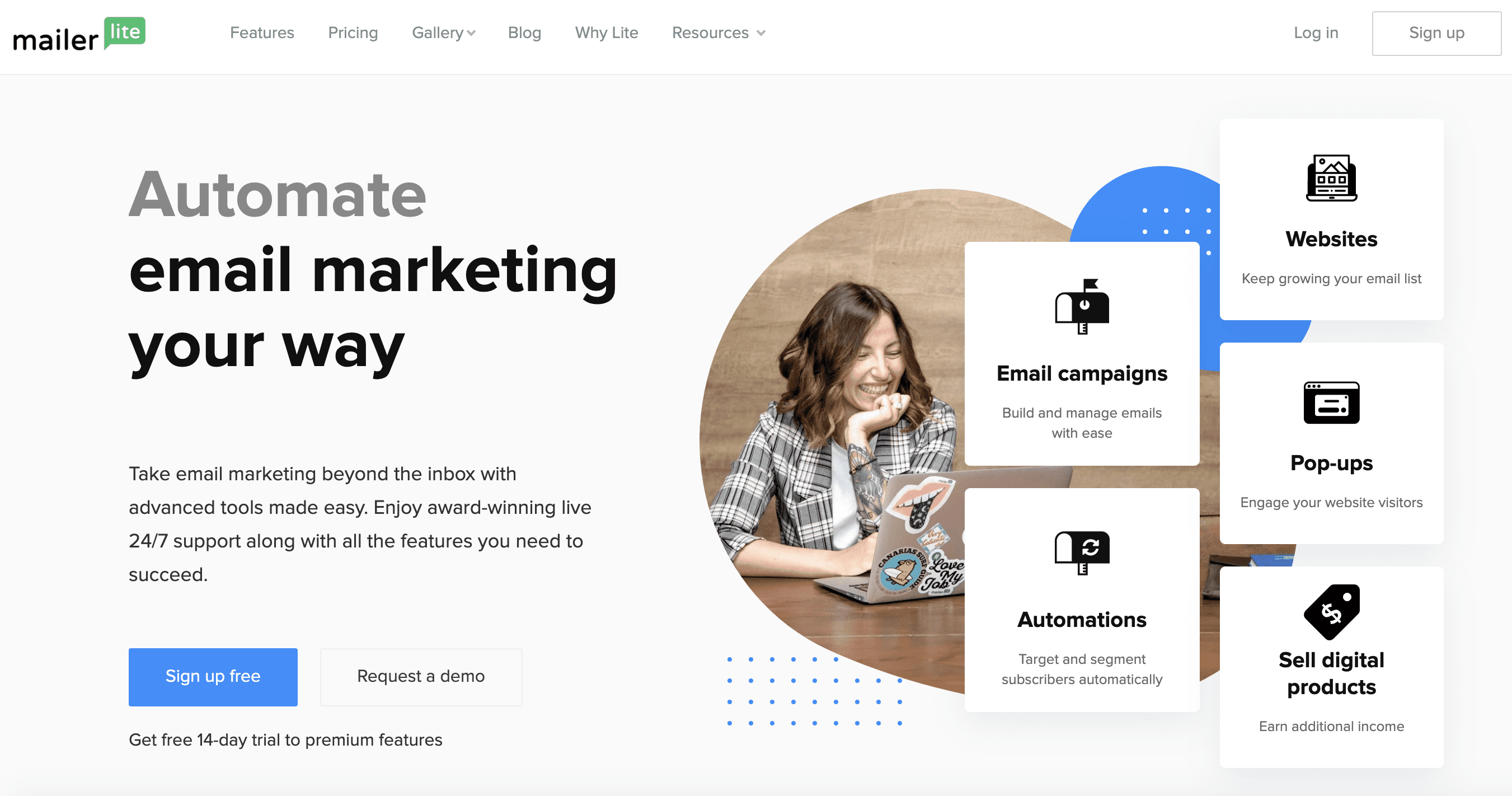 MailerLite is one of the most affordable newsletter services available, making it ideal for businesses on a strict budget. Getting started with this platform requires zero coding experience. You can choose from the available free newsletter templates and customize your email from there. You can also use the double-opt-in feature to should your users want to unsubscribe. While its automation is effective, it's not as elaborate as that of comprehensive marketing automation tools (for instance, it doesn't include social marketing integration for Facebook/Instagram). But for the basic features, you can expect, the tool proves worthy. 
The premium plans start at just $10 a month, and the tool is free for businesses with up to 1000 contacts, and less than 1200 sends a month.
Read on for more details.
MailChimp – Upscale your email campaigns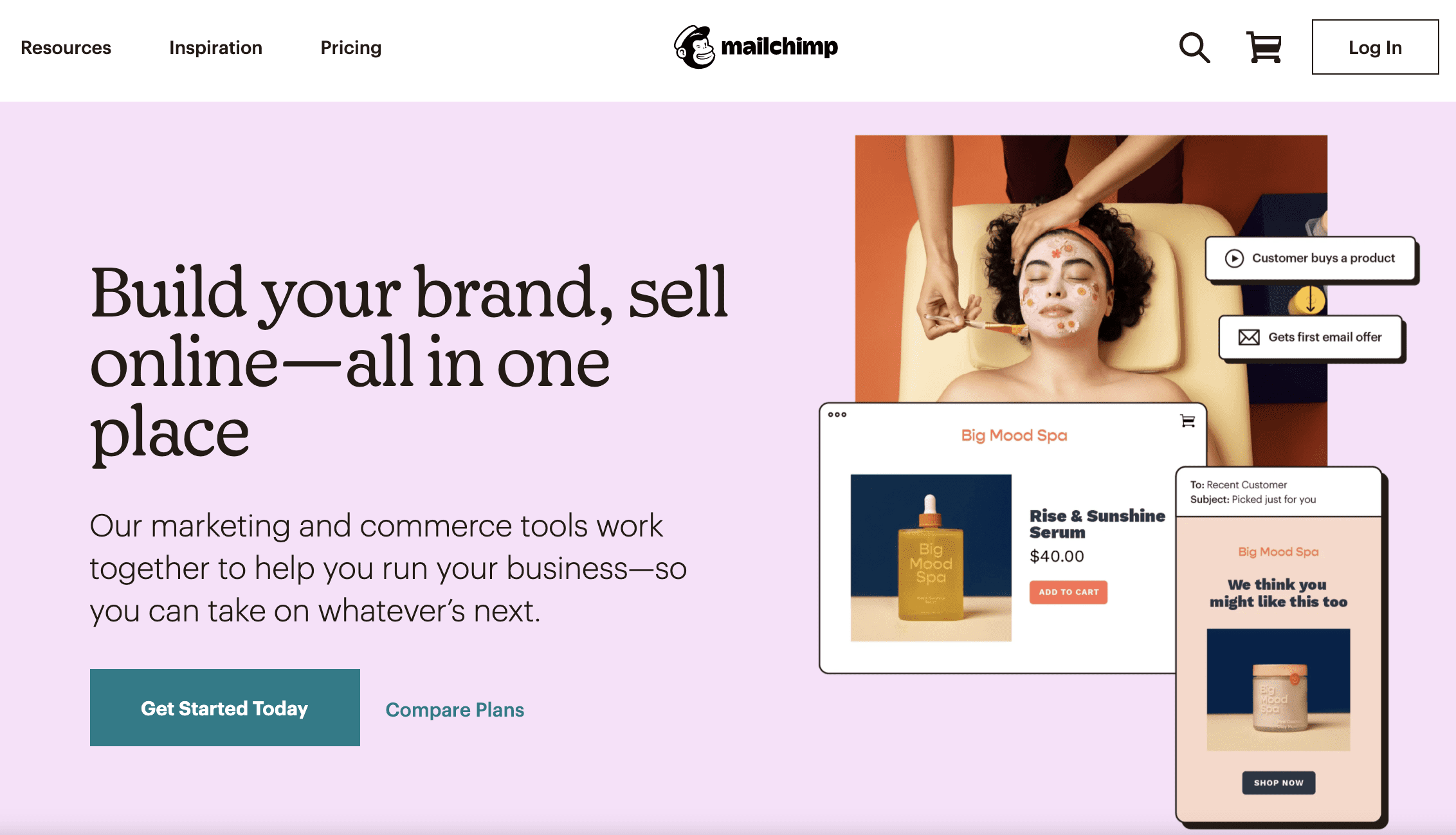 MailChimp is one of the best all-in-one suites of email automation tools and is extensively used by bloggers to business executives. It isn't merely an email newsletter service with stellar deliverability but comes with just about everything you need to convert website visitors into paying subscribers. The drag and drop editor will help you create and design your newsletter template the way you want it. Sending the right content to the right people is made effortless with segmentation and groups. Other features include spam filter diagnostics (paid feature), and of course a reporting system to know how your newsletter is doing.
It's free plan includes 10k emails per month up to 2k subscribers. You will be charged $10 to upgrade to unlimited emails. Paid plans start at $770.
Read on for more details.
Haven't found the right fit? Other popular email marketing services that are worth looking into, include:
We've covered email newsletter tools. What about payments?
As we discussed before, an email newsletter tool is incomplete without the capability to manage your payments and invoice collection.
Does the software have advanced features like invoice automation? Pricing experiments and grandfathering? Payment failure handling? Reporting? If your answer is "no" or you're unsure, don't worry.
Just configure your product offering with the plans and addons, and Chargebee will take care of automating your subscription system with the help of a simple, easy-to-use API. Starting from trial management to transactional emails, the solution has you covered.
Chargebee + MailChimp
If you're already using email marketing software like MailChimp, manually updating contact information to a subscription and billing tools can be very time-consuming and cumbersome. 
Chargebee's integration with MailChimp allows you to sync your sign-ups, segment lists and automate email marketing seamlessly and efficiently. Once your contacts are automatically synchronized, go ahead and send customized newsletters and targeted email campaigns to your subscriber list!
You can read more about it here: Chargebee + MailChimp
Optimize Your Revenue Channels With a Reader Revenue Model 
With Chargebee, you can implement & scale your reader revenue model while you focus on what you do best – converting your users into patrons with exceptional content:
For more information, check out our subscription management suite for magazines and publications. 
You can also schedule a customized demo around your unique subscription workflows and pain points to see how we can help you elevate your subscription experience.