Business expansion doesn't happen overnight.
There are several operational barriers when looking at new avenues for growth. If you're looking to expand into new countries, are you compliant with the local privacy and invoicing laws? If you're looking to move upmarket and cater to enterprises, how is your sales process structured to enable that move?
Growth is infuriatingly complex. The more your organization grows, the more variables come into play: new customer segments, new employees, new processes, new geographies, and more. 
The complexity that needs to be addressed first is compliance with regulations set by governments, regulatory, and industry bodies. The cost of non-compliance is a damaged brand reputation, especially during external funding or IPO or worse,  ceasing operations along with hefty fines. 
Manually managing these compliance regulations means every rule should be captured, read, and interpreted for your workflows by a human, making it error-prone and inefficient. And it's not a one-time thing either. Maintaining compliance, understanding gaps with every new update, and constantly changing processes and capabilities to comply are one too many moving parts to manage for any company at scale. The need for a scalable solution to address these complexities without compromising on customer experience and operational efficiency becomes non-negotiable.
At Chargebee, we've been evolving our product to address these complexities on a regular basis. 
Today we're releasing a new set of updates specifically built to help you handle compliance-related complexities. Updates that mean faster business expansion. Updates that mean you can now sell to a new geography or to government agencies while achieving operational excellence.  
We're launching the industry-first capability of eInvoicing in the EU and India. With this and some more updates, Chargebee opens up a lot of opportunities for you to expand your business while we take care of the compliance heavy-lifting.
✨
Spring 2022 Product Updates
Introducing Industry-first eInvoicing for India and EU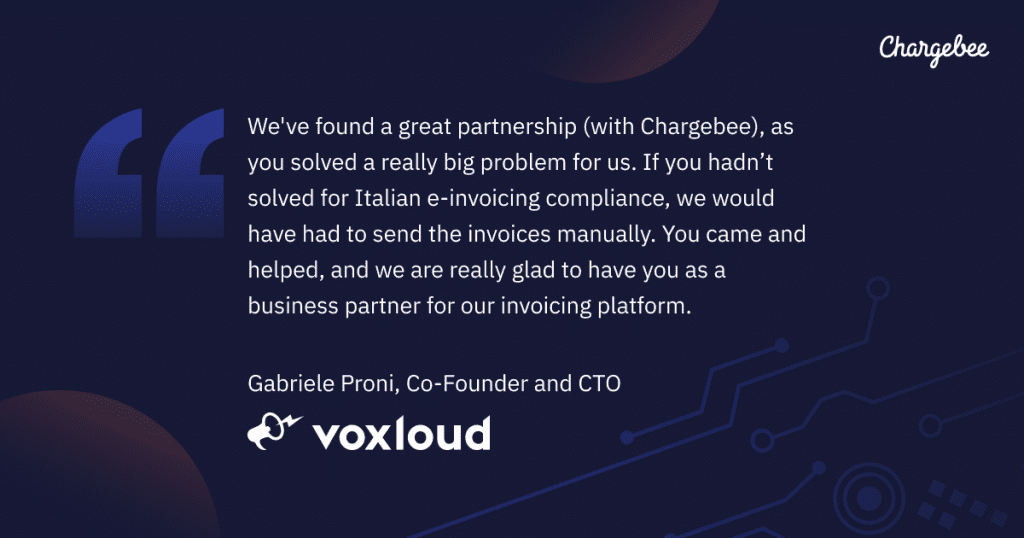 What?
eInvoicing is the mode of sending an electronic invoice that adheres to specified compliance mandates based on specific regional directives. Multiple governments across the globe set mandates on how an eInvoice is generated and transmitted to streamline trade. Invoices are digitized and then authenticated using an eInvoicing network (like PEPPOL or IRP) which may differ per country or region. 
Why?
With eInvoicing becoming a mandate across nations, the ability to send compliant eInvoices becomes a necessity to start billing in specific markets (Countries, B2B, B2G). The compliance mandates can get cumbersome and non-compliance attracts hefty fines. Hence, the capability to create automated and compliant eInvoices that connect to the relevant networks becomes essential to expand your business. eInvoicing also helps governments ensure all invoices are compliant with mandates, reduce fraud, and streamline payments.
How it helps
With a quick one-time setup and validation, you can start sending recurring eInvoices to one or all customers as Chargebee is already connected to relevant eInvoicing networks (PEPPOL, Sistema di Interscambio, Invoice Registration Portal). For a smoother checkout experience, you can set up an automated process to capture customer entity identifiers. Chargebee also provides you with relevant status updates on eInvoices so you get the complete picture.
Read more about eInvoicing here→
Chargebee Marketplace to Spotlight our app ecosystem
What? 
Chargebee Marketplace helps you discover the list of apps and other software that integrates with Chargebee.
Why?
You can connect Chargebee with your existing tech stack to streamline information across functions, automate processes, and customize workflows to help teams work efficiently.

How it helps
Marketplace centrally houses 40+ integrations across categories, making it easier for you to discover integrations that help you unlock challenges around billing workflows. It helps you extend the functionalities of your billing management platform and build custom workflows, bridging the gaps between existing business processes. Additionally, Marketplace will open new opportunities for partners and app developers across the globe to showcase their integrations within Chargebee's ecosystem. 
Invoices to Comply with Australian GST 
What?
With Chargebee, you can now generate invoices that show the GST amount for every line item. 
Why?
When you make a taxable sale for or above $1000, the ATO(Australian Taxation Office) mandates to include the GST amount for every line item separately. 
How it helps
Whether you are an Australian entity with a local business or have a global presence, Chargebee can calculate taxes, help you lodge your Business Activity Statement (BAS), and generate custom invoices while ensuring you stay GST compliant.
Read more about Australian Tax Rules here→
Reconcile TDS Within The Invoice 
What?
With the TDS regulations, taxpayers are obliged to withhold tax while paying for a service/product. You can now record, remove, and provide refunds on Tax Withholding right within Chargebee.  
Why?
With this update available in-house, customers no longer have to set up workarounds to capture the withheld tax amount or invest in third-party integrations to recreate invoices with TDS for tax filing. 
How it helps
Customers can avoid penalties from TDS non-deduction, and it also simplifies reconciliation by updating TDS right within the invoices.
Read more about Withholding Tax here→
Brand New UI for Chargebee + Salesforce Users
What?
The latest Salesforce integration update comes with a complete UI overhaul for a slicker experience.
Why?
UX can either make or break a product. It's essential to offer a cohesive experience when you use business-critical apps like Chargebee and Salesforce together. Bridging the gap between the sales, sales operations, and finance teams while enabling them for efficiency becomes crucial.
How it helps
Chargebee now offers a sleek and intuitive UI to help Salesforce customers easily create subscriptions and quotes for opportunities, quickly add product and pricing details, and seamlessly manage checkout workflows from a single place.
Here's how you can upgrade to the latest UI→
As Chargebee continues to support expansion into new and different geographies, customers need not worry about the growing list of regional and local compliances they will face. Chargebee is now certified as HIPAA compliant with the "Privacy Rule", "Security Rule" and "Breach Notification" as per the HIPAA Portability and Accountability Act to support customers in the healthcare industry. In addition, Chargebee is also compliant with PCI and GDPR standards and adheres to ISO, SOC1, SOC2, and MFA standards.
Are you planning to expand your business and curious about how Chargebee can help? Do you have pricing and packaging experiments that you want to run but aren't sure where to start? 
Chargebee can help you leap over and beyond the entry barriers and establish a strong market presence with your subscription offering. Reach out to our product experts for a consultation call today.