Overview
Chargebee is a subscription billing and revenue management platform designed to simplify subscription management for businesses. Whether you're a SaaS company, an e-commerce store, a subscription box service, or any other business with recurring revenue, Chargebee can help you streamline billing, invoicing, and subscription management processes.
With Chargebee, businesses can automate recurring billing, manage subscriptions, and gain insights into their revenue streams, all in one centralized platform.
Accessing Chargebee
Chargebee empowers you with a multitude of ways to interact with our platform, ensuring flexibility and convenience. Whether you prefer the intuitive web interface, require programmatic control through our API, or seek real-time event notifications via webhooks, we've got you covered. Moreover, Chargebee effortlessly collects subscription information from your customers through our secure hosted payment pages and the feature-rich customer portal. It's a comprehensive ecosystem designed to streamline your subscription management and billing processes, putting the control where you need it most—right at your fingertips.
Here's an overview of how this works: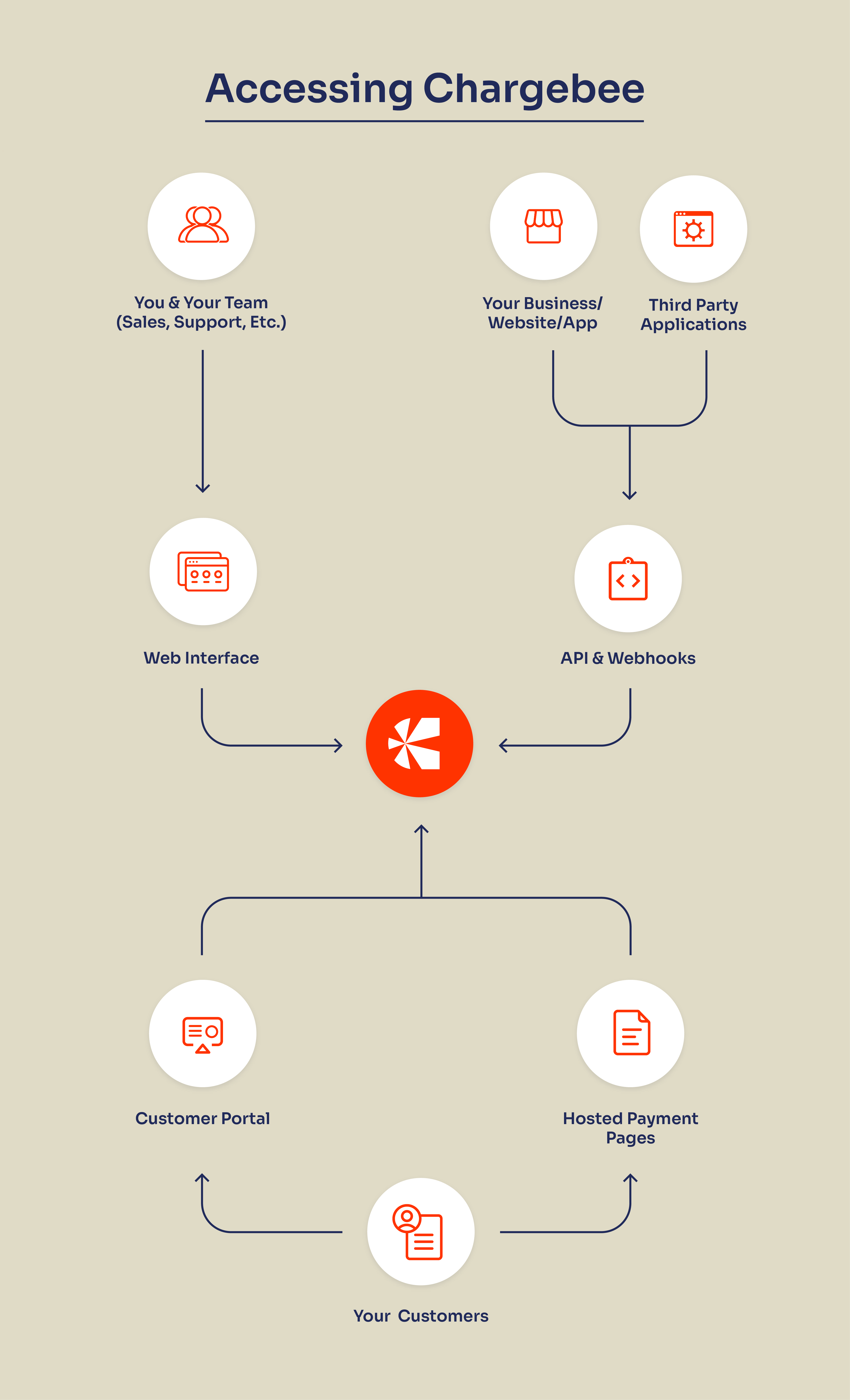 1. Web Interface
Our user-friendly web application empowers you to effortlessly create and fine-tune your billing information, grant team members access with customized roles, and much more. All you need to do is log in using your credentials, and you're just moments away from setting up your products and related configurations. It's the quickest, most hassle-free way to supercharge your billing processes with Chargebee. And remember, if you ever want to take it up a notch, you can seamlessly switch to Chargebee's powerful API for handling your recurring billing needs.
2. API
Chargebee opens up a world of possibilities for your application through our HTTP-based, RESTful APIs. This robust interface enables seamless interaction with our system, granting you the flexibility to integrate and innovate like never before. If you're curious to explore the full potential of Chargebee's API, dive into our comprehensive API documentation and discover the convenience of our client libraries.
3. Webhooks
Webhooks are your window into the dynamic world of Chargebee, offering real-time notifications of critical events like subscription activations, renewals, successful payments, and more. By harnessing the power of webhooks, you empower your site or application to stay in sync with the latest happenings inside Chargebee, ensuring timely responses and seamless user experiences. Dive into our comprehensive guide to learn more about webhooks and how to effortlessly configure them.
4. Hosted Payment Pages
Chargebee's hosted payment pages not only prioritize the security of your customer's data but also offer a seamless and hassle-free subscription experience. These PCI-compliant pages are ready to use, ensuring that your business stays in line with stringent security standards effortlessly. You can customize them to perfectly match your business requirements without any need for development work. Say goodbye to complex setups and hello to a secure, tailored, and compliant solution that enhances both your business needs and your customers' experience. Learn more about the power of Chargebee's hosted pages today.
5. Customer Portal
Chargebee's Customer Portal is a user-friendly, ready-to-use solution that puts the power in the hands of your customers. With it, they can effortlessly manage their subscriptions and billing information, reducing the volume of support requests your team receives for these common tasks. Plus, the best part is that it requires no development effort on your part. Your customers enjoy greater control and convenience, while your support team can focus on more complex issues. More on Customer Portals here.