How Does Your Retention Engine Impact Your Bottom Line? Find Out With Chargebee's Retained Revenue Reporting Feature
~ 4 min read | November 15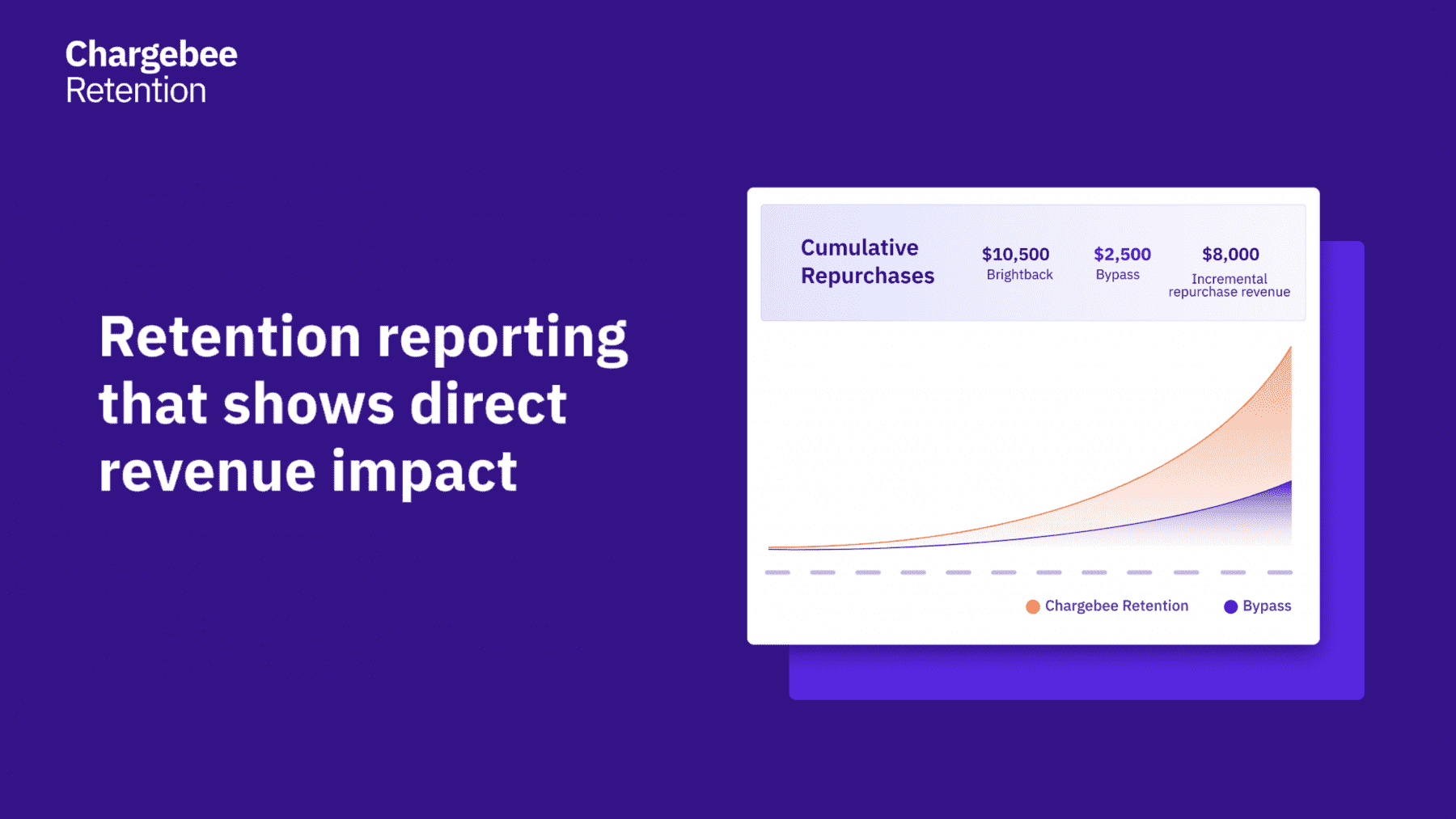 Despite the consensus that it is definitely easier (and less) expensive to retain existing customers than acquire new ones, only 18% of all companies seem to focus on customer retention.
If you're surprised already – even fewer, know how to turn their retention systems into a network effect that convinces subscribers to stick around long enough to become customer champions.
This requires more than minting fresh discount coupons on every exit attempt. It requires deploying and testing personalized user experiences to make customer retention contextual and scalable (like TouchNote did), all while subsequently running offer experiments, obsessing over retention analytics, and instead transforming retention reporting to give you more visibility on how it contributes to revenue growth.
Yes, you read it right. We just said – customer retention can drive revenue growth. (But only, if you are thoughtful about it.)
Transform Your Customer Retention Strategy From a Randomized Experience to Data Science
Since delivering measurable revenue ROI to companies via our churn deflection funnel, Chargebee Retention has evolved to offer randomized multivariate testing, machine learning, or rules-based targeting, to empower our customers to make better data-led decisions and get results faster.
We have now taken the next step to foster sustained revenue growth for our customers by augmenting the deflection funnel with a new feature, the Retained Revenue Reporting metric. Here's how it helps – 
Retained Revenue Reporting shifts the conversation from figuring out just how many people are being retained to

redefining the true value of a saved customer

. This means looking beyond deflection and save rates to figuring out the exact return on investment (ROI) generated by each saved customer generates by sticking on with your business and eventually choosing to upgrade to a new plan.
By understanding how much value each customer cohort is generating for your company, businesses can also determine how much they should invest in forward-looking retention initiatives and precisely which customers they should be prioritizing.
How Can Retained Revenue Reporting Directly Impact Revenue Growth?
Get the most out of your retention investments – derive your true ROI – by clearly visualizing retention's contribution to your revenue bottom line.

Establishing a direct link between what you spend and how much value your retention experiment is generating.

Understand how offers affect overall retention rates over time so you can optimize to give your customers the best value.

Automate value collection from saved cancels in a single view, eliminating the need to manually consolidate data from multiple sources.

Chargebee Retention's

smart ML-based routing

can also analyze cancellation experiences to direct personalized retention offers and experiences to individual customers, thereby improving lifetime value (LTV) and boosting retained revenue.
Freshly achieved an 800% ROI using Chargebee Retention to save customers.
"With Chargebee Retention's reporting, we could view multiple metrics together to understand which offers are attractive to our customers and which ones drive additional LTV for our business."

– Adrienne Bouchie, (Former) Product Manager at Freshly
The company gained insights about the offers that draw customers, those that result in higher LTV, and the responses of various customer segments at the point of cancellation. It has strengthened the company's relationships with customers by enabling it to meet customer needs in a way that has never been done before during an unusual year.
Succeeding at retention has never been more important, and becomes a key differentiator for those who do it, especially in the case of a recession where the room for error is wafer-thin. It might be a good idea to invest in changes now (for instance, investing in a retention engine) than later to ensure your business doesn't just tide beyond economic uncertainty but also turns 'building engaging customer experiences' into a revenue growth lever.
A smarter way to visualize retention is to invest in retention reporting that shows a direct revenue impact – learn more about saving customers with Chargebee Retention.
Get the scoop on what's new