Intacct
Managing your billing and accounting is hard. Enterprises with multiple use cases, reporting and compliance requirements require a robust system in place to manage books efficiently.
Chargebee integrates with Sage Intacct, an Enterprise Business Management software on the cloud. You can now sync your billing data and remove the manual effort of keeping your systems up to date.
Manage your accounts effectively, generate financial reports and recognize revenue with Chargebee and Intacct.
This integration is available only on select plans. To know more, visit Chargebee's Plans and Pricing page.
To learn more, get in touch and we can discuss how we can set this up for you.
It is recommended to test the integration on your Sandbox environment before connecting with the Live site.
Sync Overview
This is a 1-way integration of Sales invoices, from Chargebee to Intacct. Sync runs once every 24 hrs
Note: Sales Orders will not be created as part of this integration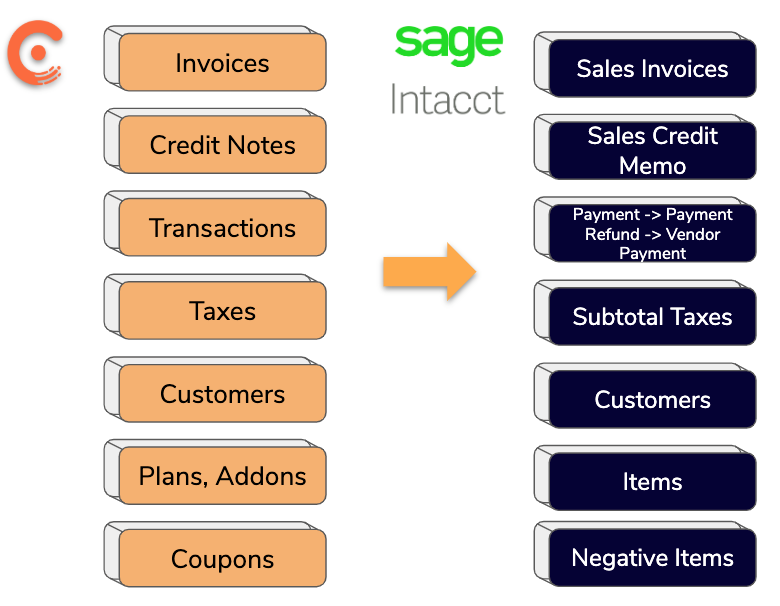 Billing
Invoices created in Chargebee will be synced as Sales invoices in Intacct
Payments will be applied to AR invoices
Credit Notes will be created as Credit Memo and applied to AR Invoices
Refunds will be created as Expense/Vendor Payments
Offline payments reconciled in Intacct will be updated in Chargebee
Fractional correction in the invoice amount in Chargebee will be reconciled by adding a Round-off amount line item automatically. And tax will be exempted for the fractional correction amount.
Customers
Customers will be created when invoices are synced
Existing customers from Intacct can be migrated to Chargebee to avoid duplicates
Plans and Addons
Plans or Addons in Chargebee will be created as Items in Intacct
Items already present in Intacct can be mapped via SKU/item ID
Discounts will be created as Negative Items in Intacct
You can assign the Revenue Recognition Rule ID from Intacct
Dimensions
You can select which Dimensions should be used for the sync (from Department, Class, Project, Vendor etc.)
Location is a mandatory dimension for the sync
You can provide upto 3 dimensions per product/line item in Chargebee
Additionally, you can provide Dimensions for other line items, such as Setup fees, One-time Charges, Round off error line items
Revenue Recognition
Chargebee will send the Amount, Start date and End date per invoice line item
Based on the Revenue Recognition Rule ID assigned to every line item, the revenue forecast schedule will be generated in Intacct
Configuration
Entity Selection
You can select a default Entity in Intacct to which you want to post customer/invoice info
Additionally, you can map customers to a specific subsidiary in Intacct
GL Account Mapping
You can map a GL Account per plan/addon in Chargebee
You can provide GL Account Group or Item GL Group for invoice line items such as Setup fees, One-time Charges, Discounts, Bad Debts, Round off errors
You can provide a clearing/un-deposited funds account to map payments and refunds
FAQ
1. We create Sales Orders for fulfilment, how does this work as part of this integration?
Sales Orders are not created as part of the integration. Sales invoices are only created when they are synced from Chargebee.