Businesses resort to providing referral credits, loyalty credits, rewards, cashback, etc. to attract customers and to boost customer loyalty.
Chargebee's Promotional Credits allow you to provide and manage such credits and rewards with ease.
Information
Previously, Promotional Credits were named Account Credits in Chargebee.
You can add or deduct Promotional Credits via the web interface or API. They can only be added at Customer-level and will be applicable to all the Subscriptions associated with the Customer. Chargebee will automatically apply these credits to the invoices generated for the Customer.
In the case of Metered billing, these Credits will be applied only when the invoice gets closed.
Note
Promotional Credits will only be applied on upcoming invoices, both one time as well as recurring.
The treatment of Promotional Credits is similar to that of discounts, so tax will not be applicable on Promotional Credits.
If an invoice is deleted, the Promotional Credits applied on that invoice will be reclaimed.
Promotional Credits cannot be refunded as cash in Chargebee.
To add or deduct Promotional Credits via the web interface, go to Subscriptions › Customers. Click the customer's ID and then click the Promotional Credits option available on the right panel to add/deduct the credits.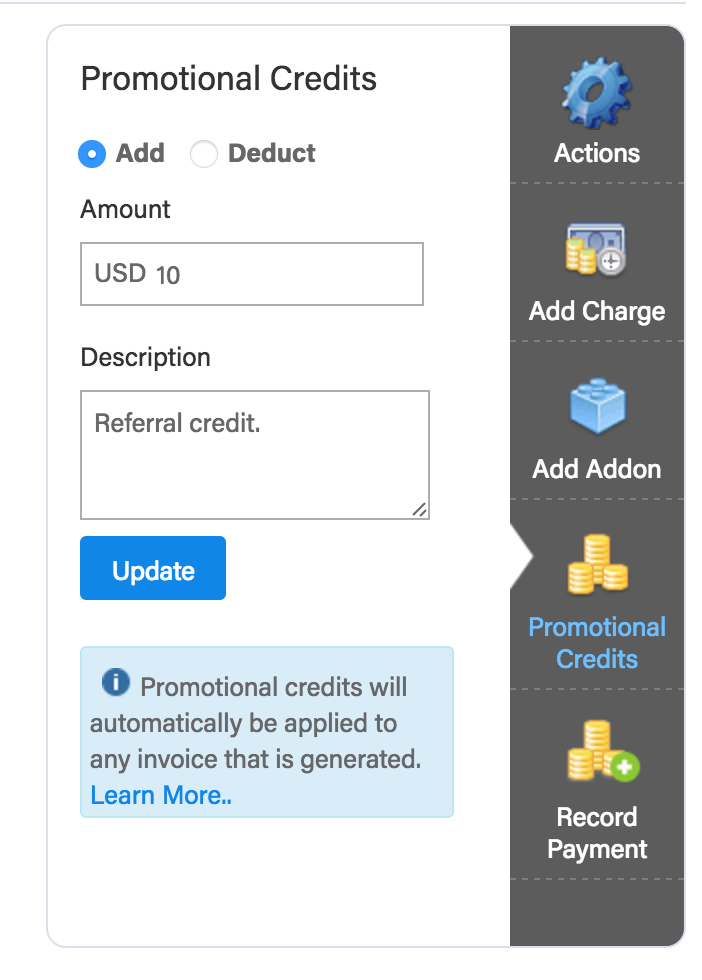 The credit balance will reflect in the summary section:

The credit logs will also be listed at the bottom of the page, under the sub-tab Promotional Credits:

The Promotional Credits amount would appear on the invoice as a separate line item Promotional Credits.
You can perform the following operations with respect to Promotional Credits using APIs: