Creating uniquely personalized customer experiences and enabling homogeneous shopping experiences across multiple channels are just some reasons why headless commerce has become an indispensable tool in the eCommerce landscape. 
People are consuming content and making purchases on the go, from devices like Google Home, Amazon Echo, Amazon Dash buttons, and even smartwatches. It's not just laptops and mobile phones anymore.
eCommerce brands that actively identify recent trends in technology and adapt their business model to leverage these trends are reaping the rewards, while other companies often question how to be a part of the in-crowd without having to build backend solutions from the ground up.
The simple solution is to be present wherever your customers are, and the means to achieving this lies in going headless.
Apart from enabling omnichannel capabilities, and unrestricted freedom to customize one's platform, headless solutions allow brands to unlock first-mover advantage and stay relevant in today's retail landscape — the benefits are several. 
Before we delve into the advantages of headless commerce, let's get a basic understanding of the technology.
What is headless commerce? 
Headless commerce solutions work by decoupling the frontend presentation layer (templates or themes) of an eCommerce website or mobile app screen from the backend infrastructure (pricing, security, and the like) that powers the eCommerce experience. Companies can use their preferred frontend technology to deliver high-quality content experiences and then integrate an eCommerce solution on the backend to manage all commerce functionality.
The decoupled architecture gives brands more control over the customer experience they can provide, allowing them to better engage with customers and stay ahead of their expectations. Using APIs (application programming interfaces) that connect the front end with backend systems, they can provide a personalized and brand-consistent experience across channels.
Relevant read: Check out our blog – everything you need to know about headless commerce – for detailed information.
What are the features of headless commerce that differentiate it from traditional commerce?
Many eCommerce businesses have traditionally used a single platform to manage both the frontend experience and the backend systems. These monolithic systems made it impossible to change the frontend without also changing the backend. They restrict creative control and, then, customer experiences while creating time-consuming projects for teams that may need to make a minor change. These more traditional systems make it difficult to implement new technologies to increase customer touchpoints, affecting overall organizational agility and competitiveness.
And unlike traditional software, headless eCommerce platforms leverage the power and agility of APIs, allowing you to build a tech stack tailored to your specific needs because APIs can efficiently connect many applications within an organization. As a result, integration becomes much more efficient. Scaling is also seamless in headless platforms because each component is typically designed to scale independently, as opposed to a monolithic platform, which may show limited functionality when scaling with your company (for example, during periods of high spikes in traffic).
Headless Commerce vs Traditional eCommerce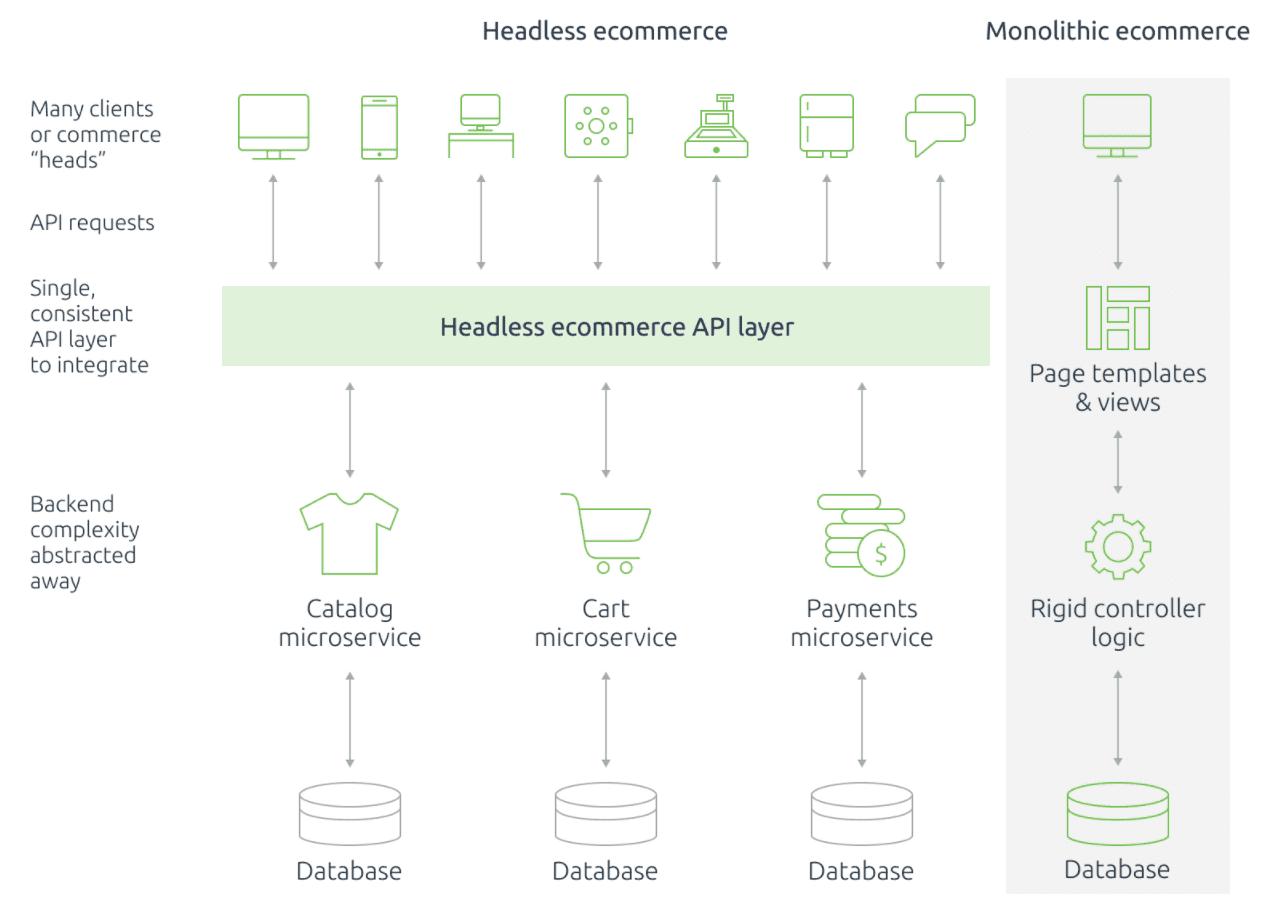 Should you consider a headless platform?
Traditional all-in-one eCommerce systems can be a good option for new businesses looking for quick wins in the early stages, as these systems include built-in frontends, which reduce time-to-market during the launch period. If your company does not need to be present across many channels, the traditional system will suffice – it all depends on what you're looking for.
But to continually meet customer expectations and beat competitive pressures, there is a need for scalable platform architecture, where headless commerce comes into play. For instance, a content-led strategy like headless commerce is a no-brainer for experience-focused brands like lifestyle products and direct-to-consumer (DTC) brands.
Creative teams can use headless CMS (content management systems) or digital experience platforms (DXPs) as frontend presentation layers to optimize the user experience and interface customer engagement and conversions with a decoupled architecture. At the same time, the back end will include functions like account management, inventory management, a billing and subscription management platform, and the like. 
Transitioning to headless commerce is a big step, and you'll need to find a platform that fits your business's needs and one that can keep up with your growth. 
Relevant read: Learn about what it takes to go API-first in our blog, eCommerce replatforming with headless solutions.
Let's discuss some top benefits that a headless platform should be able to deliver.
Advantages of headless commerce
Businesses are constantly competing for mindshare while also dealing with rising customer acquisition costs. In such a scenario, leveraging headless technology to stand out is a wise move. In the last two years alone, over $1.65 billion in funding has been raised for headless technologies. 
But, how exactly does going headless help? Here are some of the essential advantages that going headless can offer you and your organization:
1. Unlimited Customization – Personalized Customer Experiences to Maximize Conversions
Unlike monolithic solutions, the headless commerce approach doesn't constrict you to creating one type of consumer experience. Since the front end is decoupled from the back end, it is easier to change the content layer and is also less risky as you won't interrupt the underlying infrastructure. This freedom to create customized and personalized experiences is critical in the eCommerce market today; on average, word-of-mouth drives $6 trillion in annual global spending and is responsible for 13% of all sales! 
A headless commerce architecture centralizes content and can deliver it anywhere via API, enabling much faster delivery than traditional eCommerce platforms and resulting in a better customer experience. Headless platforms eliminate information silos as all customer shopping data (like a purchase history) is centralized and easily accessible. With customer information at their fingertips, retailers can personalize purchase recommendations, promotions, and browsing options for a specific channel to create more relevant offers to improve conversion rates. For example, an eCommerce shopper who has previously purchased items for his dog may receive an in-store promotion for dog treats on his phone.
With headless solutions, you can start building your customer experiences from scratch while allowing constant changes, customizations, and deployments.
2. Ease of Integrations
Headless solutions provide the means to connect different tools via API. APIs make it simple for software platforms to communicate with one another while promoting seamless data connections and transfers. This adaptability removes constraints and broadens the possibilities for how you can use the data. The main eCommerce functionality stems from the backend architecture, but if you want to improve the experience, you can use an API to solve those problems. Since the user experience is decoupled from the backend, facilitating an integration becomes relatively easy. 
3. Omnichannel Experience 
Customers expect a consistent end-to-end purchase experience since their shopping journey is carried out on multiple digital mediums, be it a laptop, mobile phone, or chatbot. While monolithic solutions may promise omnichannel capabilities, it's not always the case. For example, if the legacy eCommerce software does not yet support a specific digital sales channel, the company looking to incorporate it is out of luck. 
On the other hand, a headless solution allows a company's own developers to create a frontend for a new digital sales channel whenever and wherever they want. Headless solutions enable eCommerce brands to deliver that unified experience at every point of contact by centralizing all customer information and providing a comprehensive API layer that allows frontend developers to input commerce into any customer experience. Given today's advancements in commerce-centric IoT (such as smart kiosks and interactive digital signage), the ability to add new digital channels to the overall eCommerce experience can give businesses a significant edge in the market. 
4. Rapid Experimentation
In eCommerce, experimentation in creating different user experiences and pricing can be a game-changer. Superfoods Company that sells natural plant-based products takes about 30 minutes to decide on a pricing level or launch a new product with Chargebee. The ability to experiment saw Superfoods increase its revenue by 4X in less than a year. They expanded their product line from one to five products and their subscriber base to over 200,000.
The use cases of headless commerce are many, ranging from rolling out new offerings or features, testing various promotions and discounts, playing around with different page layouts, and creating more engaging user experiences without making changes in the backend systems. 
5. Agility & Flexibility – Faster time to market
Headless commerce platforms can support new technologies as they emerge. It means that marketing teams will be able to launch multiple sites across various brands, divisions, and portfolios, and they'll be able to do it quickly. And owing to the flexibility offered by headless software, brands can go to market faster even if customer preferences change overnight. Whether you want to try out new variations in shopping experiences or surpass rapidly evolving customer expectations, a headless platform is a way to go should you want to experiment/innovate without compromising backend functions.
Relevant read: In our guide, learn how to go to market faster with headless subscription management (leverage headless software and subscription management to transform your eCommerce revenue engine and go to market faster).
Brands that leveraged headless solutions to solve their business problems
From big brands to niche players, many eCommerce businesses are adopting headless solutions in a race to keep up with emerging technologies and consumer trends. Here are two examples of companies that benefited from implementing headless commerce:
1. Target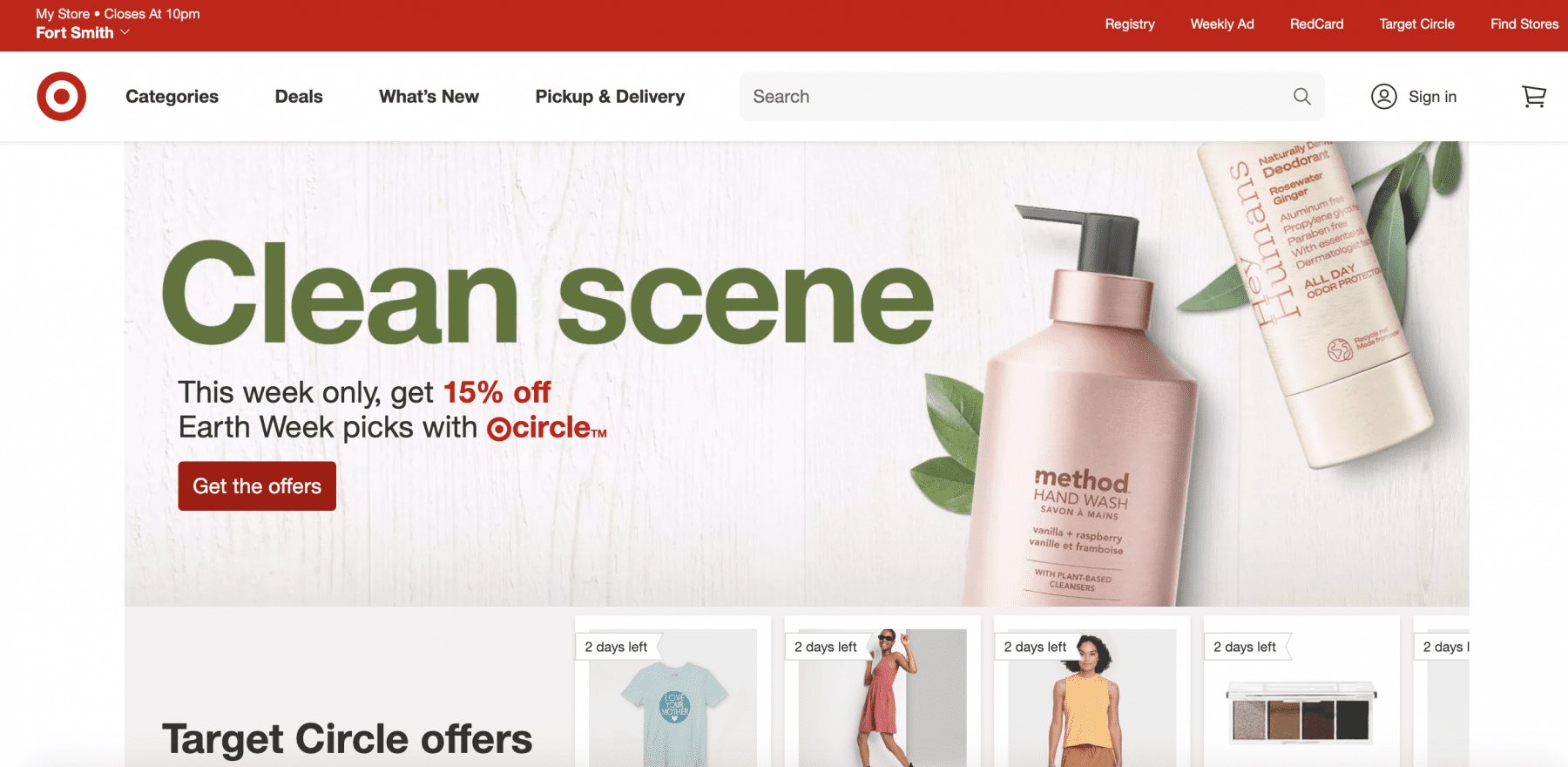 Target was competing with Amazon and Walmart, whose customers were easily switching from one brand to another. Following a detailed analysis, Target discovered that nearly 80% of their customers began their buyer journey on one device and finished it on another. The brand saw a huge opportunity for growth by bridging this device gap and implementing a headless commerce architecture to unify the buyer journey across multiple devices. Following the implementation, Target saw an increase in its online conversion rates, as more users found it relatively easier to complete their purchases.
2. Burrow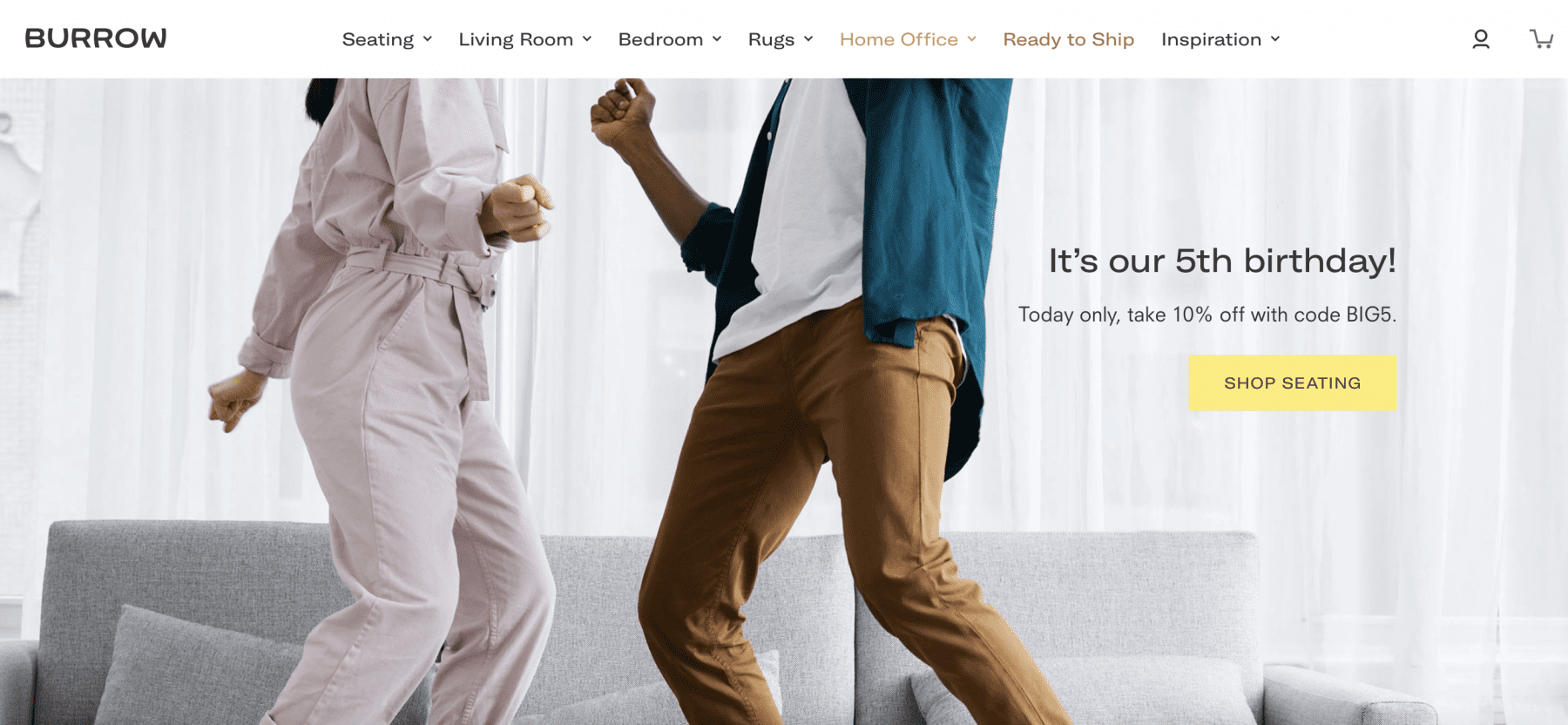 Burrow wanted a template-free website in order to unleash unlimited creativity and provide customers with customized experiences. Furthermore, they did not want developer intervention to make simple changes and instead wanted to free up their team from unnecessary maintenance work so that they could focus more on marketing, giving teams autonomous control over the experience that the site delivered. Within two months after implementing headless, Burrow saw a 30% increase in conversion rate. They also noticed a 50% increase in site speed and performance.
How Chargebee Communicates Seamlessly with eCommerce Platforms
A properly implemented headless solution can be a winning model for your subscription eCommerce business, unlocking several significant benefits like omnichannel experiences and seamless integrations. But to take your business further, be it in terms of global expansion, price experiments, or shifting to a subscription model, you need a solution that will enable all that while future-proofing your company without changing your current business processes.
And this is precisely what Chargebee does. 
Chargebee works as a modular suite of subscription billing and management APIs designed to complement your existing commerce stack, exchanging information – to and fro – effortlessly with your eCommerce platform:
Supplement your core commerce functions with subscription-specific APIs to create high-value subscriber experiences.

Begin and scale a subscription store alongside any existing traditional commerce experiences.

Build your subscriptions your way, with granular control over pricing, deals, billing, and more – all from a single location.

Utilize 150 pre-built reports centered on products, offers, orders, and payments to gain access to a wealth of subscription behavioral data.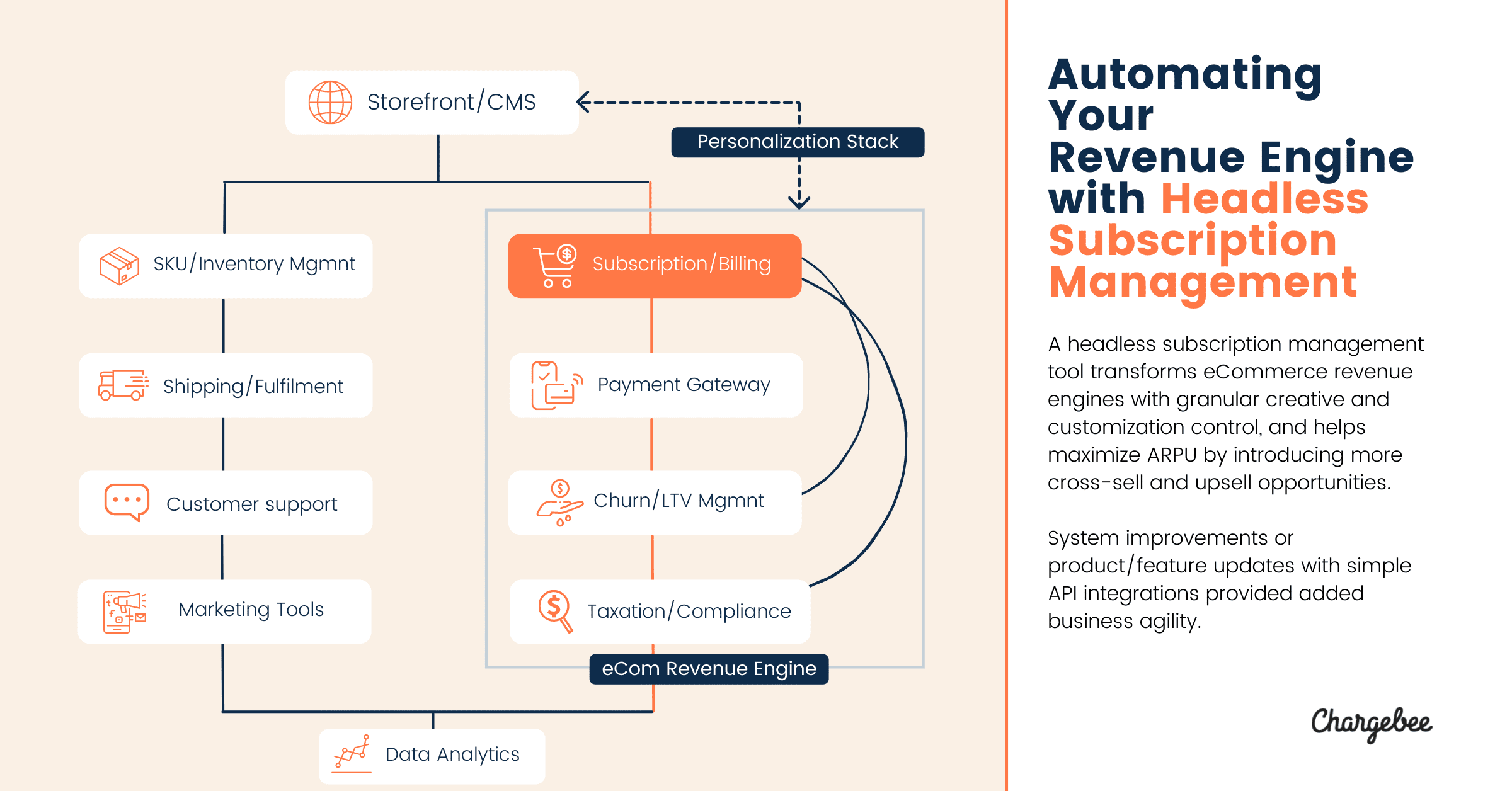 You can activate multiple features necessary for a hyper-growth subscription eCommerce business at the click of a button, saving hours on development: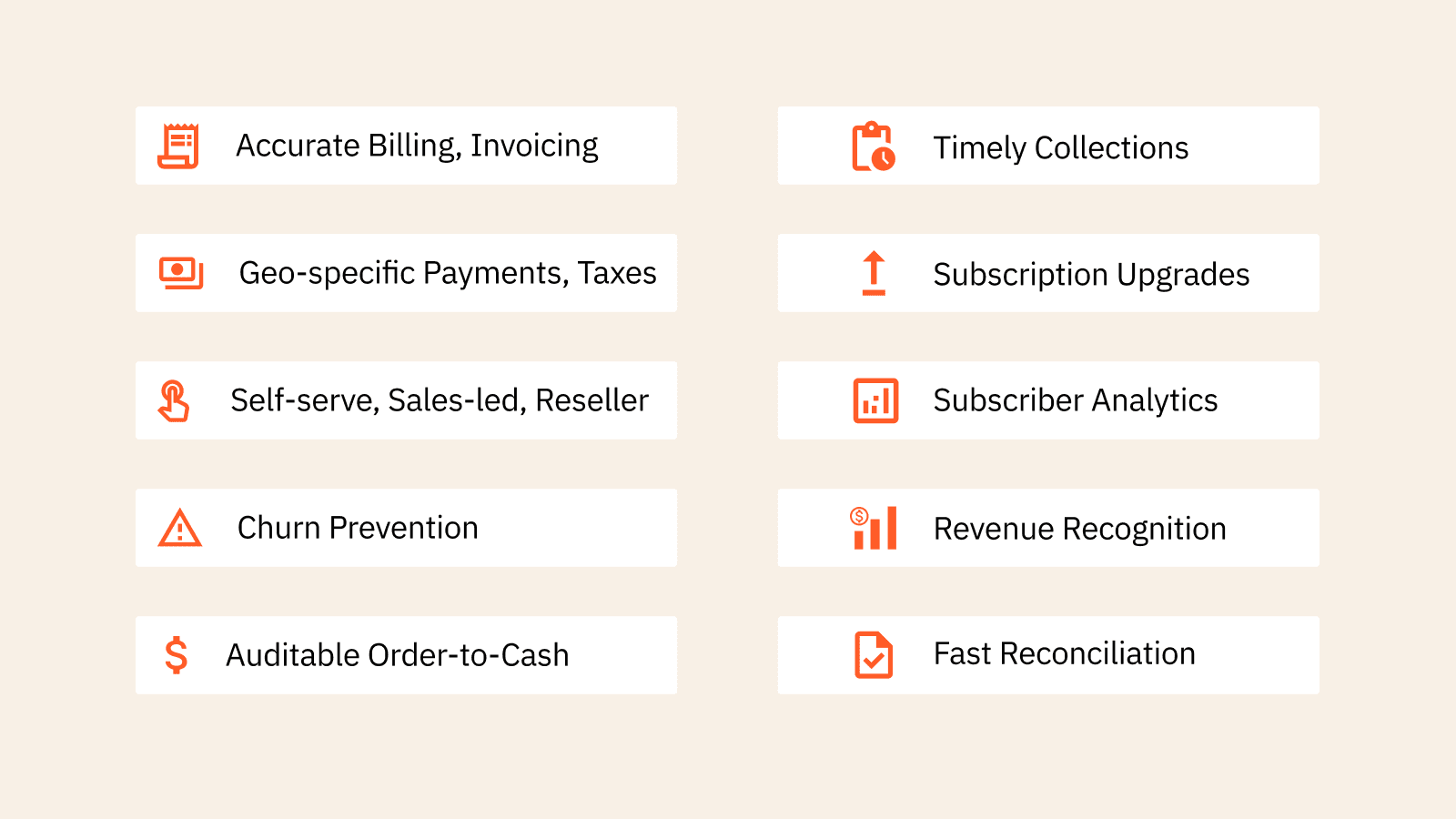 With Chargebee as your growth partner, build an advanced scale-worthy platform for your subscription eCommerce business.
Learn more about how you can focus on delighting your customers and scale your subscription eCommerce strategy with Chargebee.
For more insight into how Chargebee can fit into your workflows, go ahead and sign up for a free trial or schedule a customized demo!