In a podcast with SaaStock, Krish unravels the emergence of Revenue Operations and the integral part it plays in growing a SaaS business.
With the SaaS market set to reach $150B in 2020, SaaS businesses have enormous market potential.
But revenue workflows in SaaS businesses are often ridden with inefficiencies that arise due to misalignment of teams, tools, and processes. According to a report by IDC, businesses lose 30 percent to these inefficiencies in their revenue operations.
So how do you scale fast while staying efficient?
The answer lies in acknowledging and leveraging the pivotal role of revenue operations, says Krish Subramanian, CEO and founder of Chargebee.
In a podcast with SaaStock, Krish elaborates on how SaaS has changed the way revenue flows, the criticality of thinking operations from the very beginning, and attaining enterprise-sophistication while retaining start-up agility.
You can listen to the full podcast here: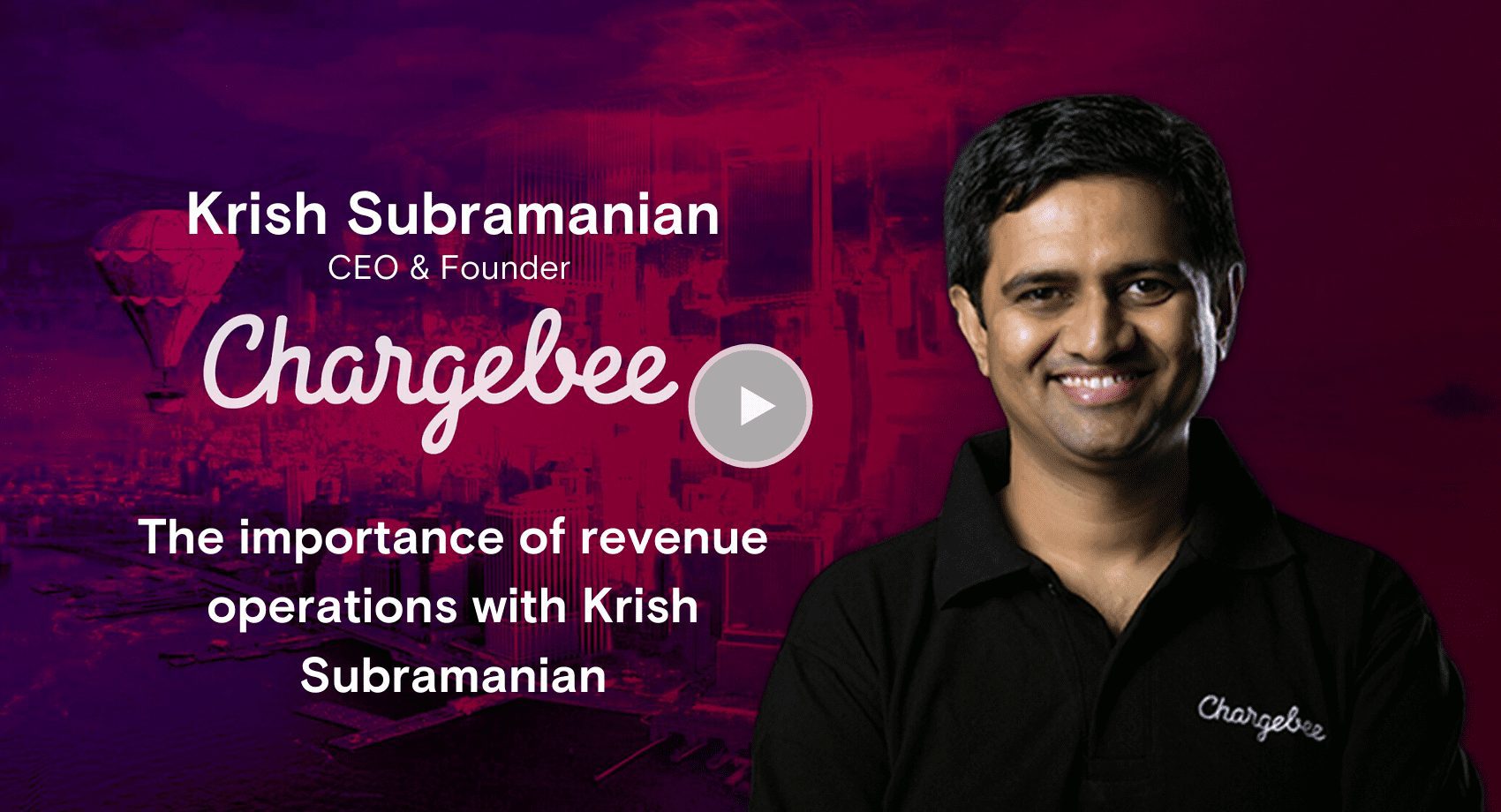 …or, if you'd rather read about it, here are the key takeaways.
Recognize the Change in Revenue Flow
Revenue in traditional businesses flows unidirectionally – from Marketing to Sales and Finance. Whereas in a SaaS business, the cyclical revenue flow creates a flywheel effect and this change impacts everything.
While the purposes of all functions remain unchanged, their revenue implications in SaaS are much more amplified. SaaS customers need to be 'won' not just once but through every recurring billing cycle. This means that even traditional back-office functions like finance is not the end of the revenue line and is a recurring presence through every retention cycle.
Every function in the flywheel is a revenue function – whether you are building features, acquiring customers or retaining them, it is about delivering and capturing value.  Tweet 
Hence, the underlying infrastructure, processes, and data need to cut across all revenue-driving functions enabling them to work together as one unit. Inefficiencies lead to lost deals, churned customers, misreported numbers. In other words, lost revenue opportunities.
Start Thinking About Ops From Day 1
Krish elaborates on how acknowledging the importance of revenue operations in the early stages is a stepping stone for scaling faster in the future.
"If I were to start over, I will not only start with support but also think about Ops as early as possible. Revenue operations provide the basic infrastructure for SaaS businesses to streamline your workflows, integrate your data, and make data-driven decisions."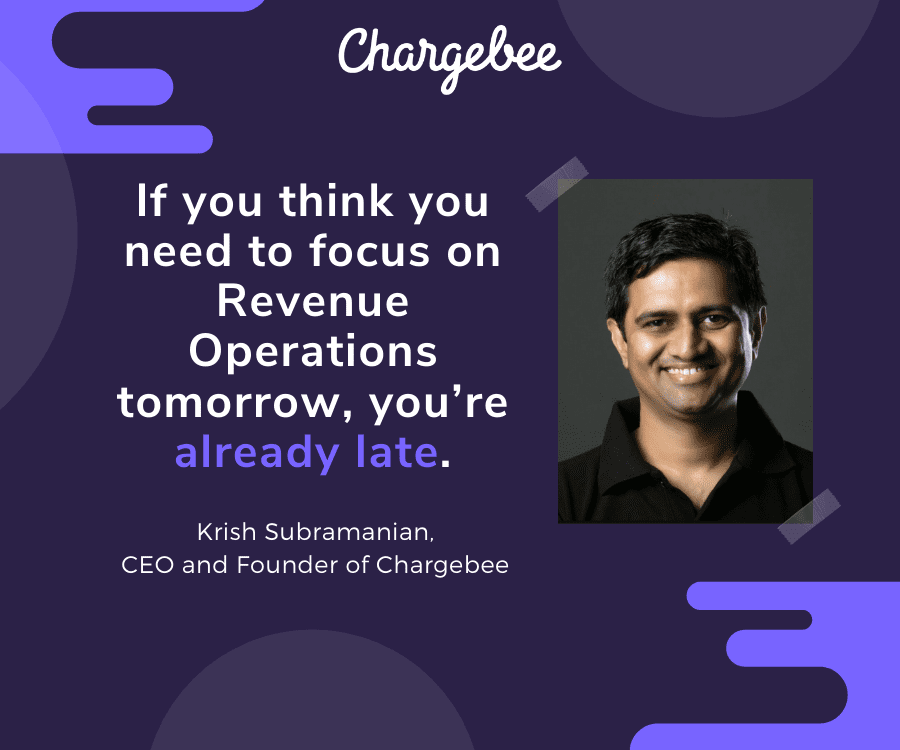 "And for this to happen", Krish continues, "invest in best of breed solutions. You'll need to identify RevOps heroes who are dedicated to connecting data that flows across all tools and systems. These are the people who obsess about setting up the right infrastructure and tools to scale faster."
Investing in operations from day one helps you get to a point of predictable growth.  Tweet
Attain Enterprise-sophistication Without Losing Start-up Agility
The road from $1M to $100M for a high-growth SaaS business is riddled with twists and turns. Everything changes – what you sell, how you sell it, and whom you sell it to. Selling to enterprises and big-ticket customers demand a higher degree of sophistication in sales and revenue operations. But in the process of attaining sophistication, SaaS businesses sacrifice agility and let inefficiencies creep in.
These inefficiencies frustrate customers, stifle decision-making, increase churn, and dampen growth. Aspirations of SaaS businesses today have shifted from traditional Fortune 100 enterprises to "designed-to-scale", agile, unicorn startups, such as Slack and Dropbox. 
Businesses will need to build sophisticated workflows that let them capture revenue opportunities, and reduce inefficiencies.
Chargebee's vision is to bridge the gap between startups and enterprise, and level the playing field by providing a RevOps infrastructure so that organizations can attain enterprise-sophistication without losing start-up agility.
Are you looking for a revenue operations infrastructure that scales as you go? Chargebee is a RevOps platform that handles recurring billing and subscriptions on one hand, integrates with your GTM and finance tools on the other to help maximize revenue. Check out our capabilities in this RevOps menu, and schedule a free personalized consulting session to learn more.