Hosted Checkout
Chargebee's hosted checkout collects your customer's account and billing details and helps complete the order by processing the payment.
With Chargebee's hosted checkout, the customers are redirected to a secure payment page hosted by Chargebee to complete payment for the product or service. These pages adhere to security and compliance standards such as PCI and GDPR . The checkout page is customizable, allowing you to brand the page with your logos and colors. Chargebee's hosted checkout supports various payment options, including bank-based payments, direct debit, and wallets.
Chargebee's hosted checkout also integrates with other tools and features offered by the platform, such as customer management, invoicing, and tax calculation. The integration allows you to easily manage subscriptions and payments and track customer data and analytics. Hosted checkout is your one-stop destination with custom fields, default language translation, smart routing, analytics, and more.
Checkout Process
Here is what happens in Chargebee when a customer clicks the Checkout/Subscribe button.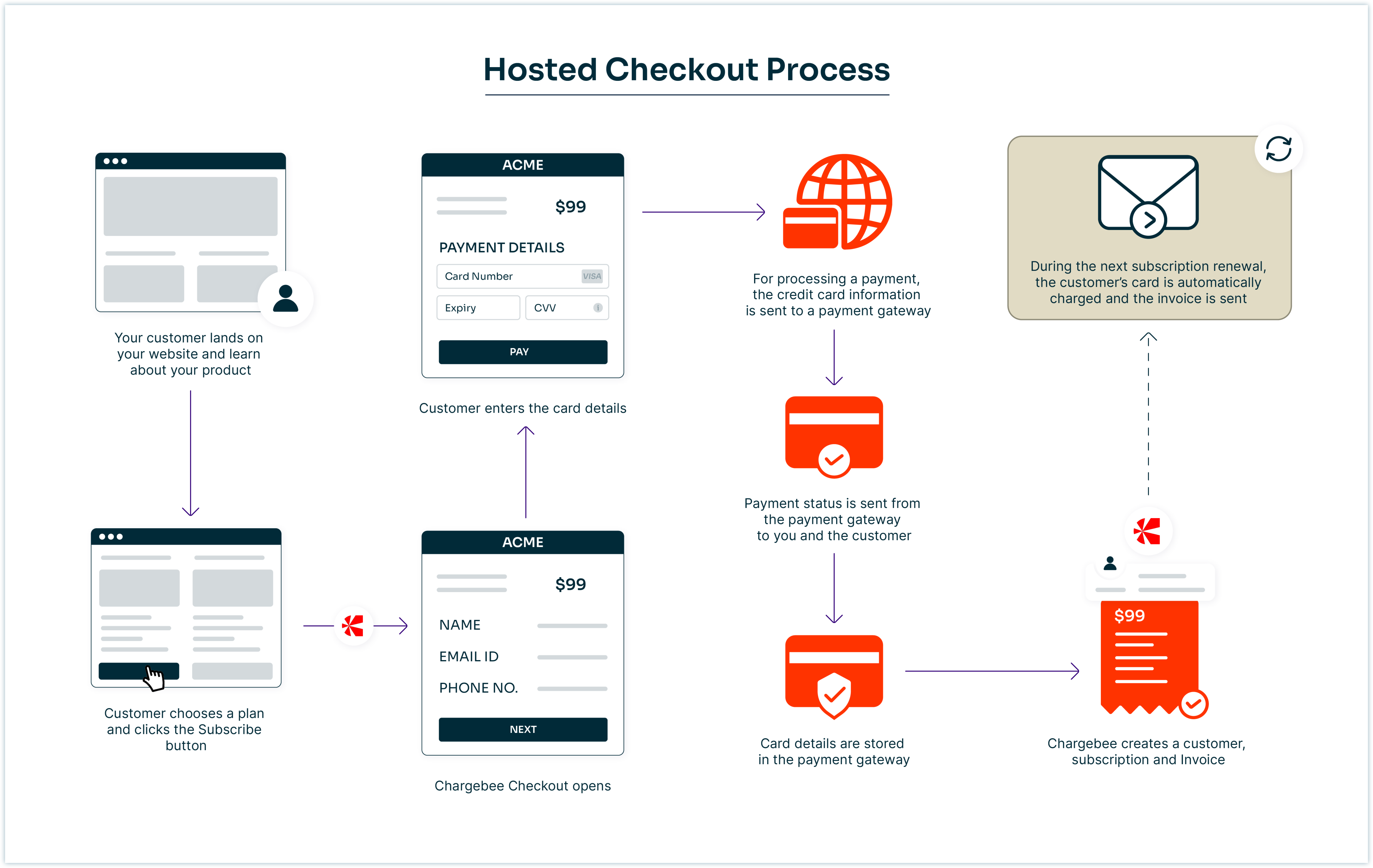 UI Layout Options
Chargebee currently offers the following layouts that you can choose from based on your look and feel preferences:
In-app layout
Full-page layout
In-App Checkout
In-app is a simple, elegant, and intuitive modal-based checkout. On clicking the Subscribe/Checkout button, the Checkout modal opens, where your customers can enter their account and payment details. You can configure your brand elements, fields, display charges, taxes, a thank you message, and multiple workflows to suit your business needs. The in-app layout is optimized for mobile devices and elegantly handles the customer journey for your checkout funnel.
Here is a sample of the In-app Checkout.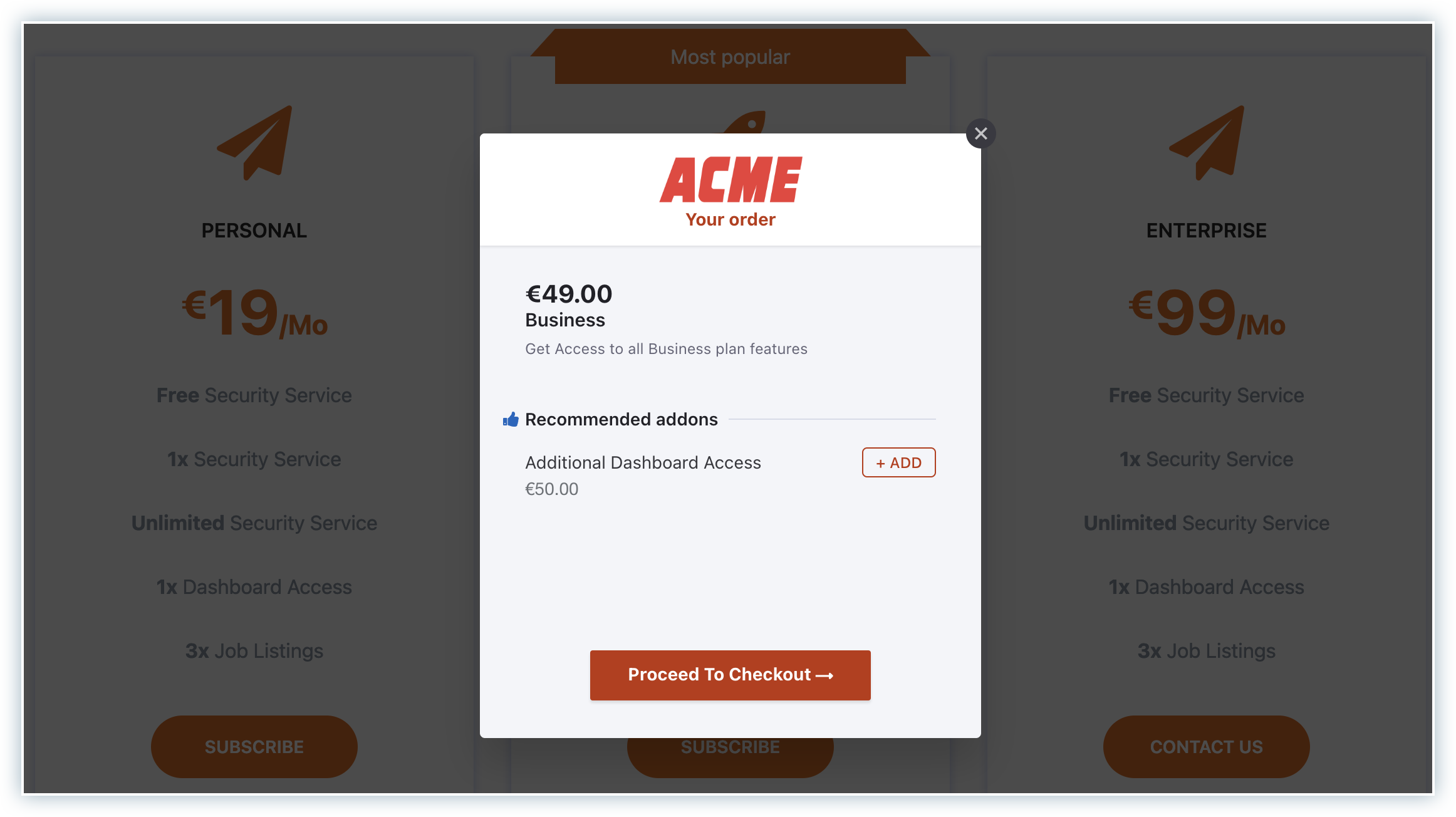 Full-Page Checkout
Early Access:
The Full page checkout feature is currently in early access. Contact eap@chargebee.com to join the Early Adopter Program.
The full-page layout of Chargebee hosted checkout is a standalone checkout experience for your customers which can be customizable similar to your website and can let your customers do checkout in a single step.
Here is a sample of the full-page Checkout.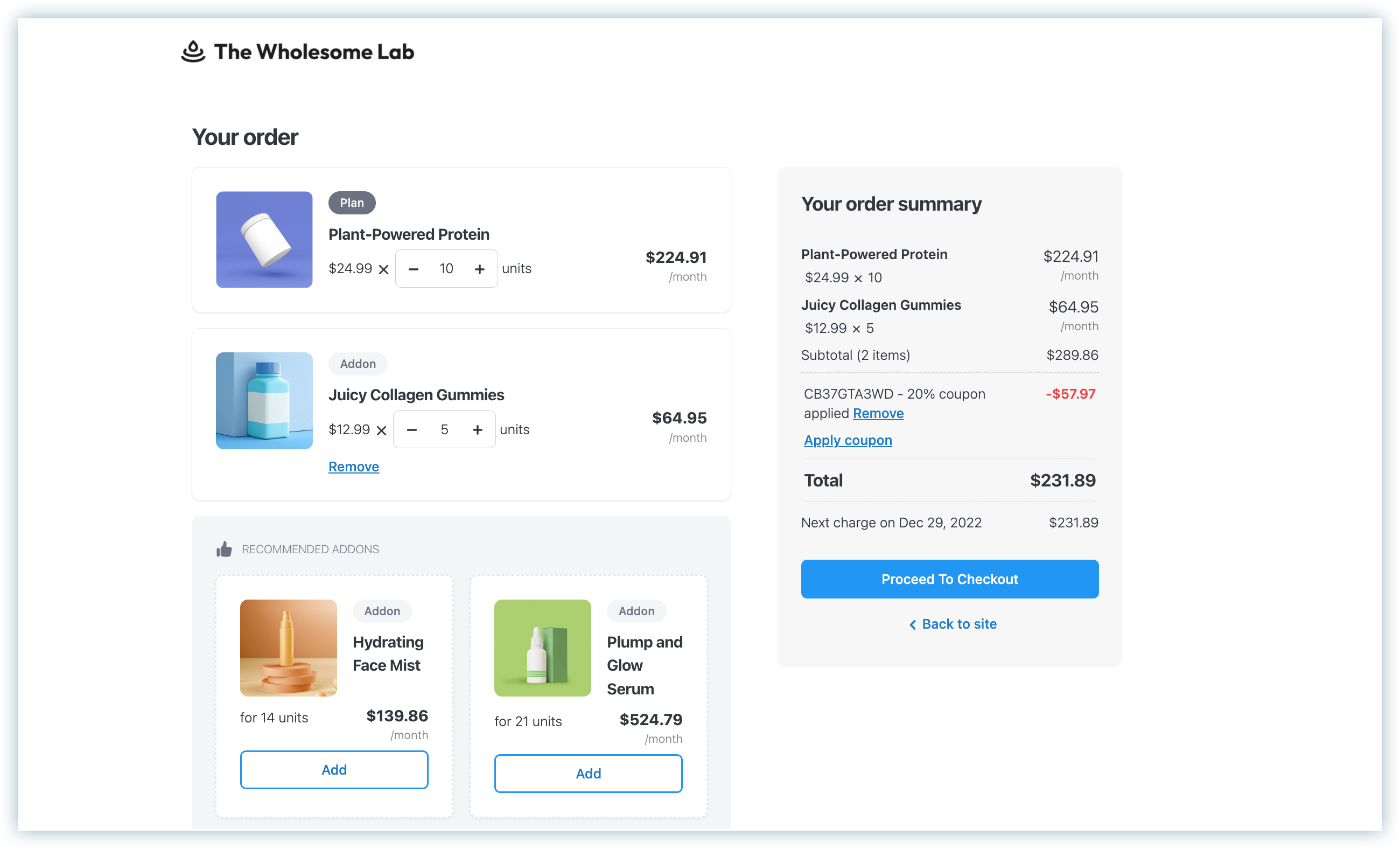 Workflows
Hosted Checkout covers various workflows while managing your subscription businesses as part of this solution.
Let us see an example:
Let's say, your SaaS business have the below plans:
Monthly basic subscription plans.
Monthly advanced subscription plans.
One-time purchases such as a one-time charge for setting up support.
Gifting options for your customers.
Now, Chargebee-hosted checkout can be invoked for the above use cases like below:
The following information will be collected as part of Checkout:
Account information
Billing Address
Shipping Address
Payment details