Why should SaaS businesses keep their pricing strategy iterative and flexible?
~ 8 min read | September 21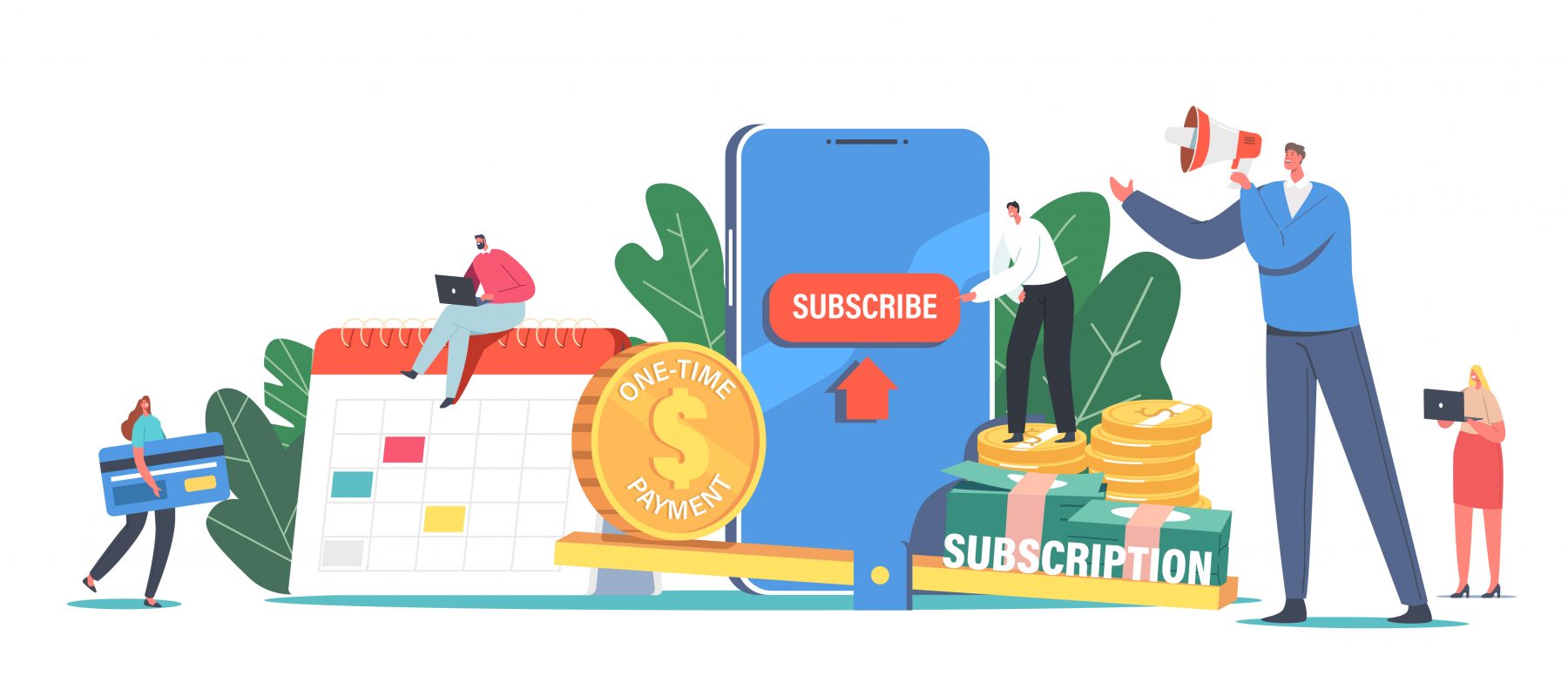 Long long ago, in a crazy and confusing time that people termed the 70s, the commercial software industry was born. From time-sharing and floppy disks to cloud computing and big data, software has had an exciting journey into the 21st century. As hardware became sleeker and software became more intelligent, the business models of software companies also evolved. 
The traditional model of perpetual licensing – one-time payment to upload the software file onto your computer and to use it indefinitely – is slowly going obsolete to make way for subscription models.
In 2021, when people get annoyed if a YouTube video takes more than 3 seconds to load, it doesn't seem very reasonable to expect them to wait a whole year for a software update and then pay extra to access the new features.  No wonder then, the pay-as-you-go subscription-based billing model is edging out the perpetual licensing model with its convenience and affordability. 
The Beauty of SaaS Pricing Models
Several factors are responsible for the exploding popularity of SaaS pricing models in the last decade, but here are some key levers that moved the needle.
Opportunities to upsell
A subscription model typically has multiple plans packaged to suit different personas in their target market. The plans could be tiered according to benefits, user licenses, or both. The visibility into how users engage with your product is exclusive to the cloud and, when used effectively, will give you more than one golden egg.
By understanding how a customer uses your product and pitching them an upgrade as value addition, strategic upselling can be a win-win for both the business and the end-user. Upselling opportunities are a key growth strategy for SaaS companies and allow for an additional stream of expansion revenue from existing customers.
Unit-based pricing
Paying only for the product features you've used or the number of user licenses you require – is quintessential SaaS. This was a key differentiation from blanket costs of the traditional licensing model and lowered the cost of SaaS adoption for smaller companies. A small monthly fee (compared to a perpetual license) also enabled users to try out new products with the option of canceling their subscription at any time. 
Customers are more likely to pay smaller amounts throughout product usage than a lump sum amount upfront. So even though someone using a product for 5+ years would end up paying more than he would have for a perpetual license, he feels happy doing so.
Value-based pricing
We expect to be billed for what we use with something as essential as your phone bill to something more complex as the software you subscribe to. The Fair Billing Act protects consumers from unfair (well, duh) billing practices. For example, Slack has a per active user pricing and merits a mention for its fair billing policy. They charge only for active users – just as promised – and if someone who has already been paid for becomes inactive, they add a prorated credit for the unused time.
For any product or service, the end user's willingness to pay depends on how much value they're getting out of the deal. Value-based pricing is a way to understand how you measure up to your competitors in your industry, what features your users are willing to pay for, and put a number on your competitive advantage. Although it's a research-intensive path, the price that it leads you to is one your customers will be more than willing to pay. 
Once you identify the features that drive value and revenue in your product, value-based pricing can help you maximize profit generation. But how can you identify the value levers in your product? 
Importance of continually iterating pricing strategy
As value-based pricing emerges as an ethical practice and the preferred strategy for most businesses, it drives home the importance of iterating one's pricing strategy. A study shows that a 1% improvement in price optimization results in an average boost of 11.1% in overall profits. 
Running pricing experiments is the most effective way of gathering real-time validation for your pricing decisions and discovering the optimal pricing for your business.
Iterating your pricing and feature bundles allows you to understand your customer segment and usage patterns, willingness-to-pay data for different price points, and your brand's worth. Using these insights to monetize your value proposition effectively lets you maximize profit generation while driving more value to your customers. 
How can you iterate your pricing with ease? 
If you're ready to run pricing experiments, you only need one thing to get started – the right tech stack. An important reason most businesses shy away from optimizing their pricing is because of the operational overhead. Without the right tools, pricing changes can seem daunting and cumbersome. 
An entitlements management system (EMS) grants you fine-grained control over features across your product. You can track and iterate offerings based on revenue and usage insights. It also accelerates GTM strategies for plan bundling, pricing, and product launch experiments. You can override features at the subscription level and plan level without having to depend on developers. With entitlements, you can 
Identify the features your customers value the most

Optimize software monetization experiments

Nurture users for upgradation
With the right tech stack, you stand to gain an intimate and tactical understanding of your user base, effortlessly. 
Companies that got it right
Keeping pace with the industry shift from perpetual licensing to subscription models, many companies changed their business model and landed on the right side. Here are two examples of software giants who evolved to escape the jaws of irrelevance. 
Adobe
One of the most successful transitions from a software license model to a subscription model is Adobe. Currently valued at roughly $300 billion and an annual revenue of $15.79 billion in 2021, Adobe is a pioneer and an industry giant in the world of digital graphic design. In 2011, Adobe's software license business peaked at $3.4 billion in revenue at 97% gross margin. By 2012, Adobe saw the writing on the wall. Revenue from the licensing stream had halved in 3 years to $1.6 billion. 
The fallout could have been massive if Adobe hadn't decided to disrupt its own business. Adobe had started offering subscriptions for a suite of products which grew five-fold from $0.45 billion in 2011 to $2.1 billion in 2014. Only 30 months after launch, the new SaaS business outpaced the software license revenue and operated at a 93% gross margin and currently brings in 90% of overall revenue.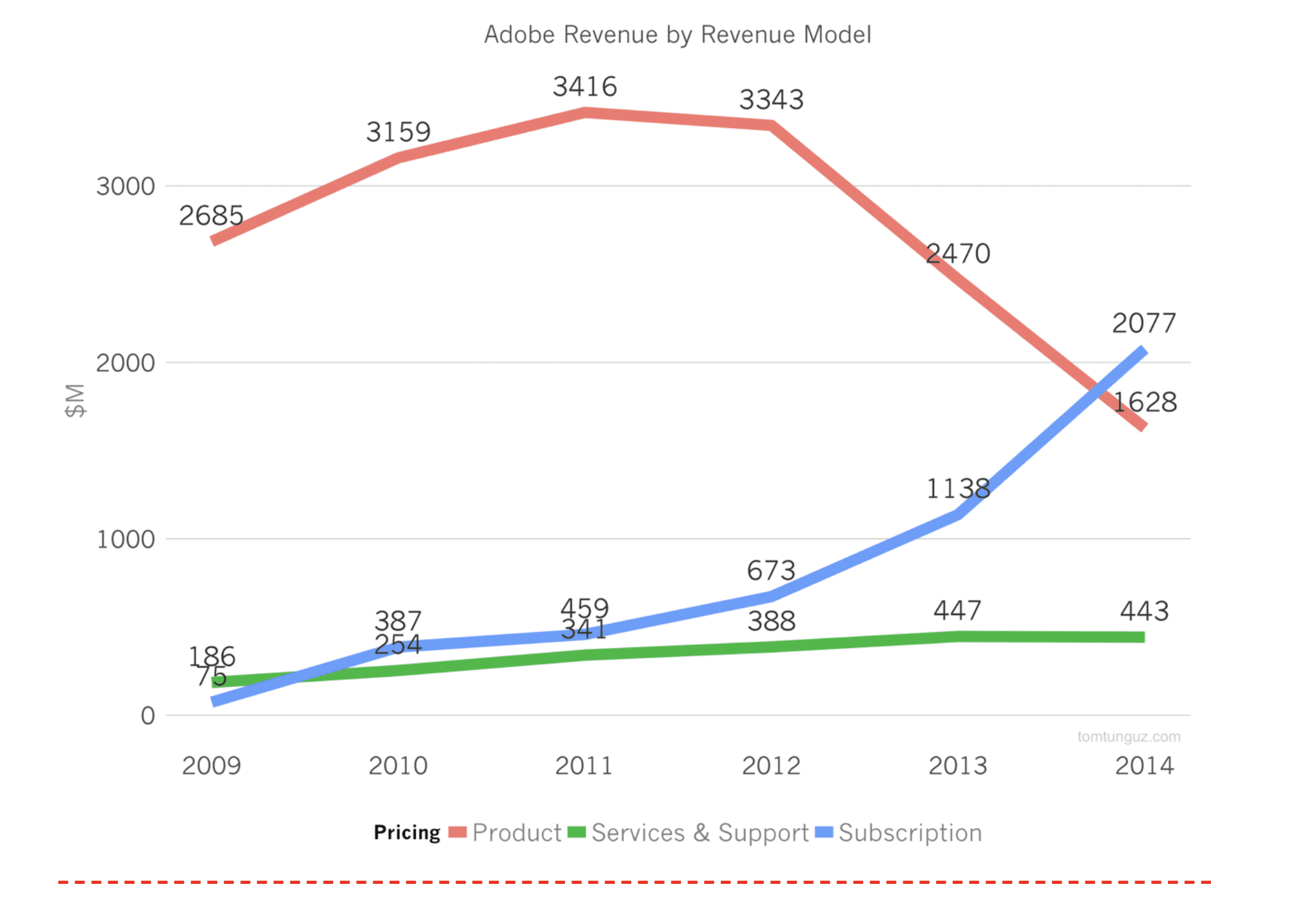 Image source: here
Tableau
Here's another software giant that has dominated its industry enough to become synonymous with the service it provides – data visualization. But back in 2016, things weren't looking great for Tableau. After lukewarm earnings in 2015, new competitors like Microsoft's Power BI and SAP's Cognos BI threatened to turn Tableau's bad phase into its demise. 
After its stock dipped dangerously from $105 to $45, Tableau decided to make some changes. In 2017, it hopped on the subscription bandwagon and swapped out its perpetual licensed on-premise model. A perpetual license for Tableau costs $1,999/user. When Tableau switched to monthly subscriptions of $35/user/month, the model generated only a fifth of prior annual revenues. Meager though the amount was, it was a recurring revenue stream, and over time Tableau reaped the benefits of the subscription model.

Image source: here
By changing the price tag from $1000 to a mere $35, Tableau became affordable to entirely new customer segments. By Q2 of 2017, Tableau's annual recurring revenue stood at $483.6 million – up by 47% y/y from Q2 of 2016!
By the end of 2018, Tableau's stock had risen 231% from its low point in 2016 and Tableau hit an annual revenue of $1.16 billion, with subscriptions making up 80% of its total business. Shortly thereafter, in what was then Salesforce's biggest acquisition deal, the company acquired Tableau for a whopping $15.7 billion. 
Conclusion
A study by the Business Research Company has found that the SaaS market is expected to hit $436.9 billion by 2025 with a CAGR of 12.5%. There are several studies and various projections but the underlying observation is that SaaS isn't going anywhere. And as the SaaS industry continues to grow consistently, it brings increasing demand and some healthy competition. There is no shortage of startup ideas, passionate teams, and brilliant products. So why do a significant chunk of SaaS startups fail to live out their glorious missions? 
Pricing. That's the secret to building a business. 
Start iterating early and get your pricing right. Remember, there are no small pricing experiments, only small revenues. You could have a game-changing product with a team of geniuses, but if you don't optimize your pricing, you'd be leaving money on the table or inviting a competitor to price you out of business. 
Learn how Chargebee can help you iterate your pricing strategy
Get the scoop on what's new