A step-by-step guide to successfully launch and sell online course
~ 15 min read | November 7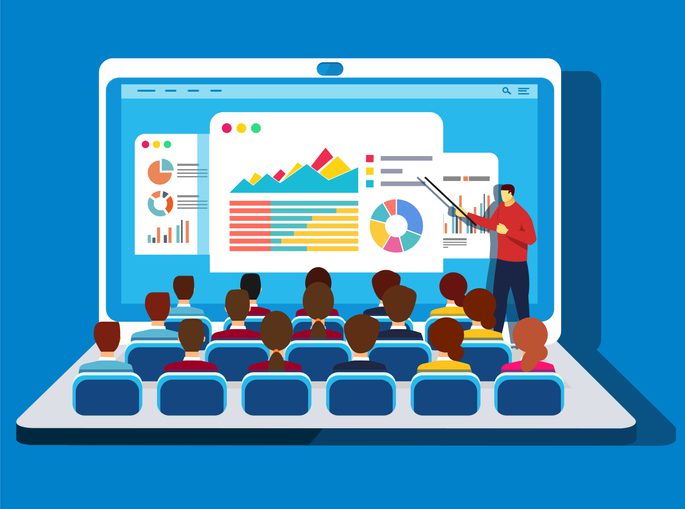 Whether learning how to be the best first-person shooter in PUBG or learning to hack like Mr. Robot from the hit series of the same name, name it, and you have a course for it online. With more people staying at home in 2020, people have had time to invest in skills contributing to their job or exploring their passion.
Capitalizing on this opportunity, the fast-growing e-learning platform, Udemy, started releasing courses targeted based on user search. Fast-forward to September 2020, Udemy was named one of the top 50 companies creating a change in the world by equipping any learner with any course they need to make the future they want.
The e-learning industry, valued at $107bn in 2015, is projected to grow to $243-billion by 2022. As technological advancements in healthcare, education, information technology, and retail/eCommerce grow, the e-learning industry, which caters to professionals in these industries, grows and is expected to reach a whopping $325bn in 2025.
In this guide, we'll take you through the five steps that will not only help you launch a successful e-learning business but also set up a seamless subscription engine for your eager customers.
State of e-learning
As more training programs shift online, instructors search for strategies to convert instructor-led training to a virtual format. Leaders in the industry set to capitalize on this trend are searching for methods to accelerate the speed of development of these courses.
Companies have started focusing on educating people on employee wellbeing to boost the workforce's morale and reduce their anxiety and stress in the shift to remote work. They have also started focusing on compliance-related training. Virtual instructor-led training is helpful for work that requires manual labor or more clarity.
Organizations with complex yet highly used products have created and deployed courses, the certification of which is highly regarded by employers in the market. Some of the courses offered by famous tools that immediately raise a person's employability are Hubspot certification, Google analytics, etc. While some of these courses are free, some are charged, like Marketo or Six Sigma.
Today's e-learning landscape is crowded with many players and these guys are vying for the attention of your ideal audience by targeting their different wants and needs.
To navigate this, you need to figure out the soft spot between what people want and what you offer the best. Great content will help you stand out but first, finding this balance is vital to step out of the crowd.
#1 A step by step approach to create your course content
Choosing a niche is only the first step to a long winding path ahead. The more important step is to create course material that resonates with your target audience. A recent study found that the completion rate for online courses is as little as 15% but, in some cases, goes up to 40%. The significant bump-up in course completion rates can be attributed to the accuracy and the quality of the content offered. So, how can you get the content right for your online course and prevent being abandoned?
Understand your target audience
Hang out in forums where your target audience is. Find out more about their desires and challenges and mold the course accordingly.
Do they want to learn to advance their career? 

Is it an essential skill in their industry? 

Is this the content they would be willing to pay?
Unless you have a substantial budget, you would need to have a specialty. Focus on a niche. Do one thing and do it the best. 
Even direct conversations or surveys with your target audience would help you understand their inner motivation and help add real value to your niche in return.
Create course content that people can't say no to
With the help of content, target a demographic and be very specific in addressing their pain points. Insert special hooks by having creative titles that speak out to the audience and build a course path for them to follow. You can do this by providing your audience learning goals and objectives. Most people quit because of the lack of clarity as to where they are heading next.
One of the famous marketing courses online is the Inbound marketing course from Hubspot. If you see the below picture, you will notice how the course map is sketched out, and a brief description is provided for every course.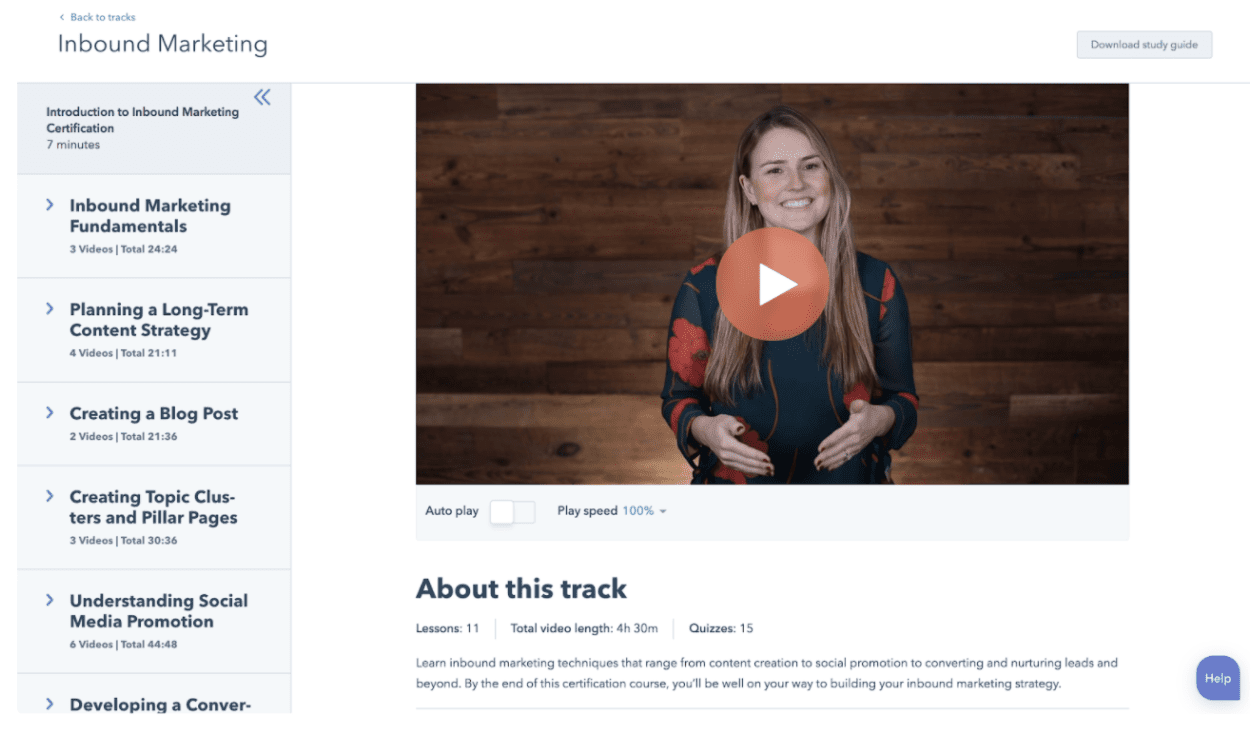 Microlearning is the core of subscription learning. It makes learning a more accessible experience by breaking down content into smaller bites and giving learners time to assimilate what they know. This also gives you the advantage of learning at your own pace and keep track of your progress. You can learn more about it here.
Finding the right way to produce content
Now that you have a rough idea of who you are creating content for and what type of content you are making, you will need to decide what media production method to use. There are two ways to do this.
Using existing content
If you already have a slew of informational content on a topic you specialize in and would want to have a course on, you can repurpose this content for the course. Especially if this is something not many people have laid eyes on yet. You can add downloadable content as a lead magnet to get more subscribers to join your email list. Free webinars or repurposed old webinars are great content sources. Though these digital products are tried and tested, creating new videos can still be a good idea even if it becomes more budget-consuming. This is especially the only way to go when starting.
Creating content from the scratch
Many people and companies prefer to use their free informational content as just that. They want these content pieces to establish them as thought leaders in this sector, and when it comes to courses, they create content from scratch. This is a good strategy if you have more budget and an audience ready to learn the new course.
This has more advantages because it lets you see more than the instructional design of your course. Humans are visual creatures. Having a unique theme and graphic design for your course ensures that your visuals are tied to your e-learning goals. This content can also be specifically designed for the audience of your e-learning course, which cannot be done when you repurpose content. This better UI that can be implemented would contribute to course completions.
Some of the most sought-after online learning are courses on know-hows of complex topics like learning big data to topics that help with everyday use like mastering soft skills even though they take more time to create. But this is not it. There are 250 more courses inclined towards the development of technical and soft skills. You can check them out here.
#2 Choosing the best online course platform 
Learning Management Systems function as an online classroom where instructors can upload videos, collect assignments, upload audio, grade student work and carry out any digital learning activity. While all of them come with similar features, like discussion forums, file upload/download, instant messaging, online calendars, announcement portals, connectivity to social media, etc., they have their differences as well. For example, they can be hosted online or locally and provide synchronous and asynchronous conversations between people.
Choosing the right Learning Management Platform (LMS) is very important because different platforms specialize in other things. You need to match it with your objectives and what your target audience would enjoy.
Learning sites
These sites are dedicated to building a repository of online learning courses. It's like the Amazon of e-learning like Coursera, Domestica, and so on. With the help of an LMS, you can author your content and host them on these sites, and they will take care of the commercial part of it.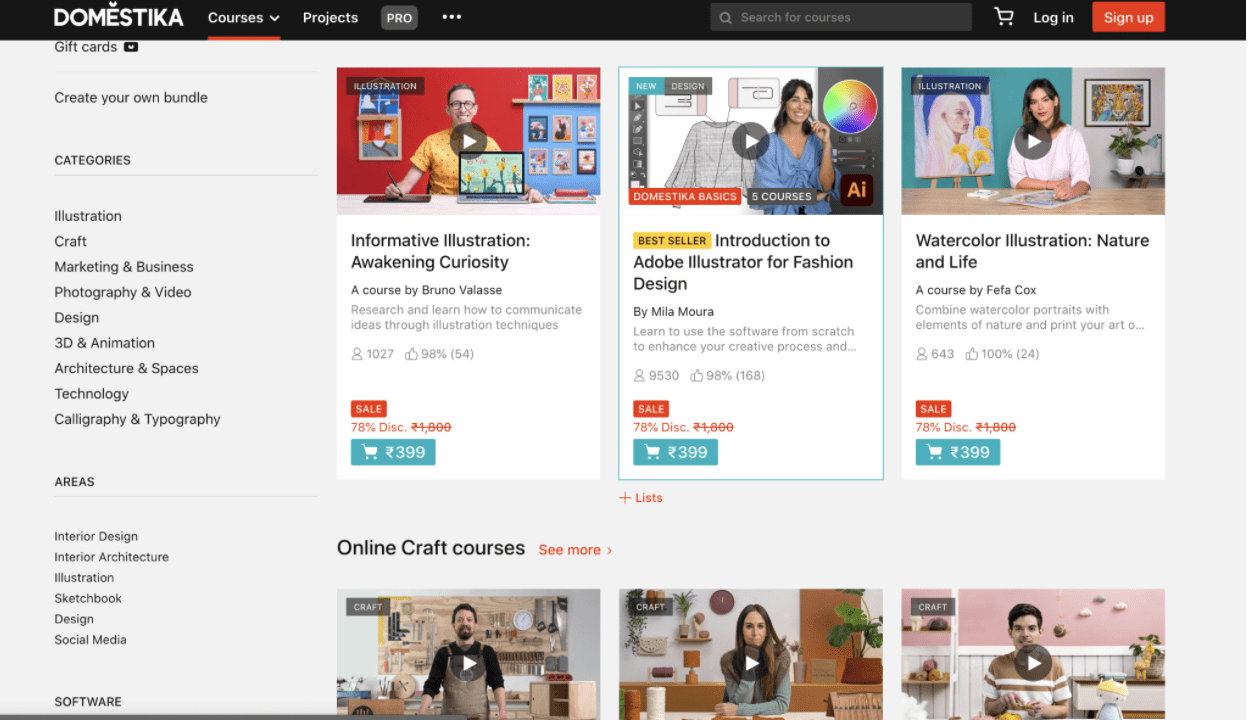 Traditional LMS system
These platforms provide the essential functions you require to set up your online course. Some examples of traditional LMS providers are Abara, CD2 learning, KMI Learning, and so on. Here is a repository of 700 more LMS providers in the market. In many instances, they are used for organizational personnel development and have features that help make these courses available to the outside world.
Massive Online Open learning Courses (MOOC)
They are like any commercial LMS system, except that their courses are free of charge. Examples of platforms aiding with MOOCs are OpenEdX, Kadenze, etc. They use vendors who can configure and host open learning management for a fee. Many universities like Harvard, MIT, NYU, and so on offer free online courses to help people develop their resumes.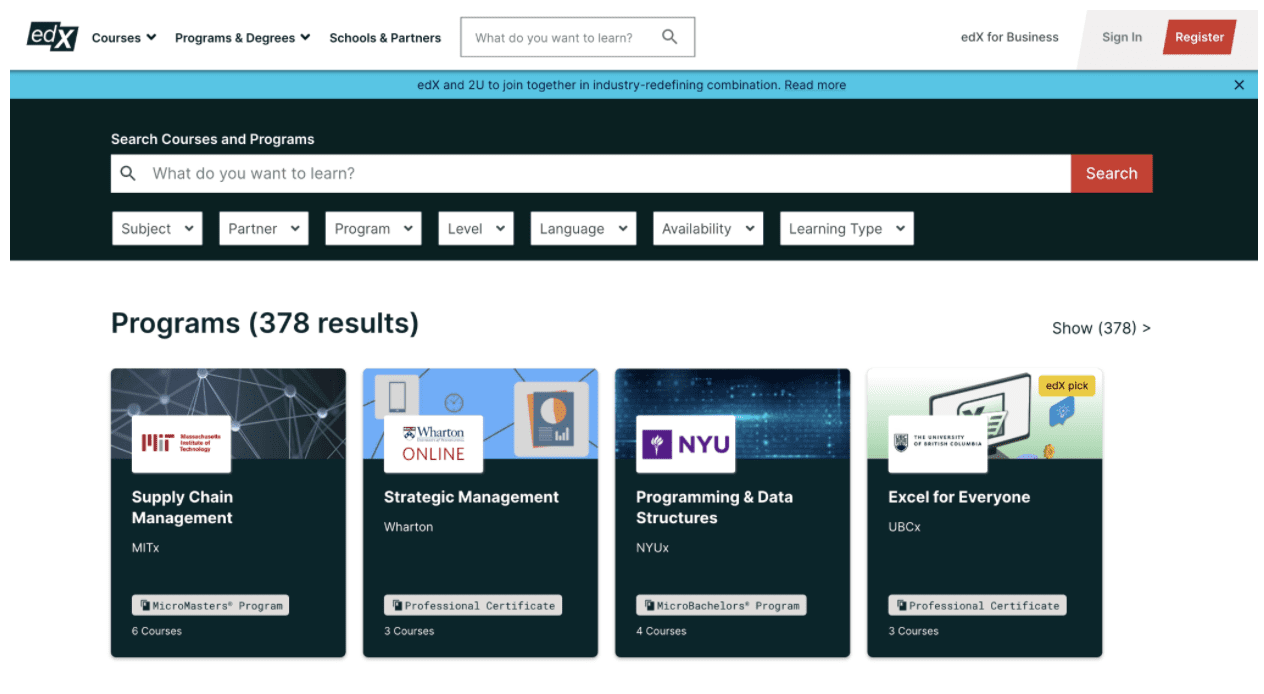 Custom-built learning platform
This is probably the most expensive and time-consuming option, but you get complete control over the user's features and learning path. As the name suggests, here, you build all of your technology from the ground up, meeting the unique demands of the business or user. HbX is an excellent example of this method.
There is also a much more accessible 'one platform' option. It adopts a learning management ecosystem where the organization uses best point solutions to knit together a platform. For example, tools like hosting, eCommerce site, content management, etc., are integrated and presented under one roof with a customer front end, making one believe that it is a single solution.
#3 Pricing your online course
Online courses can be sold repeatedly once they are created, making them a lucrative option. However, every course creator who's ever wanted to create an online course has wondered about pricing it right. The correct pricing is that sweet spot that matches the value and quality of the course to people's expectations.
The price you choose would vary depending on the industry, your target audience's willingness to pay, and your expenses. Some of the factors that affect your pricing decision are brand credibility, course length, competition, the value of the outcome, to name a few.
Podia says that goal-based pricing is the best way to price an online course: an all-in-one digital storefront. It is where you ask yourself what your ultimate goal from the course, which would fall into three combinations as in,
Reach the highest number of people –

where you use the course as a lead generation medium. It means you reduce the barrier to entry into the course.

Sell the highest number of courses

– which means you price the course low enough to encourage more people to enroll.

Optimize total revenue earned –

this is where you test how much your audience would pay for the course to increase overall revenue.
Once you decide on the price for your course, you need to determine the pricing structure that you'll use to charge your customers. Here are a couple of payment plans,
Free course –

These courses can help generate more leads and attract a new audience. If your course material is good, you can also upsell the audience to a paid course. You can also use free courses before a certification course to ensure only the people who like your course would join, reducing the abandonment rate.

One-off payment –

This is a straightforward way to price a course. A basic price will give you full access to the course upon payment.

Subscriptions –

This helps you offer your students multiple pricing options and ensures you get recurring revenue month over month. You can opt for a site that comes along with this pricing and offers both paid and free courses, mixing those strategies. Subscriptions are more reliable because it aids learners to consume micro-units as they go.

Charge monthly, offer trials, move the best customers to annual plans, and bundle multiple courses. 

Premium –

You can also add a premium model to your pricing structure where you offer one-off courses or a higher quality course at a premium price. Also, courses

priced at a higher rate have a low abandonment rate

.
But it would help if you also understood that none of these prices or pricing models are set in stone. You need to experiment and see what works for you and use it. It would help if you also had proper payment gateway integration and plugins to make this sale smooth.
Importance of flexible payment and billing pricing experiments
A well-thought-out trailer for your course, content that resonates on something a person considers a necessity can push an upsell, cross-sell, or general sales happen in a matter of moments. This is why it's essential to have a robust billing system software that supports various pricing models which allow customers to move up the value chain or help you analyze what brings your customers to your course.
Any pricing experiment should not be another multi-quarter project. A sound billing system would help you rethink your value equation and roll our new prices in a matter of minutes. For example, based on the many use cases, Chargebee has 67+ pricing models, which makes the whole process of experimentation easier.
#4 Creating an e-learning marketing and sales funnel
A strategy for marketing and selling your online course is as essential as creating the right content. Once you have set up your course on a platform and have your tech stack in place, you need to focus on marketing. Fortunately, many platforms offer marketing features, like shopping carts, email marketing, preset templates, and checkout pages. 
Apart from this, a robust billing system will also aid your marketing campaigns by integrating coupons and discounts seamlessly into your existing billing commands.
At Chargebee, you can not only build your coupons but also experiment with different discount types.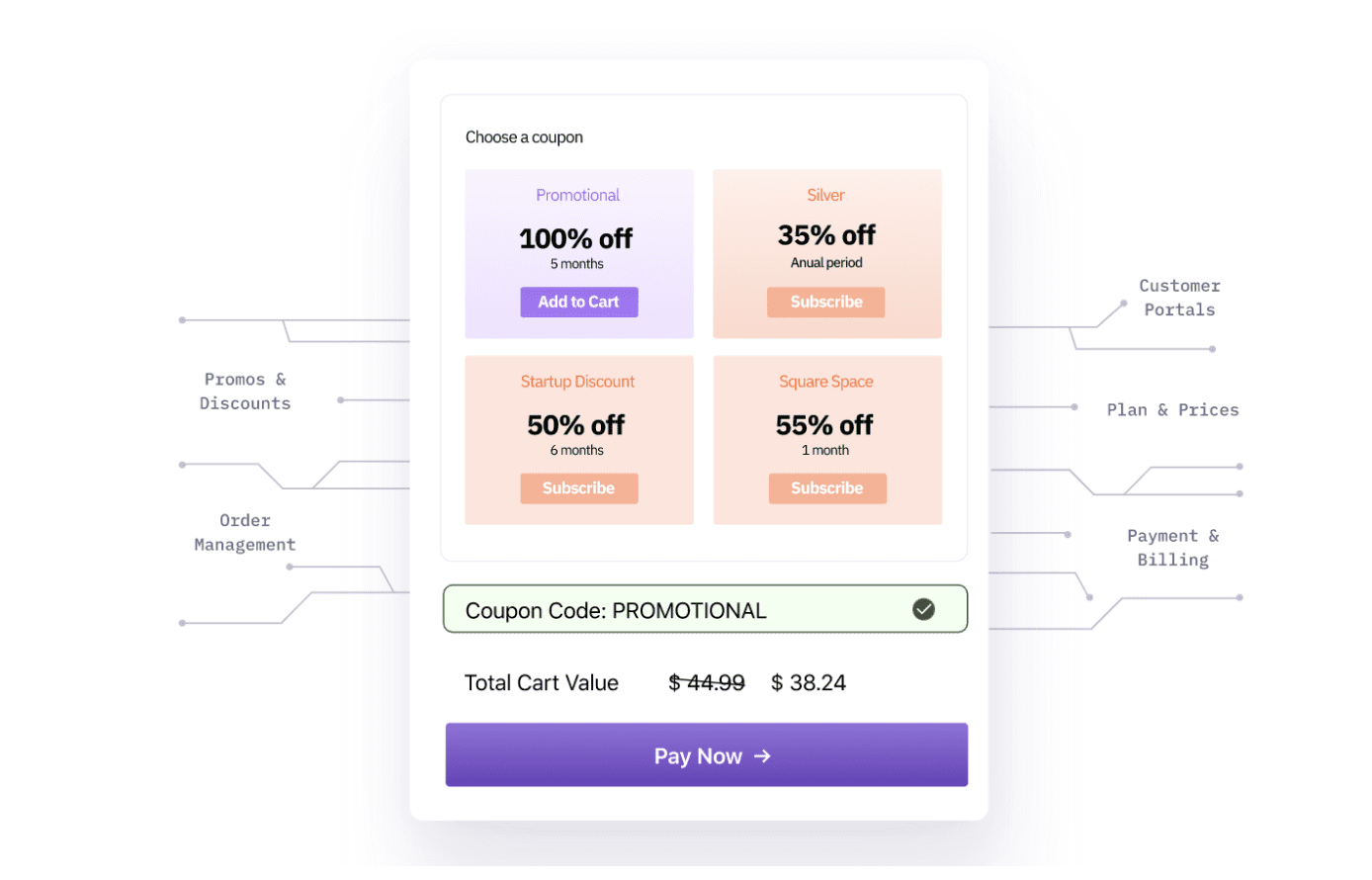 Make sure to remind people of the value of your course again on the checkout page. Below is an example of the checkout page at Domestika. As you can see, it is talking about the one course you place an order for and similar courses, gift cards, and offers. Options like this at the checkout wouldn't only ensure sales and help with upselling and cross-selling courses.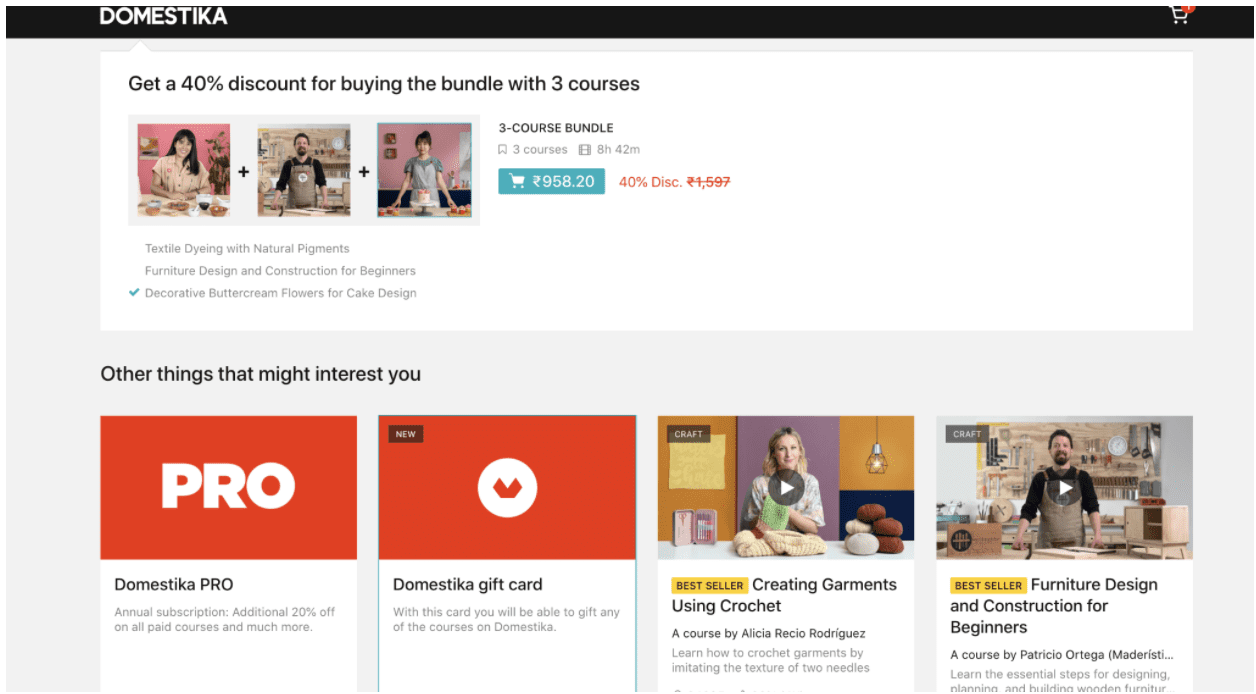 We might not know if Madonna was right when she sang, "We got 8 minutes to save the world," but we are sure when we say you have less than 8 seconds to save your potential customer for dropping off your checkout page.
Focus on what the course enables people to do and how it equips them towards their goals. This is Chargebee Moments, which helps you customize your checkout page by mixing and matching the tools you need and ensuring that the conversion happens.
Intelligent billing improves the credibility of the course for the people who sign up for the first time, and a personalized mail after a sign-up will motivate them to start the course.
A good marketing strategy will help lead more people to your course. Being proactive would help keep the funnel evergreen. Some of the techniques that will help bump up enrollments are:
A landing page for your course is a must.

Use SEO and list on a course index to rank higher in search engines.

Adding testimonials to the sales page would help with conversions.

Use keywords on the course page for better rankings.

Build your social media presence to help you build your marketing funnel

Follow up with your learners and motivate them to progress in the course or up-sell relevant courses. Facebook groups and LinkedIn communities can also be a perfect space to build a community around your course topic.

Conduct affiliate marketing events or affiliate programs with bloggers in a similar field. Referral traffic is a good source of lead generation.

Using video content to promote a course is one of the best strategies for promoting an online course. 

You can also have a supporting podcast to increase the reach of your course beyond your target audience.
5# Building a profitable online course
An online course is profitable when it has a good marketing strategy that ensures recurring sales. Keeping your community motivated and encouraging forums for discussion will help build a loyal customer base.
When the community is loyal, you can increase your revenue for the value you add through up-selling and cross-selling. Adding a money-back guarantee, giving discounts, and experimenting with pricing strategies can help you tailor your customer experience and get the most out of your customer base.
6# E-learning above and beyond
The greatest opportunity for e-learning is now, and even if the industry is getting crowded, in 5 steps, you can be the next Coursera. Study.com is an e-learning platform specializing in online courses & degrees designed for K-12, all the way up to college-level education. The pandemic and the boom in the e-learning market gave it an immense opportunity to increase its customer base and scale the globe. However, they realized that their single payment gateway wasn't enough. They realized their development & accounting teams were losing time on relatively low-value but frequent manual interventions to support the growing subscriber base. 
Today with the help of Chargebee's subscription software for e-learning, they have a scalable product catalog and integrate with multiple payment gateways accepting even local currencies as they expand globally. They can also take real-time strategic decisions with their growth because of Revenue Story, which is Chargebee's Subscription Analytics Platform.
Content is indeed a king, but there is more to it for having a successful e-learning business. After deciding on what type of content you are creating, the major chunk of the work follows in choosing the right platform and setting an intelligent billing system that supports your marketing and sales initiatives and helps you scale and expands globally as Study.com did. With Chargebee, you can run pricing experiments at scale and go global without worrying about compliance because Chargebee takes care of that for you.
If you'd like to know more about what Chargebee can do for you to help you set up your e-learning business or add e-learning as a new vertical, get in touch with us now.
Get the scoop on what's new