Understanding Sites
Once you sign up for Chargebee, you will be guided to set up a 'Site' by adding your domain and company name.
A Site is the heart of a Chargebee account. This is where you'd maintain all your information in Chargebee. Any account in Chargebee will have 2 sites - Test Site and Live Site.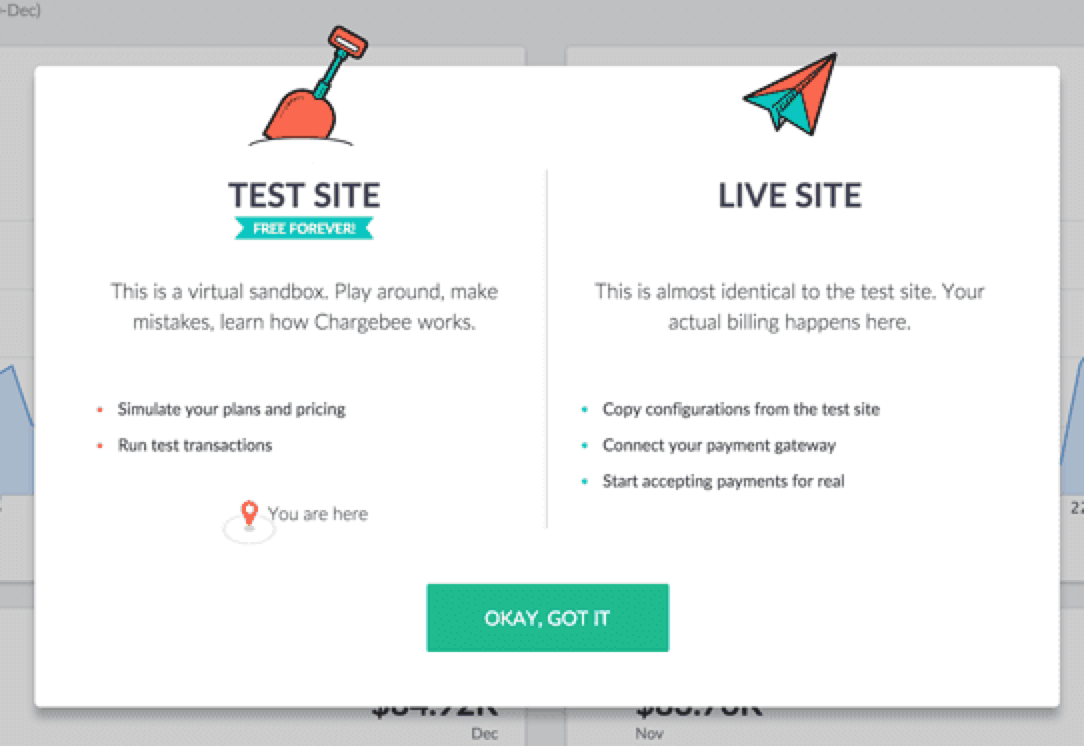 In this documentation we are going to see how to set up and manage your sites.
Configuring Domain Name
Domain name is your site's name in Chargebee. Once you sign up with Chargebee, a 'Complete Account Setup' email will be sent to your email ID. Click the link in the email to setup your password and domain name.
Each domain name in Chargebee is unique just like your business. It is mandatory that you finish your account setup process in order to perform customer facing actions in Chargebee.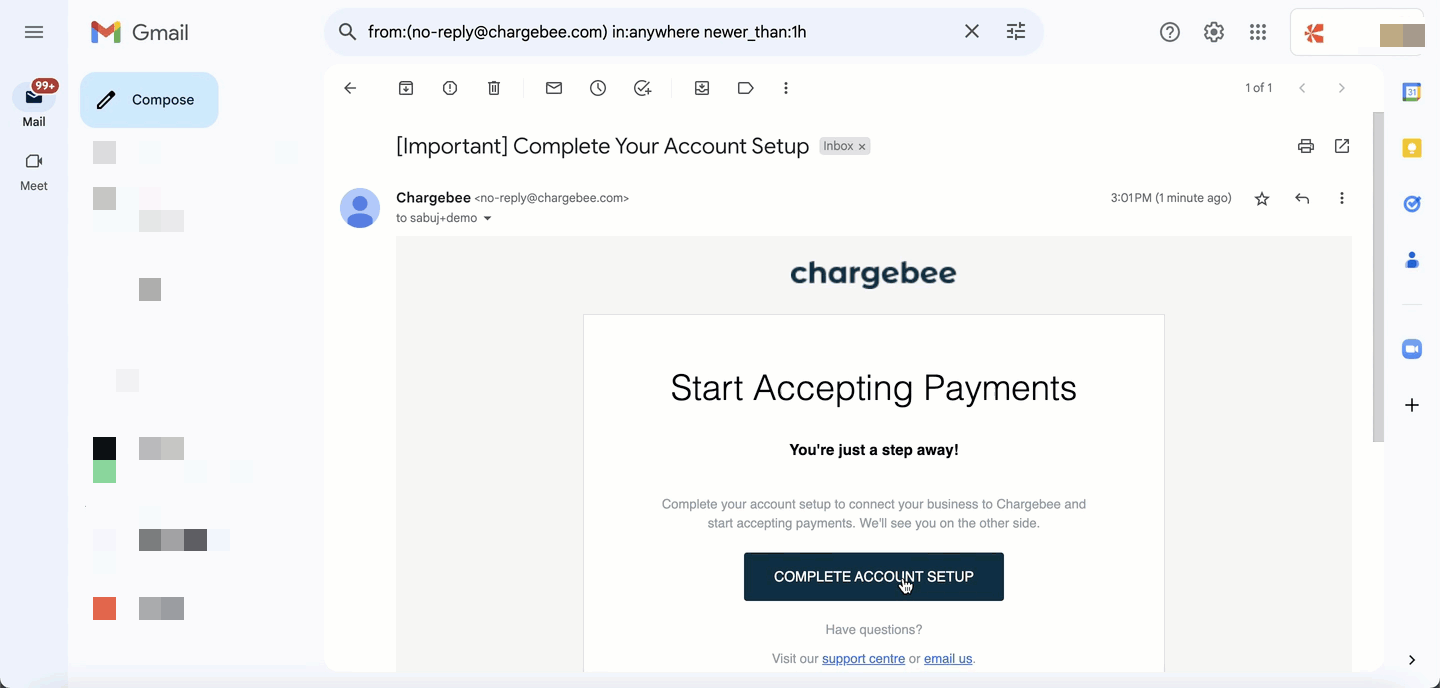 Test Site
Once you set up your domain name, you will be able to login to your Test site. The Test site is a sandbox environment where you can get a hands-on experience of Chargebee. You can test your billing configurations, create plans, customers, subscriptions etc,. and play around with the product. The information that you add or delete here will have no effect on your actual customer data. You can use this environment to test new features released by Chargebee.
Managing Test Site Data
By default your Test site will be populated with sample data that you can use to test various billing scenarios. In addition to this you can also add your own customer information and play around with the product. If you wish to delete or repopulate the sample data provided by Chargebee, click Settings > Configure Chargebee > Delete or Repopulate Sample Data.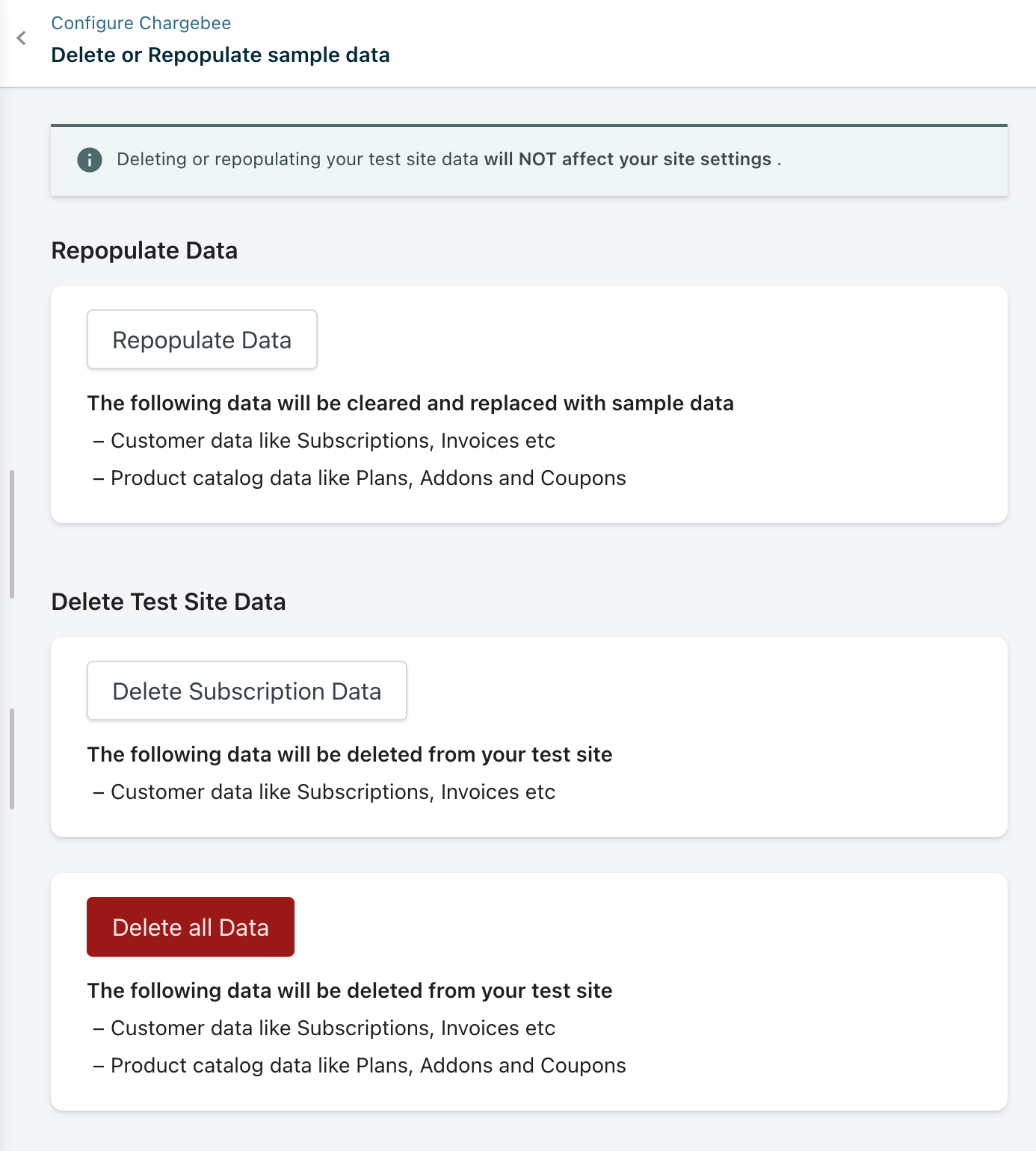 Chargebee Test Payment Gateway
Chargebee Test Gateway allows you to visualize scenarios such as payment success, payment failure (due to invalid card details or insufficient funds), smart routing etc. This test gateway is available only in the Test Site. When you sign up for Chargebee, Chargebee's Test Gateway will be configured by default for your account. However, you can also choose to configure multiple Chargebee Test Gateways if you wish to test features such as Smart Routing.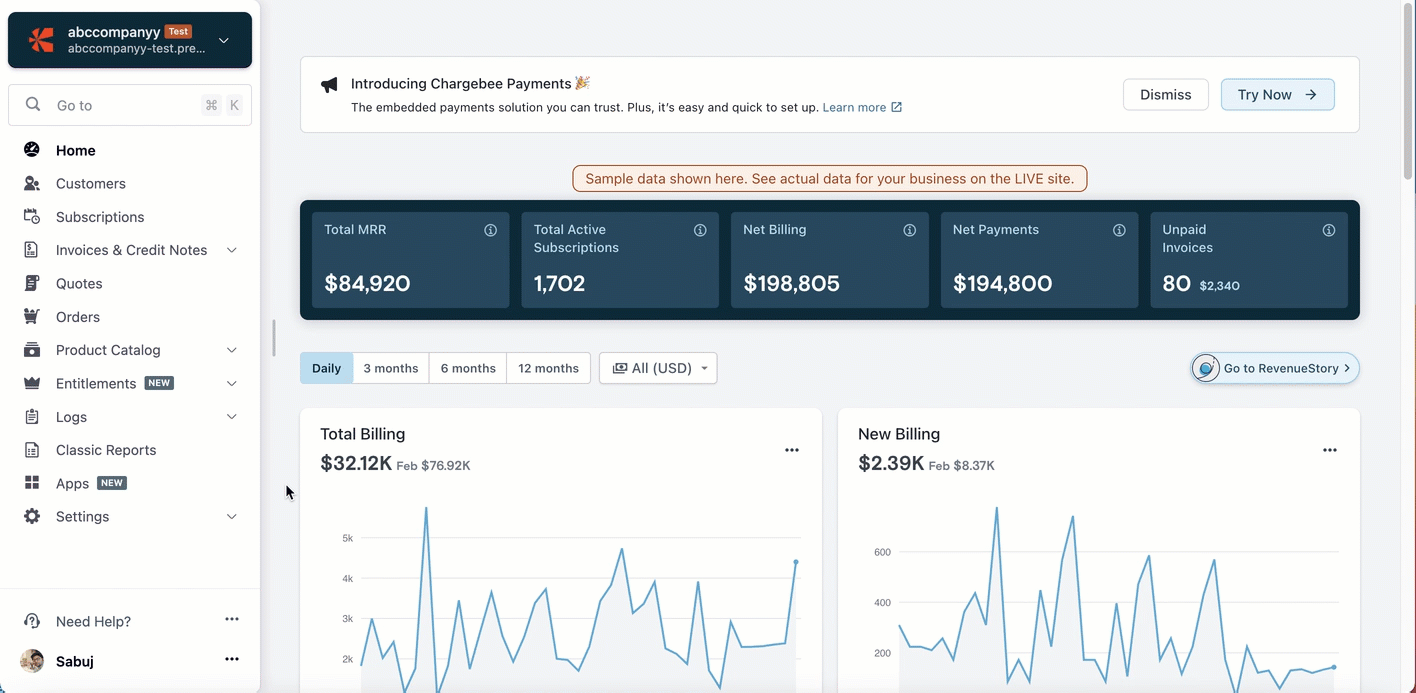 Learn more about Chargebee Test Payment Gateway.
Time Machine
Time Machine is a simulation feature that allows you to test the billing configurations in Chargebee. You can test features such as dunning, consolidated invoicing, subscription states, scheduled subscription actions, webhooks, etc., by virtually traveling in time. This allows you to understand and verify how the billing rules configured in your test site will work in real time.
Time Machine is available only on your Test site. You can access the Time Machine by clicking Settings > Configure Chargebee > Time Machine.
Learn more about Time Machine.
Live Site
A Live site is where actual customer billing happens. Once you have tested all the features of Chargebee and want to start billing your customers in real time, you can go ahead and enable your Live site.
To activate your Live site, click the Go Live Button next to your site name. Please make sure that you square away all the points in our Go Live Checklist before proceeding.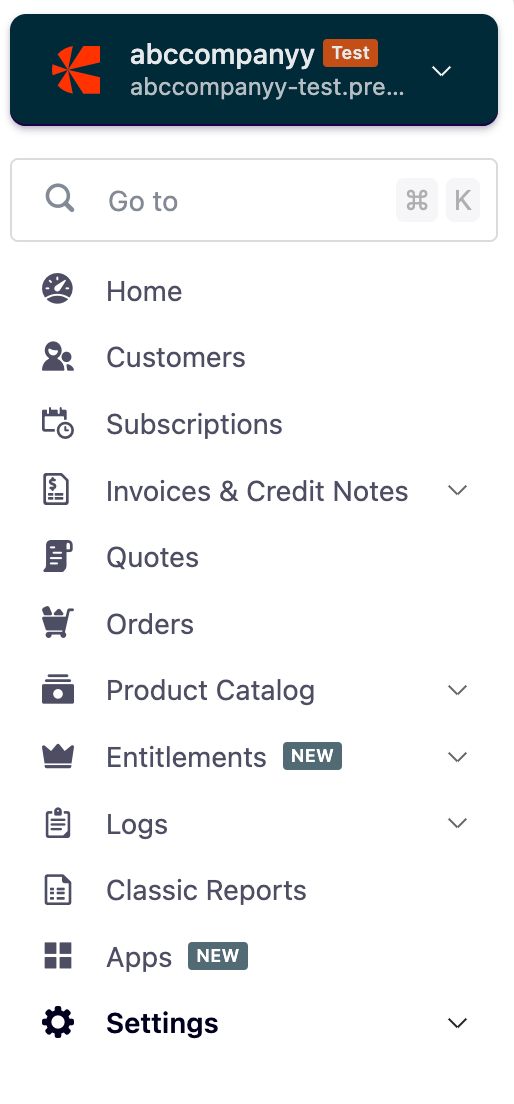 Transfer Configurations
Chargebee understands that it is difficult to configure all the settings that you have set in your Test site again in your Live Site. Therefore to make work simple, Chargebee allows you to seamlessly transfer almost all of your Test site configurations into your Live site.
To use this tool, you must have the Live site enabled for your Chargebee Test site. Click Settings > Configure Chargebee > Transfer Configurations .

Learn more about Transfer Configurations.
Inviting Team Members
Chargebee allows you to share your site with your Team Members. You can also define various job functions that chalk out the kind of access each user will have to your site.
Click Settings > Team Members to share your site with someone. Learn more about sharing your site with your team members.
Note
You need to share your Test site and Live site individually with your Team Members for them to access it.
Changing Account Ownership
Chargebee supports transferring ownership of the site. This means that the current owner of the site will be able to transfer ownership to another user, a permanent change that will reflect in both the Test site and the Live site (even if the Live site has not been enabled yet). Learn more
Security
Chargebee allows you to set up Single Sign on and Two Factor authentication as a part of our security measures. Once you set them, they will be applicable for all your team members.
Chargebee Notifications
Chargebee allows you to configure alerts that can be sent internally to you and your team to notify important activities. You can configure Chargebee Notifications to get information on:
New Revenue Alerts: When the first invoice is created for a customer.
Invalid Payment Methods: Whenever the customer's payment method becomes invalid.
Fraud Monitoring: Whenever a suspicious transaction is detected. Please do note that this supported only in Stripe.
Daily Digest Mails: Mails regarding sign up, transaction summary etc.
Gateway Reconnect Mails: Mails regarding gateway access and configuration errors.
PayPal Chargebee Replication Alerts: When a subscription is changed in PayPal.
Webhook Failure Alerts: When a webhook fails.
Chargeback Automation Failure Alerts: When intervention is required to perform operations on invoices and subscriptions under chargeback.
Chargeback Won: When the gateway notifies that a chargeback is won.