Sites Overview
Introduction
A site in Chargebee can be visualized as a container that holds all the customer information, product catalog (plans, addons and coupons), subscriptions, reports and associated configurations. It's the heart of a Chargebee account and the way it is built and configured determines how your customers are billed, charged and communicated with. The kind of access privileges you have on a site depend on the kind of role you have as a site user. You can learn more about site user roles here. The top-left corner in Chargebee shows the site you are working in and allows you to switch to any other sites you may have access to.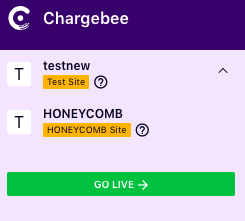 Two kinds of sites: "Test" and "Live"
Before a Chargebee site can start billing your customers, you need to configure it with the details of your products, services, customer management information etc. Chargebee gives you a test site where you can setup these and try them out before actually putting them out to your customers. The test site has sample data, a test payment gateway and test credit cards to work with. You can easily delete or repopulate all or chunks of the sample data. This site looks exactly like the live site that would eventually hold all the data and configurations used for your business.
We recommend that you use the test site first (it is free for as long as you need) to arrive at the final configuration that you would use for your business. Play around with it to understand how Chargebee works. Once you are familiar with how Chargebee works using the test site, you can activate the live site. You can save time reconfiguring the settings on the Live site by copying your configurations from test to live.
Enabling the Live Site
The live site owned by you is disabled when you sign up and can be enabled at any time by clicking on the "GO LIVE!" button on the top right.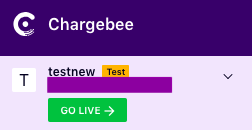 Typically, you may be a user of a live site and not the owner, in which case, you just have to switch to it by clicking on your site name on the top-right and then clicking on All Sites. More details about site user roles are here.
Deleting/Repopulating Test Site Data
The test site data can be completely or partially deleted. To do this navigate to Settings > Configure Chargebee > Delete or Repopulate test site data. Any changes made here are irreversible, so make them carefully.