Sites Overview
What is a "Chargebee Site"?
A "site" in Chargebee is a virtual container that allows you to configure information related to your products, services, and also store the subscription data. You will have two types of sites: test and live.
What would I use a "test" site for?
A "test" site is a virtual sandbox where you can setup your pricing configuration required for customer billing. To help you get the ball rolling right away, we have added sample data to the test site. Play around with it, make mistakes. This would give you an understanding of how Chargebee works, and also how every operation you perform on your Chargebee interface might influence your customers' experience.
Note
The test site is free forever. Continue exploring until you are sure Chargebee fits the bill and you are ready to start billing your customers.
Configure your business' billing rules and test the functionalities here. You could also use Chargebee's payment gateway in the test site. This gateway also provides you with test credit card details that you can use.
When you've successfully tried setup all your configurations and finished all your tests, you could clear the sample data and switch over to the live site by clicking the "GO LIVE!" button.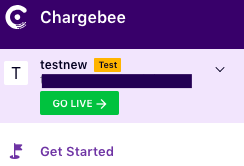 What is a "live" site?
To be able to start processing payments, you need to switch to the live site. The live site is where the actual billing happens. You will manage subscriptions and subscription life cycles here. When you have tested your use cases (in the test site) and have decided on how best to set up your Chargebee site, you can switch over to your live site.
How do I clear data in the test site?
Only available on the Chargebee test site. It is used to clear any test data that you may have entered on your test site. Go to Settings > Site Settings > Delete Test Site Data to do this.
You can choose to just clear the subscription data (customers, credit cards, subscriptions, invoices and transactions) or all the data (subscription data + plans, add-ons and coupons). This action is irreversible.
What is the "Copy Site Configurations" option for?
This is only available after you go live and will be shown in both your test and live sites. You can use this option to copy configurations that you may have entered in either site. Configurations only include Plans, Add-ons, Coupons, Email Notifications, Email Wrappers and Hosted Pages Settings. Go to Settings > Configuration and Data > Copy Configurations (LIVE to TEST) to use this option.
How do I repopulate the sample data in the test site?
This is also only available on the test site. You can use this to overwrite all the test data that you've entered and repopulate the test site with the default sample data.