Friedrich Nietzsche, the German philosopher, famously said: "That which does not kill us makes us stronger." This was true of adaptive businesses that not only survived the onslaught of the pandemic but also emerged stronger from it.  These resilient companies relied on business model innovations and reinvented themselves to adapt to the challenges and leverage the opportunities that came with the crisis. For example, universities worldwide opted for 100% remote learning, and the demand for e-learning skyrocketed, forcing companies in educational services to scale immediately. It felt like the industry grew overnight.
E-learning was not the only industry that catapulted to hyper-growth. According to Digital Commerce 360, the US e-commerce industry had an all-time high in 2020 with an incredible 44% YoY growth. If not for COVID, we wouldn't have seen this kind of growth until 2022. 
Similarly, the pandemic pushed OTT growth by 60%, and digital publications, which were making $44.8bn at the end of 2019, were predicted to reach $66.7bn dollars by the end of 2020 market trends.
Along with the changes to the industries, consumer behavior has also considerably changed from the pre-COVID world. Today's consumer is more picky and ready to jump wagons when a particular product or service fails to meet their standards. Salesforce released a report, which stated that post-COVID, 58% of the customers had raised their bar for customer service. Add this to industry changes, and the market is a volatile mess of changes ready to erupt. 
This dynamic has driven a stark divide between those who can adapt quickly to change and those who can not. Doing business in 2021 has become like the game of 'Floor is lava,' and the key to having a successful business lies in championing organizational changes, speed of implementation, and experimentation with new business models. 
So, how does adaptability come into this picture?
Internal turbulence brought by tools, workflows, and people who arise as a byproduct of hyper-scale has aggravated the market dynamics and the businesses' functioning. Companies weighed down by immovable systems and processes had to bite the dust as COVID pushed everyone to be at the top of their game. 
But it is not about agility. Brian Hopkins from Forrester says if a company wants to be successful in today's environment, it needs to stay ahead of the technology-human loop created due to technology and humans trying to be agile. Companies need to reinvent themselves quickly to remain relevant and stay ahead of the curve.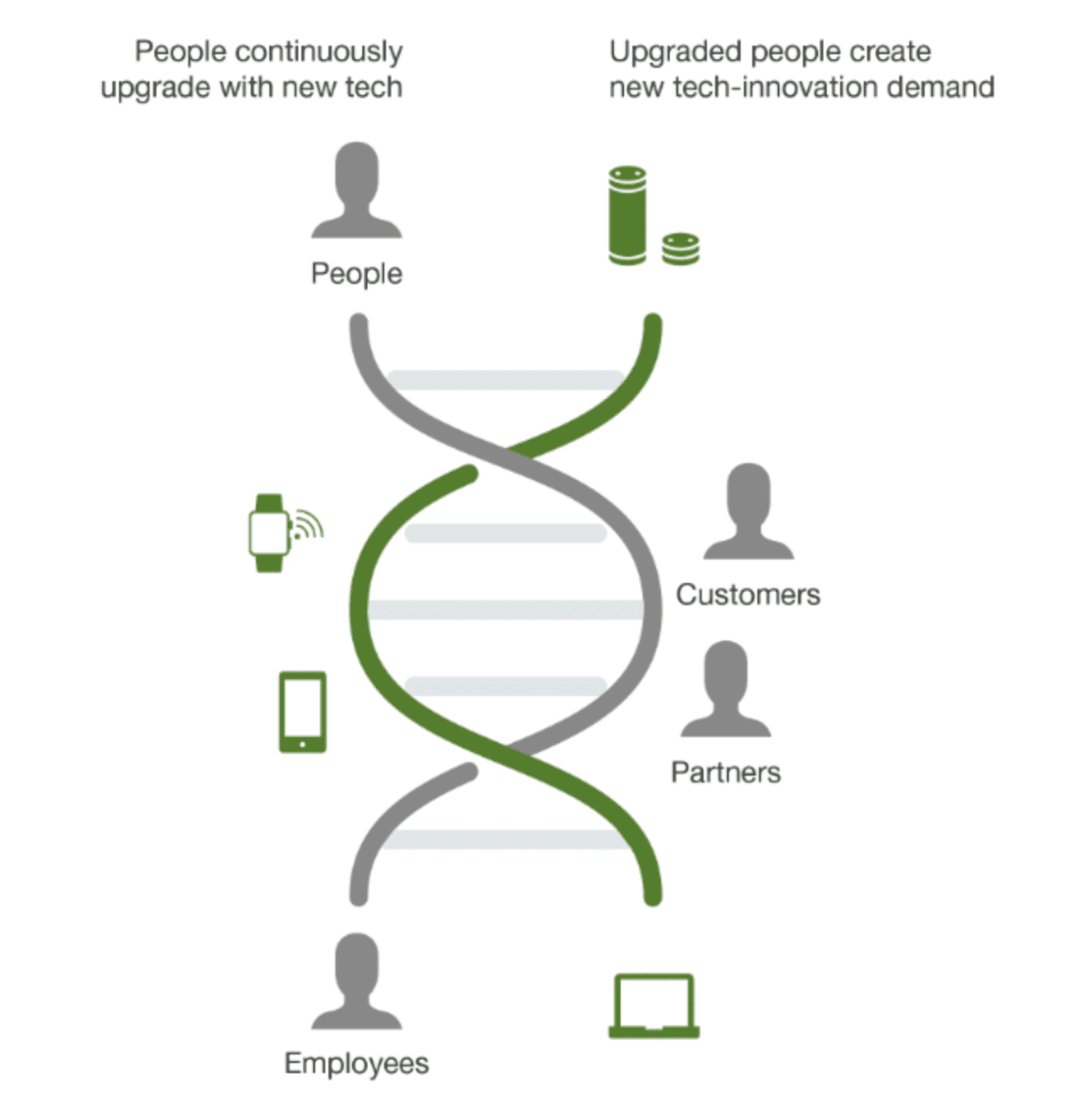 Source: here
Now don't get me wrong, agility is very much needed. To be adaptable, one needs to be agile. However, adaptive enterprises identify opportunities and reconfigure themselves before the disruption occurs or, better still, are well-placed to anticipate and leverage it compared to the peers.
What defines an adaptive company? What do they do differently?
Adaptive businesses break down traditional value chains. They need the flexibility to tweak every part of their business model, such as product plans, promos, pricing, and revenue models in real-time. This agility and adaptiveness allow them to thrive. As more businesses understand this, adaptability becomes crucial. They require startup-like agility without sacrificing their sophisticated sales and finance workflows.
Study.com, an e-learning firm, capitalized on the overnight demand for e-learning and scaled its offering across five products. MakeSpace, a company that focuses on storage management, shifted from storage-for-individuals to a storage solution for business overnight during the pandemic, which helped them scale from 4 to 31 markets within a year. 
You might be able to notice a trend here. In the case of Study.com, they leveraged a once-in-a-lifetime growth opportunity, whereas MakeSpace made a quick pivot that saved them from undergoing an existential crisis. In whichever way they reached success, these businesses have been able to adapt at the drop of a hat. They were able to maintain their startup-like agility without sacrificing their sophisticated workflows.  
Another thing that sets adaptive companies apart is their ability to anticipate customer needs and challenges due to the new changes. Alton Lane, an apparel and footwear company, had to shut down its showrooms at the onset of COVID. They turned their one-on-one store consultations into video calls. Measurements and fabric switches could be done quickly over mails. Currently, they are also looking at 3D tools to give people the experience of trying on the clothes virtually.
Being customer-obsessed means, these companies have a proactive approach to strategy making and execution, which puts them in a better position to identify new revenue streams and pursue global expansions, keeping them one step ahead of the competition. 
Why is adaptive sophistication the need of the day?
While the global pandemic made sure that the digital transformation across businesses happened at warp speed, changing customer preferences and shifting market dynamics have been redefining business models all the time. So, businesses that thrive are the ones that are quick to anticipate and act on changing market trends. Their sustainable competitive advantage comes from adapting to rapidly evolving macro scenarios, experimenting with and transitioning to new business models, processes, and strategies.
Businesses today need to analyze market trends and respond quickly through product, pricing, and expansion strategies. Yousign, the European e-signature giant, noticed that the whole pandemic situation opened a massive market opportunity amongst notaries. Over the next two months, they launched a plan targeted to this segment that now contributes over 10% of their MRR.
Think about it,
Most industries are expanding and embracing new vertices that previously did not belong to them (now who would have thought car manufacturers would get into subscription models!), which slowly blurs the lines that separate businesses.

How can one maintain a competitive advantage when customer loyalty hangs by a thread?

How do you make five-year forecasts when the world as we know it changes in a couple of quarters?

How would traditional tools help measure adaptive strategies?
But most importantly, where do companies start to be adaptive?
Where should the company invest in becoming more adaptive?
Tweaking the tech:
To be adaptive, a company should never be satisfied with the status quo. So it must invest and leverage technology to drive an organizational transformation so that it can adapt to an environment of continual change. In his article in Harvard Business Review, Joerg Esser, a consultant with theoretical physics focusing on complex adaptive systems, says, "The key lies in achieving a permanent state of adaptability. Every business leader knows that their company needs to adapt to survive long term. However, the real issue is not successfully transforming your organization on a one-time basis — it's writing the ability to adapt and transform into the company's DNA."
Adaptive enterprises invest in technology-based platforms that enable continuous change, help reduce their overall costs and time to market and value. For example, as an OTT service, if you'd like to integrate global payments or enable recurring billing, it would be a better option to leave it to someone who is already specializing in it rather than building an in-house system from scratch. It is better to purchase software that can adapt to the changing needs of the organization.
Read more about why it's better to buy software that fits your moving targets.
Mend leaky workflows
As a company scales at high speed, it could lead to many broken systems and siloed teams. A billing management system like Chargebee offers multiple integrations to tackle problems that scaling companies face. These include seamless order-to-cash workflow, tools to help integration, global currency support, tax adherence, and many more things that would help you scale geographically without worrying much. When you don't have to worry about the small stuff, you always have more time to focus on the strategy.
Today it takes Paul Kapsner, Director of Finance and Operation at Superfoods Company that sells natural plant-based products, roughly 30 minutes to decide on a pricing level and launch a new product with Chargebee. He was recently quoted saying, "With Chargebee, we're now allowed to make mistakes. And then fix them right away." The ability to experiment saw SuperFoods increase its revenue by 4X in less than a year. They expanded their product line from one to five products and their subscriber base to over 200,000. 
Cultivate adaptive leadership
In 2018, PwC first noticed the '6 paradoxes of leadership' where they state that successful leaders need to cultivate six habits or mindsets to flourish in constantly changing times.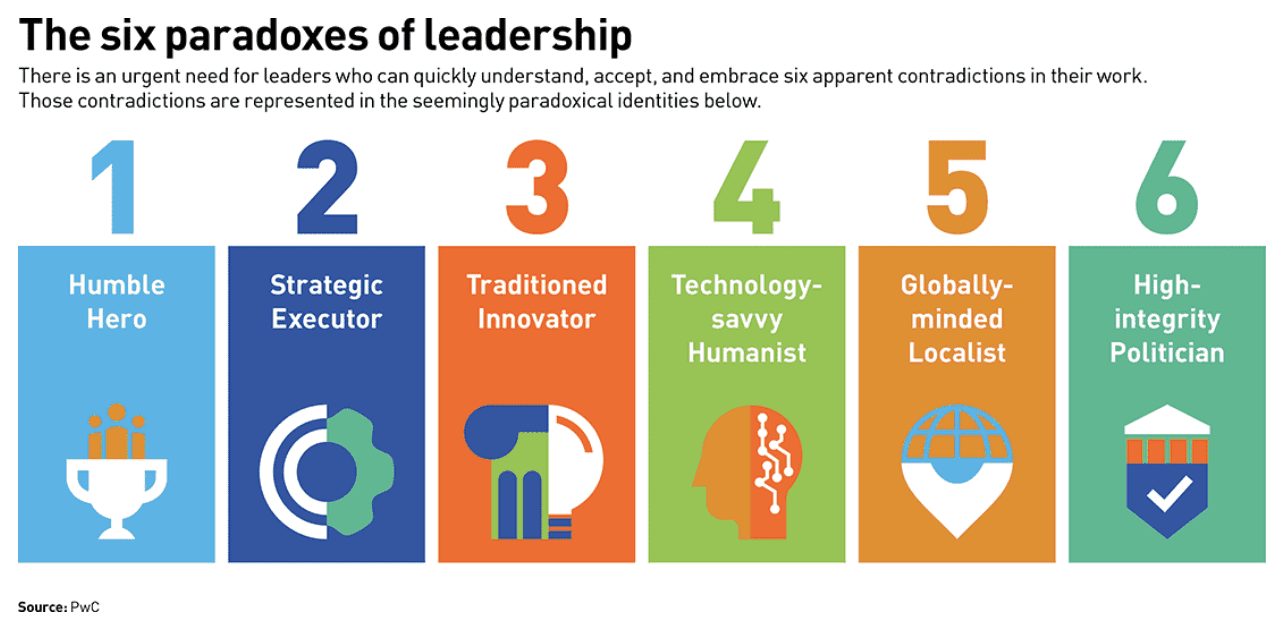 "So if leaders around the world want a better future for our children and grandchildren, they need to find within themselves the capacity to navigate the Six paradoxes or surround themselves with people who can. The stakes are too high for them not to." Blair Sheppard, Global Leader for Strategy and Leadership, PwC 
The world is changing rapidly, and it is ever more vital for leaders to make impactful decisions. These paradoxes are a depiction of what a leader functioning in today's world would face. To be successful, a leader must navigate through these paradoxes and find harmony among these contradictions.
Scaling culture for hypergrowth
The term hyper-growth was coined by Alexander V Izosimov in 2008 and is denoted by the steep S-curve where industries grow at an explosive pace. In companies like this, the human capital also grows to support the operations at an exceptional rate. This has been the case for many software firms since the onset of the pandemic. From the first 100 people who join a firm whose names you know by heart, all of a sudden, the company grows into faceless names and employee numbers. It becomes even more challenging to maintain the culture with remote onboarding these days. But companies need to build a culture for change and a mindset for constant learning. 
When aligned with strategy, a strong culture drives positive outcomes and fosters an organization's ability to thrive amidst constant chaos and change. According to Mckinsey, 70% of the transformation led by companies tend to fail because they don't have the proper change-management infrastructure in place.
Netflix understands a thing or two about change and how to make it work. Patty McCord, who served as Chief Talent Officer at Netflix for 14 years, believes that an essential part of Netflix's success is how they challenge their people to help solve their biggest problems and become comfortable with change. In her book Powerful, Patty says the most successful organizations will be the ones in which everyone, on every team, understands that all bets are off and everything is changing – and thinks that's great."
If there is one thing you can take away about striving in a constantly changing world, agility is essential. Still, adaptive sophistication ensures you convert any change, no matter how disruptive, into an opportunity.
Chargebee enables businesses to experiment and scale their subscription revenue workflow and move strategy from the boardroom into the real world. We can help you hit the ground running by helping you foray into new market segments and geographies, roll out pricing experiments in minutes, delivering an exceptional customer experience, and retaining every dollar spent by the user on you.