Imagine this scenario – an unhappy customer has just sent you an email expecting immediate resolution. In such cases, the last thing you'd want to do is ask them for their plan and billing details. Wouldn't that irritate them even more?
That's why your subscription data is a treasure trove of actionable insights for support, sales, and marketing teams. From seamlessly furthering and closing deals to delivering excellent customer service, your subscription and billing data is going to add that much-needed context to enable your teams to operate at their best. With accurate, timely, and contextual information about your customers, your teams are empowered to take the next best action.
Manually handling customer billing and uploading it in a CRM slows down the operations and is unscalable. Automating this process has helped businesses scale fast and provide the best possible customer experience.
The Chargebee and HubSpot integration makes that possible, and more! Let's look at how Yardly and Web Shop Manager have used this integration to scale their support and billing operations.
Yardly: Building a Business on Customer Service + a Solid Tech Stack
As a yard maintenance service company revolutionizing the residential snow removal and lawn care industry in Canada, Yardly doesn't shy away from hard work. Since its founding in 2015, Yardly has successfully built long-lasting relationships with its clients through consistently high-quality work backed by a customer satisfaction guarantee, a professional and courteous customer support team, and a seamless digital customer experience using HubSpot. In the past six years, Yardly has expanded rapidly and currently services 22 cities and towns across Canada and has served over 8,000 homes.
For Yardly, customer service is more than just one department of their organization; it's their entire ethos. That's why they were so excited to learn about the Chargebee integration with HubSpot.
Optimizing Customer Segmentation without Leaving the HubSpot CRM
For years, the team at Yardly has been using the HubSpot CRM. However, they were frustrated by an overcomplicated and strenuous manual billing software system. "We had to constantly check multiple systems to create connections between billing and customer service," explains Sheldon Zhang, CCO, and Co-Founder of Yardly.
Once they had access to the Chargebee integration with HubSpot, Yardly could segment customer lists and automatically route incoming inquiries to different teams, allowing for a more optimized and efficient process. Additionally, the flexibility of the integration enables Yardly to improve productivity on their marketing and customer support teams.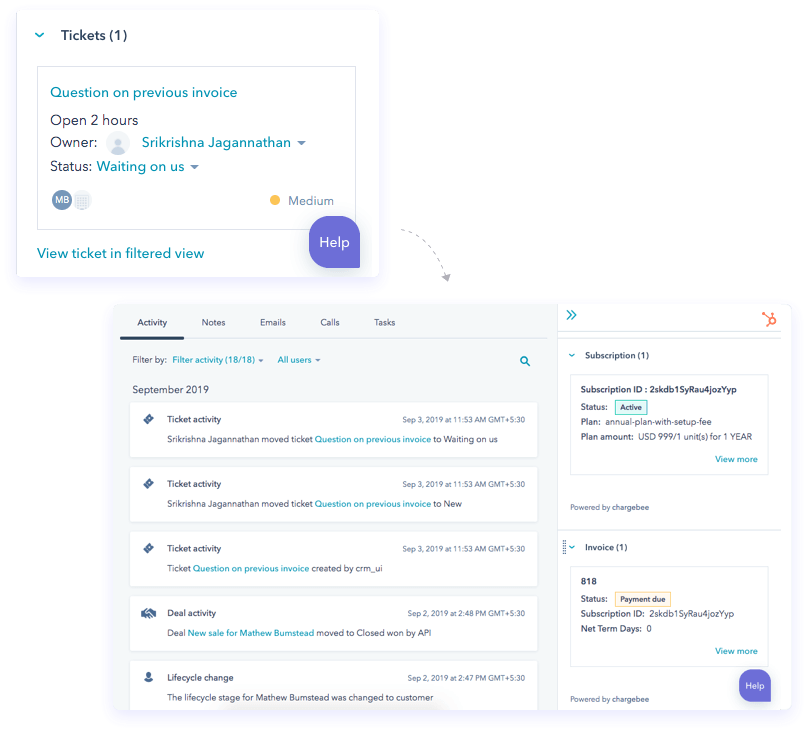 "The Chargebee integration with HubSpot helps us with customer segmentation, which creates a tailored marketing approach for different customers," says Sheldon.

Syncing Data Across Teams
When Yardly uses the Chargebee integration with HubSpot, their customer data is automatically synced through the CRM. Everything, including all of the customer information they've collected and need to continue supporting their customer relationships, is available right in the platform without ever needing to leave the HubSpot CRM.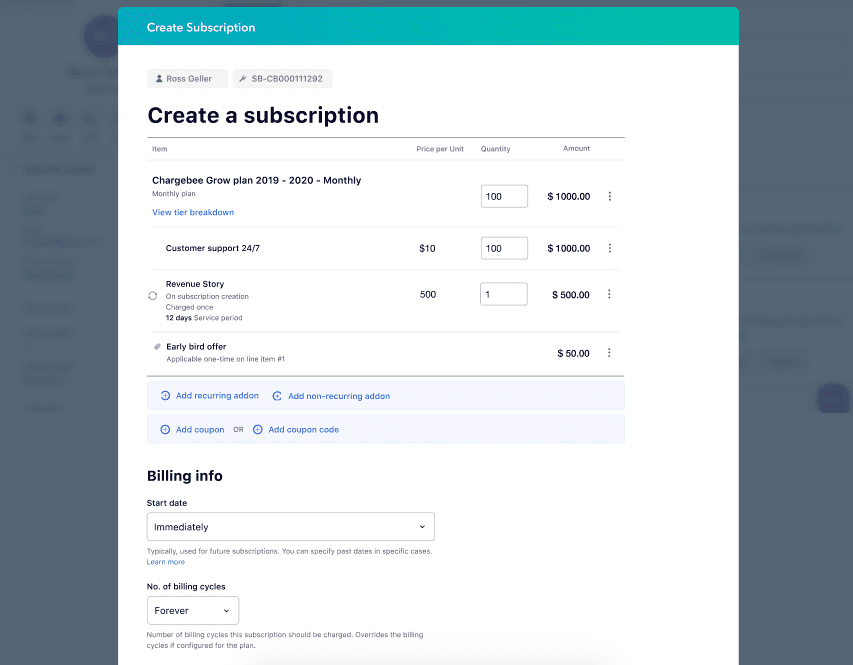 With all customer information easily accessible by any department, Yardly can ensure that their marketing, sales, and customer support teams are on the same page, providing an excellent customer experience at all times. By having Chargebee's data in HubSpot, the CRM serves as the central location for customer information that high-functioning organizations like Yardly need to succeed.
Web Shop Manager: Centralizing Business Services in HubSpot
The team at Web Shop Manager serves eCommerce brands and manages subscriptions for their customers. When they set out on a mission to centralize all services into HubSpot and find a billing software that integrated with HubSpot, they came across Chargebee. 
"Our existing billing software didn't integrate, so it was hard to keep the team up to date on which plans each client was being billed for," says Joseph Dulo, Controller for Web Shop Manager.
Automating Billing Processes and Data Transfer
Web Shop Manager has been using the automated data sync to transfer subscription billing plans and invoices for their clients into HubSpot, part of the integration's data sync. The integration supports the mapping of Chargebee data, including customers, subscriptions, and orders to the HubSpot objects of contacts, companies, and deals.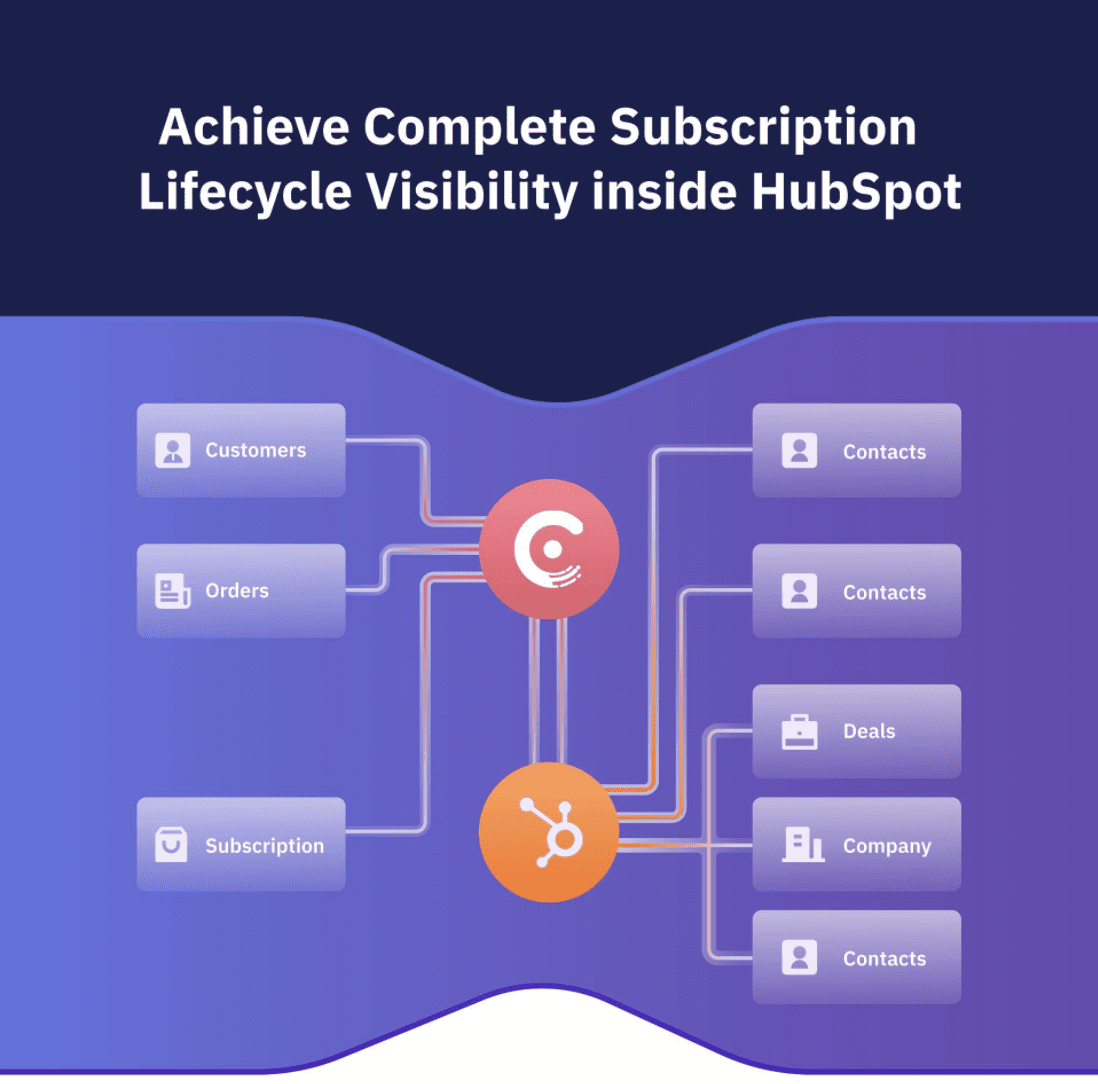 "Regarding automation, having the plans and invoices posted on the company level in HubSpot has been helpful," Joseph adds.
Benefits of the Chargebee Integration with HubSpot
The integration enables customers to access subscription data right out of HubSpot to empower their rapidly scaling sales and support teams. Benefits of the integration are:
Segment and filter customers based on their activities.

Integrate customer segmentation into marketing efforts.

Upsell customers based on activity and interest data and give sales teams actionable insights.

Identify high-value customers early.

Send renewal notices to customers with little or decreasing activity, all automatically.

Leverage customer information for use across marketing, sales, and customer support teams.

Share a cohesive understanding of customer activity and break down silos using centralized data across the organization.

Integrate customer data into complex workflows with over 50 data points in the HubSpot CRM.
With all customer data synced across your departments, you can stop flipping between multiple platforms and instead keep your attention focused on what really matters — connecting with your customers.
To begin scaling your customer support efforts with segmented lists and centralized data, get started with the Chargebee integration with HubSpot today.