Paypal Alternatives – Why You Shouldn't Put All Your Eggs in One Basket
~ 10 min read | February 16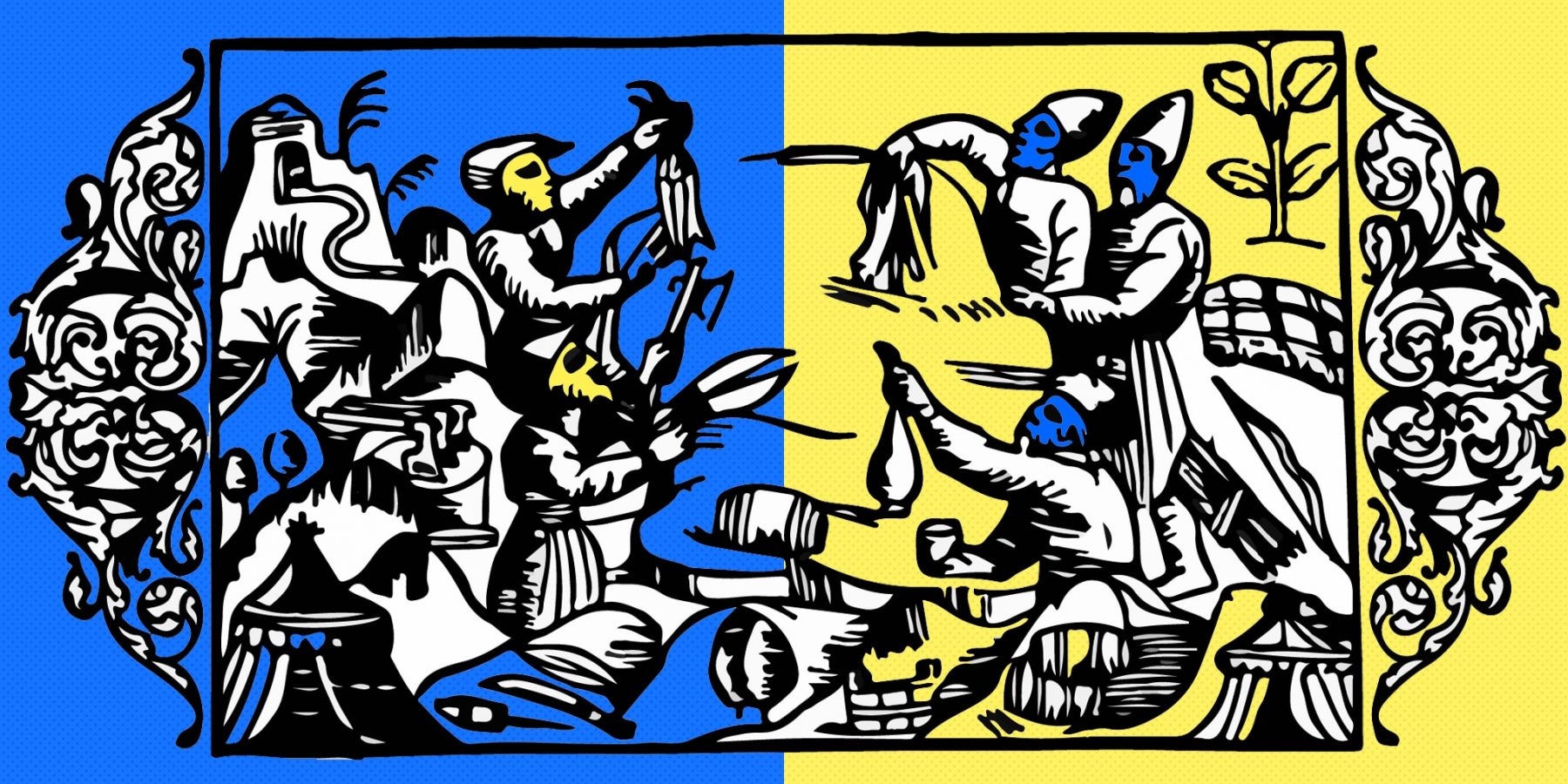 Summary: Yes, PayPal does have a host of advantages, for both the customer as well as the merchant, compared to card payments. Yes, it is one of the most popular alternative payment methods. However, there are two sides to this coin, PayPal isn't the be-all and end-all of online payment methods. Case in point, eBay ditching PayPal for Adyen, after a 15-year collab. What is happening? Why did they do it? And do merchants and businesses have a leaf or two to take out of their book? What are the other popular payment methods that can be leveraged instead of (and in addition to) PayPal?
1998. Max Levchin, a Ukrainian-born computer scientist meets an American entrepreneur, author, and political activist, Peter Thiel, during one of his lectures at Stanford University.
Thanks to Thiel's seed fund and guidance, Levchin builds Confinity, a venture that transfers cryptographically secure "I owe you" or IOU notes (basically an informal document that acknowledges debt) via handheld devices.
1999. The team realizes that they don't need a handheld device to transfer money after all. They can sync the software with the internet. PayPal is born.
Soon after its IPO in 2002, eBay acquires PayPal, post which more than 70% of eBay auctions accept payments via PayPal.
In an online payments world that was ruled over by card transactions, PayPal was a breath of fresh air for consumers, for several reasons:
They could buy at most online stores around the world using a single PayPal account, without having to enter their card or bank account details every single time.

As PayPal encrypts and keeps all the card/bank account details private, they needn't worry about disclosing their financial information online again. Thus safeguarding the data from hackers, who could simply download them from a merchant's website.

They could avail the benefits of Buyer Protection, where PayPal would reimburse the customer for the full price (including shipping cost) of a product, up to $20,000/item, if the product didn't arrive or was vastly different from the original description.

As they could link their PayPal account to multiple bank accounts and cards, they could save themselves from the embarrassment of a payment decline.
The 2016 Globe Newswire Survey discovered that about 77% of cardholders were familiar with PayPal, of which 62% were using it regularly.
PayPal fast overtook card payments, grew into the most popular (and also the default) payment method amongst eBay users, and by August 2017, it boasted a whopping 203 million active user accounts and 16 million merchant accounts spread across 202 countries around the globe.
The buyers weren't its only benefactors. Apart from the obvious advantage that a majority of their customers opted to pay via PayPal, merchants could set up a PayPal account for free, link their bank accounts (no merchant account, whatsoever) and start accepting payments in no time.
They could also effortlessly create, send, and monitor invoices, and small business owners can even do away with a bookkeeper, as all the financial data that they'd need are copy/paste ready on their dashboard.
Apart from its transparent terms and pricing, PayPal neither locked them in a contract that penalized them with an early termination fee.
It also seamlessly integrated with a plethora of shopping carts, billing and accounting solutions, and shipping solutions, which made it all the more effortless to run an online business.
And then in January 2018, after 15 years of partnership, eBay announced that it'll be cutting off PayPal as its predominant payment processor in 2020, and will be shifting to the Amsterdam-based payments company Adyen.
Their rationale is pretty straightforward: eBay made this move to "take more control over the critical checkout experience… while giving more payment options to eBay shoppers."

Moving away from PayPal, lowering the costs of selling products on the marketplace makes eBay a more significant competitor because it lowers the relative cost versus others including Amazon.

And that's just a snapshot of the various aspects that PayPal falls short of, when it comes to online transactions.
The biggest shortcomings that merchants experience with PayPal are:
While it is free for personal use, PayPal gets a piece of the pie when it comes to business use. For each transaction involving goods or services, it takes about 2.9% (plus $0.30). Losing 3% of every transaction that you make with customers will add up quickly as your business grows. In addition to those charges, banks also require transaction fees to transfer funds. They also have a hefty chargeback fee of about $10.

PayPal is notorious for freezing accounts without warning. If its algorithm detects any suspicious activity in your account, PayPal will automatically go ahead and freeze your account along with the funds in it. For example, some of the flagging criteria are a sudden surge in the transaction volume, products being sold at prices lower than their costs, or any questionable/vague products being sold.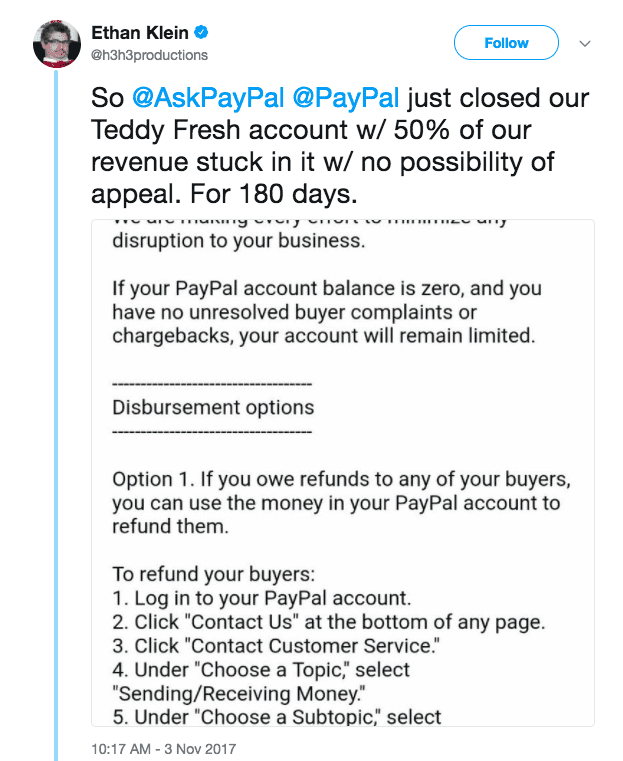 Considering its widespread acclaim and the fact that your entire financial data is protected by a single username and password, PayPal is also one of the most appealing targets for scammers. They use various platforms like email and even

Twitter

, where the fraudsters pose as PayPal's affiliates or customer support staff and phish for your PayPal credentials.

It will take 3 to 5 business days to withdraw funds from your PayPal account, which might be a difficult pill to swallow if you're financially tight.
As with any other well-acknowledged payment solution, PayPal does have its share of "horror stories".
So now what?
For a merchant, offering PayPal as a payment method to your customers is a no-brainer.
But should it be your primary payment processor? Maybe not.
Yes, PayPal will grow along with your business. No, it doesn't suffocate you with a massive monthly subscription fee (while PayPal Payments Standard is free, PayPal Payments Pro charges about $30/month) or a stringent contract. And yes, it'll enable you to receive payments from anywhere and at any time, and will also enable you to do much more than that, thanks to its assemblage of partner programs, tools, and integrations.
If you only receive payments sporadically, say like a freelancer or a consultant, or if you have a low volume of transactions, or if you're just starting out, then you don't have to go through the trouble of creating a merchant account and PayPal is one of the best bets for you as a one-stop starter solution.
But then, once you hit a certain revenue mark where you're making over $10,000 – $20,000 a month, you'll need a more cost-effective option, and a more personalized service, which you can't expect from PayPal. Adding to that, like all other aggregator services, your account stability will be one of your biggest concerns. Even though you can create an account in a blink, unexpected red flags might result in the freezing or termination of it.
So, as the saying goes, don't put all your eggs in one basket.
Here's a list of viable alternative payment methods (apart from card payments and merchant accounts) for PayPal, and why they make sense:
Alipay, Apple Pay, Google Pay, WeChat Pay:
Similar to PayPal, the other digital wallets are a breeze to integrate with and make it a cakewalk for customers to make a payment. Alipay is the leading e-wallet in China, with over 450 million active users, thus making it the go-to payment method for merchants looking to expand into China. WeChat is another popular payment wallet in China, which works inside the WeChat messaging app (which is  China's "Super App", with the largest number of monthly active users). While Google Pay doesn't allow customers to store funds in their accounts, they can save their card details and use them to make payments by authorizing with their fingerprint ID or PIN, on their Android mobile devices and apps. Apple Pay works in a similar way on iPhones, iPads, Apple Watches, and payments made on Safari browsers and iOS apps.
ACH credit and direct debit:
Automated Clearing House (ACH) credit transfers enable customers to transfer money from their bank accounts directly to the merchant's bank account that's registered in the US. They are irreversible, low cost, and offer a same-day settlement of funds, making it one of the most common modes of payment among B2B and B2C businesses with high AOV (average order value). Direct debit, on the other hand, enables merchants to collect money directly from the bank accounts of their US customers. Unlike their credit counterpart, ACH debit transfers are more prone to failure and dispute. This method is commonly used by SaaS and subscription-based businesses.
The European Union came up with the Single Euro Payments Area (SEPA) as an integrated payment solution to simplify direct debit bank transfers denominated in euro, between the member countries. In this case, the merchant has to use the customer's bank account details in the IBAN (International Bank Account Number) format to initiate a transaction, and the customer has to authorize the merchant to debit money from their account. SEPA is more useful for merchants who deal with recurring billing in Europe, as you'll be seeing the following two points.
Bancontact is one of the most popular payment methods in Belgium, with over 80% of online business in the country offering it as their primary payment option. Using its mobile application, customers can also authorize payments with the help of a QR code and a PIN. While the details can only be used for one-off payments, merchants are allowed to retrieve the customer's bank account details from every transaction and use that information for subsequent payments with the help of SEPA direct debit transactions.
They facilitate direct online transfers between two bank accounts, with Giropay in Germany, iDEAL in the Netherlands, and SOFORT in Austria, Belgium, France, Germany, Italy, Spain, and Switzerland. The payments are secured with the help of two-factor authentication or a PIN. Post which, they are confirmed instantly and are irreversible. These two payments methods are suitable for businesses with one-off payments, and like Bancontact,  subsequent recurring payments can be made using SEPA direct debits.
The more, the merrier:
In one of their surveys, YouGov found out that about 40% of consumers stated that they would feel more comfortable buying from a merchant who offers a broad range of payment methods, compared to a merchant who supports only one method. What's more? 50% of the respondents also said that they'd abandon the checkout process if the payment method that they prefer isn't available.
eBay seems to have understood that. And they have taken their first step towards changing with their customers – Adyen supports about 200 payment methods (including PayPal) and processes transactions in over 150 currencies. I rest my case.