Oracle NetSuite
Chargebee integrates with Oracle NetSuite to sync your billing and invoice data automatically.
With this integration you can manage your accounting effectively, generate financial reports and recognize revenue using NetSuite's GAAP-compliant revenue recognition module.
Note
This integration is with NetSuite OneWorld only.
You can test the integration on the Test Site before setting up the integration on the Live Site.
Sales Orders will not be created as part of this integration.
Sync Overview
This is a one-way integration of sales invoices, from Chargebee to NetSuite. Sync runs once every 24 hrs.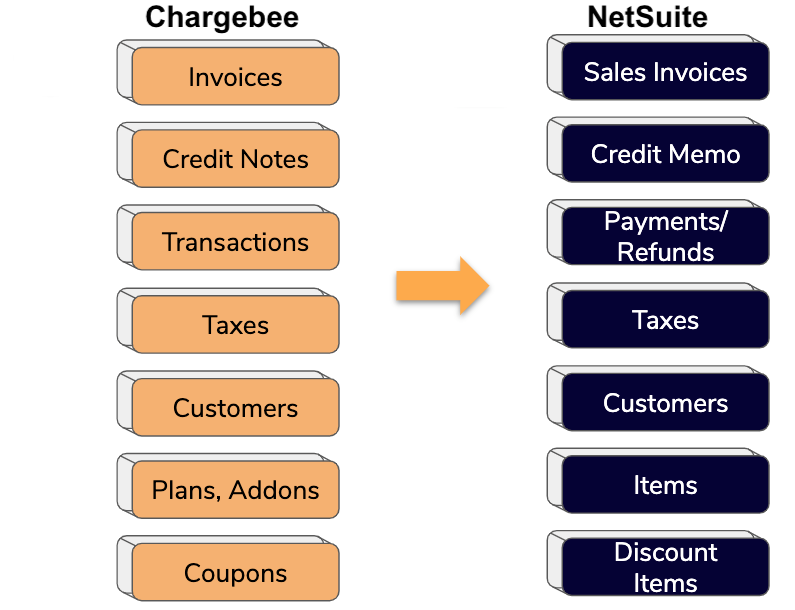 Customers
Customer records with Close Won status are created in NetSuite when invoices get synced.
Existing customer records from NetSuite can be migrated into Chargebee to avoid duplicates from being created during daily sync.
Duplicate check is performed based on the Customer ID or Email address.
You can also configure duplicate check based on a custom field in the customer entity. Contact Chargebee Support to avail this feature.
If company name is available for a customer record in Chargebee, a Business Account is created in NetSuite. In the absense of company details, the customer record is created as a Person Account in NetSuite.
Custom fields can also be mapped as part of the setup process.
Plans and Addons
Plans/Addons in Chargebee are created as Non-inventory (For Sale) items in NetSuite.
If items are already present in NetSuite, you can map plan/addon to an item using NetSuite's Item Name.
You can provide a Department, Location or Class to the plans/addons in Chargebee.
Discounts
Discounts in Chargebee are created as Discount Items in NetSuite.
Discounts can be created as a single discount item or multiple discount items per coupon.
You can map multiple discount items to a single GL Account or you can choose to map each Discount item to specific GL Accounts. Contact Chargebee Support to help you with this mapping.
In addition to the discount items, you can also sync the service period for the discounts to NetSuite for accurate revenue recognition. Contact Chargebee Support to avail this feature.
Alternatively, you can choose to create discounts as Negative items in the invoice.
Invoices/Credit Notes
Invoices created in Chargebee are synced as Sales Invoices in NetSuite.
Credit Notes are created as Credit Memo in NetSuite and applied to Sales Invoices.
For multi-currency invoices, exchange rate (foreign exchange rate) applied in Chargebee will be synced.
Refunds/Payments
Payments are applied to Sales Invoices.
Offline payments reconciled against Payment Due invoices in NetSuite can be recorded in Chargebee automatically.
Refund transactions are synced as Refunds in NetSuite.
Tax
US Sales Taxes are created in NetSuite.
Other region taxes configured in Chargebee can be mapped to tax codes in NetSuite.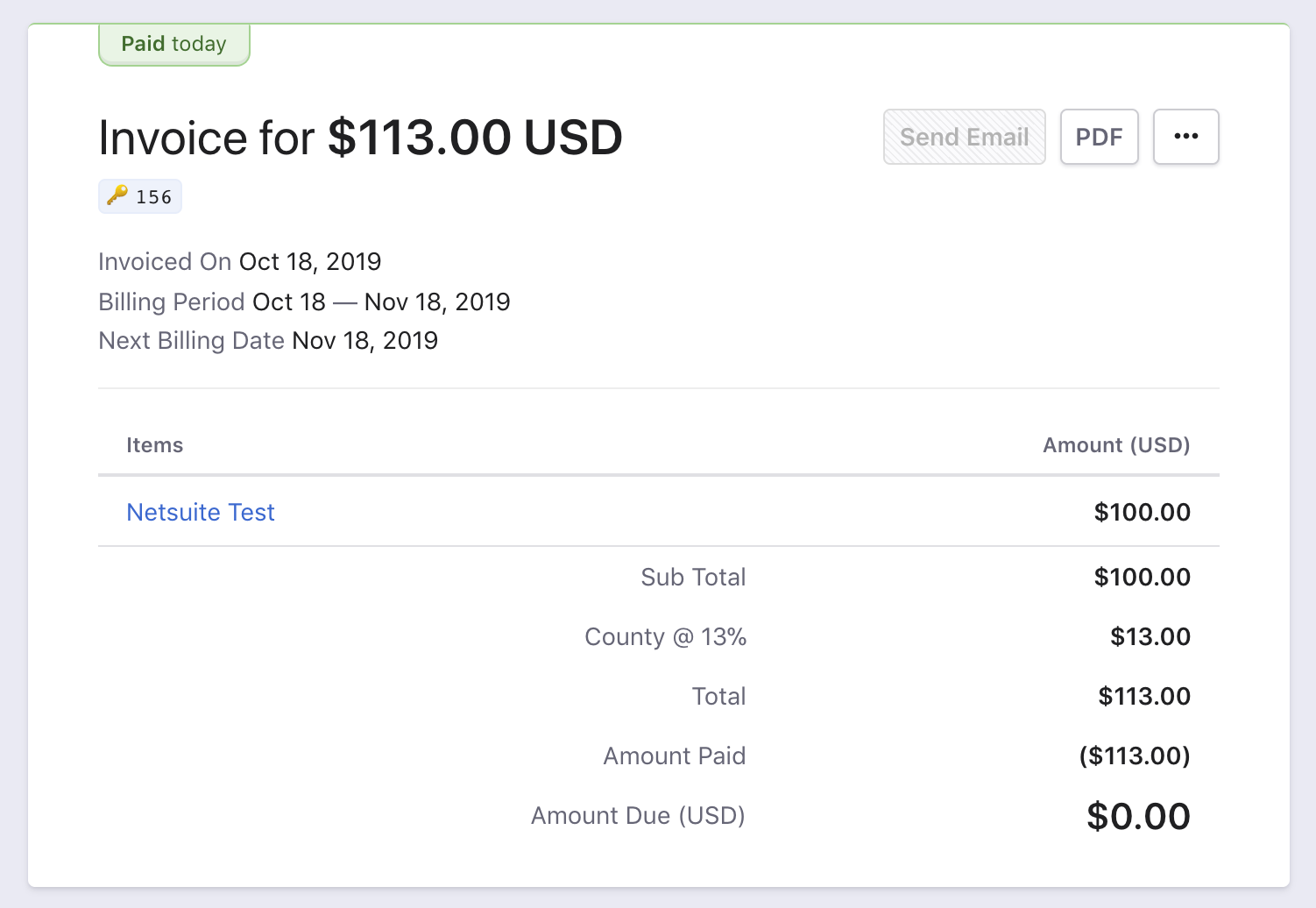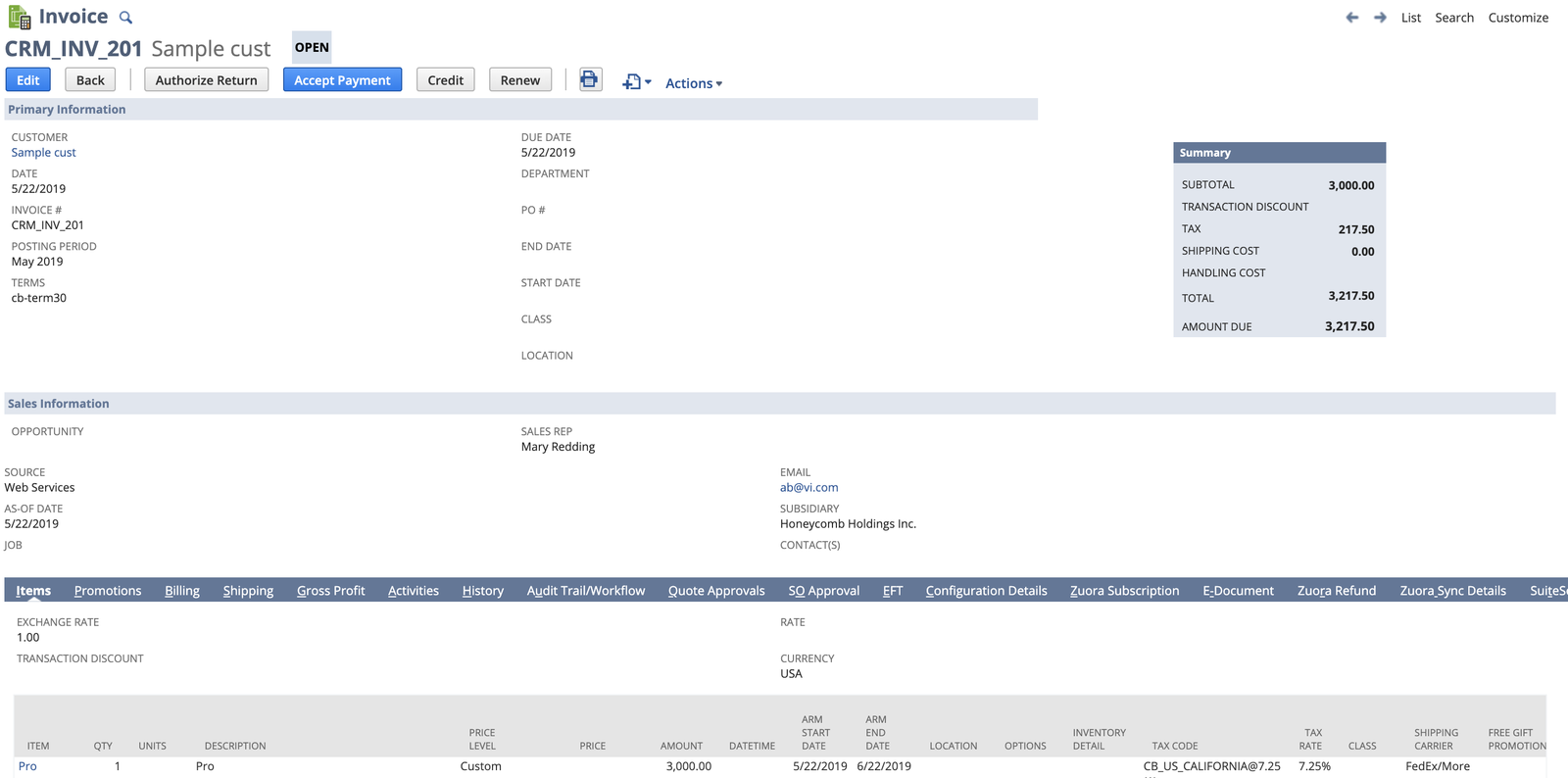 Revenue Recognition
If you are using NetSuite's revenue recognition module, you can assign the revenue recognition rule id for Plans/Addons, One time charges, Setup fee, Discounts, Bad debts, and Round off in Chargebee during configuration. Chargebee sends the invoice line amount, start date, and end date when an invoice is synced to NetSuite. Based on the revenue recognition rules configured in NetSuite, the revenue schedule is generated in NetSuite.
However, if you do not have revenue recognition support in NetSuite, you can download Chargebee's revenue recognition, deferred revenue reports and manually enter the consolidated value in NetSuite.

Payment Reconciliation
Chargebee sends the Gateway Transaction ID per transaction to NetSuite.
You can import the gateway Statement in a Clearing Account in NetSuite.
Set up a reconciliation rule (to match the gateway transaction ID)to automatically reconcile payments.
Next, reconcile fees and transfers manually.

FAQ
1. We create Sales Orders for every request from our customers, how does this work with Chargebee?
Sales invoices will only be created, Sales orders are not created as part of the integration.
2. We have other systems such as Shopify, Salesforce etc., from which customer/order information flows into NetSuite. How will the integration behave in such a scenario?
You can have data flowing from multiple sales channels into NetSuite.
Customer duplicate check is performed based on email address.
Products can be identified via SKU.
Invoice prefix can be set in Chargebee to avoid duplicates.
3. I have a prefix/sequence setup in NetSuite, will Chargebee create documents with it's own document number series or align with what is setup in NetSuite?
You can choose to sync the document numbers from Chargebee or align with the sequence in NetSuite.