Zapier
You don't have to wait around anymore for your favorite business apps to be integrated with Chargebee. You can now instantly connect your Chargebee site with 300+ third party apps. Zapier is an integration platform that helps you automate your workflows and increase productivity with ease.
Using Zapier with Chargebee, you can build specific integration workflows yourself and synchronize the data.
Note
We have developed a new version with a whole new set of Triggers, Actions and Search. Kindly contact support@chargebee.com to enrol yourself for private beta testing.
How it works
Zapier lets you set up "Triggers" and "Actions" to help you automate operations based on your needs.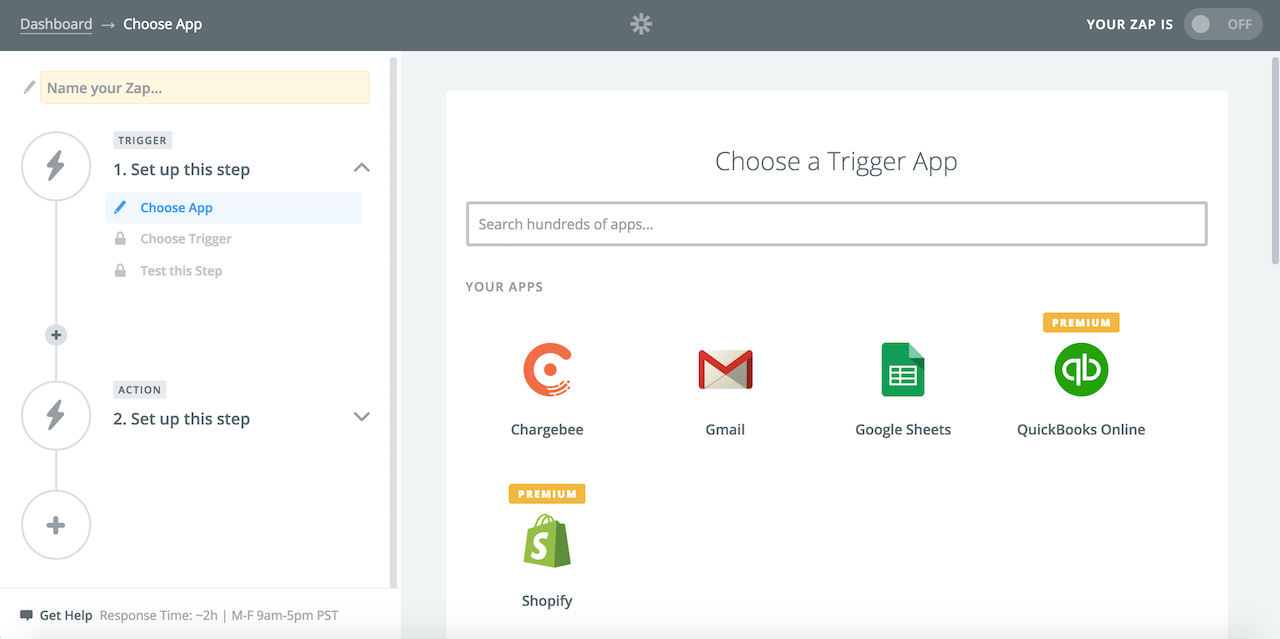 They will be available when you "make a Zap".
Triggers
Triggers are the events that set off an automation. For example, a new invoice generation in Chargebee could be a trigger that tells the other application to do something.
Triggers supported by Chargebee:
New Invoice - Triggered when a new invoice is generated.
New Charge - Triggered when a payment is collected successfully.
Failed Charge - Triggered when a customer payment fails.
New Subscription - Triggered when a new subscription is created.
Subscription Activated - Triggered when a subscription is changed from Trial to Active state.
Subscription Change - Triggered when a subscription is upgraded or downgraded.
Subscription Cancelled - Triggered when a subscription is cancelled.
Subscription Reactivated - Triggered when the subscription is moved from cancelled state to 'active' or 'in_trial' state.
Actions
Actions are responses to Triggers. That is, it tells what the other application should do when an event occurs.
Actions supported by Chargebee:
Create Subscription - Create a New Subscription in Chargebee.
Update Subscription - Updates a Subscription in Chargebee.
Record Offline Payment for an Invoice - Records an offline payment (Cash, Check, etc.) for 'payment_due' or 'not_paid' invoices. The invoice status will be marked as Paid.
Making a Zap
As an example, let's say you want to create or update a row in Google Sheets whenever a new invoice is created in Chargebee. Here's how you will go about it:
Step 1: Log into your Zapier account , or create an account if you don't have one already.
Step 2: Click Make a Zap!. select Chargebee as your Trigger app and select "New Invoice" as the trigger.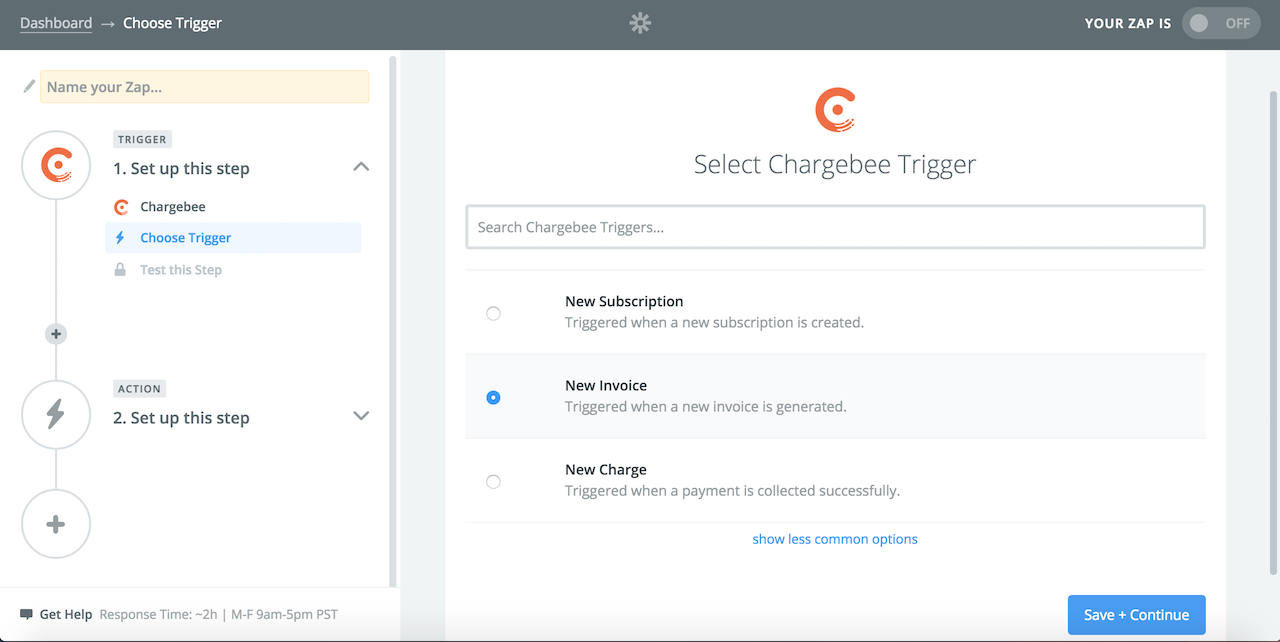 Step 3: Add your Chargebee account to Zapier to connect with services available through Zapier. Click "Connect a New Account".
The next time you create a Zap using Chargebee, you can use the same account again without needing to reconnect.
Step 4: Provide your Chargebee site name. This is also the subdomain where you login to Chargebee.
If your domain name is https://acmeinc.chargebee.com, specify the site name as "acmeinc".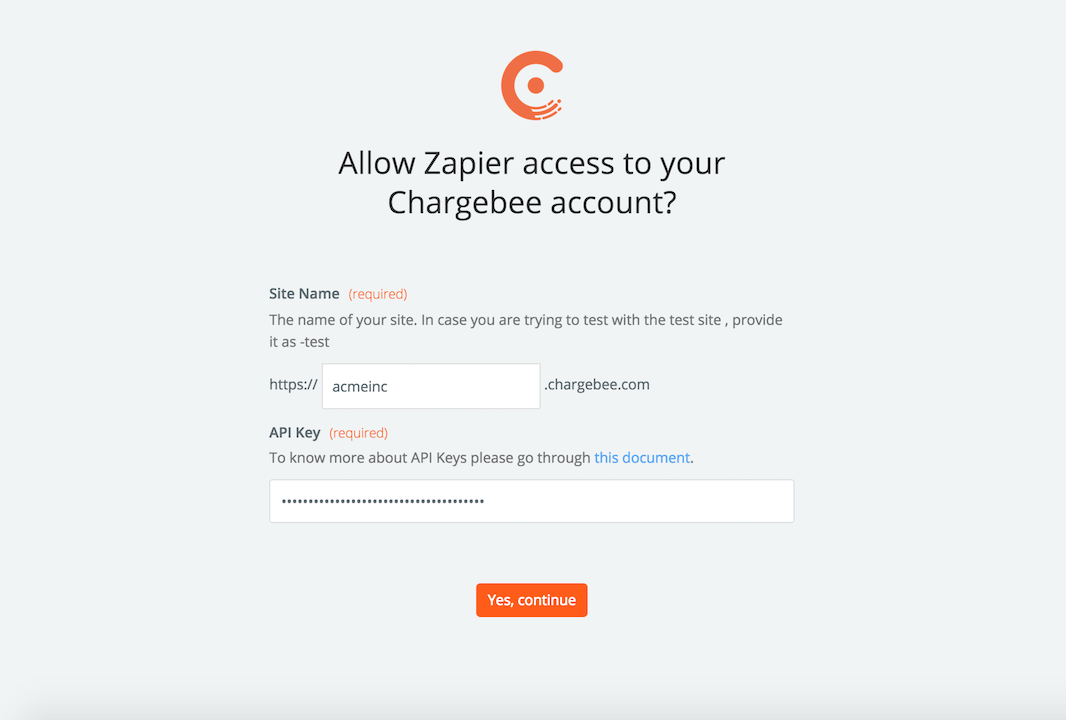 Step 5: Provide your Chargebee site's API key. You can get to your API keys in Chargebee under Settings > API & Webhooks > API Keys. Read more about API keys .

Note
You can create a separate API key just for "Triggers" with Read Transactional Data permissions and another just for "Actions" or both with Full Access Permissions.
Step 6: Copy the key into the "API key" field in Zapier and click "Yes, continue".
Zapier will validate your API key and connect to your Chargebee account: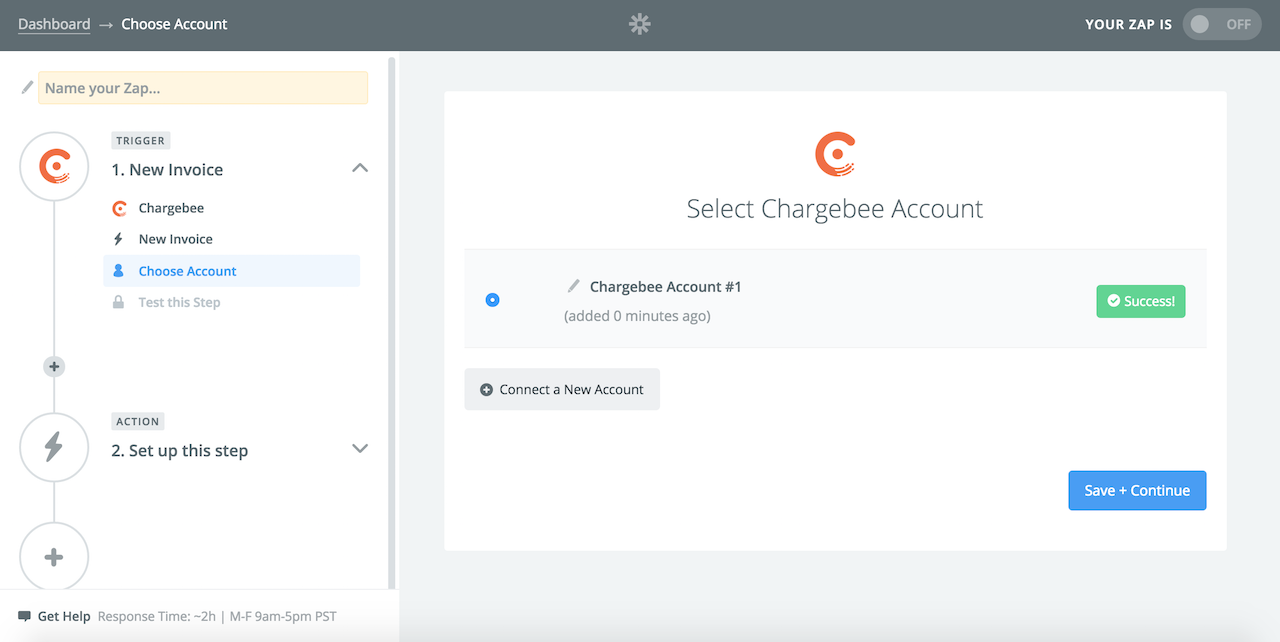 Click "Save+Continue" to test the Chargebee trigger.
Step 7: Similarly, connect your Google Sheets account as well and add filters if required.
Step 8: Test the Zap and when you're ready turn it on!
Checkout some of our pre-existing Zaps! here .
Limitation
A limitation that we are aware of at the moment is support for multiple line items. When integrating with accounting services such as QuickBooks and Xero, include the invoice total and also all the necessary information in the line item's description when matching up fields. This is so that all the information can be displayed in a single line item.