Subscription box businesses are to eCommerce what the latter was to retail – a natural evolution programmed to remove inconvenience. This is why there seems to be a subscription box for virtually everything – specialty snacks, gift cards, dog food, collagen … we could keep going, but you get the drift.
In 2021 subscription boxes were a $22.7 billion business. By 2027, they are expected to hit $65 billion (at a CAGR of 18.3%). But what is critical for every entrepreneur looking to create a subscription box business today, is to understand that it didn't get here without its fair share of pivots.
Want to learn how to start a subscription box business? You're in the right place. Here's everything you need to know, including 7 easy steps to build and scale your own successful business.
A Quick History of Subscription Box Businesses
The subscription box business model flourished in its 2010 zeitgeist as a means to deliver bespoke products on a recurring basis to customers. First championed by Birchbox, the curation-focused subscription box business model soon gained steam and cultivated a flurry of similar startups.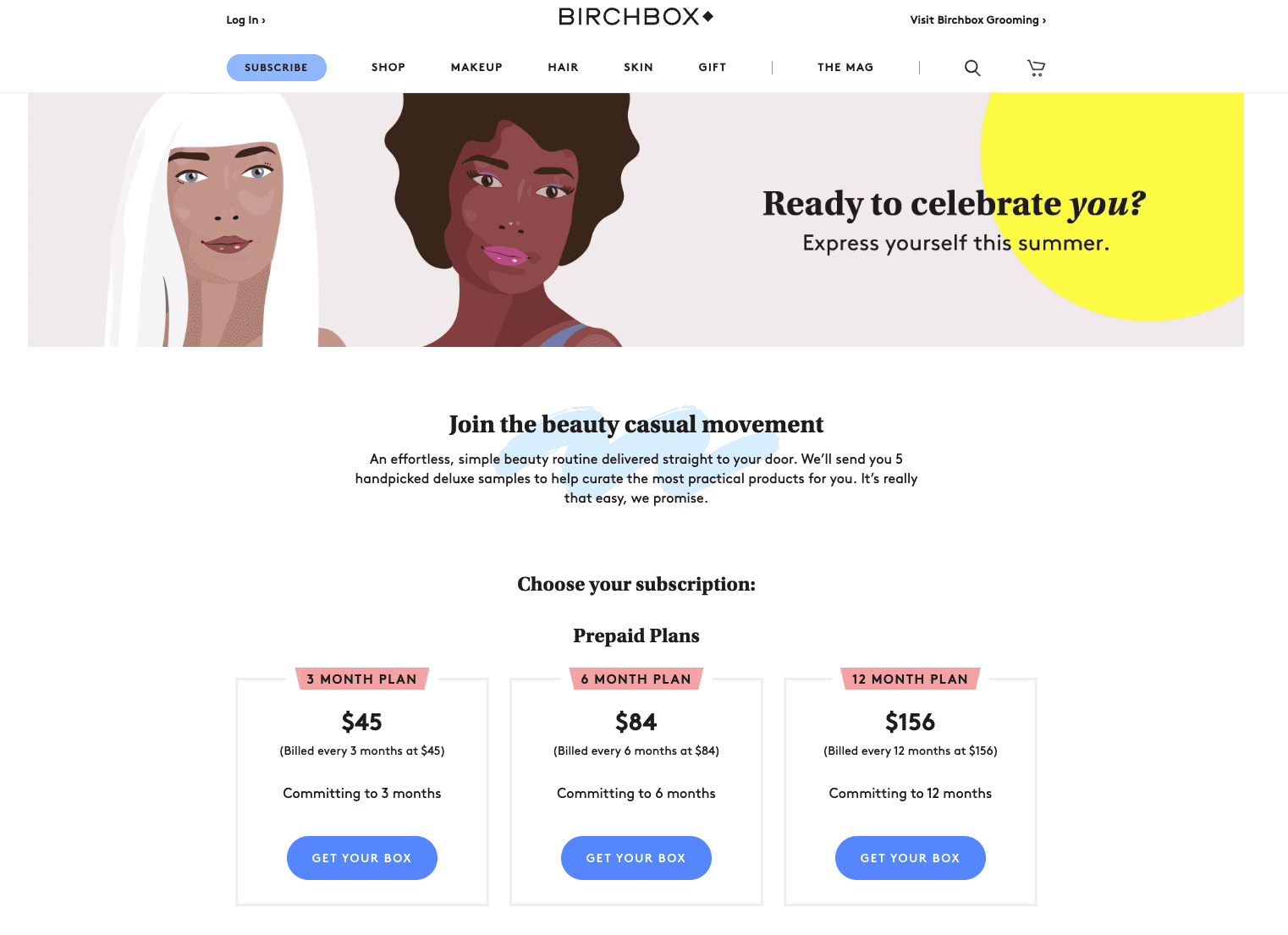 Their goal was to deliver target customers a selection of new products every month without them having the ability to select items at/before checkout. The suspense wasn't just a part of the allure — it was the business idea. Product discovery was the moat.
However, by 2018, belief in the idea started slipping, Birchbox had gone through a couple of rounds of layoffs, and it had minimal means for customer retention.
Business owners have now realized that to have a sustained inflow of new customers, retain them, and build a durable subscription service, they need to adjust to changing consumer patterns in each industry.
The subscription box business model flourished in its 2010 zeitgeist as a means to deliver bespoke products on a recurring/periodic basis to customers. First championed by Birchbox, the curation-focused subscription box business model soon gained steam and cultivated a flurry of similar startups.
7 Steps to Start and Scale a Subscription Box Business
In this section, we will help you cover all bases from ideation to subscription box pricing, to marketing and distribution, to determining the right business model for your industry.
The key steps to successfully starting a subscription box business are:
Step 1: Choose the right business model for your subscription box company
As the need of the markets (moving from convenience to cost efficiency to uniqueness) evolved, business models within subscription box companies went through multiple iterations themselves.
Each business plan is designed with a specific target audience, their needs/wants, and likeness to spend in mind, and thereby its own unique fulfillment process.
Types of subscription box business models
Let's break down the three most prevalent business models among subscription box companies –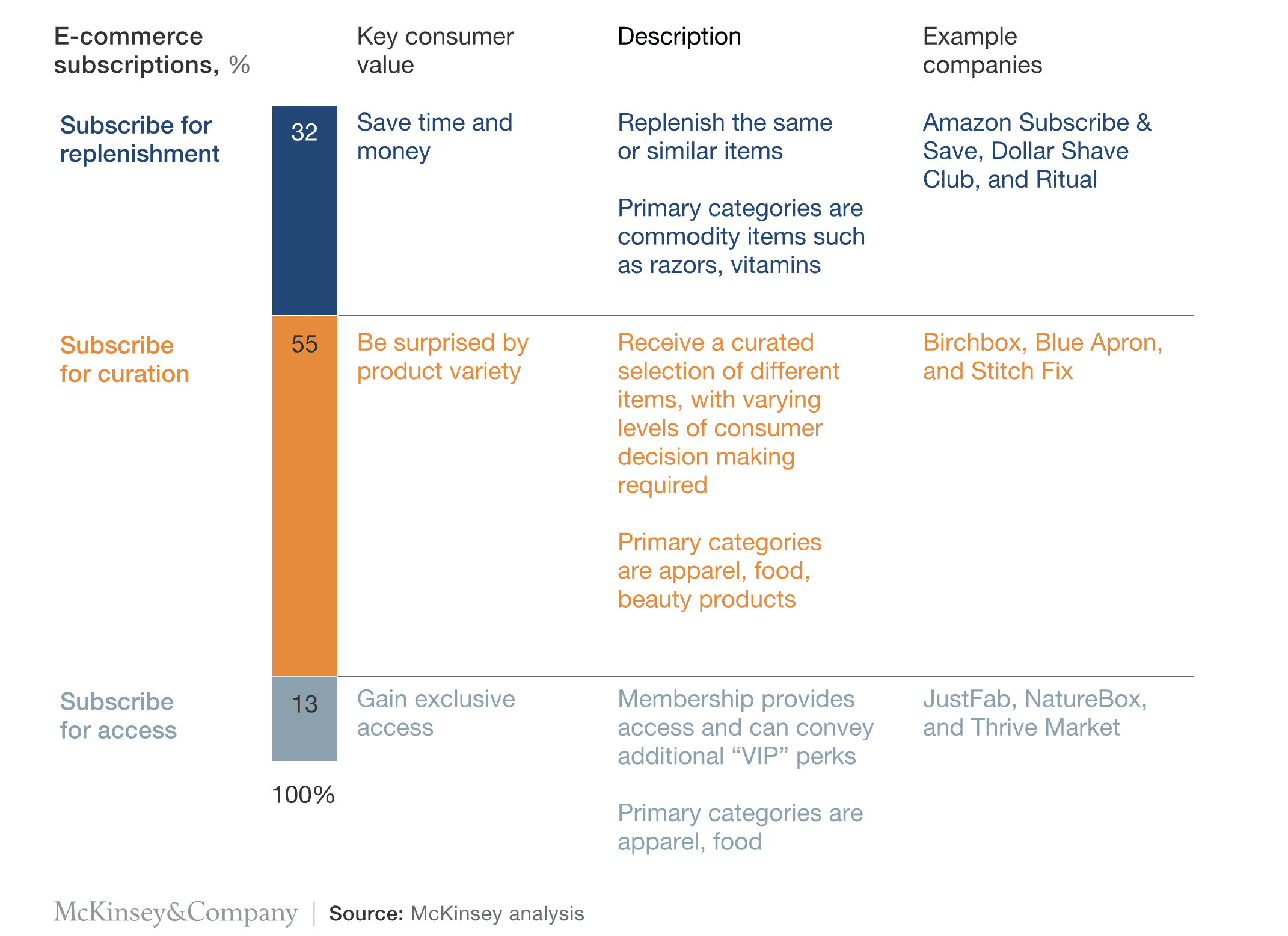 1. Replenishment Subscription Boxes
Usually servicing the non-discretionary products, replenishment-based subscription businesses automate deliveries of items customers typically purchase need periodically. Think weekly/monthly subscriptions of coffee, milk, cleaning items, pet food, and whatnot.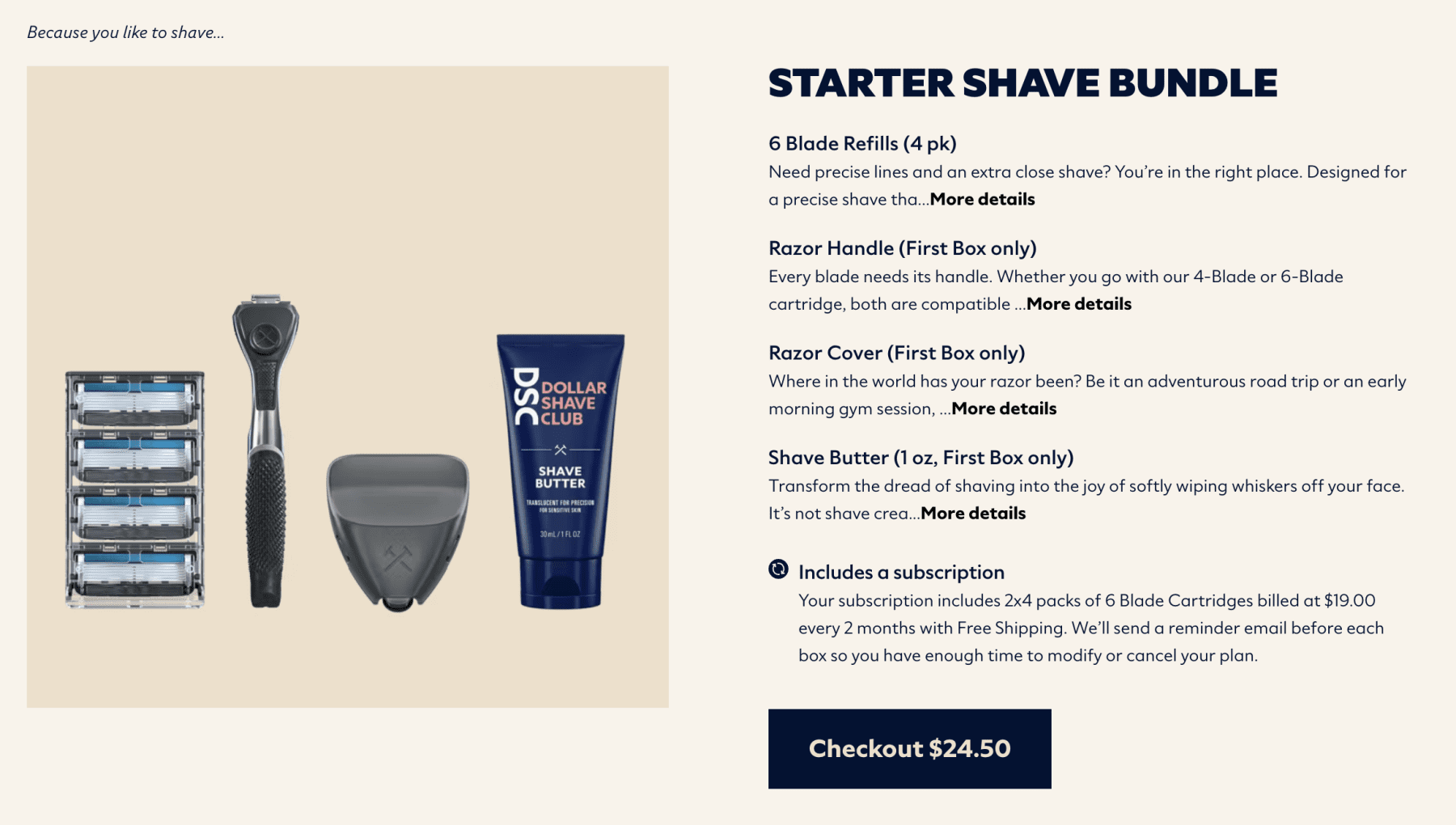 The primary value-add replenishment subscription box services provide is convenient access to products and a low cost since they're paying for a long-term commitment.
✅ Benefits of starting a replenishment subscription box business
Better Customer Lifetime Value (LTV):

Non-discretionary goods don't go out of business. This means customers will keep needing them. A solid replenishment subscription model has enough legroom to grow, provided it can dish out great product quality and customer experiences.

Wired to become a habit:

Due to the nature of the products they sell, replenishment subscription businesses build long-term customers and have typically less churn than other subscription box companies.
? Risks of the replenishment box category
High competition:

If necessity is the mother of innovation, non-discretionary goods are the founding fathers of eCommerce. While eCommerce businesses selling unique off-the-grid products are fairly new, eCommerce platforms selling non-discretionary goods have been around for as long as the industry. Successful subscription boxes in the industry are built from a robust supply chain (like Amazon Subscribe and Save), some nifty content marketing (like Dollar Shave Club), and a wide product selection/range.

Low-profit margins: Since replenishment subscription businesses operate in a highly competitive market, they are more competitively priced than any other. This usually means that profit per order is low, which is compensated for by the high order volume they usually generate
2. Curation Subscription Boxes
Some subscription businesses offer a curated collection of unique products either within a particular consumption category or depending on a theme. Mostly within the beauty and wellness, food, and clothing industries, curation-based subscription box services build relevance and attract potential customers by removing the need to search the market for bespoke quality products within their interests.
A great example in this segment is Tokyotreat. It brings customers across 150 countries access to a carefully curated assortment of Japan-exclusive snacks and treats on a monthly subscription basis, and gives them a peek into Japan's jostling konbini culture.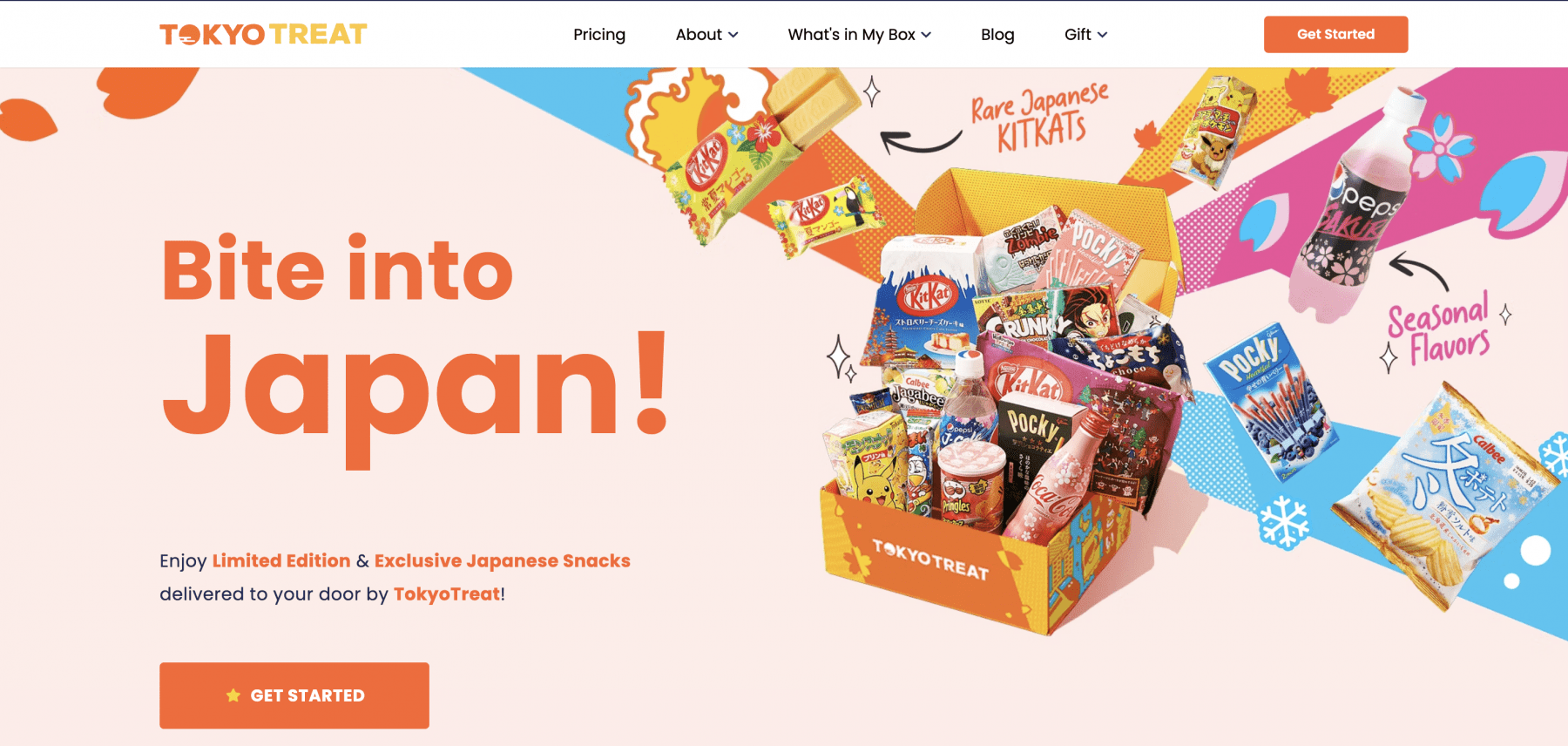 How TokyoTreat Built Their Subscription Box Business with Chargebee
✅ Benefits of starting a curation subscription box business
High profit margins:

Curated subscription boxes are built on great customer experiences. Hence, the products they sell have a perceived value beyond the actual cost of the product. While the sale volume might be lower than replenishment subscription boxes, the profit margin on each sale is higher.

Stronger customer relationships:

The curation business model is driven by want over need. Demand for the product comes from an inherent desire than utility, and hence customer relationships and brand equity is usually stronger for curation subscription box businesses, and generate greater social media awareness in return.
? Risks of the curation box business
Overhead costs of business:

Businesses in this category spend a lot of time, resources, and effort in first combing the market for quality products and then influencing wants and desires among potential customers through social media marketing, box design, and more. This means higher costs in sourcing and generating sales.

Greater churn:

Like in the case of Birchbox, the initial allure of novelty and awe may wane. Since the category does not usually deal in essential goods, building a base of loyal customers is more difficult.
3. Access-based subscription boxes
As the name suggests, this segment of the subscription box business industry focuses on providing privileged access to subscribed consumers. Customer benefits can range anywhere from more competitive product pricing to exclusivity to better customer support.
Vinyl Me, Please, for example, delivers colored vinyl, custom lyric books, and exclusive artwork for music lovers around the world. While they have one-time purchases on the platform, subscriptions provide customers access to exclusive records delivered monthly.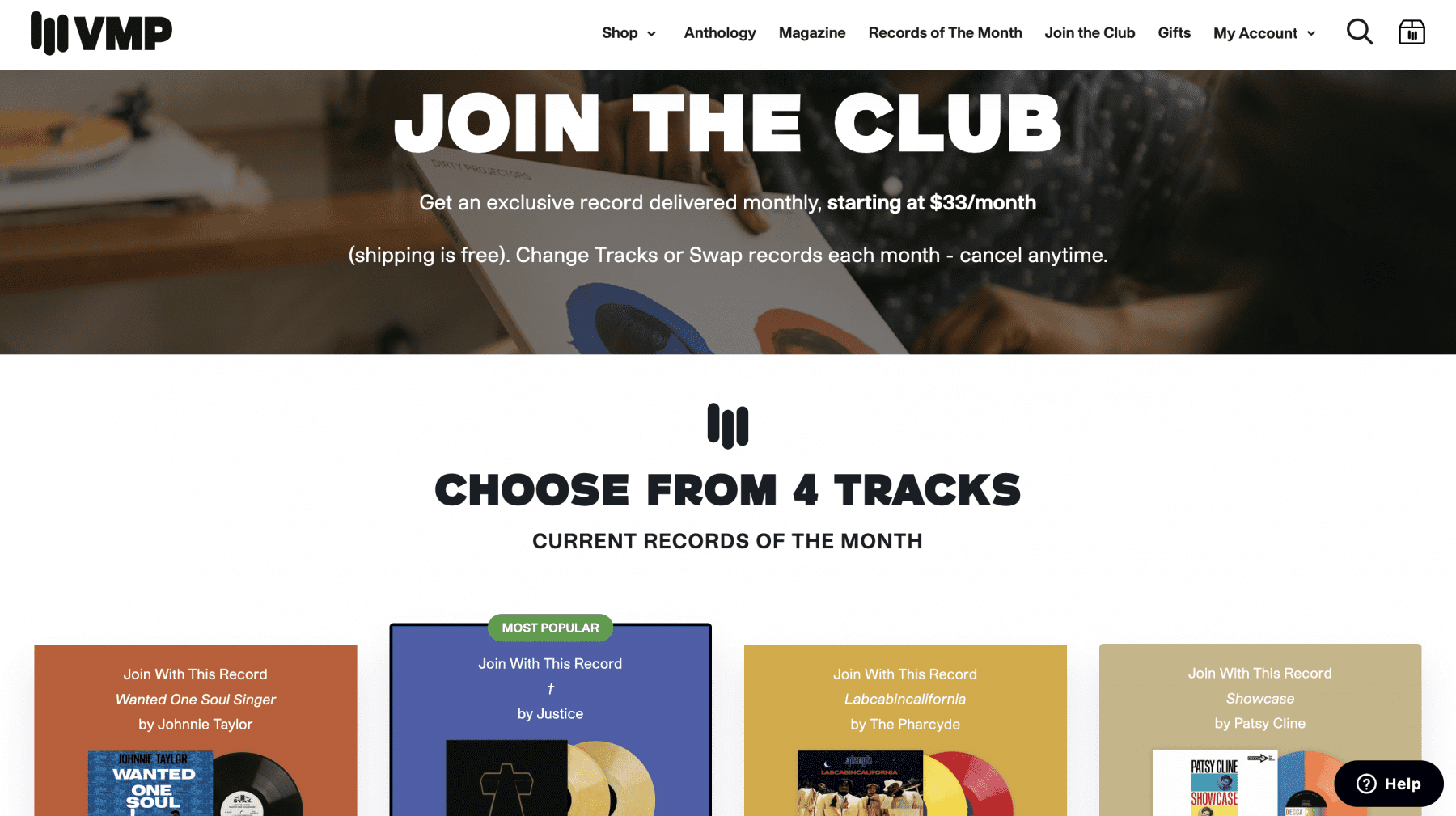 How Vinyl Me, Please Scaled Their Subscriptions With Chargebee
✅ Benefits of starting an access-based subscription box business
Greater Upsell Potential:

Adding member-only features does not only make the product more lucrative, but it is also a great opportunity for subscription businesses to bundle and upsell products increasing the average order value of each cart.

More revenue predictability: eCommerce platforms often venture into the access-based subscription box business model to build long-term relationships, and boost the lifetime value of each customer through exclusive subscription plans.
? Risks of access-based subscription box business
Subscription eCommerce platform complication:

Access-based subscription boxes are primarily wired around upsells, custom bundling of different product SKUs, exclusivity, and sometimes priority fulfillment. Customers in this segment seek premium experiences, hence everything from product handling to subscription management, to the unboxing experience has to be customized. This requires an array of technology enablement including – advanced subscription management and billing, expert order management to handle priority use-cases, customer relationship management tools, and more.

Resource intensiveness: Building bespoke customer experiences on a recurring basis comes with its own set of challenges. Each recurring subscription box is expected to deliver the same ingenuity as the first box, hence brands need to build additional value continuously versus delivering the same product (or product category) periodically. This means significant investment in research and development, creative monitoring, and execution – adding costs to the business model.
How to choose your business model
Having a bird's eye view of the subscription box landscape is a great way to inform your own subscription box ideas, plan and build out your preliminary strategy, and thereby determine the product, tool, and customer roadmap for the future.
To fit your own subscription box into any of the above subscription business models, you have to first evaluate your own intended target audience and offerings against others in the market. Here are the steps you need to follow:
Identify your niche

Determine your customer segment

Evaluate product relevance (the convenience-ingenuity matrix)

Determine market competitiveness
1.) Identify your niche
Selecting the right subscription business model is a daunting task, not just because it plays a cornerstone role in defining your business operations forever, but also because there are multiple variables to consider including (but not limited to):
Market maturity –

do your customers in your preferred niche know about your product and are willing to transact? Or do you need to build problem awareness first?

Revenue potential –

what is the purchase frequency and average sales volume per customer?
Challenges in sourcing and distribution –

is the product you're manufacturing (or sourcing) rare and scarcely available? How complicated is production or sourcing?

Customer purchase intent – What is the purchasing power of your customers? How likely are they to initiate recurring purchases of your product?
To throw another spanner in your works, none of these variables are mutually exclusive. For example – while the replenishable subscription boxes have been the most popular choice, they are also a low profit-margin game. To remain cash flow positive, you have to continually make high volume in sales.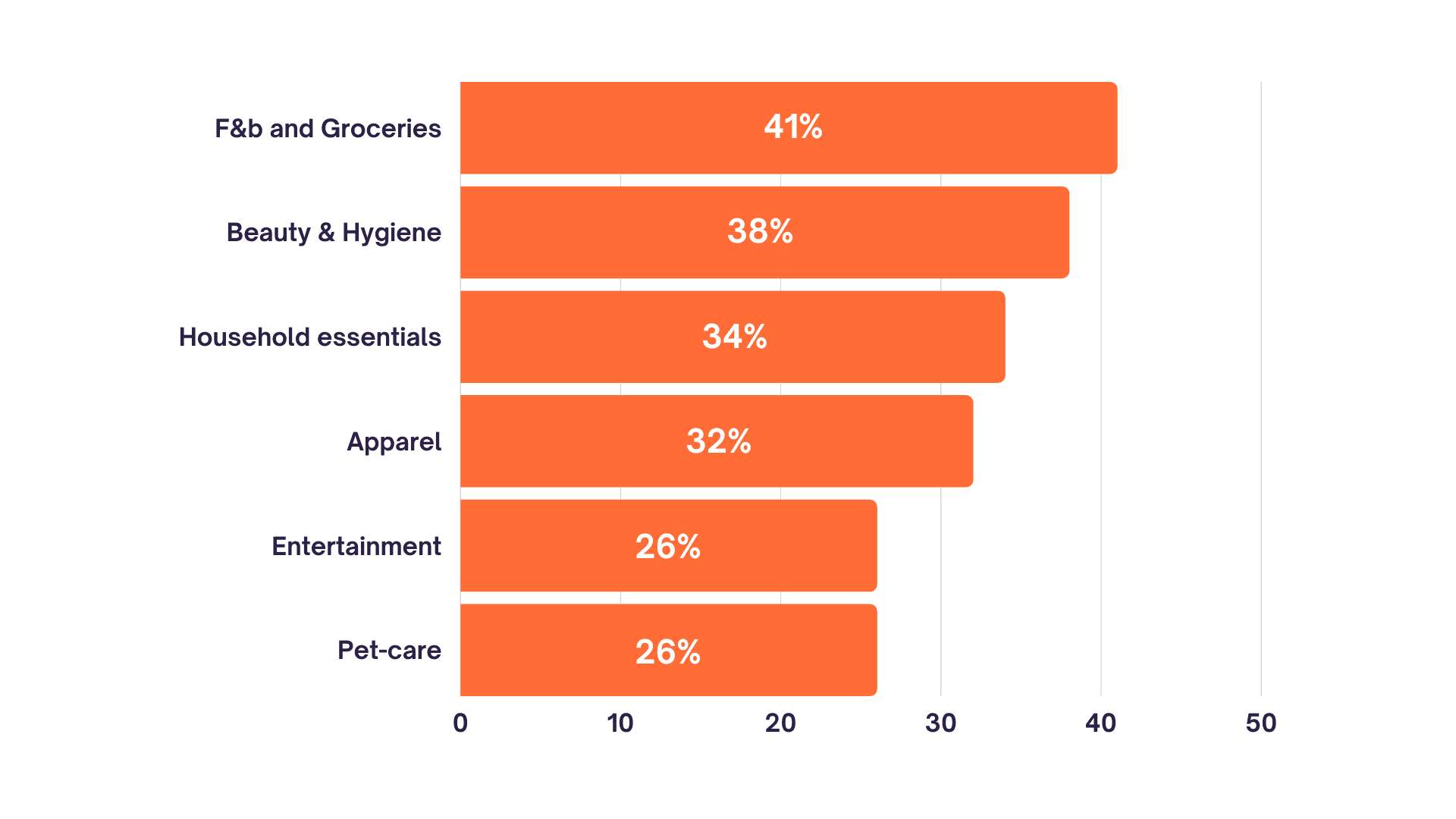 The reverse is true for discretionary goods – which have a higher profit margin but is usually a low-volume game.
Even when you choose your niche, it is important to narrow it further down. For example – if your primary product is going to be snacks, would you sell thematic snack subscription boxes like our customer TokyoTreat, or do you only want to appeal to a particular taste bud (sweets, savory items, etc.)?
The more know-how you have about your desired niche, the more avenues you will find to build customer loyalty and become influencers in your category.
2.) Define your Target Audience
Irrespective of what you sell – no product has a universal ICP. To build brand relevance, have customers purchase from you on a regular basis, and achieve product-market-fit, it is essential to segment the larger serviceable audience market (SAM) to identify the target audience market (TAM).
Asking yourself the following questions is fundamental to the process:
Who is likely to buy my product?

What is their demographic data (age, gender, location, occupation)?

Where do they typically go to purchase products similar to what I sell?

How strong is their purchasing power?

What are their preferred means of communication (social media platforms, email lists, messages, etc.)?
Once you have a complete understanding of their customer journey, you can implement it to build one of your own.
> Pro-tip: Nobody informs you better than your intended audience. Try to seek direct feedback from your potential customers through surveys. Build a prototype box and run pre-launch campaigns to analyze customers, content marketing success, and more.
3.) Evaluate product relevance
Your subscription box is only as relevant to the market, as it is useful to your customers. Subscription business models are primarily governed by two standards:
Convenience

– if your customers purchase what you are offering, on a regular basis

Ingenuity

– if you are bridging the inaccessibility gap or providing a category-creator product
Plot your business against your competitors' (or other similarly placed subscription boxes) in a simple matrix to gauge the right business model for your subscription box, analyze gaps your competitors are yet to resolve, and build a strong brand identity-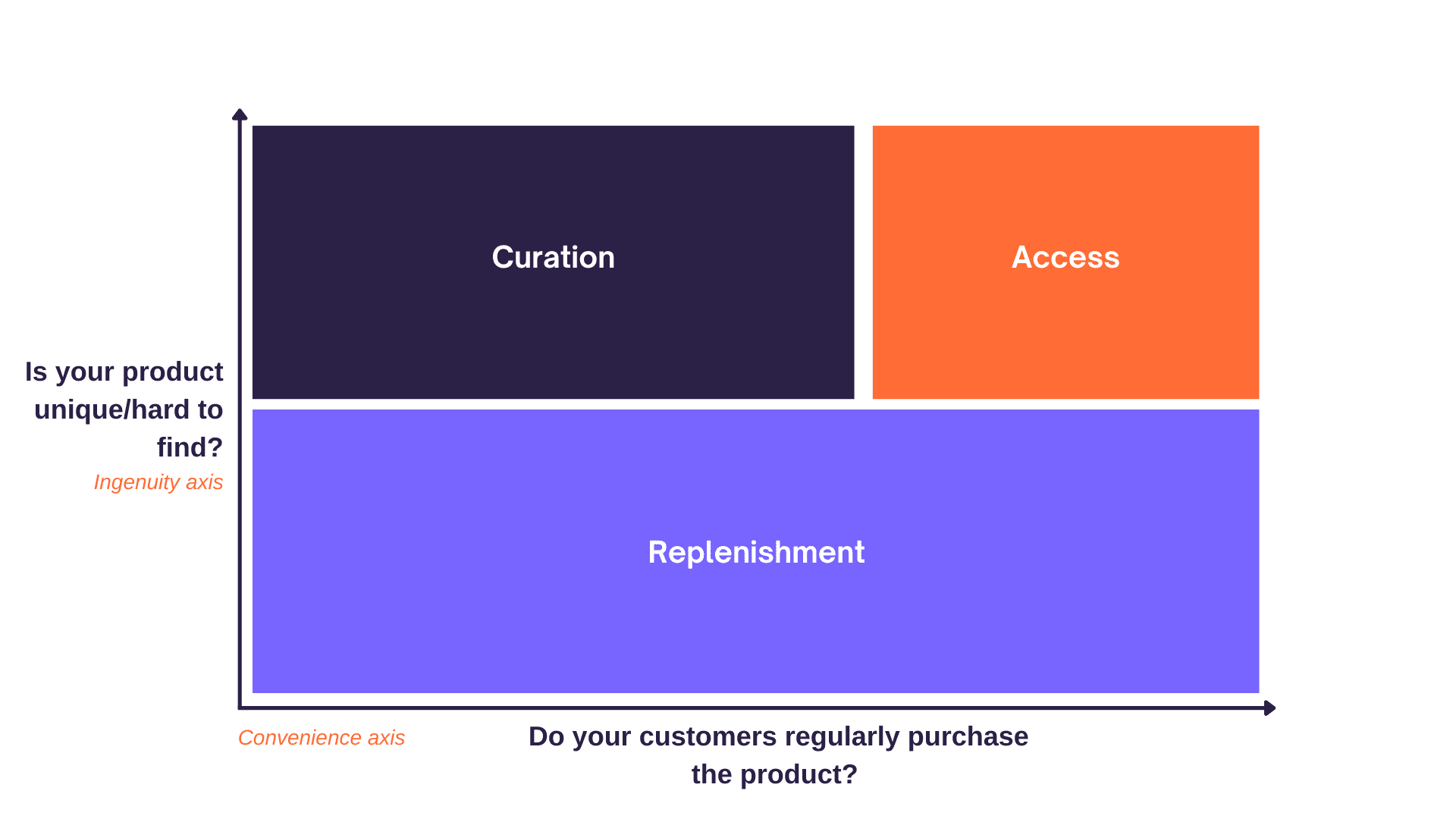 This can provide valuable competitive intel to determine the business model and brand positioning for your subscription box, or even identify customer trends to inform your business roadmap.
For example – if your competitors selling replenishables in a high recurring purchase market position themselves as a curation brand, it can signal towards opportunities for product innovation in the market. The evolution of tailored coffee-blend subscriptions is moving the market away from a replenishment model to premium, access-based subscriptions.
4.) Determine market competitiveness
Once you have further streamlined your open opportunities and threats, it is time to dive deeper into existing and potential competition. eCommerce businesses are prone to market expansion and consolidation.
Amazon started as a bookstore and has evolved into an everything shop. The likeness of established brands venturing into your niche can spell significant upside troubles for your business.
Looking at your net addressable market, prospecting your ability to scale, and proactively identifying markets that you can expand to can help maintain healthy cash flows despite potential future challenges.
Now that you've identified your needs, you are ready to kickstart your subscription box business. However, keep in mind that businesses with no foresight are often primed to fail.
Building a subscription box requires more than an idea of the market or your product. It requires strong supply chain optimization, a robust front-end that keeps your customers coming back for more, and a variety of tools that keep your subscription layer up and running without as much as a hiccup.
Step 2: Build a brand identity for your subscription box business
Your brand identity is the sweet spot between the value you generate for your customers (e.g. automate recurring purchases or provide access to exclusive products) and their perception of your brand (e.g. a subscription box that saves me time in grocery shopping, or a subscription box that has a unique collection of music vinyl).
A lot of subscription box brands never make it out of infancy because of an intended value and the perceived value mismatch. It is therefore important to ensure that your brand identity is informed by active customer feedback, is unique in the space (and hence memorable), and one that constantly resonates with your customers.
In fact, great experiences are the primary reason for customers who stick to their curation and access subscription boxes, and the second most prominent reason (behind value for money) for replenishment subscriptions according to an analysis by McKinsey & Co.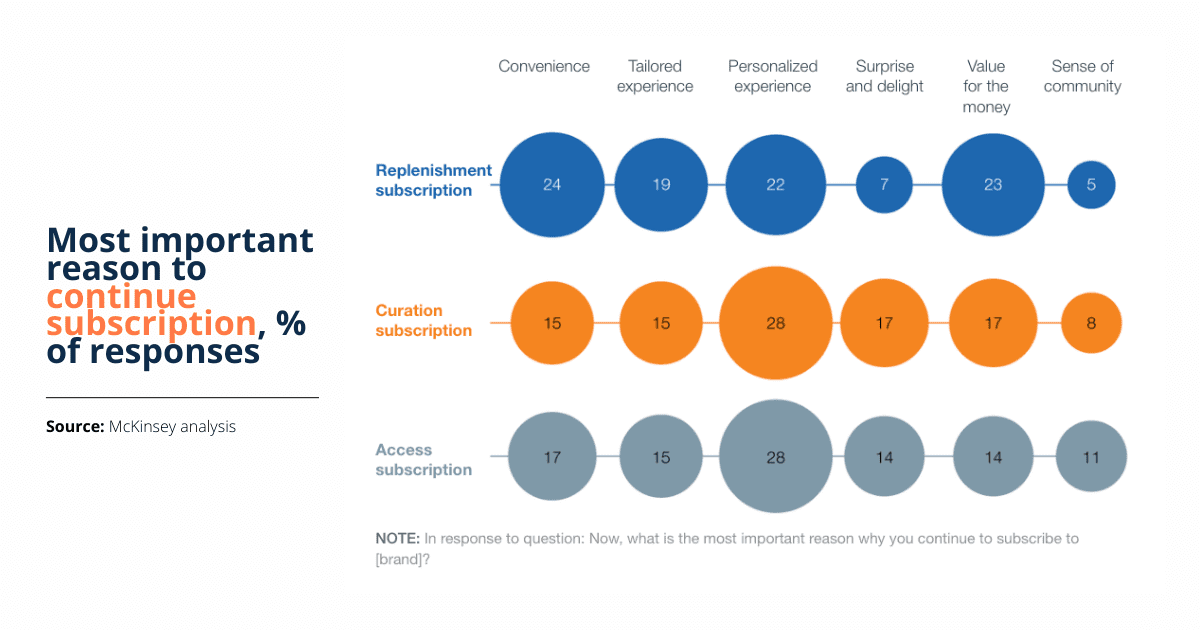 Suggested Read: The impact of perception on retention in subscription commerce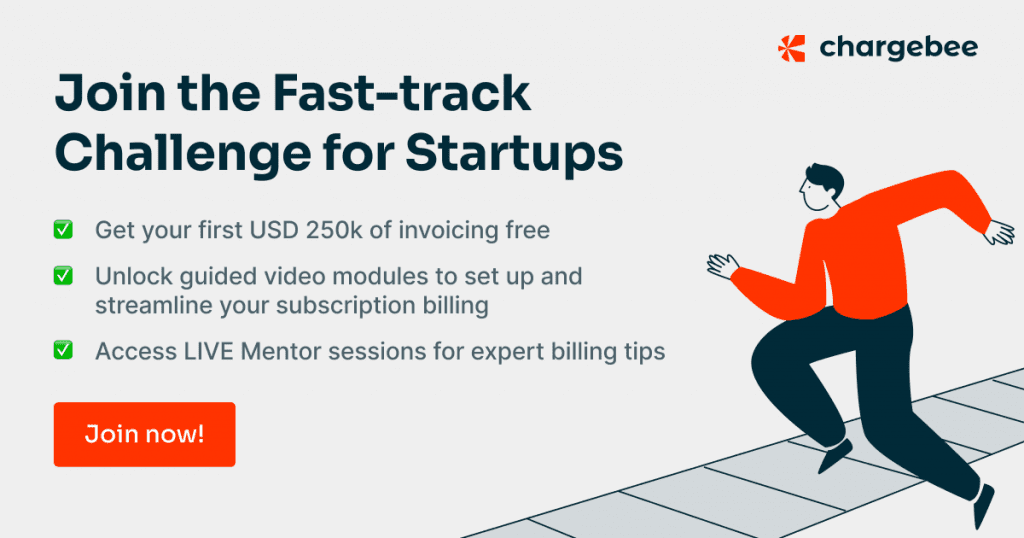 It is important to take conscious calls on what your subscription box's identity and voice will be like in the early stages ensure your product plays well with potential customers and delivers great experiences.
You can do it in 4 steps:
1. Finalize your value proposition
An effective value proposition can help your customers truly understand the value of your products/services and how they can benefit from them. For instance, Dollar Shave Club's value proposition is selling razors at a reasonable price and offering a highly customer-centric experience.
2. Find your differentiating quality (USP)
Dollar Shave Club's USP is that razors don't have to be over-complicated. They can be cheap and still perform well. This is why DSC offers a low-cost subscription, $1 for a monthly supply of razors and blades. This helped the company to take on Gillette directly and come out winning.
3. Communicate them consistently (graphics, text)
DSC ensures that they're closely engaged with customers across different social media platforms. Moreover, they are consistent with their brand messaging across their products and marketing efforts.
They make sure to lace humor in everything they do, much like their first video which spoke humorously about the struggles of buying shaving products at reasonable prices.
4. Don't forget about the unboxing experience
Often overlooked, the unboxing experience is as important a part of the overall product experience for subscription boxes, as your marketing strategy. The packaging is an extension of brand identity. If you're going for a premium offering, your packaging should reflect so.
Investing in a custom, unique box design goes a long way in building a strong brand recall. Beautiful packaging always finds its way on social media. But these are added advantages to what packaging is genuinely about – creating an enjoyable and memorable customer experience. Here's how Beautycon nudges its subscribers to share their unboxing experience.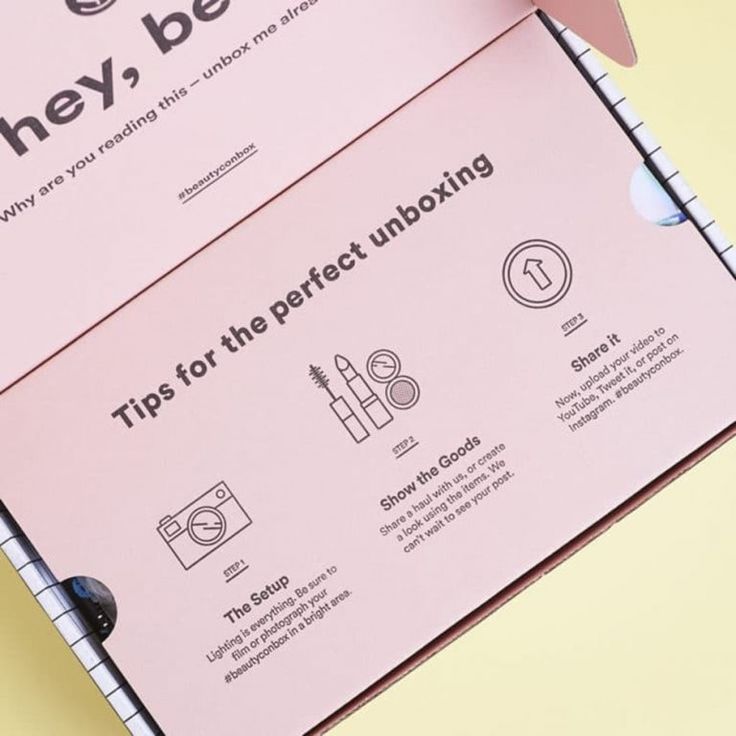 Step 3: Price your subscription box right
For your subscription box business to live, it needs to be priced exactly right both in terms of:
Covering the principal costs involved from sourcing to delivery

Appealing to the inherent purchasing power of your target audience
Priced too low and you risk downside strain on your business, or, in some cases be viewed as indistinctive to your customers (mostly in the case of access-based subscription boxes). Priced too high and there's fear of lower sales, or competitors eating into your audience.
In any case, pricing depends on the following factors:
Customer Acquisition Cost

– How much does it cost you in marketing to acquire a single customer?

Customer Churn Rate

– The rate at which people unsubscribe from your service. This can be calculated on a monthly, quarterly, or annual basis.

Customer Lifetime Value

– The total dollar amount a customer spends, on average, between signup and deactivation.

Profit Margin (on your entire box)

– The profit divided by the selling price.
Get the numbers right with this expansive guide to subscription box pricing.
Depending on what you sell, the scope for product innovation, and how your competitors position themselves to the active customer base, ascertain if you are in the discretionary or non-discretionary category.
> Remember: Just because your potential customer will likely purchase your product on a regular basis, does not guarantee that they consider their expenses non-discretionary.
A fair idea of where you belong will also give you more context on how your customers view the business. A good place to start looking is this frequently updated Global State of the Consumer Tracker from Deloitte which lends perspective to your pricing decisions.

Step 4: Set up your online storefront
This is where your customers experience your product, transact, build relationships, refer, and expect you to deliver. From an engineering and product perspective, this is what will define your business and roadmap for the future.
Setting an online storefront is no easy task. It requires building a website and/or app interfaces, defining separate tools for billing, payments, order management, subscription management, customer service, marketing, revenue recognition, and taxation (especially if you intend to sell across geographies), and beyond.
As with all things technology, there are a couple of different ways to build your storefront.
Option 1: Set up an online storefront on monolithic eCommerce platforms and build a subscriptions layer on top
eCommerce platforms like Shopify, BigCommerce, and more have several out-of-the-box features to set the ground moving for you. If you are a small business owner, the ability to get started with minimal fuss is crucial for your business.
However, keep in mind that platforms like these are built for conventional eCommerce and as such need a specialized subscription management platform to accept recurring revenue, provide subscription plans and enable customer self-serve tools to deliver great experiences.
If your preferred platform does not provide out-of-the-box marketing, CRM, and sales management solutions, look for tools that can be integrated with minimal developer effort.
Pro-tip: Platforms are interdependent. Your choice of eCommerce platform will determine your subscription management layer, which will likely determine other tools in your ecosystem. Look for API integrations and white-gloved onboarding to minimize turnaround time. If your platform is rigid (i.e. does not readily accept integrations) you might need to consider replatforming once you scale.
Potential solution: Chargebee's partnership with BigCommerce gets you started on your subscription box business quickly by helping you to –

Automate subscription order generation and syncing to BigCommerce for fulfillment

Easily launch new subscription lines to capture reliable recurring revenue

Get the subscription metrics and insights needed to optimize subscription business lines

Build strong customer relationships by refunding and resending orders based on accurate info within Chargebee
Option 2: Set up a plug-and-play headless commerce storefront
In a manner increasingly popular with subscription commerce businesses, platforms are becoming more flexible, and agile.
Example: Dollar Shave Club entered the men's grooming business eons after Gillette had already dominated the space. But with its headless commerce approach, DSC was able to reimagine an industry, build great customer experiences, and take down the giants to build a strong subscription business.
Headless commerce allows companies to provide a personalized and brand-consistent experience across channels using APIs (application programming interfaces) that connect the front end with back-end systems.
Here's how dog-food subscription box Kabo, wired their subscription platform –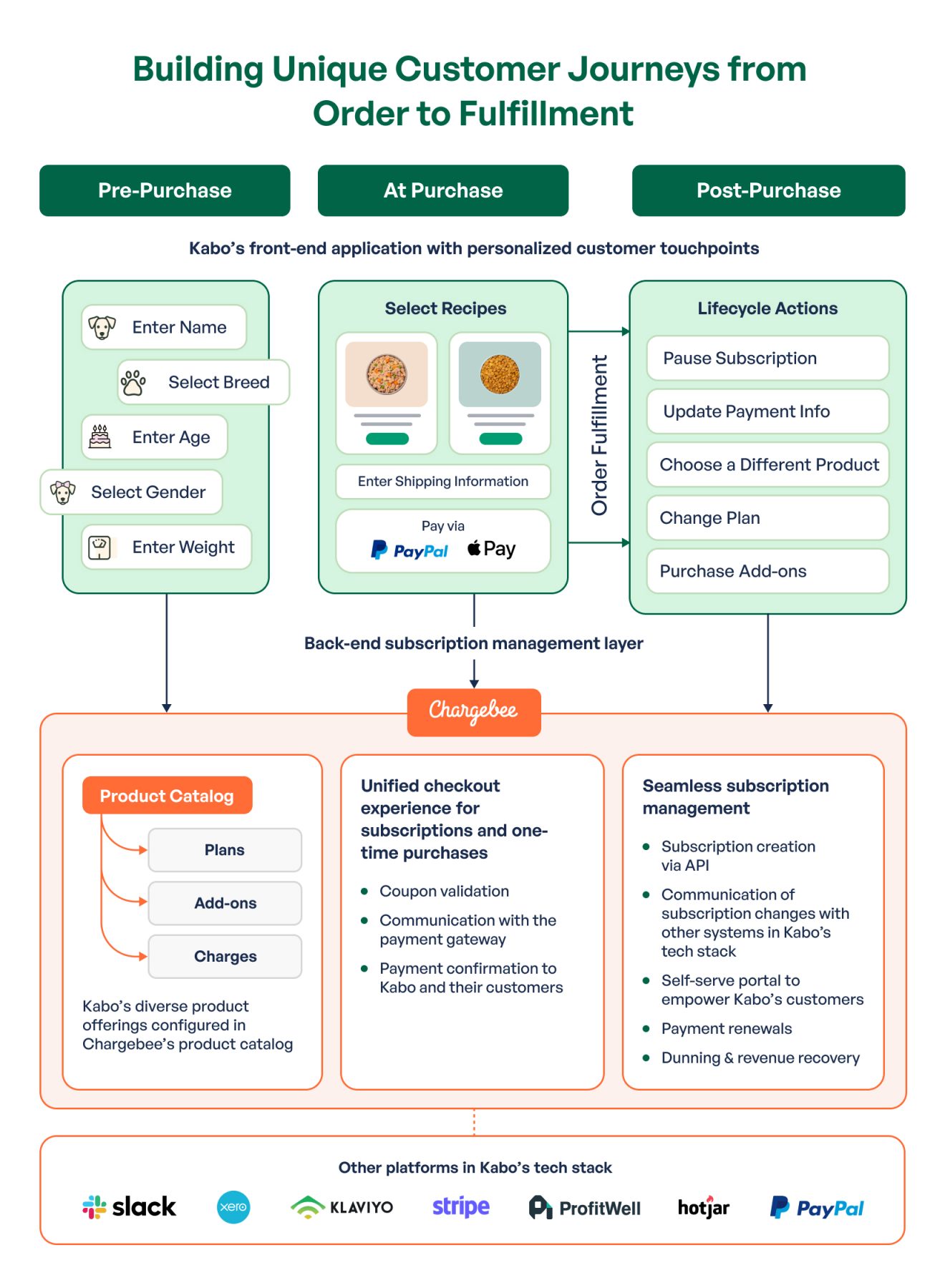 Each individual solution operates independently of the others around it, yet communicates seamlessly through webhooks. Changes in either the frontend or the backend do not impact the other helping eliminate business downtime in return.
"… We quickly realized that the degree of complexity involved in creating individual meal plans required us to create our custom application. So we adopted a headless stack with complete control on the frontend while Chargebee's seamless API integration took care of the subscription layer at the backend."

– Jon Ristovski – CTO, Kabo
Be sure to evaluate additional features you want for your subscription business
From choosing the right payment gateway provider, to order management, to customer retention – the modern eCommerce marketplace has multiple options for nearly every feature you can think of. Specialized tools go a long way in taking the developer effort off your shoulders, yet give you quality output so business happens smoothly.
However, if you are a small business owner, or just do not want to deal with the hassle of scanning, vetting, and paying for several tools, subscription management platforms like Chargebee provide out-of-the-box billing, accounting, analytics, dunning, and more to reduce dependencies.
Step 5: Plan ahead for distribution and fulfillment
Subscription boxes work better when they make their customers work less. This means guaranteeing top-notch order fulfillment, timely deliveries, troubleshooting, and even returns. The tradeoff between outsourcing and building an in-house fulfillment center defines your delivery experiences.
In order to exercise quality control, many subscription businesses build their fulfillment muscle in-house. It is also more reasonably priced to build if you're only starting out or have a limited order volume per month.
However, if you are a business (e.g. groceries or other replenishable items) where the order volume is huge, you might not have the technical and manpower resources to build and manage in-house fulfillment centers, in which case partners like Red Stag, ShipBob, or ShipMonk can do the heavy lifting.
The tradeoff between outsourcing and onboarding a partner also depends on the specificity of your business.
If you have a limited number of subscription plans, each with a limited and pre-defined list of items, e.g. a pre-defined set of multi-vitamin tablets delivered every month, it is easier to take the in-house fulfillment center route.
However, if you are a subscription box business offering high customization – e.g. building a custom nutrition plan based on your diet preferences, or delivering unique items in every instance, managing the scale of permutations becomes difficult.
The fulfillment stage will also ensure great unboxing experiences and box packaging. Your choice will also influence the overhead shipping costs added to your business, hence exercise care and attention to detail when making your decision.
Step 6: Validate your MVP with a pre-launch campaign
With all your affairs in order, now is right the time to test and validate your decisions. Consider your subscription box platform an MVP, and test its veracity in the market. Draw out a marketing campaign on social media platforms, build an email list, and maybe onboard some influencers to build initial hype around your product.
But know this – marketing is an art, and a science. Blitzkrieg marketing without pre-defined milestones often leads to a lot of cash burn, and little beyond an initial spike in sales.
Setting strong goals at every stage will help you analyze curveballs as they come (which they likely will) and give you time to listen to the market, iterate, and improve. Here are some tips for a successful launch:
1. Define your pre-launch objective
Are you building a hype page before you are ready to onboard customers? Or is your pre-launch campaign testing how likely your product is to sell in your niche market? Depending on where you are – it is important to define a strong goal for your pre-launch.
Goals can be bucketed into two primary categories – generating awareness, and generating leads.
2. Set strong timelines
Your pre-launch campaign will not run forever. Set a short time frame, yet offer yourself the time to test the hypothesis. Even email and content marketing campaigns need at least two weeks to generate results.
Since there are a lot more factors to consider, set a deadline of not more than 60 days. This gives you enough time to first, gauge interest from your customers, and second, learn about their proclivity to actually make a purchase.
3. Set impression/conversion goals across media
It is also important to set signup/conversion goals across all media you are planning to communicate to find where your intended audience convenes, searches for, and shares experiences, or makes purchase decisions.
This means setting up individual goals for your outbound and inbound traffic, social media, partnered content/offers, and ads.
4. A/B test your ads, content, and email campaigns
It is natural for you to think of ads to both build awareness and draw in potential customers to your landing page. Remember, however, to build at least two prototypes of each content, ad, or email you are building for the campaign.
Analyzing responses on each will help you validate which narrative is worthwhile for you to carry forward and build your brand identity accordingly.
Step 7: Taking your subscription box business from launch to scale
All the hard work and effort in building your subscription box business, defining narratives, and launching your first go-to-market campaign should be consistent with your overarching business intention – making your subscription box business run the marathon.
Once you have a successful launch, you will likely generate more initial traffic, and face new challenges in the process. The most sensitive of them all – churn rate.
Customer churn for any subscription business is almost as painful as a breakup. Since the subscription business model is geared towards providing value, churn before the cliff period (where a customer overturns the acquisition cost and generates stable profits) can bleed any subscription box dry, and leave you short of funds to build sustainably.
Churn can happen due to a number of factors, but the most important of them all is the inability to provide personalized experiences, either with your product or your subscription box platform.
The trick is to manage expectations by giving your customers the means to get the most out of their subscription experience. This means allowing them to edit their subscription preferences, link add-ons to their existing subscriptions, or even allowing them to pause their subscriptions when the time is not right.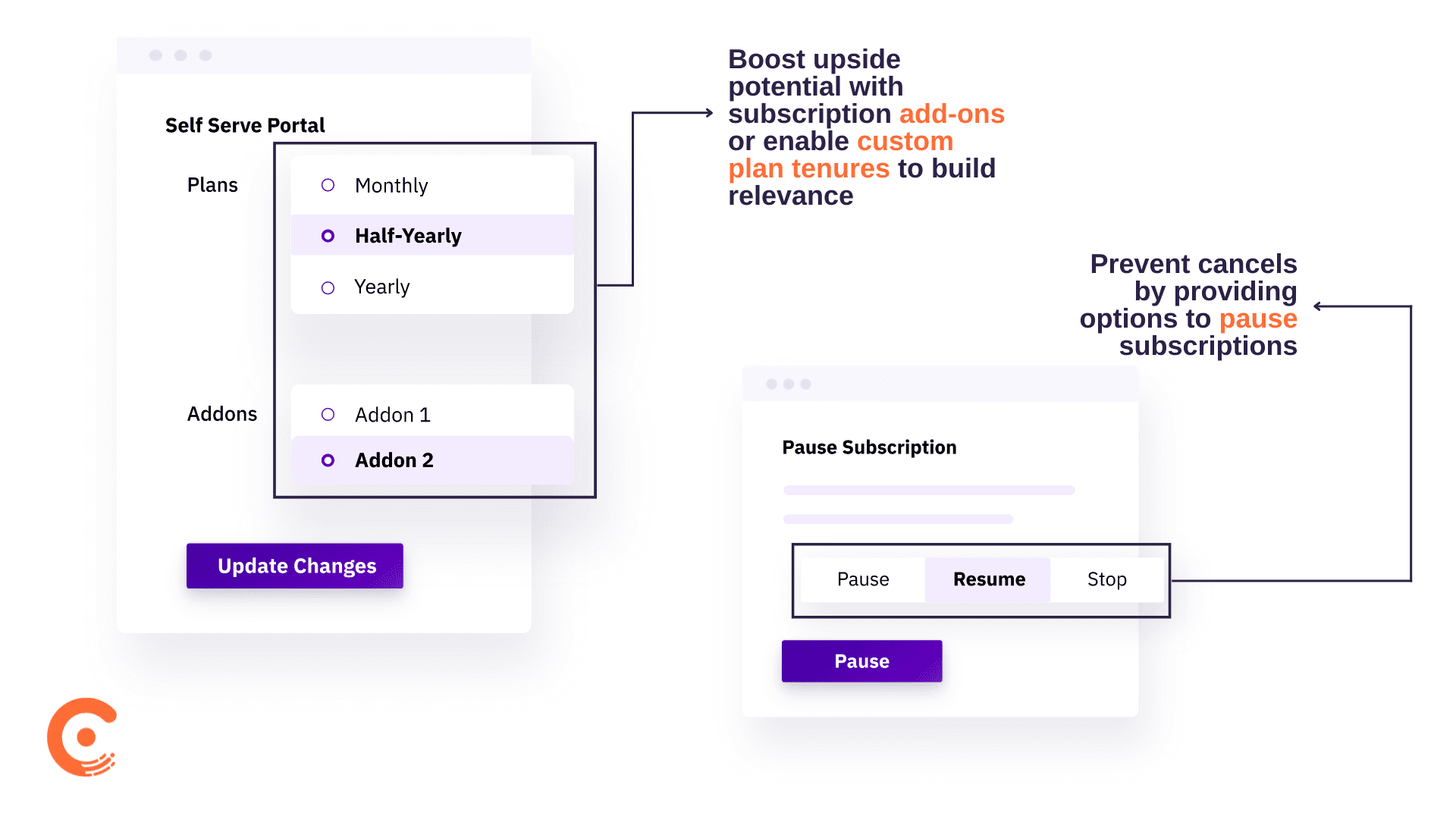 Once your market evolves, it forces a reimagination of existing business conventions. eCommerce businesses (as your subscription box itself) are built on constant iteration, addition, and deletion. Having tools and tech that can handle customization is necessary.
Consider taking your subscription box global. You would not only need to enable multi-linguality in your subscription box platform, but you would also need to accept payments in multiple currencies, across multiple payment gateways and options, and handle taxation all at once.
Investing time, resources, and manpower to either develop, manage, or maintain additional feature sets can slow your business down. It also takes your focus away from your core proposition – delivering subscription boxes your customers will love.
Instead, let end-to-end subscription management platforms like Chargebee do the heavy lifting as you prepare your business for the next frontier. Schedule a demo today.