Introduction
As your business grows and incorporates additional capabilities from external systems, it is essential to maintain consistency across all customer touch-points. Inconsistencies can create confusion with your customers and leave poor user experience.
The layout customization functionality provided by Chargebee empowers you to maintain consistency across your website. Customize your Checkout page to align with your website's fonts, colors, and design principles.
You can even adjust the user interface elements with an intuitive editor for a seamless experience. This can lead to higher conversion rates, customer satisfaction, loyalty, and repeat purchases.
Let us see how you can customize the Checkout layout to align with your brand identity.
Customize your Checkout
Information
This feature is currently in early access. Contact eap@chargebee.com to join the Early Adopter Program.
See also
Chargebee's branding feature allows you to customize the look and feel of your billing and subscription pages to match your brand identity. Learn more about branding.
To customize your branding on the full-page layout of the Checkout page, follow the steps below:
Navigate to Configure Chargebee > Checkout & Self Serve Portal > Layout.

In the Full Page Checkout, click Customize.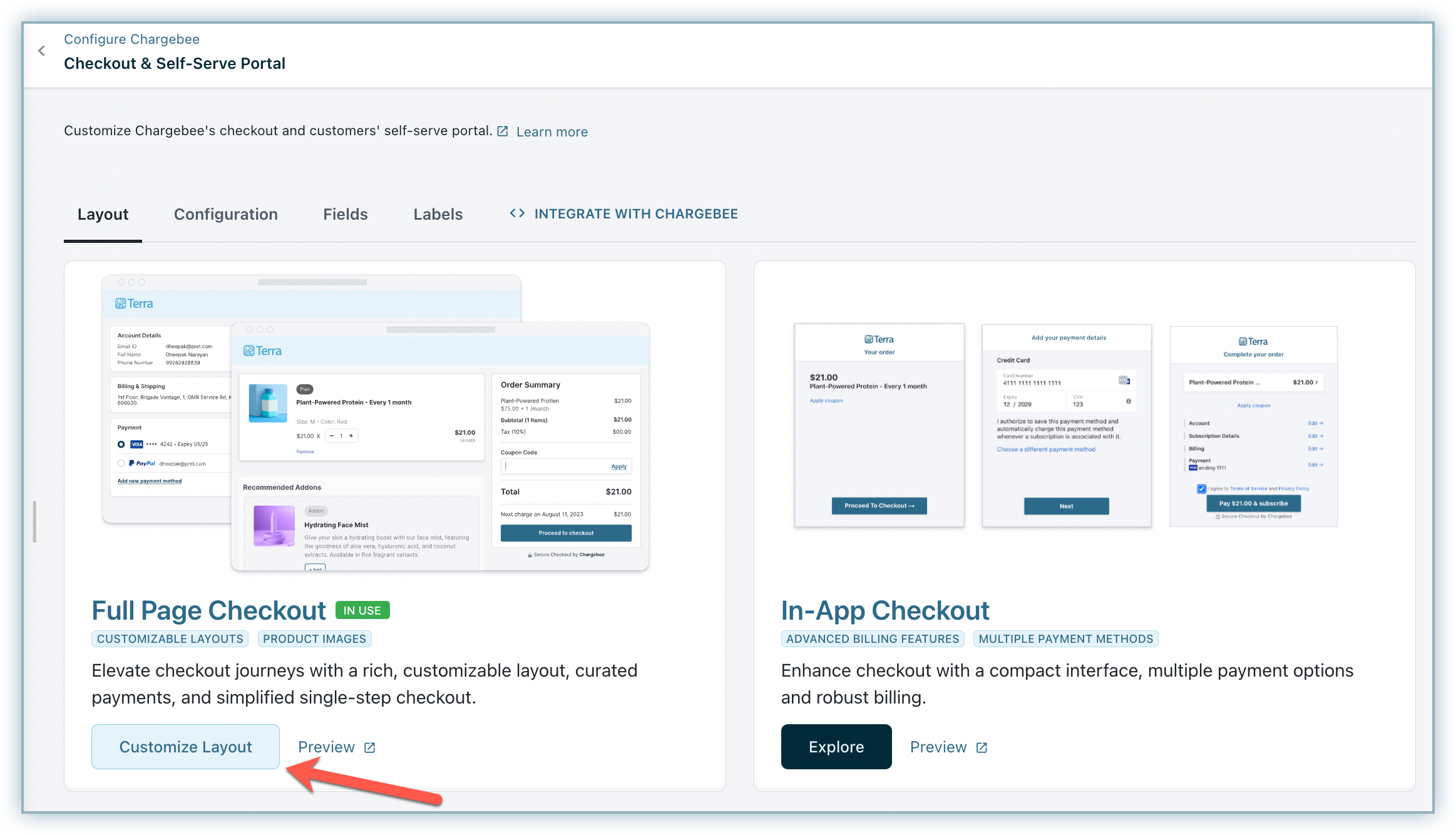 Customize the Checkout page to suit your website branding using the various options available such as colors, typography and shapes.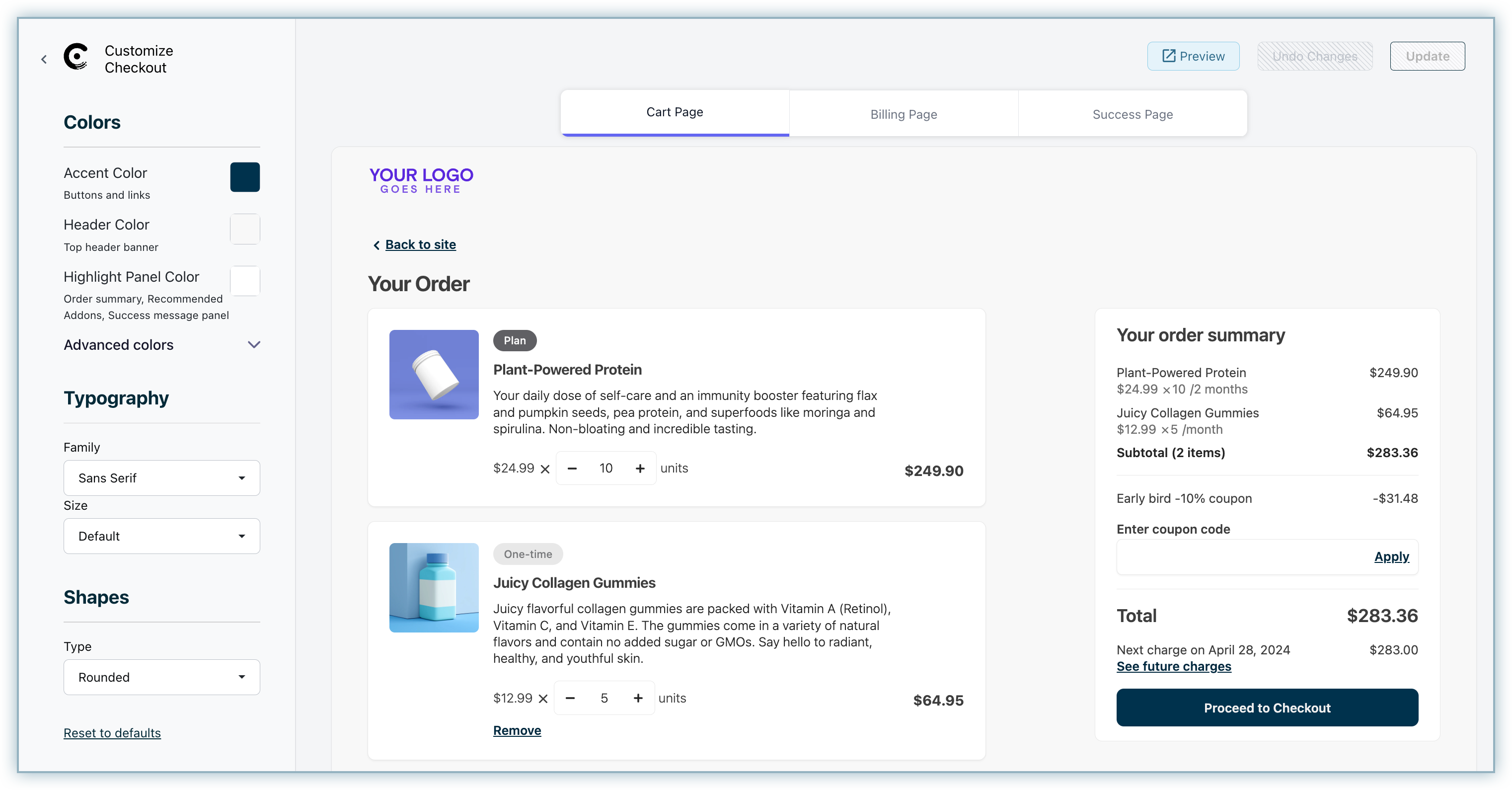 Let us see how to customize Checkout pages using these settings.
Color
Choose different colors on the below elements on your customer-facing essentials. Pick a color from the range of available options:
Accent Color for buttons and links. The accent color drives the theme of your Checkout pages and will reflect on the call to action prompts within the Checkout pages.
Header Colorfor the top header banner.
Highlight Panel Color for the order summary recommended add-ons and success message panel.
Advanced Colors
The font color will change based on the selection.
Warning
While customizing these advanced colours, the readability aspect should be considered, as it may affect the user's experience.
Checkout page color for the background of the page.
Cards color: cards with the order details, and payment method options.
Input components color for the fields, radio selections, checkboxes, and quantity selectors.
You can also select the font family, font size from the Typography section, and Shape of the cards to match your design principles.
Preview and Confirm
To preview and confirm your changes on the Customize Checkout page, follow these steps:
Click Preview to view the sample Checkout page and verify your configuration.

Click Undo Changes if you wish to undo the last changes. In the case of simultaneous editing, a warning message will appear. You can either Dismiss or Confirm your changes.

Click Update to save your configurations.
Let us see some variations from the preview of the Checkout pages after applying various color schemes.
Checkout variation 1: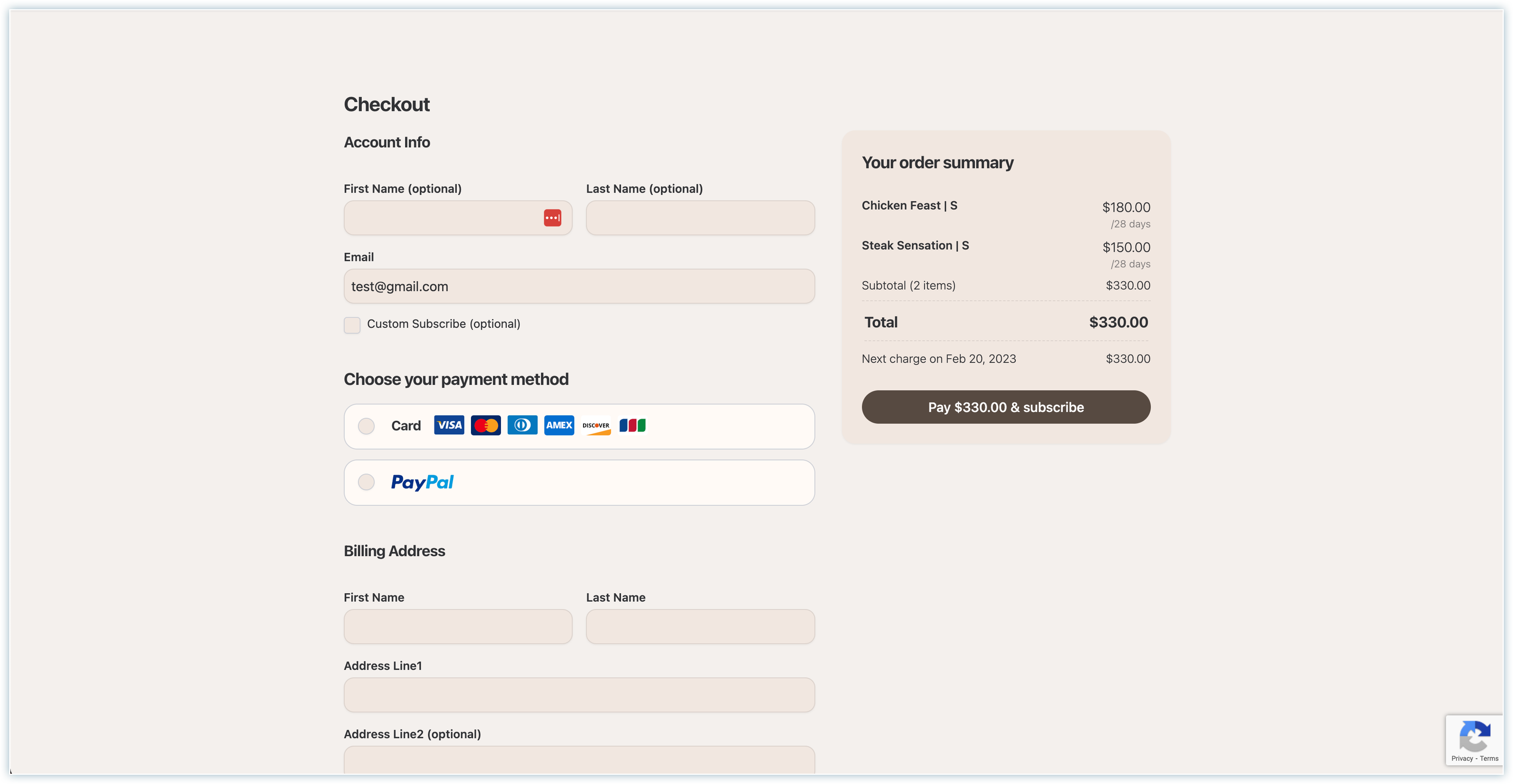 Checkout variation 2: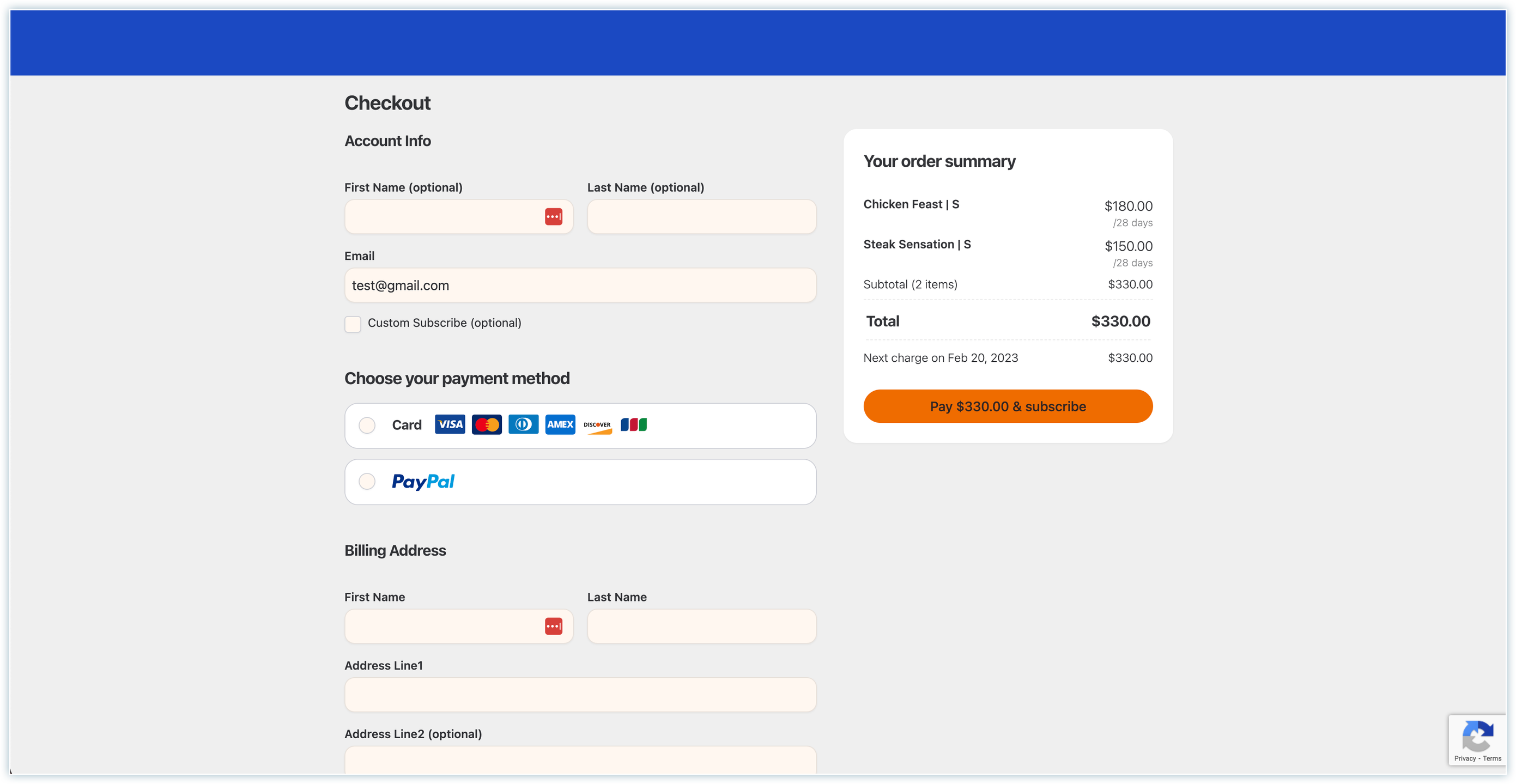 Cart page:
See also
Learn more about uploading product images to Plans, Addons, and Charges.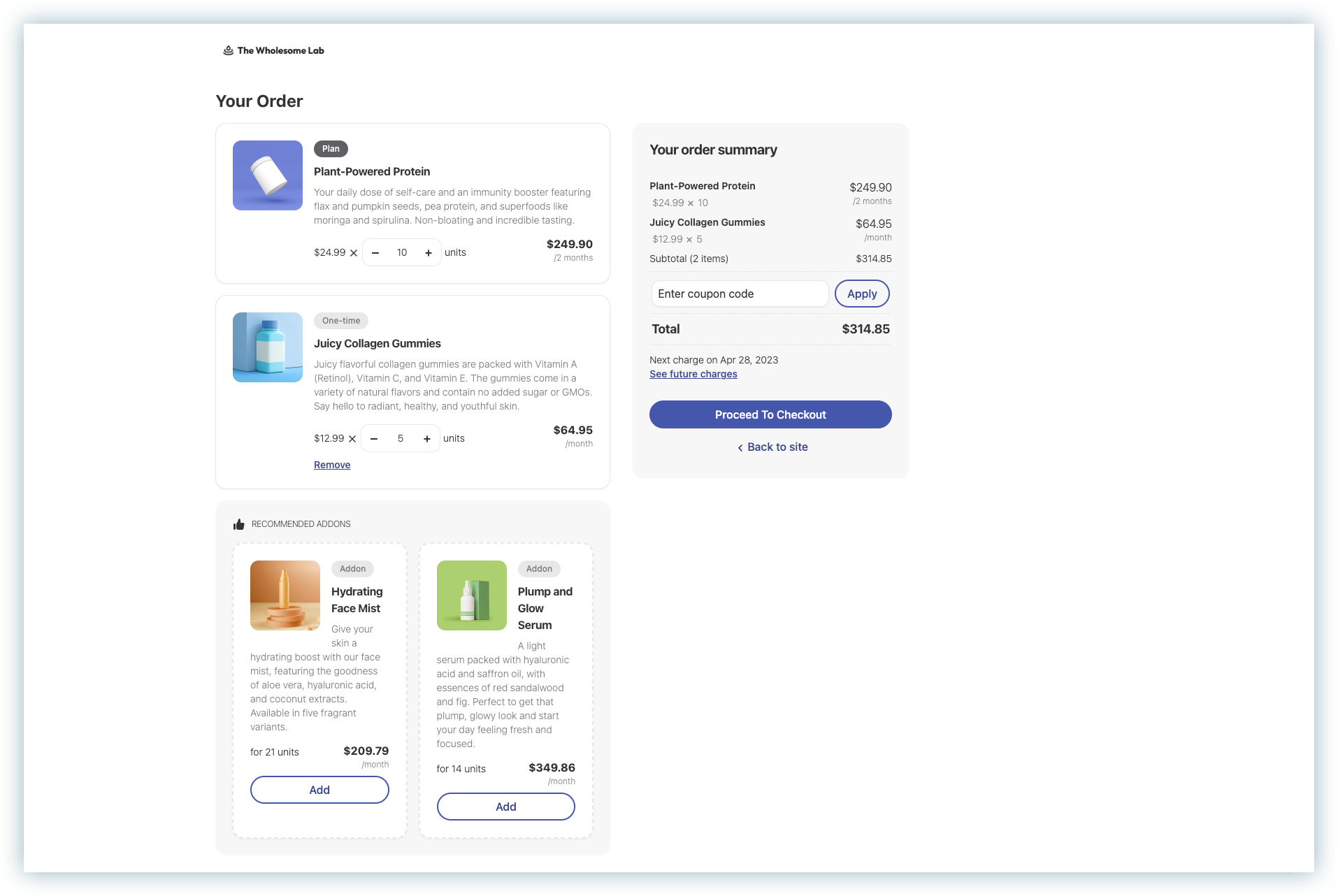 Reset Defaults
You can reset to Chargebee default color schemes by clicking Reset to defaults on the customization page.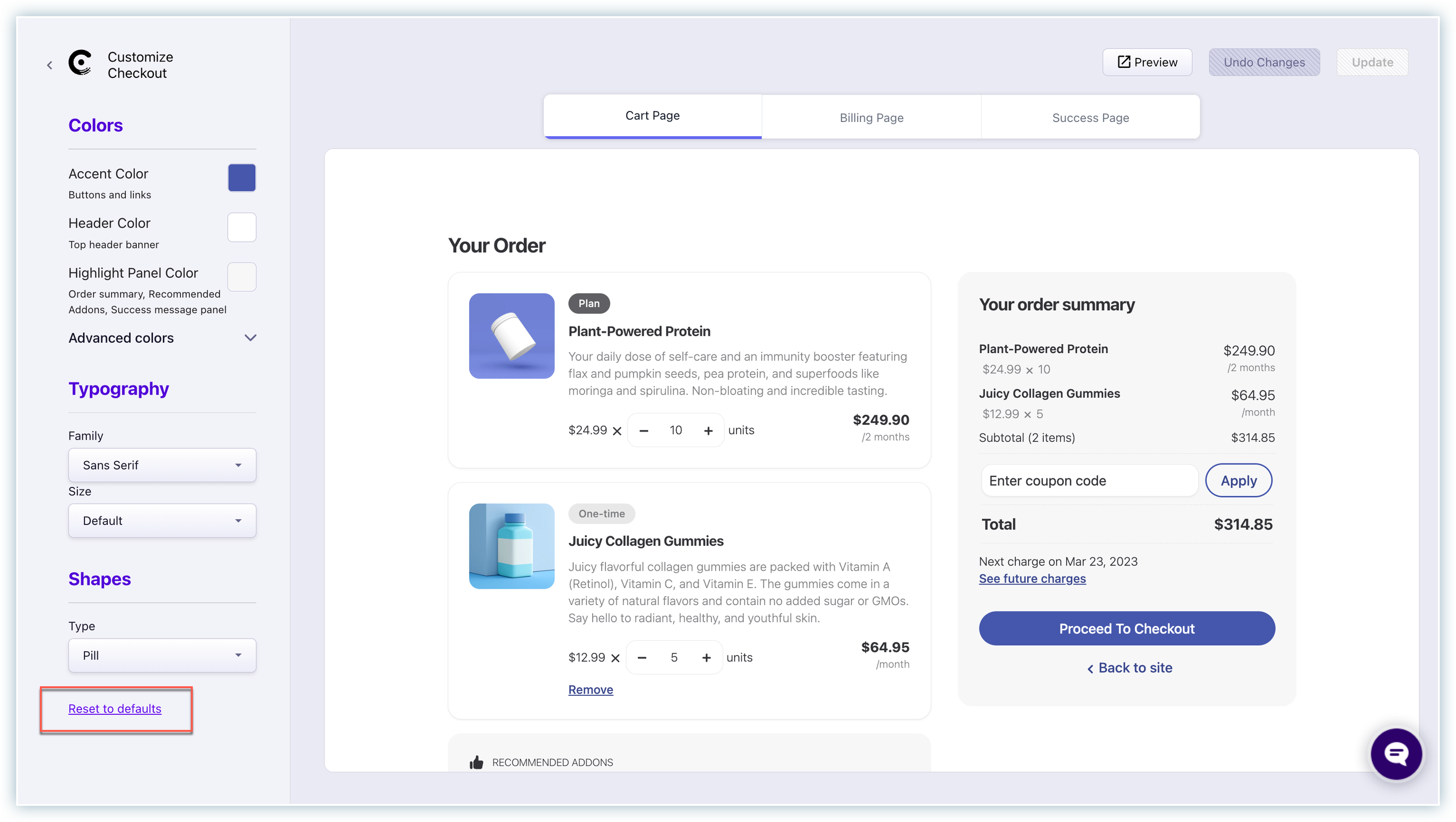 Note
You will not be able to retrieve your changes if you proceed with the reset.